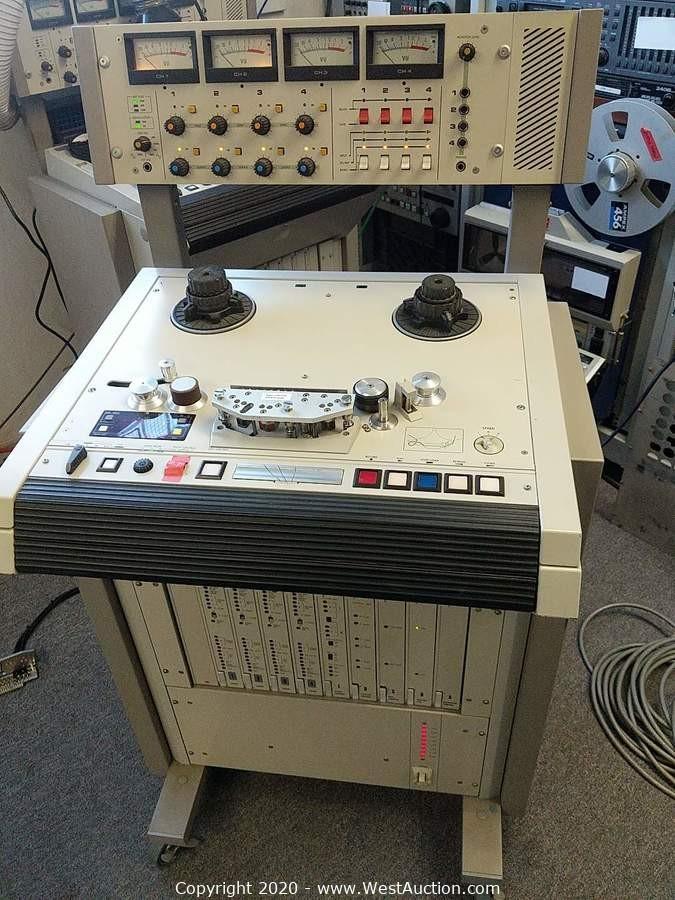 Lot #0136:
Otari MTR 10-II Customized Multitrack Playback
Bidding is

closed

.
High Bid:
$785.00
NA
Bidding Ended:
Thu, Jun 18 10:44:01 am PT
High Bidder:
ALJ
Bid Increment:
$10.00
Starting Bid:
$5.00
Item has been viewed 1,087 times.

Otari MTR 10-II Customized Multitrack Playback
Sync amp bypass was done one of two places: either on the cards or on the machine. If it was the cards, the 4 additional cards included ought to work as is. If it was on the machine, a tech would have to re-engage the sync amps.
Otari

MTR

10 quarter inch 4 track playback machine.
Heavily customized.
Includes a quarter-inch playback 8-track head stack.
Can be used to play tapes from both Tascam 388 and Fostex R8 recorders, interfacing with external noise reduction as necessary.
As this is a four-track machine it is only capable of amplifying channels 1-4 of the 8-track signal.
Rear

XLR

inputs have been modified to become head level outputs of channels 5 to 8 of the 8-track head.
4 ft jumper cable connects to the outputs of this Otari easily into adjacent

MTR

10/12 for 8 channel playback across two machines.
Includes audio cards 5 6 7, 8 for any Otari

MTR

10/12.
Note: All photos and descriptions have been provided by the Seller and have not been verified by West Auctions.
| | | |
| --- | --- | --- |
| Bid Date | Bid Amount | Bidder |
| Jun 18, 2020 - 10:42:01 AM | $785.00 | iALJ |
| Jun 18, 2020 - 10:42:01 AM | $775.00 | iopenmyke |
| Jun 18, 2020 - 10:41:03 AM | $760.00 | iopenmyke |
| Jun 18, 2020 - 10:41:03 AM | $750.00 | iALJ |
| Jun 18, 2020 - 10:40:31 AM | $731.00 | iALJ |
| Jun 18, 2020 - 10:40:31 AM | $721.00 | iopenmyke |
| Jun 18, 2020 - 10:40:11 AM | $645.00 | iALJ |
| Jun 18, 2020 - 10:40:11 AM | $635.00 | iopenmyke |
| Jun 18, 2020 - 10:39:56 AM | $610.00 | iALJ |
| Jun 18, 2020 - 10:39:56 AM | $600.00 | iopenmyke |
| Jun 18, 2020 - 10:39:44 AM | $539.00 | iALJ |
| Jun 18, 2020 - 10:39:24 AM | $529.00 | iopenmyke |
| Jun 18, 2020 - 10:39:24 AM | $520.00 | ideprods |
| Jun 18, 2020 - 10:38:06 AM | $510.00 | iopenmyke |
| Jun 18, 2020 - 10:38:06 AM | $500.00 | ideprods |
| Jun 18, 2020 - 10:37:45 AM | $469.00 | ideprods |
| Jun 18, 2020 - 10:36:33 AM | $459.00 | iopenmyke |
| Jun 18, 2020 - 10:36:33 AM | $449.00 | ighost |
| Jun 18, 2020 - 10:34:33 AM | $439.00 | iopenmyke |
| Jun 18, 2020 - 10:34:33 AM | $429.00 | ighost |
| Jun 18, 2020 - 10:27:42 AM | $370.00 | iopenmyke |
| Jun 18, 2020 - 10:27:42 AM | $360.00 | iConBrio |
| Jun 18, 2020 - 10:26:59 AM | $329.00 | iConBrio |
| Jun 18, 2020 - 10:26:59 AM | $319.00 | ighost |
| Jun 18, 2020 - 10:26:48 AM | $289.00 | iConBrio |
| Jun 18, 2020 - 10:26:48 AM | $279.00 | ighost |
| Jun 18, 2020 - 10:26:36 AM | $239.00 | iConBrio |
| Jun 18, 2020 - 10:26:36 AM | $229.00 | ighost |
| Jun 18, 2020 - 9:33:00 AM | $145.00 | iConBrio |
| Jun 18, 2020 - 9:33:00 AM | $135.00 | iMGman |
| Jun 18, 2020 - 1:25:07 AM | $90.00 | iConBrio |
| Jun 18, 2020 - 1:24:52 AM | $85.00 | ifidelityiskey |
| Jun 18, 2020 - 1:24:53 AM | $85.00 | iConBrio |
| Jun 17, 2020 - 9:16:15 PM | $80.00 | ifidelityiskey |
| Jun 17, 2020 - 9:16:15 PM | $75.00 | iMGman |
| Jun 17, 2020 - 9:16:07 PM | $70.00 | iMGman |
| Jun 17, 2020 - 9:16:07 PM | $65.00 | ifidelityiskey |
| Jun 17, 2020 - 1:49:32 PM | $5.00 | iMGman |