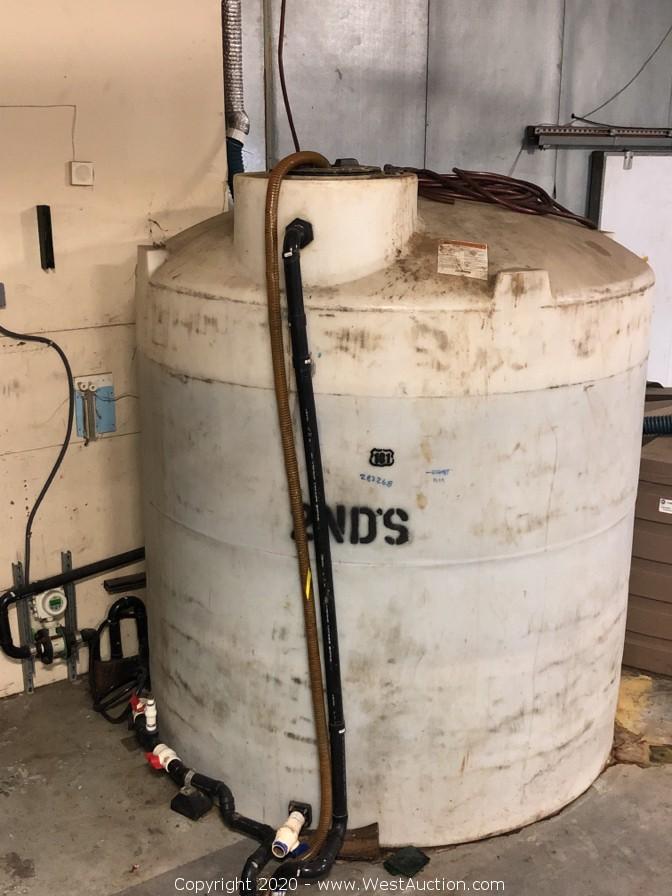 Lot #0110:
Snyder Industries 3,000 Gallon Plastic Tank
Bidding is

closed

.
High Bid:
$530.00
NA
Bidding Ended:
Thu, Mar 5 10:13:44 am PT
High Bidder:
pbr1967
Bid Increment:
$10.00
Starting Bid:
$5.00
Item Location:

Petaluma

,

CA

94954

Item has been viewed 1,480 times.

REMOVAL:
Loading Assistance: this lot will not have loading assistance.
Buyer is responsible for contents and drainage as well as disconnecting attachments, please come prepared with necessary tools/equipment.
Drain to empty contents is 15 ft away from rack. 
Snyder Industries 3,000 Gallon Plastic Tank
Manufacturer: Snyder Industries
Width: 8ft
Height: 9ft
Capacity: 3,000 Gallons
| | | |
| --- | --- | --- |
| Bid Date | Bid Amount | Bidder |
| Mar 5, 2020 - 10:11:44 AM | $530.00 | ipbr1967 |
| Mar 5, 2020 - 10:11:35 AM | $520.00 | iWestM |
| Mar 5, 2020 - 10:11:36 AM | $520.00 | ipbr1967 |
| Mar 5, 2020 - 10:11:28 AM | $510.00 | iWestM |
| Mar 5, 2020 - 10:11:28 AM | $500.00 | ipbr1967 |
| Mar 5, 2020 - 10:11:02 AM | $410.00 | ipbr1967 |
| Mar 5, 2020 - 10:11:02 AM | $400.00 | icjm51213 |
| Mar 5, 2020 - 10:10:48 AM | $270.00 | icjm51213 |
| Mar 5, 2020 - 10:10:48 AM | $260.00 | iWestM |
| Mar 5, 2020 - 10:10:48 AM | $235.00 | iWestM |
| Mar 5, 2020 - 10:10:48 AM | $225.00 | ipbr1967 |
| Mar 5, 2020 - 10:10:45 AM | $215.00 | iWestM |
| Mar 5, 2020 - 10:10:45 AM | $205.00 | ipbr1967 |
| Mar 5, 2020 - 10:10:41 AM | $195.00 | iWestM |
| Mar 5, 2020 - 10:10:41 AM | $185.00 | ipbr1967 |
| Mar 5, 2020 - 10:09:24 AM | $175.00 | iWestM |
| Mar 5, 2020 - 7:02:52 AM | $165.00 | ipbr1967 |
| Mar 5, 2020 - 6:09:02 AM | $155.00 | iDurvalserafimjr |
| Mar 4, 2020 - 4:45:34 PM | $145.00 | ipbr1967 |
| Mar 4, 2020 - 4:23:24 PM | $135.00 | iDurvalserafimjr |
| Mar 4, 2020 - 8:15:51 AM | $125.00 | ipbr1967 |
| Mar 4, 2020 - 8:15:46 AM | $115.00 | iDurvalserafimjr |
| Mar 4, 2020 - 8:15:47 AM | $115.00 | ipbr1967 |
| Mar 3, 2020 - 3:15:06 PM | $105.00 | iDurvalserafimjr |
| Mar 3, 2020 - 3:15:01 PM | $100.00 | ipbr1967 |
| Mar 3, 2020 - 3:15:01 PM | $95.00 | iDurvalserafimjr |
| Mar 3, 2020 - 3:14:59 PM | $90.00 | ipbr1967 |
| Mar 3, 2020 - 3:14:59 PM | $85.00 | iDurvalserafimjr |
| Mar 3, 2020 - 3:14:54 PM | $80.00 | ipbr1967 |
| Mar 3, 2020 - 3:14:54 PM | $75.00 | iDurvalserafimjr |
| Mar 3, 2020 - 3:06:38 PM | $70.00 | ipbr1967 |
| Mar 3, 2020 - 3:06:38 PM | $65.00 | iDurvalserafimjr |
| Mar 3, 2020 - 3:06:20 PM | $55.00 | iDurvalserafimjr |
| Mar 3, 2020 - 3:06:20 PM | $50.00 | ipbr1967 |
| Mar 3, 2020 - 3:06:11 PM | $45.00 | iDurvalserafimjr |
| Mar 3, 2020 - 3:06:11 PM | $40.00 | ipbr1967 |
| Mar 3, 2020 - 2:13:44 PM | $35.00 | iDurvalserafimjr |
| Mar 3, 2020 - 2:13:44 PM | $30.00 | iphilmb |
| Mar 3, 2020 - 1:02:47 PM | $25.00 | iDurvalserafimjr |
| Mar 3, 2020 - 1:02:47 PM | $20.00 | ipbr1967 |
| Mar 3, 2020 - 1:00:02 PM | $15.00 | iDurvalserafimjr |
| Mar 3, 2020 - 12:59:48 PM | $10.00 | ipbr1967 |
| Mar 3, 2020 - 12:59:49 PM | $10.00 | iDurvalserafimjr |
| Mar 3, 2020 - 12:07:40 PM | $5.00 | ipbr1967 |