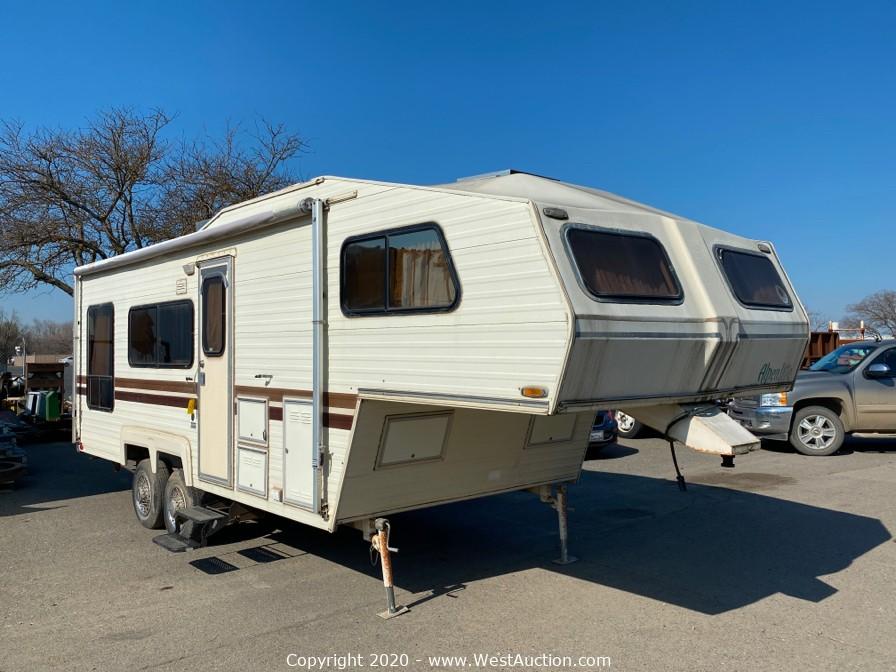 1985 AlpenLite 25' Fifth Wheel RV Travel Trailer
Bidding is

closed

.
High Bid:
$1,900.00
NA
Bidding Ended:
Thu, Mar 26 10:01:50 am PT
High Bidder:
DEANFF
Bid Increment:
$50.00
Starting Bid:
$5.00
Item Location:

Woodland

,

CA

95776

Item has been viewed 3,262 times.

ASK ABOUT THIS ITEM

1985 AlpenLite 25' Fifth Wheel RV Travel Trailer
Trailer Details
Year: 1985
Make: AlpenLite
Model: 25
VIN: 1W53ATL27FY003669
License: 2FB3053

Expiration Date: 12/31/2004

Gross Vehicle Weight Rating (GVWR): 6392
Trailer Type: 5th Wheel Enclosed
Dimensions
Overall Length: 25ft
Overall Width: 8ft
Deck Length: 20ft
Deck Width: 8ft
Side Height: 9ft
Axles, Brakes, and Tires
Suspension: Leaf Spring
Number of Axles: 2
Brake Type: Electric
Number of Wheels: 4
Tire Size: P20575R15
Electric Plug Type: Other
Hitch: 5th Wheel
Features
Features: Side Door Access
Removal Note: NA
Exterior:
Passenger Side Propane Storage for (2) Tanks
Passenger Side Battery Storage for (2) Batteries
Passenger Side Storage
Awning Dimensions: 17' Long
Rear Roof Access Ladder
Rear Spare Tire
AC Unit on Top
Driver Side Storage Access
Driver Side Water Drain Port
Driver Side Gas Access
Driver Side Water Hester Access
Driver Side 125v Connection
Driver Side Septic Drain
(9) Exterior Window
(2) Front Storage Compartments
(2) Trailer Jacks
Entry Door Deadbolt
Entry Way Step
Interior:
Full Kitchenette;
Gas Stove/Oven, Sink, Microwave, Hood Exhaust, Storage Cabinets/Drawers
Dometic AC Unit w/ HydroFlame Thermostat
Dometic RM763 Automatic Energy Selector Refrigerator with Freezer
Clarion 2500R AM/FM/Cassette Head Unit
Twin Size Futon
Shower
Toilet
Sink and mirrors
(2) Twin Size Beds
Privacy Shields
Note: Certificate of Title, Transfer Form, will be mailed 4-6 weeks following the close of the auction. The buyer is fully responsible for all aspects of transfer, registration, and fees due to California DMV.
| | | |
| --- | --- | --- |
| Bid Date | Bid Amount | Bidder |
| Mar 26, 2020 - 9:59:50 AM | $1,900.00 | iDEANFF |
| Mar 26, 2020 - 9:59:50 AM | $1,850.00 | i2L8 |
| Mar 26, 2020 - 9:57:41 AM | $1,800.00 | iDEANFF |
| Mar 26, 2020 - 9:57:41 AM | $1,750.00 | i2L8 |
| Mar 26, 2020 - 9:56:49 AM | $1,700.00 | iDEANFF |
| Mar 26, 2020 - 9:56:49 AM | $1,650.00 | i2L8 |
| Mar 26, 2020 - 9:56:41 AM | $1,600.00 | iDEANFF |
| Mar 26, 2020 - 9:56:41 AM | $1,550.00 | i2L8 |
| Mar 26, 2020 - 9:56:31 AM | $1,500.00 | iDEANFF |
| Mar 26, 2020 - 9:56:31 AM | $1,450.00 | i2L8 |
| Mar 26, 2020 - 9:55:57 AM | $1,400.00 | iDEANFF |
| Mar 26, 2020 - 9:55:57 AM | $1,350.00 | i2L8 |
| Mar 26, 2020 - 9:00:40 AM | $1,300.00 | iDEANFF |
| Mar 26, 2020 - 9:00:40 AM | $1,250.00 | isupersocket1 |
| Mar 26, 2020 - 8:47:34 AM | $1,200.00 | isupersocket1 |
| Mar 26, 2020 - 8:47:18 AM | $1,150.00 | iDEANFF |
| Mar 26, 2020 - 8:47:19 AM | $1,150.00 | isupersocket1 |
| Mar 26, 2020 - 7:54:22 AM | $1,100.00 | iDEANFF |
| Mar 26, 2020 - 7:54:22 AM | $1,050.00 | isupersocket1 |
| Mar 26, 2020 - 4:57:35 AM | $810.00 | isupersocket1 |
| Mar 26, 2020 - 4:57:35 AM | $800.00 | iDEANFF |
| Mar 25, 2020 - 11:46:51 AM | $660.00 | iDEANFF |
| Mar 25, 2020 - 11:46:35 AM | $650.00 | isupersocket1 |
| Mar 25, 2020 - 11:46:36 AM | $650.00 | iDEANFF |
| Mar 24, 2020 - 5:28:51 PM | $510.00 | isupersocket1 |
| Mar 24, 2020 - 5:28:51 PM | $500.00 | iEDSincShandon |
| Mar 24, 2020 - 4:23:27 PM | $210.00 | iEDSincShandon |
| Mar 24, 2020 - 4:23:27 PM | $200.00 | iDEANFF |
| Mar 24, 2020 - 3:57:53 PM | $50.00 | iDEANFF |
| Mar 24, 2020 - 3:57:53 PM | $45.00 | ibgillming |
| Mar 24, 2020 - 3:33:48 PM | $20.00 | ibgillming |
| Mar 24, 2020 - 3:33:48 PM | $15.00 | imark123 |
| Mar 24, 2020 - 12:22:43 PM | $5.00 | imark123 |