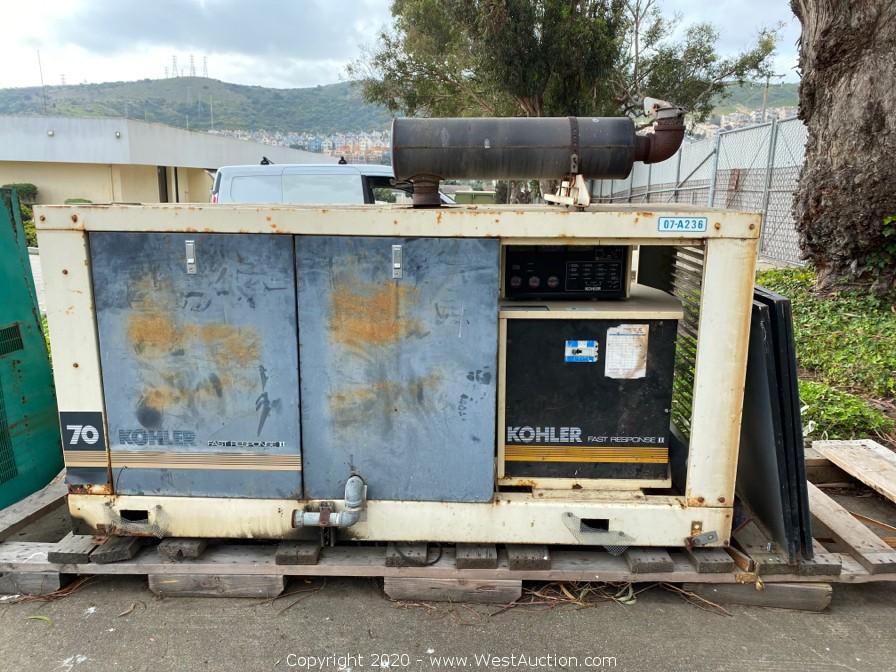 Lot #0100B:
Kohler 70 Fast Response II Generator
Bidding is

closed

.
High Bid:
$935.00
NA
Bidding Ended:
Thu, Jul 23 10:02:25 am PT
High Bidder:
jayyeomans
Bid Increment:
$10.00
Starting Bid:
$5.00
Item Location:

Daly City

,

CA

94014

Item has been viewed 1,333 times.

Kohler 70 Fast Response II Generator
Model: 70RZ272
3 Phase
Serial: 251775
Hours meter reads: 1158
Removal Note: This item is located in Daly City, CA 94014. Removal by appointment ONLY, on Tuesday, July 28th, 2020
CARB Disclosure: "When operated in California, any on-road heavy-duty diesel vehicle, alternative-diesel vehicle, off-road diesel vehicle, or portable diesel engine may be subject to the California Air Resources Board's Regulation to Reduce Particulate Matter and Criteria Pollutant Emissions from In-Use Heavy-Duty Diesel Vehicles, In-Use Off-Road Diesel Vehicle Regulation, or Airborne Toxic Control Measure For Diesel Particulate Matter From Portable Engines Rated At 50 Horsepower And Greater. It therefore could be subject to retrofit, exhaust retrofit, or accelerated turnover requirements to reduce emissions of air pollutants. For more information, please visit the California Air Resources Board websites at https://www.arb.ca.gov/portable/portable.htm.
| | | |
| --- | --- | --- |
| Bid Date | Bid Amount | Bidder |
| Jul 23, 2020 - 10:00:25 AM | $935.00 | ijayyeomans |
| Jul 23, 2020 - 10:00:25 AM | $925.00 | inaparusty |
| Jul 23, 2020 - 9:58:59 AM | $835.00 | ijayyeomans |
| Jul 23, 2020 - 9:58:59 AM | $825.00 | inaparusty |
| Jul 23, 2020 - 9:58:34 AM | $760.00 | ijayyeomans |
| Jul 23, 2020 - 9:58:34 AM | $750.00 | inaparusty |
| Jul 23, 2020 - 9:58:21 AM | $710.00 | ijayyeomans |
| Jul 23, 2020 - 9:58:21 AM | $700.00 | inaparusty |
| Jul 23, 2020 - 9:50:50 AM | $660.00 | inaparusty |
| Jul 23, 2020 - 9:50:50 AM | $650.00 | iJessaca |
| Jul 23, 2020 - 9:43:57 AM | $630.00 | iJessaca |
| Jul 23, 2020 - 9:43:57 AM | $620.00 | ijayyeomans |
| Jul 23, 2020 - 9:40:33 AM | $610.00 | iJessaca |
| Jul 23, 2020 - 9:40:05 AM | $600.00 | iSatevo |
| Jul 23, 2020 - 9:40:05 AM | $590.00 | iJessaca |
| Jul 22, 2020 - 9:59:57 AM | $500.00 | iSatevo |
| Jul 22, 2020 - 9:59:58 AM | $500.00 | iBroyal1201 |
| Jul 22, 2020 - 9:59:44 AM | $310.00 | iSatevo |
| Jul 22, 2020 - 9:59:44 AM | $300.00 | iBroyal1201 |
| Jul 21, 2020 - 9:13:42 PM | $225.00 | iSatevo |
| Jul 21, 2020 - 9:13:42 PM | $215.00 | iLadanna |
| Jul 21, 2020 - 8:12:47 PM | $205.00 | iSatevo |
| Jul 21, 2020 - 8:12:47 PM | $200.00 | iddetinne46 |
| Jul 21, 2020 - 2:53:23 PM | $195.00 | iddetinne46 |
| Jul 21, 2020 - 2:53:23 PM | $185.00 | iMary013$$ |
| Jul 21, 2020 - 2:53:20 PM | $175.00 | iddetinne46 |
| Jul 21, 2020 - 2:53:20 PM | $165.00 | iMary013$$ |
| Jul 21, 2020 - 2:53:16 PM | $155.00 | iddetinne46 |
| Jul 21, 2020 - 2:53:16 PM | $145.00 | iMary013$$ |
| Jul 21, 2020 - 2:53:12 PM | $135.00 | iddetinne46 |
| Jul 21, 2020 - 2:53:12 PM | $125.00 | iMary013$$ |
| Jul 21, 2020 - 2:51:43 PM | $115.00 | iddetinne46 |
| Jul 21, 2020 - 2:51:43 PM | $105.00 | iMary013$$ |
| Jul 21, 2020 - 2:51:34 PM | $35.00 | iddetinne46 |
| Jul 21, 2020 - 2:51:34 PM | $30.00 | iMary013$$ |
| Jul 21, 2020 - 2:51:16 PM | $25.00 | iddetinne46 |
| Jul 21, 2020 - 2:51:16 PM | $20.00 | iMary013$$ |
| Jul 21, 2020 - 2:51:13 PM | $15.00 | iddetinne46 |
| Jul 21, 2020 - 2:51:13 PM | $10.00 | iMary013$$ |
| Jul 21, 2020 - 10:00:46 AM | $5.00 | iddetinne46 |