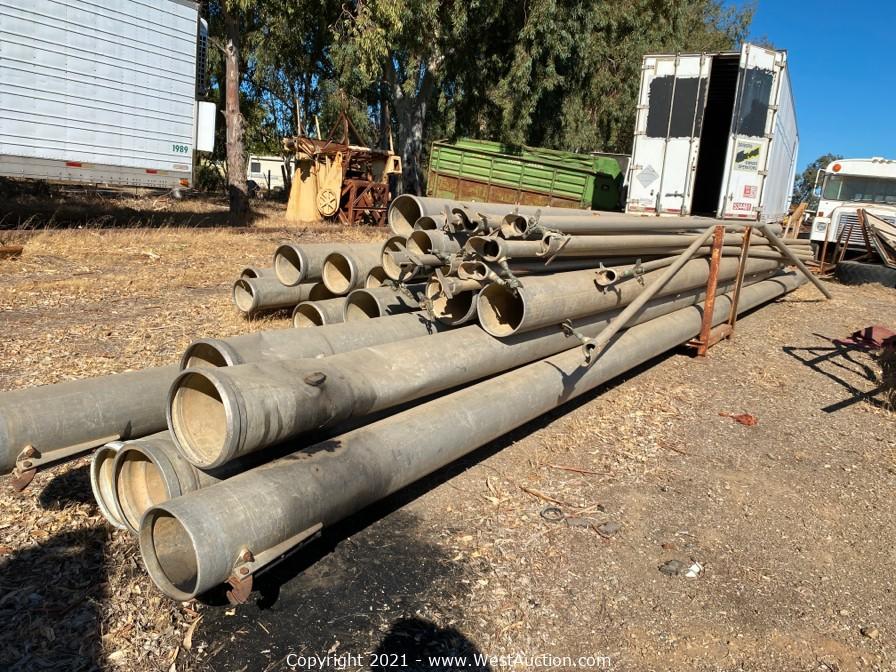 Lot #0131:
(34) Aluminum Irrigation Pipe
Bidding is

closed

.
High Bid:
$510.00
NA
Bidding Ended:
Thu, Mar 18 10:59:16 am PT
High Bidder:
chipit
Bid Increment:
$10.00
Starting Bid:
$5.00
Item has been viewed 750 times.

Aluminum Irrigation Pipe
Quantity: (34)
Width: 4"-6"
Length: 15 To 20 Feet
Approximate Weight: 500 lbs
Contents: included.
Contents Note: Mixed Pallet Of Aluminum Irrigation Pipe
Note: All photos and descriptions have been provided by the Seller. 
Removal Note: There is NO forklift loading assistance for this auction. Buyers are fully responsible for all aspects of the removal, please come prepared with correct trailers, haulers, tire air compressors, rigging straps/ties downs, etc to safely remove items from the property. We encourage you to view the items in person during the preview day.
| | | |
| --- | --- | --- |
| Bid Date | Bid Amount | Bidder |
| Mar 18, 2021 - 10:57:16 AM | $510.00 | ichipit |
| Mar 18, 2021 - 10:57:16 AM | $500.00 | i4schohr |
| Mar 18, 2021 - 10:56:58 AM | $485.00 | ichipit |
| Mar 18, 2021 - 10:56:58 AM | $475.00 | i4schohr |
| Mar 18, 2021 - 10:56:26 AM | $460.00 | ichipit |
| Mar 18, 2021 - 10:56:26 AM | $450.00 | i4schohr |
| Mar 18, 2021 - 10:49:57 AM | $410.00 | ichipit |
| Mar 18, 2021 - 10:44:06 AM | $400.00 | i4schohr |
| Mar 18, 2021 - 10:44:07 AM | $400.00 | ikeeptruckin |
| Mar 18, 2021 - 10:44:03 AM | $390.00 | i4schohr |
| Mar 18, 2021 - 10:44:03 AM | $380.00 | ikeeptruckin |
| Mar 18, 2021 - 10:36:35 AM | $370.00 | i4schohr |
| Mar 18, 2021 - 10:33:09 AM | $360.00 | iTReece209 |
| Mar 18, 2021 - 10:30:09 AM | $350.00 | i4schohr |
| Mar 18, 2021 - 10:30:10 AM | $350.00 | irafterbs |
| Mar 18, 2021 - 10:25:11 AM | $330.00 | i4schohr |
| Mar 18, 2021 - 10:21:25 AM | $320.00 | ikeeptruckin |
| Mar 18, 2021 - 10:14:34 AM | $310.00 | ih2olive |
| Mar 18, 2021 - 10:14:09 AM | $300.00 | i4schohr |
| Mar 18, 2021 - 10:14:10 AM | $300.00 | ih2olive |
| Mar 18, 2021 - 10:12:27 AM | $235.00 | i4schohr |
| Mar 18, 2021 - 10:12:27 AM | $225.00 | ih2olive |
| Mar 18, 2021 - 10:12:01 AM | $165.00 | i4schohr |
| Mar 18, 2021 - 9:56:29 AM | $155.00 | iDustin1992 |
| Mar 18, 2021 - 9:56:29 AM | $150.00 | iTReece209 |
| Mar 18, 2021 - 9:56:27 AM | $145.00 | iTReece209 |
| Mar 18, 2021 - 9:56:27 AM | $135.00 | iDustin1992 |
| Mar 18, 2021 - 9:56:24 AM | $125.00 | iTReece209 |
| Mar 18, 2021 - 9:56:24 AM | $115.00 | iDustin1992 |
| Mar 18, 2021 - 9:43:21 AM | $105.00 | iTReece209 |
| Mar 18, 2021 - 9:42:10 AM | $100.00 | ih2olive |
| Mar 18, 2021 - 9:42:11 AM | $100.00 | iTReece209 |
| Mar 17, 2021 - 7:44:48 AM | $91.00 | ih2olive |
| Mar 17, 2021 - 7:44:48 AM | $86.00 | isnowdirtride |
| Mar 16, 2021 - 6:57:58 PM | $30.00 | isnowdirtride |
| Mar 16, 2021 - 6:57:58 PM | $25.00 | iDustin1992 |
| Mar 16, 2021 - 6:15:55 PM | $20.00 | isnowdirtride |
| Mar 16, 2021 - 6:15:28 PM | $15.00 | ikingfish |
| Mar 16, 2021 - 6:15:29 PM | $15.00 | isnowdirtride |
| Mar 16, 2021 - 4:19:41 PM | $10.00 | ikingfish |
| Mar 16, 2021 - 1:16:45 PM | $5.00 | ih2olive |