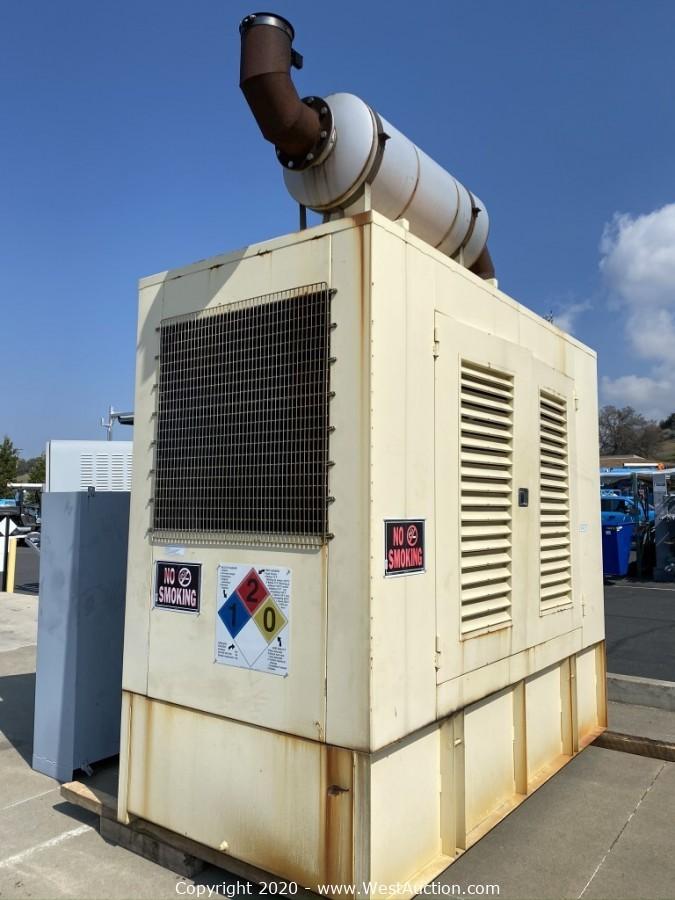 Kohler 350R0ZD71 Diesel Generator 350 KW
Bidding is

closed

.
High Bid:
$2,075.00
NA
Bidding Ended:
Thu, Jul 2 10:00:00 am PT
High Bidder:
jdc9996
Bid Increment:
$50.00
Starting Bid:
$5.00
Item Location:

Angels Camp

,

CA

95222

Item has been viewed 4,599 times.

ASK ABOUT THIS ITEM

Kohler 350R0ZD71 Diesel Generator 350 KW
Note: The buyer is responsible for all aspects of removal. Release of liability and certificate of insurance must be presented prior to removal. A crane and operator will be needed to load the generator. The buyer will also need a large flatbed trailer or lowboy truck
Make: Kohler
Model: 350R0ZD71 
Serial: 388571
SPEC: PA-132520-71
Service Duty: Standby
Hz: 60
RPM: 1800
Hours: 242.9
Nema Class: H
Measurements
Generator: 128"L x 62"W x 145"H (Height to top of exhaust)
Transfer Switch: 30"W x 21"D x 76"H
Switch Gear: 67"W x 40"D x 96"H (Height to top of lifting flange)
 
KW
KVA
P.F.
Single Phase
 
 
 
Three Phase
350
438
0.8
Voltage
(Code)
120/240
(61) 1p
139/240
(51)
127/220
(51)
120/240
(01)
AMPS
 
 
 
 
277/480
(71)
220/380
(71)
120/208
(81)
347/600
(91)
110/220
(01)
110/190
(51)
525
 
 
 
 
 
110/220
(51)
230/400
(71)
240/416
(71)
 
 
 
CARB Disclosure: "When operated in California, any on-road heavy-duty diesel vehicle, alternative-diesel vehicle, off-road diesel vehicle, or portable diesel engine may be subject to the California Air Resources Board's Regulation to Reduce Particulate Matter and Criteria Pollutant Emissions from In-Use Heavy-Duty Diesel Vehicles, In-Use Off-Road Diesel Vehicle Regulation, or Airborne Toxic Control Measure For Diesel Particulate Matter From Portable Engines Rated At 50 Horsepower And Greater. It therefore could be subject to retrofit, exhaust retrofit, or accelerated turnover requirements to reduce emissions of air pollutants. For more information, please visit the California Air Resources Board websites at https://www.arb.ca.gov/portable/portable.htm.
| | | |
| --- | --- | --- |
| Bid Date | Bid Amount | Bidder |
| Jul 1, 2020 - 4:34:22 PM | $2,075.00 | ijdc9996 |
| Jul 1, 2020 - 4:20:28 PM | $2,025.00 | imacman |
| Jul 1, 2020 - 4:20:28 PM | $2,000.00 | ibuysell4u |
| Jul 1, 2020 - 3:59:46 PM | $1,825.00 | ibuysell4u |
| Jul 1, 2020 - 3:59:46 PM | $1,775.00 | imacman |
| Jul 1, 2020 - 3:17:03 PM | $1,600.00 | imacman |
| Jul 1, 2020 - 3:16:50 PM | $1,550.00 | idlndave45 |
| Jul 1, 2020 - 3:16:51 PM | $1,550.00 | imacman |
| Jul 1, 2020 - 10:42:00 AM | $1,353.12 | idlndave45 |
| Jul 1, 2020 - 8:11:12 AM | $1,303.12 | ikokiwest |
| Jul 1, 2020 - 8:11:12 AM | $1,300.00 | idlndave45 |
| Jul 1, 2020 - 8:11:10 AM | $1,253.12 | idlndave45 |
| Jul 1, 2020 - 8:11:10 AM | $1,203.12 | ikokiwest |
| Jul 1, 2020 - 8:11:07 AM | $1,153.12 | idlndave45 |
| Jul 1, 2020 - 8:11:07 AM | $1,103.12 | ikokiwest |
| Jul 1, 2020 - 8:11:04 AM | $1,053.12 | idlndave45 |
| Jul 1, 2020 - 8:11:04 AM | $1,003.12 | ikokiwest |
| Jul 1, 2020 - 8:11:01 AM | $993.12 | idlndave45 |
| Jul 1, 2020 - 8:11:01 AM | $983.12 | ikokiwest |
| Jul 1, 2020 - 8:10:59 AM | $973.12 | idlndave45 |
| Jul 1, 2020 - 8:10:59 AM | $963.12 | ikokiwest |
| Jul 1, 2020 - 8:10:56 AM | $953.12 | idlndave45 |
| Jul 1, 2020 - 8:10:56 AM | $943.12 | ikokiwest |
| Jul 1, 2020 - 8:10:53 AM | $933.12 | idlndave45 |
| Jul 1, 2020 - 8:10:53 AM | $923.12 | ikokiwest |
| Jul 1, 2020 - 8:10:51 AM | $913.12 | idlndave45 |
| Jul 1, 2020 - 8:10:51 AM | $903.12 | ikokiwest |
| Jul 1, 2020 - 8:10:48 AM | $893.12 | idlndave45 |
| Jul 1, 2020 - 8:10:48 AM | $883.12 | ikokiwest |
| Jul 1, 2020 - 8:10:45 AM | $873.12 | idlndave45 |
| Jul 1, 2020 - 8:10:45 AM | $863.12 | ikokiwest |
| Jul 1, 2020 - 8:10:42 AM | $853.12 | idlndave45 |
| Jul 1, 2020 - 8:10:42 AM | $843.12 | ikokiwest |
| Jul 1, 2020 - 8:10:38 AM | $833.12 | idlndave45 |
| Jul 1, 2020 - 8:10:38 AM | $823.12 | ikokiwest |
| Jul 1, 2020 - 8:10:36 AM | $813.12 | idlndave45 |
| Jul 1, 2020 - 8:10:36 AM | $803.12 | ikokiwest |
| Jul 1, 2020 - 8:10:33 AM | $793.12 | idlndave45 |
| Jul 1, 2020 - 8:10:33 AM | $783.12 | ikokiwest |
| Jul 1, 2020 - 8:10:30 AM | $773.12 | idlndave45 |
| Jul 1, 2020 - 8:10:30 AM | $763.12 | ikokiwest |
| Jul 1, 2020 - 8:10:28 AM | $753.12 | idlndave45 |
| Jul 1, 2020 - 8:10:28 AM | $743.12 | ikokiwest |
| Jul 1, 2020 - 8:10:25 AM | $733.12 | idlndave45 |
| Jul 1, 2020 - 8:10:25 AM | $723.12 | ikokiwest |
| Jul 1, 2020 - 8:10:22 AM | $713.12 | idlndave45 |
| Jul 1, 2020 - 8:10:22 AM | $703.12 | ikokiwest |
| Jul 1, 2020 - 8:10:19 AM | $693.12 | idlndave45 |
| Jul 1, 2020 - 8:10:19 AM | $683.12 | ikokiwest |
| Jul 1, 2020 - 8:10:15 AM | $673.12 | idlndave45 |
| Jul 1, 2020 - 8:10:15 AM | $663.12 | ikokiwest |
| Jul 1, 2020 - 8:10:11 AM | $653.12 | idlndave45 |
| Jul 1, 2020 - 8:10:11 AM | $643.12 | ikokiwest |
| Jul 1, 2020 - 8:09:47 AM | $630.00 | idlndave45 |
| Jul 1, 2020 - 8:09:47 AM | $620.00 | ikokiwest |
| Jul 1, 2020 - 8:09:45 AM | $610.00 | idlndave45 |
| Jul 1, 2020 - 8:09:45 AM | $600.00 | ikokiwest |
| Jul 1, 2020 - 8:09:42 AM | $590.00 | idlndave45 |
| Jul 1, 2020 - 8:09:42 AM | $580.00 | ikokiwest |
| Jul 1, 2020 - 8:09:39 AM | $570.00 | idlndave45 |
| Jul 1, 2020 - 8:09:39 AM | $560.00 | ikokiwest |
| Jul 1, 2020 - 8:09:37 AM | $550.00 | idlndave45 |
| Jul 1, 2020 - 8:09:37 AM | $540.00 | ikokiwest |
| Jul 1, 2020 - 8:09:34 AM | $530.00 | idlndave45 |
| Jul 1, 2020 - 8:09:34 AM | $520.00 | ikokiwest |
| Jul 1, 2020 - 8:09:31 AM | $510.00 | idlndave45 |
| Jul 1, 2020 - 8:09:31 AM | $500.00 | ikokiwest |
| Jul 1, 2020 - 8:09:29 AM | $490.00 | idlndave45 |
| Jul 1, 2020 - 8:09:29 AM | $480.00 | ikokiwest |
| Jul 1, 2020 - 8:09:25 AM | $470.00 | idlndave45 |
| Jul 1, 2020 - 8:09:25 AM | $460.00 | ikokiwest |
| Jul 1, 2020 - 8:09:23 AM | $450.00 | idlndave45 |
| Jul 1, 2020 - 8:09:23 AM | $440.00 | ikokiwest |
| Jul 1, 2020 - 8:09:20 AM | $430.00 | idlndave45 |
| Jul 1, 2020 - 8:09:20 AM | $420.00 | ikokiwest |
| Jul 1, 2020 - 8:09:18 AM | $410.00 | idlndave45 |
| Jul 1, 2020 - 8:09:18 AM | $400.00 | ikokiwest |
| Jul 1, 2020 - 8:09:15 AM | $390.00 | idlndave45 |
| Jul 1, 2020 - 8:09:15 AM | $380.00 | ikokiwest |
| Jul 1, 2020 - 8:09:13 AM | $370.00 | idlndave45 |
| Jul 1, 2020 - 8:09:13 AM | $360.00 | ikokiwest |
| Jul 1, 2020 - 8:09:11 AM | $350.00 | idlndave45 |
| Jul 1, 2020 - 8:09:11 AM | $340.00 | ikokiwest |
| Jul 1, 2020 - 8:09:08 AM | $330.00 | idlndave45 |
| Jul 1, 2020 - 8:09:08 AM | $320.00 | ikokiwest |
| Jul 1, 2020 - 8:09:05 AM | $310.00 | idlndave45 |
| Jul 1, 2020 - 8:09:05 AM | $300.00 | ikokiwest |
| Jul 1, 2020 - 8:09:03 AM | $290.00 | idlndave45 |
| Jul 1, 2020 - 8:09:03 AM | $280.00 | ikokiwest |
| Jul 1, 2020 - 8:09:00 AM | $270.00 | idlndave45 |
| Jul 1, 2020 - 8:09:00 AM | $260.00 | ikokiwest |
| Jul 1, 2020 - 8:08:58 AM | $250.00 | idlndave45 |
| Jul 1, 2020 - 8:08:58 AM | $240.00 | ikokiwest |
| Jul 1, 2020 - 8:08:55 AM | $230.00 | idlndave45 |
| Jul 1, 2020 - 8:08:55 AM | $220.00 | ikokiwest |
| Jun 30, 2020 - 8:57:21 PM | $210.00 | idlndave45 |
| Jun 30, 2020 - 8:57:21 PM | $200.00 | ihardway23 |
| Jun 30, 2020 - 7:41:53 PM | $20.00 | idlndave45 |
| Jun 30, 2020 - 7:41:53 PM | $15.00 | iglentp |
| Jun 30, 2020 - 4:33:15 PM | $10.00 | idlndave45 |
| Jun 30, 2020 - 4:19:57 PM | $5.00 | ikokiwest |