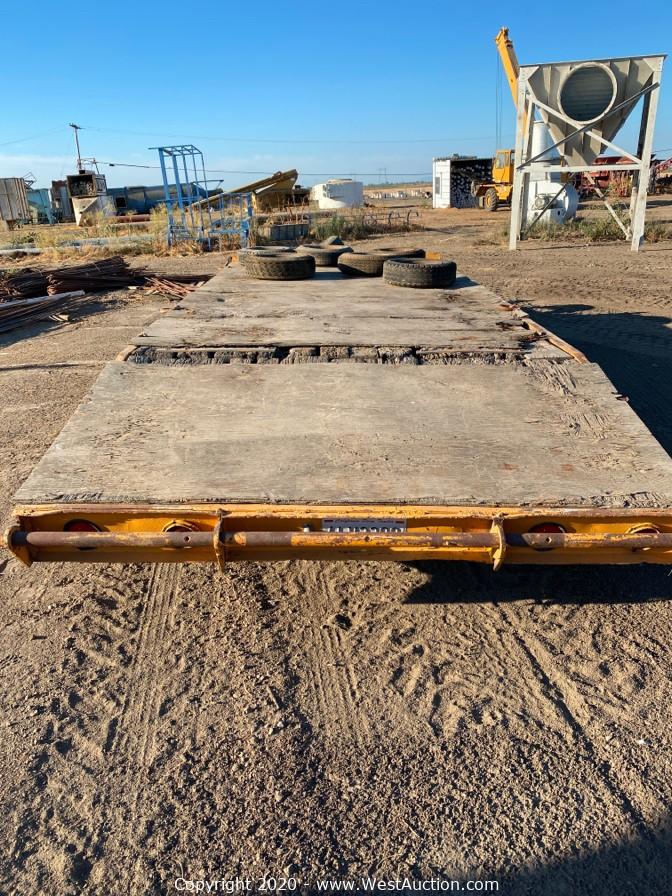 Lot #0133:
20' Spencer Flatbed Trailer
Bidding is

closed

.
High Bid:
$1,925.51
NA
Bidding Ended:
Thu, Oct 1 10:30:00 am PT
High Bidder:
jesse63
Bid Increment:
$50.00
Starting Bid:
$5.00
Item has been viewed 620 times.

20' Spencer Flatbed Trailer
VIN: CA564679
License: 4LV3398

Expiration Date: 11/30/2016

8' Wide X 20' Long
Year: NA
Note: Application for Duplicate Title, Transfer form will be mailed 3-4 weeks following the close of the auction. Buyers are fully responsible for all aspects of registration, transfer, and fees due to California DMV. 
Note: All photos and descriptions have been provided by the Seller. 
| | | |
| --- | --- | --- |
| Bid Date | Bid Amount | Bidder |
| Oct 1, 2020 - 10:25:39 AM | $1,925.51 | ijesse63 |
| Oct 1, 2020 - 10:25:32 AM | $1,875.51 | ibimota |
| Oct 1, 2020 - 10:25:32 AM | $1,866.66 | ijesse63 |
| Oct 1, 2020 - 10:25:22 AM | $1,816.66 | ibimota |
| Oct 1, 2020 - 10:25:22 AM | $1,766.66 | ijesse63 |
| Oct 1, 2020 - 10:25:19 AM | $1,716.66 | ibimota |
| Oct 1, 2020 - 10:25:19 AM | $1,666.66 | ijesse63 |
| Oct 1, 2020 - 10:10:05 AM | $1,616.66 | ibimota |
| Oct 1, 2020 - 10:09:51 AM | $1,566.66 | iHansFritz |
| Oct 1, 2020 - 10:09:51 AM | $1,551.00 | ibimota |
| Oct 1, 2020 - 10:09:25 AM | $1,301.51 | iHansFritz |
| Oct 1, 2020 - 10:08:50 AM | $1,251.51 | ibimota |
| Oct 1, 2020 - 10:08:50 AM | $1,201.66 | iHansFritz |
| Oct 1, 2020 - 10:07:29 AM | $1,151.00 | iHansFritz |
| Oct 1, 2020 - 10:05:34 AM | $1,101.00 | ijesse63 |
| Oct 1, 2020 - 10:05:34 AM | $1,051.51 | ibimota |
| Oct 1, 2020 - 10:05:22 AM | $1,051.00 | ibimota |
| Oct 1, 2020 - 10:05:22 AM | $1,001.00 | ijesse63 |
| Oct 1, 2020 - 10:05:19 AM | $991.00 | ibimota |
| Oct 1, 2020 - 10:05:19 AM | $981.00 | ijesse63 |
| Oct 1, 2020 - 10:05:14 AM | $971.00 | ibimota |
| Oct 1, 2020 - 10:05:14 AM | $961.00 | ijesse63 |
| Oct 1, 2020 - 10:05:10 AM | $951.00 | ibimota |
| Oct 1, 2020 - 10:05:10 AM | $941.00 | ijesse63 |
| Oct 1, 2020 - 10:05:07 AM | $931.00 | ibimota |
| Oct 1, 2020 - 10:05:07 AM | $921.00 | ijesse63 |
| Oct 1, 2020 - 10:05:04 AM | $911.00 | ibimota |
| Oct 1, 2020 - 10:05:04 AM | $901.00 | ijesse63 |
| Oct 1, 2020 - 10:04:59 AM | $891.00 | ibimota |
| Oct 1, 2020 - 10:04:59 AM | $881.00 | ijesse63 |
| Oct 1, 2020 - 10:01:48 AM | $871.00 | ibimota |
| Oct 1, 2020 - 9:56:33 AM | $861.00 | ijesse63 |
| Oct 1, 2020 - 9:56:33 AM | $856.11 | iHansFritz |
| Oct 1, 2020 - 9:56:29 AM | $851.00 | iHansFritz |
| Oct 1, 2020 - 9:56:29 AM | $841.00 | ijesse63 |
| Oct 1, 2020 - 9:56:25 AM | $831.00 | iHansFritz |
| Oct 1, 2020 - 9:56:25 AM | $821.00 | ijesse63 |
| Oct 1, 2020 - 9:52:49 AM | $811.00 | iHansFritz |
| Oct 1, 2020 - 9:38:06 AM | $801.00 | ijunkbuyer |
| Oct 1, 2020 - 9:38:06 AM | $800.00 | imark123 |
| Oct 1, 2020 - 9:31:27 AM | $740.00 | imark123 |
| Oct 1, 2020 - 9:31:27 AM | $730.00 | iLukifer |
| Oct 1, 2020 - 7:19:38 AM | $720.00 | imark123 |
| Oct 1, 2020 - 7:19:38 AM | $710.00 | ijunkbuyer |
| Sep 30, 2020 - 7:10:58 PM | $610.00 | imark123 |
| Sep 30, 2020 - 7:10:58 PM | $600.00 | ihardway23 |
| Sep 30, 2020 - 7:10:40 PM | $545.00 | ihardway23 |
| Sep 30, 2020 - 7:10:40 PM | $535.00 | imark123 |
| Sep 30, 2020 - 6:24:19 PM | $430.00 | ihardway23 |
| Sep 30, 2020 - 5:03:18 PM | $420.00 | iWantsStuff |
| Sep 30, 2020 - 2:56:48 PM | $410.00 | ihardway23 |
| Sep 30, 2020 - 2:56:42 PM | $400.00 | ijunkbuyer |
| Sep 30, 2020 - 2:56:43 PM | $400.00 | ihardway23 |
| Sep 30, 2020 - 2:03:21 PM | $338.00 | ijunkbuyer |
| Sep 30, 2020 - 11:31:14 AM | $328.00 | iDaddyo |
| Sep 30, 2020 - 11:31:14 AM | $325.00 | iWantsStuff |
| Sep 30, 2020 - 11:31:06 AM | $250.00 | iDaddyo |
| Sep 30, 2020 - 11:31:06 AM | $240.00 | iWantsStuff |
| Sep 30, 2020 - 11:31:03 AM | $230.00 | iDaddyo |
| Sep 30, 2020 - 11:31:03 AM | $220.00 | iWantsStuff |
| Sep 30, 2020 - 9:44:10 AM | $210.00 | iDaddyo |
| Sep 30, 2020 - 9:44:02 AM | $200.00 | ihardway23 |
| Sep 30, 2020 - 9:44:02 AM | $195.00 | iDaddyo |
| Sep 30, 2020 - 9:43:47 AM | $185.00 | ihardway23 |
| Sep 30, 2020 - 9:43:47 AM | $175.00 | iDaddyo |
| Sep 30, 2020 - 4:41:20 AM | $165.00 | ihardway23 |
| Sep 30, 2020 - 4:41:20 AM | $155.00 | imark123 |
| Sep 29, 2020 - 5:02:51 PM | $75.00 | imark123 |
| Sep 29, 2020 - 5:02:51 PM | $70.00 | idriverschool |
| Sep 29, 2020 - 5:02:40 PM | $65.00 | imark123 |
| Sep 29, 2020 - 5:02:40 PM | $60.00 | idriverschool |
| Sep 29, 2020 - 4:20:33 PM | $55.00 | imark123 |
| Sep 29, 2020 - 4:20:19 PM | $50.00 | idriverschool |
| Sep 29, 2020 - 4:20:20 PM | $50.00 | imark123 |
| Sep 29, 2020 - 10:14:17 AM | $5.00 | idriverschool |