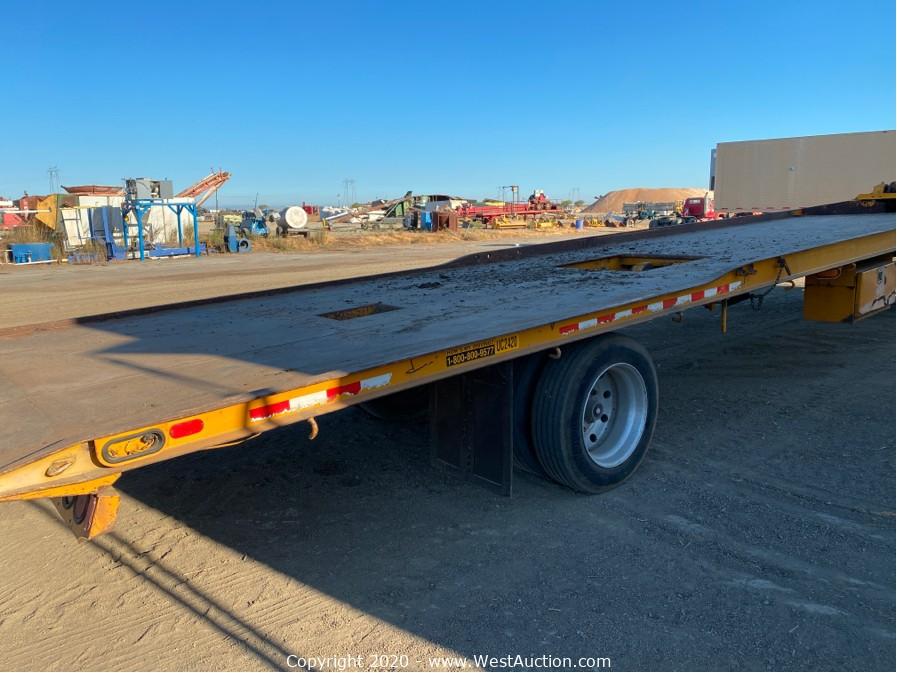 Lot #0134:
2000 Reliance Sea Container Trailer
Bidding is

closed

.
High Bid:
$7,451.00
NA
Bidding Ended:
Thu, Oct 1 10:31:00 am PT
High Bidder:
hardway23
Bid Increment:
$100.00
Starting Bid:
$5.00
Item has been viewed 670 times.

2000 Reliance Sea Container Trailer
Trailer Details
Make: Reliance
VIN: 1RESJ8106YC001213
License: 4PY7272

Expiration Date: 12/31/2021

Trailer Type: Select One
Dimensions
Overall Length: 40 Feet
Overall Width: 102"
Deck Length: 36 1/2'
Deck Width: 102"
Side Height: 48"
Axles, Brakes, and Tires
Suspension: Leaf Spring
Number of Axles: 1
Brake Type: Air
Number of Wheels: 4
Tire Size: 255/70R 22.5
Hitch: 5th Wheel
Sea container hauling trailer Deck 102" Wide 36 1/2' long 40' overall length. Has 2 winches 1 in front 1 in the middle the pulling containers on as well as off. Hydraulic till
Note: Application for Duplicate Title, Transfer form will be mailed 3-4 weeks following the close of the auction. Buyers are fully responsible for all aspects of registration, transfer, and fees due to California DMV. 
Note: All photos and descriptions have been provided by the Seller. 
| | | |
| --- | --- | --- |
| Bid Date | Bid Amount | Bidder |
| Oct 1, 2020 - 10:22:03 AM | $7,451.00 | ihardway23 |
| Oct 1, 2020 - 10:22:03 AM | $7,351.00 | isidewayz |
| Oct 1, 2020 - 9:54:30 AM | $7,100.00 | isidewayz |
| Oct 1, 2020 - 9:54:30 AM | $7,000.00 | ihardway23 |
| Oct 1, 2020 - 9:54:12 AM | $6,877.00 | ihardway23 |
| Oct 1, 2020 - 9:54:12 AM | $6,777.00 | isidewayz |
| Oct 1, 2020 - 9:54:02 AM | $6,437.00 | ihardway23 |
| Oct 1, 2020 - 9:54:02 AM | $6,337.00 | isidewayz |
| Oct 1, 2020 - 9:50:29 AM | $5,851.00 | ihardway23 |
| Oct 1, 2020 - 9:50:29 AM | $5,751.00 | irbilafer123 |
| Sep 30, 2020 - 9:00:00 PM | $5,410.00 | ihardway23 |
| Sep 30, 2020 - 9:00:00 PM | $5,310.00 | igarywh |
| Sep 30, 2020 - 4:41:48 AM | $5,210.00 | ihardway23 |
| Sep 30, 2020 - 4:41:48 AM | $5,110.00 | iColtgunner |
| Sep 29, 2020 - 10:56:05 PM | $4,350.00 | iColtgunner |
| Sep 29, 2020 - 10:56:05 PM | $4,300.00 | ibuysell |
| Sep 29, 2020 - 9:30:31 PM | $4,050.00 | iColtgunner |
| Sep 29, 2020 - 9:30:31 PM | $4,000.00 | ihardway23 |
| Sep 29, 2020 - 8:57:46 PM | $3,461.00 | ihardway23 |
| Sep 29, 2020 - 8:57:46 PM | $3,411.00 | igarywh |
| Sep 29, 2020 - 8:57:30 PM | $3,361.00 | ihardway23 |
| Sep 29, 2020 - 8:57:30 PM | $3,311.00 | igarywh |
| Sep 29, 2020 - 8:57:18 PM | $3,261.00 | ihardway23 |
| Sep 29, 2020 - 8:57:18 PM | $3,211.00 | igarywh |
| Sep 29, 2020 - 7:40:22 PM | $3,161.00 | ihardway23 |
| Sep 29, 2020 - 7:40:22 PM | $3,111.00 | imoebandy |
| Sep 29, 2020 - 7:40:12 PM | $3,050.00 | imoebandy |
| Sep 29, 2020 - 7:40:12 PM | $3,000.00 | ihardway23 |
| Sep 29, 2020 - 4:39:32 PM | $2,550.00 | imoebandy |
| Sep 29, 2020 - 4:39:32 PM | $2,500.00 | ihardway23 |
| Sep 29, 2020 - 4:38:15 PM | $2,214.00 | ihardway23 |
| Sep 29, 2020 - 4:38:15 PM | $2,164.00 | imoebandy |
| Sep 29, 2020 - 4:23:26 PM | $1,924.00 | ihardway23 |
| Sep 29, 2020 - 4:23:26 PM | $1,874.00 | imoebandy |
| Sep 29, 2020 - 1:52:12 PM | $1,250.00 | ihardway23 |
| Sep 29, 2020 - 1:52:12 PM | $1,200.00 | iColtgunner |
| Sep 29, 2020 - 12:09:39 PM | $607.00 | iColtgunner |
| Sep 29, 2020 - 12:09:39 PM | $597.00 | itimt408 |
| Sep 29, 2020 - 11:36:10 AM | $587.00 | iColtgunner |
| Sep 29, 2020 - 11:36:10 AM | $577.00 | isidewayz |
| Sep 29, 2020 - 10:04:01 AM | $5.00 | isidewayz |