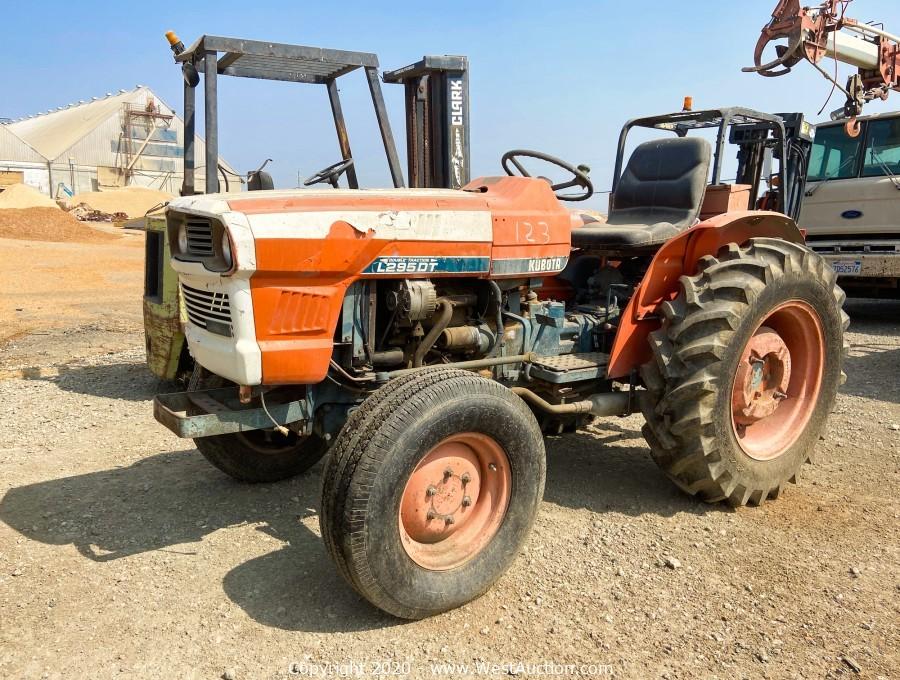 Lot #0123:
Kubota L295DT Tractor
Bidding is

closed

.
High Bid:
$2,050.00
NA
Bidding Ended:
Thu, Oct 1 10:23:00 am PT
High Bidder:
Coltgunner
Bid Increment:
$50.00
Starting Bid:
$5.00
Item has been viewed 565 times.

Kubota L295DT
Manufacturer: Kubota
Model: L295DT
Tractor Type: Tractor
Hours: 1527
Serial: L295DT-12315
Seller states that this Tractor Runs, but is hard to start
Note: All photos and descriptions have been provided by the Seller. 
| | | |
| --- | --- | --- |
| Bid Date | Bid Amount | Bidder |
| Sep 29, 2020 - 9:27:34 PM | $2,050.00 | iColtgunner |
| Sep 29, 2020 - 9:27:34 PM | $2,000.00 | igarywh |
| Sep 29, 2020 - 8:55:57 PM | $1,259.00 | igarywh |
| Sep 29, 2020 - 8:55:41 PM | $1,209.00 | iColtgunner |
| Sep 29, 2020 - 8:55:41 PM | $1,201.00 | igarywh |
| Sep 29, 2020 - 8:55:30 PM | $1,151.00 | iColtgunner |
| Sep 29, 2020 - 8:55:30 PM | $1,101.00 | igarywh |
| Sep 29, 2020 - 1:33:01 PM | $1,051.00 | iColtgunner |
| Sep 29, 2020 - 1:33:01 PM | $1,001.00 | i2big bronco |
| Sep 29, 2020 - 1:32:54 PM | $831.00 | iColtgunner |
| Sep 29, 2020 - 1:32:54 PM | $821.00 | i2big bronco |
| Sep 29, 2020 - 1:32:49 PM | $811.00 | iColtgunner |
| Sep 29, 2020 - 1:32:49 PM | $801.00 | i2big bronco |
| Sep 29, 2020 - 1:32:43 PM | $530.00 | iColtgunner |
| Sep 29, 2020 - 1:32:43 PM | $520.00 | i2big bronco |
| Sep 29, 2020 - 1:31:46 PM | $510.00 | iColtgunner |
| Sep 29, 2020 - 1:31:46 PM | $500.00 | i2big bronco |
| Sep 29, 2020 - 11:36:18 AM | $125.00 | iColtgunner |
| Sep 29, 2020 - 11:36:18 AM | $115.00 | iyeeeap |
| Sep 29, 2020 - 11:29:36 AM | $105.00 | iColtgunner |
| Sep 29, 2020 - 11:29:36 AM | $100.00 | i2big bronco |
| Sep 29, 2020 - 10:33:19 AM | $70.00 | i2big bronco |
| Sep 29, 2020 - 10:33:19 AM | $65.00 | idriverschool |
| Sep 29, 2020 - 10:30:40 AM | $60.00 | i2big bronco |
| Sep 29, 2020 - 10:30:40 AM | $55.00 | idriverschool |
| Sep 29, 2020 - 10:30:35 AM | $50.00 | i2big bronco |
| Sep 29, 2020 - 10:30:35 AM | $45.00 | idriverschool |
| Sep 29, 2020 - 10:30:32 AM | $40.00 | i2big bronco |
| Sep 29, 2020 - 10:30:32 AM | $35.00 | idriverschool |
| Sep 29, 2020 - 10:30:26 AM | $30.00 | i2big bronco |
| Sep 29, 2020 - 10:30:26 AM | $25.00 | idriverschool |
| Sep 29, 2020 - 10:30:19 AM | $20.00 | i2big bronco |
| Sep 29, 2020 - 10:30:19 AM | $15.00 | idriverschool |
| Sep 29, 2020 - 10:28:14 AM | $10.00 | i2big bronco |
| Sep 29, 2020 - 10:12:57 AM | $5.00 | idriverschool |