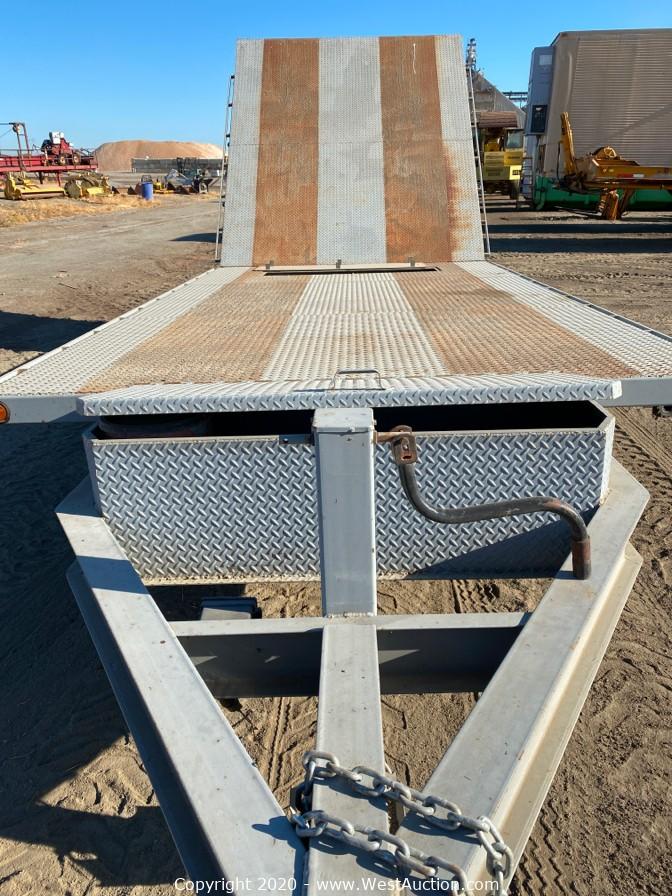 Lot #0135:
Spencer 3-Axle Beavertail Tilt Trailer
Bidding is

closed

.
High Bid:
$3,901.00
NA
Bidding Ended:
Thu, Oct 1 10:32:00 am PT
High Bidder:
timt408
Bid Increment:
$50.00
Starting Bid:
$5.00
Item has been viewed 701 times.

Spencer 3-Axle Beavertail Tilt Trailer
Trailer Details
Make: Home Built
Model: Flatbed Beavertail Tilt
VIN: CA959575
License: 4NR6219

Expiration Date: 10/31/2020 PTI Trailer

Trailer Type: Flatbed
Dimensions
Overall Length: 31'
Overall Width: 102"
Deck Length: 24'
Deck Width: 102"
Side Height: 32"
Axles, Brakes, and Tires
Suspension: Leaf Spring
Number of Axles: 3
Brake Type: Electric
Number of Wheels: 6
Tire Size: 255/75 R15
Electric Plug Type: 7-Way RV Blade
Hitch: Pintle Hitch
Electric over hydraulic tilting Beavertail Trailer
Note: Certificate of Title and Transfer Form will be mailed 3-4 weeks following the close of the auction. Buyers are fully responsible for all aspects of transfer, registration, and fees due to California DMV. 
Note: All photos and descriptions have been provided by the Seller. 
| | | |
| --- | --- | --- |
| Bid Date | Bid Amount | Bidder |
| Oct 1, 2020 - 10:22:40 AM | $3,901.00 | itimt408 |
| Oct 1, 2020 - 10:21:44 AM | $3,851.00 | i2big bronco |
| Oct 1, 2020 - 10:21:39 AM | $3,801.00 | itimt408 |
| Oct 1, 2020 - 10:21:39 AM | $3,800.00 | i2big bronco |
| Oct 1, 2020 - 10:10:43 AM | $3,750.00 | itimt408 |
| Oct 1, 2020 - 10:07:07 AM | $3,700.00 | i2big bronco |
| Oct 1, 2020 - 10:07:07 AM | $3,666.00 | itimt408 |
| Oct 1, 2020 - 10:07:01 AM | $3,650.00 | itimt408 |
| Oct 1, 2020 - 10:07:01 AM | $3,600.00 | i2big bronco |
| Oct 1, 2020 - 9:40:55 AM | $3,550.00 | itimt408 |
| Oct 1, 2020 - 9:12:57 AM | $3,500.00 | ivereschagin1@aol.com |
| Oct 1, 2020 - 7:51:46 AM | $3,450.00 | i2big bronco |
| Oct 1, 2020 - 7:51:46 AM | $3,401.00 | iJaysunz707 |
| Oct 1, 2020 - 7:37:21 AM | $3,400.00 | iJaysunz707 |
| Oct 1, 2020 - 7:37:21 AM | $3,350.00 | i2big bronco |
| Sep 30, 2020 - 6:47:37 PM | $3,300.00 | i2big bronco |
| Sep 30, 2020 - 5:48:34 PM | $3,250.00 | isupersocket1 |
| Sep 30, 2020 - 10:36:41 AM | $3,200.00 | i2big bronco |
| Sep 30, 2020 - 10:36:38 AM | $3,150.00 | iBossman |
| Sep 30, 2020 - 10:36:38 AM | $3,100.00 | i2big bronco |
| Sep 30, 2020 - 10:36:35 AM | $3,050.00 | iBossman |
| Sep 30, 2020 - 10:36:35 AM | $3,000.00 | i2big bronco |
| Sep 30, 2020 - 10:36:31 AM | $2,950.00 | iBossman |
| Sep 30, 2020 - 10:36:31 AM | $2,900.00 | i2big bronco |
| Sep 30, 2020 - 9:58:44 AM | $2,850.00 | iBossman |
| Sep 29, 2020 - 5:08:48 PM | $2,800.00 | i2big bronco |
| Sep 29, 2020 - 5:08:38 PM | $2,750.00 | ihardway23 |
| Sep 29, 2020 - 5:08:38 PM | $2,700.00 | i2big bronco |
| Sep 29, 2020 - 4:34:52 PM | $2,650.00 | ihardway23 |
| Sep 29, 2020 - 2:38:46 PM | $2,600.00 | i2big bronco |
| Sep 29, 2020 - 2:01:36 PM | $2,550.00 | ijesse63 |
| Sep 29, 2020 - 2:01:32 PM | $2,500.00 | ihardway23 |
| Sep 29, 2020 - 2:01:33 PM | $2,500.00 | ijesse63 |
| Sep 29, 2020 - 2:01:30 PM | $2,450.00 | ihardway23 |
| Sep 29, 2020 - 2:01:30 PM | $2,400.00 | ijesse63 |
| Sep 29, 2020 - 2:01:27 PM | $2,350.00 | ihardway23 |
| Sep 29, 2020 - 2:01:27 PM | $2,300.00 | ijesse63 |
| Sep 29, 2020 - 2:01:23 PM | $2,250.00 | ihardway23 |
| Sep 29, 2020 - 2:01:23 PM | $2,200.00 | ijesse63 |
| Sep 29, 2020 - 2:01:20 PM | $2,150.00 | ihardway23 |
| Sep 29, 2020 - 2:01:20 PM | $2,100.00 | ijesse63 |
| Sep 29, 2020 - 2:01:13 PM | $2,050.00 | ihardway23 |
| Sep 29, 2020 - 2:01:13 PM | $2,000.00 | ijesse63 |
| Sep 29, 2020 - 2:01:01 PM | $1,850.00 | ihardway23 |
| Sep 29, 2020 - 2:01:01 PM | $1,800.00 | ijesse63 |
| Sep 29, 2020 - 2:00:42 PM | $1,650.00 | ihardway23 |
| Sep 29, 2020 - 2:00:42 PM | $1,600.00 | ijesse63 |
| Sep 29, 2020 - 1:52:30 PM | $1,150.00 | ihardway23 |
| Sep 29, 2020 - 1:52:30 PM | $1,100.00 | idarrin635 |
| Sep 29, 2020 - 1:41:47 PM | $1,051.00 | idarrin635 |
| Sep 29, 2020 - 1:41:28 PM | $1,001.00 | i2big bronco |
| Sep 29, 2020 - 1:41:28 PM | $1,000.00 | idarrin635 |
| Sep 29, 2020 - 1:28:10 PM | $760.00 | i2big bronco |
| Sep 29, 2020 - 1:28:10 PM | $750.00 | idarrin635 |
| Sep 29, 2020 - 12:53:52 PM | $125.00 | idarrin635 |
| Sep 29, 2020 - 12:53:52 PM | $115.00 | idriverschool |
| Sep 29, 2020 - 12:14:01 PM | $105.00 | idarrin635 |
| Sep 29, 2020 - 12:09:49 PM | $100.00 | i2big bronco |
| Sep 29, 2020 - 12:09:50 PM | $100.00 | itimt408 |
| Sep 29, 2020 - 10:34:04 AM | $95.00 | i2big bronco |
| Sep 29, 2020 - 10:34:04 AM | $90.00 | idriverschool |
| Sep 29, 2020 - 10:33:59 AM | $85.00 | i2big bronco |
| Sep 29, 2020 - 10:33:59 AM | $80.00 | idriverschool |
| Sep 29, 2020 - 10:33:48 AM | $75.00 | i2big bronco |
| Sep 29, 2020 - 10:33:48 AM | $70.00 | idriverschool |
| Sep 29, 2020 - 10:27:44 AM | $65.00 | i2big bronco |
| Sep 29, 2020 - 10:27:44 AM | $60.00 | idriverschool |
| Sep 29, 2020 - 10:27:26 AM | $55.00 | i2big bronco |
| Sep 29, 2020 - 10:27:26 AM | $50.00 | idriverschool |
| Sep 29, 2020 - 10:27:21 AM | $45.00 | i2big bronco |
| Sep 29, 2020 - 10:27:21 AM | $40.00 | idriverschool |
| Sep 29, 2020 - 10:27:15 AM | $35.00 | i2big bronco |
| Sep 29, 2020 - 10:27:15 AM | $30.00 | idriverschool |
| Sep 29, 2020 - 10:18:17 AM | $25.00 | i2big bronco |
| Sep 29, 2020 - 10:18:17 AM | $20.00 | idriverschool |
| Sep 29, 2020 - 10:13:26 AM | $5.00 | idriverschool |