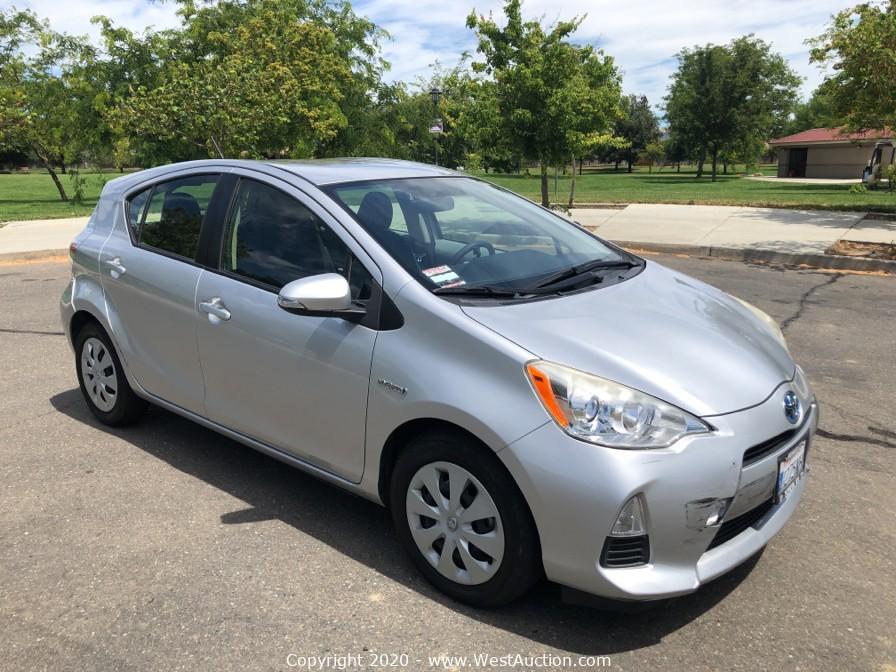 2014 Toyota Prius C
Bidding is

closed

.
High Bid:
$8,700.00
NA
Bidding Ended:
Thu, Jul 23 10:02:39 am PT
High Bidder:
a1towing
Bid Increment:
$100.00
Starting Bid:
$5.00
Item has been viewed 3,773 times.

ASK ABOUT THIS ITEM

2014 Toyota Prius C
Note: This Sale is subject to Bankruptcy Trustee confirmation. 
Specifications
Year: 2014
Make: Toyota
Model: Prius c
VIN: JTDKDTB31E1557961
License: 275NH

Registration Expiration: 3/14/2020

Odometer Reads: 60,312 (odometer updated 7/20/2020)

Note: Photos of odometer shown are prior to 7/20/2020.

Key: Available
Drive Type: Front Wheel Drive
Body Style: Sedan
Fuel Type: Gasoline
Transmission: Automatic
Exterior
Exterior Color: Silver
Doors: Four Door
Interior
Interior Material: Cloth
Interior Color: Black
Features: Bluetooth Hands-Free
Note: Application of Duplicate Title, Transfer Form and Court Order will be mailed 6-8 weeks following close of auction. Buyer is fully responsible for smog, registration and fess due to California DMV.
| | | |
| --- | --- | --- |
| Bid Date | Bid Amount | Bidder |
| Jul 23, 2020 - 10:00:39 AM | $8,700.00 | ia1towing |
| Jul 23, 2020 - 10:00:39 AM | $8,600.00 | iKadee |
| Jul 23, 2020 - 9:59:03 AM | $8,500.00 | ia1towing |
| Jul 23, 2020 - 9:59:03 AM | $8,400.00 | iKadee |
| Jul 23, 2020 - 9:58:43 AM | $8,300.00 | ia1towing |
| Jul 23, 2020 - 9:58:43 AM | $8,200.00 | iKadee |
| Jul 23, 2020 - 9:57:11 AM | $8,100.00 | iKadee |
| Jul 23, 2020 - 9:57:11 AM | $8,000.00 | ia1towing |
| Jul 23, 2020 - 9:56:46 AM | $7,900.00 | ia1towing |
| Jul 23, 2020 - 9:56:46 AM | $7,800.00 | iKadee |
| Jul 23, 2020 - 9:56:14 AM | $7,635.00 | ia1towing |
| Jul 23, 2020 - 9:56:06 AM | $7,535.00 | iKadee |
| Jul 23, 2020 - 9:56:06 AM | $7,500.00 | ia1towing |
| Jul 23, 2020 - 9:55:48 AM | $7,201.00 | iKadee |
| Jul 23, 2020 - 9:17:47 AM | $7,101.00 | iCatherinescheper |
| Jul 23, 2020 - 9:17:47 AM | $7,001.00 | imenam123 |
| Jul 22, 2020 - 7:30:07 PM | $6,700.00 | imenam123 |
| Jul 22, 2020 - 9:44:11 AM | $6,600.00 | iNirkoH |
| Jul 22, 2020 - 9:43:54 AM | $6,500.00 | ivpuriy |
| Jul 22, 2020 - 9:43:55 AM | $6,500.00 | iNirkoH |
| Jul 22, 2020 - 9:43:20 AM | $6,150.00 | ivpuriy |
| Jul 22, 2020 - 9:43:20 AM | $6,050.00 | iNirkoH |
| Jul 22, 2020 - 9:42:46 AM | $5,950.00 | ivpuriy |
| Jul 22, 2020 - 9:42:46 AM | $5,850.00 | iNirkoH |
| Jul 22, 2020 - 9:42:30 AM | $5,750.00 | ivpuriy |
| Jul 22, 2020 - 9:42:30 AM | $5,650.00 | iNirkoH |
| Jul 22, 2020 - 9:42:13 AM | $5,550.00 | ivpuriy |
| Jul 22, 2020 - 9:42:13 AM | $5,450.00 | iNirkoH |
| Jul 22, 2020 - 9:37:04 AM | $5,350.00 | ivpuriy |
| Jul 22, 2020 - 9:07:51 AM | $5,250.00 | iNirkoH |
| Jul 22, 2020 - 9:07:22 AM | $5,150.00 | iDavid Johnson |
| Jul 22, 2020 - 9:07:23 AM | $5,150.00 | iNirkoH |
| Jul 21, 2020 - 12:08:22 PM | $5,050.00 | iDavid Johnson |
| Jul 21, 2020 - 11:38:44 AM | $5,000.00 | ia1towing |
| Jul 21, 2020 - 11:38:45 AM | $5,000.00 | iDavid Johnson |
| Jul 21, 2020 - 11:38:14 AM | $4,550.00 | ia1towing |
| Jul 21, 2020 - 11:38:14 AM | $4,500.00 | iDavid Johnson |
| Jul 21, 2020 - 11:37:56 AM | $4,450.00 | ia1towing |
| Jul 21, 2020 - 11:37:56 AM | $4,400.00 | iDavid Johnson |
| Jul 21, 2020 - 11:37:38 AM | $4,320.00 | ia1towing |
| Jul 21, 2020 - 11:37:38 AM | $4,270.00 | iDavid Johnson |
| Jul 21, 2020 - 11:37:02 AM | $4,210.00 | ia1towing |
| Jul 21, 2020 - 11:37:02 AM | $4,160.00 | iDavid Johnson |
| Jul 21, 2020 - 11:36:43 AM | $4,100.00 | ia1towing |
| Jul 21, 2020 - 11:36:43 AM | $4,050.00 | iDavid Johnson |
| Jul 21, 2020 - 11:36:25 AM | $3,980.00 | ia1towing |
| Jul 21, 2020 - 11:36:25 AM | $3,930.00 | iDavid Johnson |
| Jul 21, 2020 - 11:35:58 AM | $3,870.00 | ia1towing |
| Jul 21, 2020 - 11:35:58 AM | $3,820.00 | iDavid Johnson |
| Jul 21, 2020 - 11:35:42 AM | $3,760.00 | ia1towing |
| Jul 21, 2020 - 11:35:42 AM | $3,710.00 | iDavid Johnson |
| Jul 21, 2020 - 11:35:22 AM | $3,650.00 | ia1towing |
| Jul 21, 2020 - 11:35:22 AM | $3,600.00 | iDavid Johnson |
| Jul 21, 2020 - 11:34:58 AM | $3,550.00 | ia1towing |
| Jul 21, 2020 - 11:34:58 AM | $3,500.00 | iDavid Johnson |
| Jul 21, 2020 - 11:34:42 AM | $3,300.00 | ia1towing |
| Jul 21, 2020 - 11:34:42 AM | $3,250.00 | iDavid Johnson |
| Jul 21, 2020 - 11:34:21 AM | $3,180.00 | ia1towing |
| Jul 21, 2020 - 11:34:21 AM | $3,130.00 | iDavid Johnson |
| Jul 21, 2020 - 11:15:08 AM | $3,070.00 | ia1towing |
| Jul 21, 2020 - 11:15:08 AM | $3,020.00 | iDavid Johnson |
| Jul 21, 2020 - 11:14:46 AM | $2,960.00 | ia1towing |
| Jul 21, 2020 - 11:14:46 AM | $2,910.00 | iDavid Johnson |
| Jul 21, 2020 - 11:14:25 AM | $2,850.00 | ia1towing |
| Jul 21, 2020 - 11:14:25 AM | $2,800.00 | iDavid Johnson |
| Jul 21, 2020 - 11:14:08 AM | $2,720.00 | ia1towing |
| Jul 21, 2020 - 11:14:08 AM | $2,670.00 | iDavid Johnson |
| Jul 21, 2020 - 11:13:17 AM | $2,610.00 | ia1towing |
| Jul 21, 2020 - 11:13:17 AM | $2,560.00 | iDavid Johnson |
| Jul 21, 2020 - 11:12:37 AM | $2,510.00 | ia1towing |
| Jul 21, 2020 - 11:12:37 AM | $2,460.00 | iDavid Johnson |
| Jul 21, 2020 - 11:12:09 AM | $2,400.00 | ia1towing |
| Jul 21, 2020 - 11:12:09 AM | $2,350.00 | iDavid Johnson |
| Jul 21, 2020 - 10:37:30 AM | $2,250.00 | ia1towing |
| Jul 21, 2020 - 10:37:30 AM | $2,200.00 | iDavid Johnson |
| Jul 21, 2020 - 10:33:43 AM | $2,150.00 | iDavid Johnson |
| Jul 21, 2020 - 10:33:43 AM | $2,100.00 | ideal4liam |
| Jul 21, 2020 - 10:33:25 AM | $2,050.00 | ideal4liam |
| Jul 21, 2020 - 10:33:21 AM | $2,000.00 | imikocrippen |
| Jul 21, 2020 - 10:33:22 AM | $2,000.00 | iDavid Johnson |
| Jul 21, 2020 - 10:33:03 AM | $1,850.00 | imikocrippen |
| Jul 21, 2020 - 10:33:03 AM | $1,800.00 | iDavid Johnson |
| Jul 21, 2020 - 10:32:41 AM | $1,650.00 | imikocrippen |
| Jul 21, 2020 - 10:32:41 AM | $1,600.00 | iDavid Johnson |
| Jul 21, 2020 - 10:32:08 AM | $1,490.00 | imikocrippen |
| Jul 21, 2020 - 10:32:08 AM | $1,440.00 | iDavid Johnson |
| Jul 21, 2020 - 10:31:39 AM | $1,380.00 | imikocrippen |
| Jul 21, 2020 - 10:31:39 AM | $1,330.00 | iDavid Johnson |
| Jul 21, 2020 - 10:31:21 AM | $1,270.00 | imikocrippen |
| Jul 21, 2020 - 10:31:21 AM | $1,220.00 | iDavid Johnson |
| Jul 21, 2020 - 10:30:26 AM | $1,160.00 | imikocrippen |
| Jul 21, 2020 - 10:30:26 AM | $1,110.00 | iDavid Johnson |
| Jul 21, 2020 - 10:27:49 AM | $1,059.00 | imikocrippen |
| Jul 21, 2020 - 10:20:56 AM | $1,009.00 | ikingfish |
| Jul 21, 2020 - 10:20:56 AM | $1,000.00 | ia1towing |
| Jul 21, 2020 - 10:20:34 AM | $775.00 | ia1towing |
| Jul 21, 2020 - 10:20:34 AM | $765.00 | ikingfish |
| Jul 21, 2020 - 10:19:24 AM | $510.00 | ia1towing |
| Jul 21, 2020 - 10:19:24 AM | $500.00 | iKadee |
| Jul 21, 2020 - 10:01:40 AM | $5.00 | iKadee |