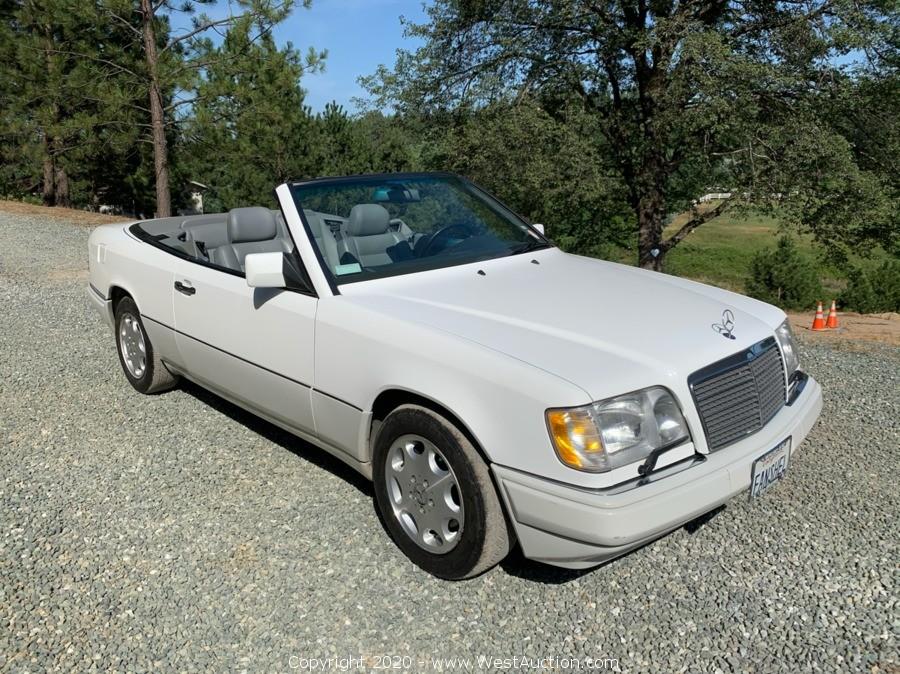 1995 Mercedes Benz E320 Convertible
Bidding is

closed

.
High Bid:
$10,700.00
NA
Bidding Ended:
Thu, Jul 30 10:00:00 am PT
High Bidder:
Miladr121
Bid Increment:
$100.00
Starting Bid:
$5.00
Item has been viewed 4,779 times.

ASK ABOUT THIS ITEM

1995 Mercedes Benz E320 Convertible
Specifications
Year: 1995
Make: Mercedes Benz
Model: E320 Convertible
VIN: WDBEA66E2SC174547
License Per DMV: 7SEF215

Registration Expiration: 1/2/2021

Odometer Reads: 46,868
Key: Available
Drive Type: Front Wheel Drive
Engine: 3.2 Liter Dohc 24 6-cylinder
Body Style: Convertible
Fuel Type: Gasoline
Transmission: Automatic
Tire Size: 195/65r15 91H
Exterior
Exterior Color: White
Doors: Two Door
Interior
Interior Material: Leather
Interior Color: Gray
Features: Cruise Control
Features:

CD Player
Cruise Control
Leather Seats
Multi-Zone Climate Control
Auxiliary Sound Port
Power Locks
Power Windows
Premium Audio
Air Conditioning

Note: Item is subject to seller confirmation. Seller will accept or reject high bid upon close of the auction. 
Note: Certificate of Title, Transfer Form and Smog will be mailed 1-2 weeks following close of auction. Buyer is fully responsible for all aspects of registration, transfer and fees due to DMV. 
| | | |
| --- | --- | --- |
| Bid Date | Bid Amount | Bidder |
| Jul 29, 2020 - 8:33:32 PM | $10,700.00 | iMiladr121 |
| Jul 29, 2020 - 11:28:01 AM | $10,600.00 | iRaiders3232! |
| Jul 29, 2020 - 11:27:57 AM | $10,500.00 | ibuysell4u |
| Jul 29, 2020 - 11:27:57 AM | $10,400.00 | iRaiders3232! |
| Jul 29, 2020 - 11:27:50 AM | $10,300.00 | ibuysell4u |
| Jul 29, 2020 - 11:27:50 AM | $10,200.00 | iRaiders3232! |
| Jul 29, 2020 - 11:26:33 AM | $10,100.00 | ibuysell4u |
| Jul 28, 2020 - 7:19:59 PM | $10,000.00 | iRaiders3232! |
| Jul 28, 2020 - 7:20:00 PM | $10,000.00 | iMiladr121 |
| Jul 28, 2020 - 7:19:45 PM | $9,600.00 | iRaiders3232! |
| Jul 28, 2020 - 7:19:45 PM | $9,500.00 | iMiladr121 |
| Jul 28, 2020 - 7:19:33 PM | $8,700.00 | iRaiders3232! |
| Jul 28, 2020 - 7:19:33 PM | $8,600.00 | iMiladr121 |
| Jul 28, 2020 - 7:19:17 PM | $8,150.00 | iRaiders3232! |
| Jul 28, 2020 - 7:19:17 PM | $8,050.00 | iMiladr121 |
| Jul 28, 2020 - 7:15:42 PM | $7,600.00 | iRaiders3232! |
| Jul 28, 2020 - 7:15:42 PM | $7,500.00 | iMiladr121 |
| Jul 28, 2020 - 7:04:10 PM | $7,100.00 | iMiladr121 |
| Jul 28, 2020 - 7:04:00 PM | $7,000.00 | iRaiders3232! |
| Jul 28, 2020 - 7:04:01 PM | $7,000.00 | iMiladr121 |
| Jul 28, 2020 - 7:03:52 PM | $6,600.00 | iRaiders3232! |
| Jul 28, 2020 - 7:03:52 PM | $6,500.00 | iMiladr121 |
| Jul 28, 2020 - 7:03:38 PM | $6,050.00 | iRaiders3232! |
| Jul 28, 2020 - 7:03:38 PM | $5,950.00 | iMiladr121 |
| Jul 28, 2020 - 7:03:25 PM | $5,750.00 | iRaiders3232! |
| Jul 28, 2020 - 7:03:25 PM | $5,650.00 | iMiladr121 |
| Jul 28, 2020 - 7:03:16 PM | $5,550.00 | iRaiders3232! |
| Jul 28, 2020 - 7:03:16 PM | $5,450.00 | iMiladr121 |
| Jul 28, 2020 - 7:03:05 PM | $5,350.00 | iRaiders3232! |
| Jul 28, 2020 - 7:03:05 PM | $5,250.00 | iMiladr121 |
| Jul 28, 2020 - 6:52:24 PM | $5,150.00 | iRaiders3232! |
| Jul 28, 2020 - 6:34:37 PM | $5,050.00 | iMiladr121 |
| Jul 28, 2020 - 6:34:34 PM | $5,000.00 | iRaiders3232! |
| Jul 28, 2020 - 6:34:34 PM | $4,950.00 | iMiladr121 |
| Jul 28, 2020 - 6:34:31 PM | $4,900.00 | iRaiders3232! |
| Jul 28, 2020 - 6:34:31 PM | $4,850.00 | iMiladr121 |
| Jul 28, 2020 - 6:34:27 PM | $4,800.00 | iRaiders3232! |
| Jul 28, 2020 - 6:34:27 PM | $4,750.00 | iMiladr121 |
| Jul 28, 2020 - 6:34:24 PM | $4,700.00 | iRaiders3232! |
| Jul 28, 2020 - 6:34:24 PM | $4,650.00 | iMiladr121 |
| Jul 28, 2020 - 6:34:21 PM | $4,600.00 | iRaiders3232! |
| Jul 28, 2020 - 6:34:21 PM | $4,550.00 | iMiladr121 |
| Jul 28, 2020 - 6:34:17 PM | $4,500.00 | iRaiders3232! |
| Jul 28, 2020 - 6:34:17 PM | $4,450.00 | iMiladr121 |
| Jul 28, 2020 - 6:34:12 PM | $4,400.00 | iRaiders3232! |
| Jul 28, 2020 - 6:34:12 PM | $4,350.00 | iMiladr121 |
| Jul 28, 2020 - 6:34:08 PM | $4,300.00 | iRaiders3232! |
| Jul 28, 2020 - 6:34:08 PM | $4,250.00 | iMiladr121 |
| Jul 28, 2020 - 6:34:05 PM | $4,200.00 | iRaiders3232! |
| Jul 28, 2020 - 6:34:05 PM | $4,150.00 | iMiladr121 |
| Jul 28, 2020 - 6:34:01 PM | $4,100.00 | iRaiders3232! |
| Jul 28, 2020 - 6:34:01 PM | $4,050.00 | iMiladr121 |
| Jul 28, 2020 - 6:33:54 PM | $4,000.00 | iRaiders3232! |
| Jul 28, 2020 - 6:33:54 PM | $3,950.00 | iMiladr121 |
| Jul 28, 2020 - 6:33:48 PM | $3,900.00 | iRaiders3232! |
| Jul 28, 2020 - 6:33:48 PM | $3,850.00 | iMiladr121 |
| Jul 28, 2020 - 4:26:01 PM | $3,800.00 | iRaiders3232! |
| Jul 28, 2020 - 4:26:01 PM | $3,750.00 | iMiladr121 |
| Jul 28, 2020 - 2:43:14 PM | $3,550.00 | iMiladr121 |
| Jul 28, 2020 - 2:43:14 PM | $3,500.00 | isafariwagon |
| Jul 28, 2020 - 2:42:46 PM | $3,350.00 | isafariwagon |
| Jul 28, 2020 - 2:42:46 PM | $3,300.00 | iMiladr121 |
| Jul 28, 2020 - 2:42:41 PM | $3,250.00 | isafariwagon |
| Jul 28, 2020 - 2:42:41 PM | $3,200.00 | iMiladr121 |
| Jul 28, 2020 - 2:42:22 PM | $3,150.00 | isafariwagon |
| Jul 28, 2020 - 2:42:22 PM | $3,100.00 | iMiladr121 |
| Jul 28, 2020 - 2:29:05 PM | $3,050.00 | isafariwagon |
| Jul 28, 2020 - 2:27:49 PM | $3,000.00 | iMiladr121 |
| Jul 28, 2020 - 2:27:50 PM | $3,000.00 | isafariwagon |
| Jul 28, 2020 - 12:39:55 PM | $2,550.00 | iMiladr121 |
| Jul 28, 2020 - 12:39:55 PM | $2,500.00 | iimsotired |
| Jul 28, 2020 - 12:39:32 PM | $2,050.00 | iMiladr121 |
| Jul 28, 2020 - 12:39:32 PM | $2,000.00 | iimsotired |
| Jul 28, 2020 - 12:01:26 PM | $1,850.00 | iMiladr121 |
| Jul 28, 2020 - 12:01:26 PM | $1,800.00 | iimsotired |
| Jul 28, 2020 - 12:01:03 PM | $1,750.00 | iMiladr121 |
| Jul 28, 2020 - 12:01:03 PM | $1,700.00 | iimsotired |
| Jul 28, 2020 - 11:33:23 AM | $1,650.00 | iMiladr121 |
| Jul 28, 2020 - 11:33:23 AM | $1,600.00 | iSantys |
| Jul 28, 2020 - 10:21:46 AM | $1,550.00 | iMiladr121 |
| Jul 28, 2020 - 10:21:46 AM | $1,500.00 | igreatwhite |
| Jul 28, 2020 - 10:17:59 AM | $530.00 | igreatwhite |
| Jul 28, 2020 - 10:17:59 AM | $520.00 | iMiladr121 |
| Jul 28, 2020 - 10:17:27 AM | $510.00 | igreatwhite |
| Jul 28, 2020 - 10:17:27 AM | $500.00 | iMiladr121 |
| Jul 28, 2020 - 10:17:14 AM | $35.00 | igreatwhite |
| Jul 28, 2020 - 10:17:14 AM | $30.00 | iMiladr121 |
| Jul 28, 2020 - 10:17:07 AM | $25.00 | igreatwhite |
| Jul 28, 2020 - 10:17:07 AM | $20.00 | iMiladr121 |
| Jul 28, 2020 - 10:16:48 AM | $15.00 | igreatwhite |
| Jul 28, 2020 - 10:16:48 AM | $10.00 | iMiladr121 |
| Jul 28, 2020 - 10:07:25 AM | $5.00 | igreatwhite |