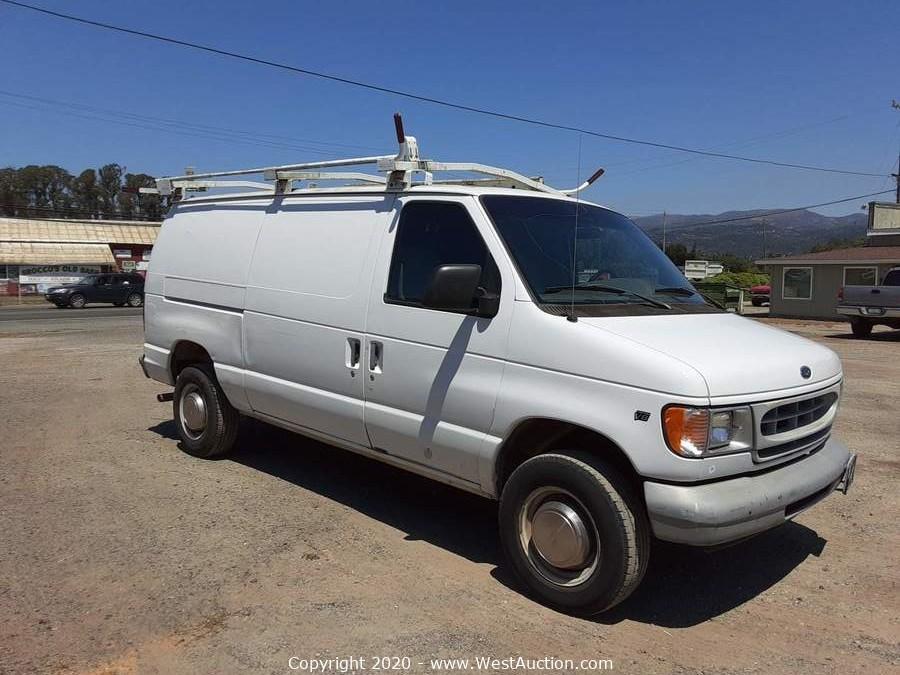 Lot #0100:
1999 Ford E-250 Van
Bidding is

closed

.
High Bid:
$2,300.00
NA
Bidding Ended:
Thu, Sep 24 10:05:47 am PT
High Bidder:
HansFritz
Bid Increment:
$50.00
Starting Bid:
$5.00
Item has been viewed 1,115 times.

1999 Ford E-250 Van
Specifications
Year: 1999
Make: Ford
Model: E250 
VIN: 1FTNE24L9XHA94267 
License: 5Z20418

Registration Expiration: 3/31/2021

Odometer Reads: 148,160
Key: Available
GVWR: 8600lb/3900kg
Drive Type: Front Wheel Drive
Body Style: Van
Fuel Type: Gasoline
Transmission: Automatic
Tire Size: Lt225/75R 16
Exterior
Exterior Color: Off White
Interior
Interior Material: Cloth
Interior Color: Gray
Note: Cracked windshield and ABS light on.
Note: Certificate of Title, Transfer form, and smog will be mailed 3-4 weeks following the close of the auction. The Buyer is fully responsible for all aspects of transfer, registration, and fees due to DMV. 
Note: All photos and descriptions have been provided by the Seller. 
| | | |
| --- | --- | --- |
| Bid Date | Bid Amount | Bidder |
| Sep 24, 2020 - 10:03:47 AM | $2,300.00 | iHansFritz |
| Sep 24, 2020 - 10:03:47 AM | $2,250.00 | ikthale |
| Sep 24, 2020 - 10:02:07 AM | $2,200.00 | iHansFritz |
| Sep 24, 2020 - 10:02:07 AM | $2,150.00 | ikthale |
| Sep 24, 2020 - 10:00:17 AM | $2,100.00 | iHansFritz |
| Sep 24, 2020 - 10:00:17 AM | $2,050.00 | ikthale |
| Sep 24, 2020 - 9:58:54 AM | $2,000.00 | iHansFritz |
| Sep 24, 2020 - 9:58:54 AM | $1,950.00 | ikthale |
| Sep 24, 2020 - 9:57:53 AM | $1,900.00 | iHansFritz |
| Sep 24, 2020 - 9:57:53 AM | $1,850.00 | iRiverboy2008 |
| Sep 24, 2020 - 9:56:34 AM | $1,800.00 | iHansFritz |
| Sep 24, 2020 - 9:56:07 AM | $1,750.00 | ikthale |
| Sep 24, 2020 - 9:55:48 AM | $1,700.00 | iHansFritz |
| Sep 24, 2020 - 9:55:48 AM | $1,650.00 | ikthale |
| Sep 24, 2020 - 9:48:24 AM | $1,600.00 | iHansFritz |
| Sep 24, 2020 - 9:48:09 AM | $1,550.00 | ikthale |
| Sep 24, 2020 - 8:43:34 AM | $1,500.00 | iBertha3332 |
| Sep 24, 2020 - 8:43:34 AM | $1,456.00 | iekfuddster |
| Sep 24, 2020 - 8:38:03 AM | $1,410.00 | iekfuddster |
| Sep 24, 2020 - 8:38:03 AM | $1,360.00 | iBertha3332 |
| Sep 24, 2020 - 8:37:24 AM | $1,310.00 | iekfuddster |
| Sep 24, 2020 - 8:37:24 AM | $1,260.00 | iBertha3332 |
| Sep 24, 2020 - 8:19:29 AM | $1,210.00 | iekfuddster |
| Sep 24, 2020 - 8:19:29 AM | $1,160.00 | iBertha3332 |
| Sep 23, 2020 - 10:13:21 PM | $1,110.00 | iekfuddster |
| Sep 23, 2020 - 10:13:21 PM | $1,060.00 | ikthale |
| Sep 23, 2020 - 10:11:21 PM | $1,010.00 | iekfuddster |
| Sep 23, 2020 - 10:11:21 PM | $1,000.00 | ikthale |
| Sep 23, 2020 - 10:11:14 PM | $990.00 | iekfuddster |
| Sep 23, 2020 - 10:11:14 PM | $980.00 | ikthale |
| Sep 23, 2020 - 10:11:05 PM | $970.00 | iekfuddster |
| Sep 23, 2020 - 10:11:05 PM | $960.00 | ikthale |
| Sep 23, 2020 - 10:11:00 PM | $950.00 | iekfuddster |
| Sep 23, 2020 - 10:11:00 PM | $940.00 | ikthale |
| Sep 23, 2020 - 10:10:50 PM | $930.00 | iekfuddster |
| Sep 23, 2020 - 10:10:50 PM | $920.00 | ikthale |
| Sep 23, 2020 - 10:10:44 PM | $910.00 | iekfuddster |
| Sep 23, 2020 - 10:10:44 PM | $900.00 | ikthale |
| Sep 23, 2020 - 10:10:37 PM | $890.00 | iekfuddster |
| Sep 23, 2020 - 10:10:37 PM | $880.00 | ikthale |
| Sep 23, 2020 - 10:10:32 PM | $870.00 | iekfuddster |
| Sep 23, 2020 - 10:10:32 PM | $860.00 | ikthale |
| Sep 23, 2020 - 10:10:26 PM | $850.00 | iekfuddster |
| Sep 23, 2020 - 10:10:26 PM | $840.00 | ikthale |
| Sep 23, 2020 - 7:34:51 PM | $830.00 | iekfuddster |
| Sep 23, 2020 - 7:22:58 PM | $820.00 | iBertha3332 |
| Sep 23, 2020 - 4:35:40 PM | $810.00 | ikthale |
| Sep 23, 2020 - 4:35:35 PM | $800.00 | iseniorcruz |
| Sep 23, 2020 - 4:35:35 PM | $790.00 | ikthale |
| Sep 23, 2020 - 4:35:29 PM | $780.00 | iseniorcruz |
| Sep 23, 2020 - 4:35:29 PM | $770.00 | ikthale |
| Sep 23, 2020 - 4:35:20 PM | $760.00 | iseniorcruz |
| Sep 23, 2020 - 4:35:20 PM | $750.00 | ikthale |
| Sep 23, 2020 - 4:35:13 PM | $740.00 | iseniorcruz |
| Sep 23, 2020 - 4:35:13 PM | $730.00 | ikthale |
| Sep 23, 2020 - 4:35:06 PM | $720.00 | iseniorcruz |
| Sep 23, 2020 - 4:35:06 PM | $710.00 | ikthale |
| Sep 23, 2020 - 4:34:59 PM | $700.00 | iseniorcruz |
| Sep 23, 2020 - 4:34:59 PM | $690.00 | ikthale |
| Sep 23, 2020 - 4:29:38 PM | $680.00 | iseniorcruz |
| Sep 23, 2020 - 3:31:31 PM | $670.00 | iBertha3332 |
| Sep 23, 2020 - 3:30:57 PM | $660.00 | ikthale |
| Sep 23, 2020 - 3:30:54 PM | $650.00 | iBertha3332 |
| Sep 23, 2020 - 3:30:55 PM | $650.00 | ikthale |
| Sep 23, 2020 - 3:30:50 PM | $640.00 | iBertha3332 |
| Sep 23, 2020 - 3:30:50 PM | $630.00 | ikthale |
| Sep 23, 2020 - 3:09:51 PM | $620.00 | iBertha3332 |
| Sep 23, 2020 - 11:41:26 AM | $610.00 | ikthale |
| Sep 23, 2020 - 11:40:53 AM | $600.00 | ithesfzoo |
| Sep 23, 2020 - 11:40:53 AM | $590.00 | ikthale |
| Sep 23, 2020 - 11:40:50 AM | $580.00 | ithesfzoo |
| Sep 23, 2020 - 11:40:50 AM | $570.00 | ikthale |
| Sep 23, 2020 - 11:38:54 AM | $560.00 | ithesfzoo |
| Sep 23, 2020 - 11:32:50 AM | $550.00 | ikthale |
| Sep 23, 2020 - 11:32:46 AM | $540.00 | iWaqwaq4 |
| Sep 23, 2020 - 11:32:47 AM | $540.00 | ikthale |
| Sep 23, 2020 - 12:02:50 AM | $530.00 | iWaqwaq4 |
| Sep 22, 2020 - 9:13:32 PM | $520.00 | ikthale |
| Sep 22, 2020 - 6:54:01 PM | $510.00 | itakingitso |
| Sep 22, 2020 - 2:17:36 PM | $500.00 | iekfuddster |
| Sep 22, 2020 - 2:17:37 PM | $500.00 | iravetildon |
| Sep 22, 2020 - 2:17:30 PM | $410.00 | iekfuddster |
| Sep 22, 2020 - 2:17:30 PM | $400.00 | iravetildon |
| Sep 22, 2020 - 2:11:29 PM | $310.00 | iekfuddster |
| Sep 22, 2020 - 2:11:29 PM | $300.00 | ijustlooking |
| Sep 22, 2020 - 1:54:52 PM | $210.00 | iekfuddster |
| Sep 22, 2020 - 1:54:52 PM | $200.00 | iHansFritz |
| Sep 22, 2020 - 10:24:18 AM | $105.00 | iHansFritz |
| Sep 22, 2020 - 10:24:18 AM | $100.00 | imperryx5 |
| Sep 22, 2020 - 10:24:00 AM | $55.00 | imperryx5 |
| Sep 22, 2020 - 10:24:00 AM | $50.00 | iHansFritz |
| Sep 22, 2020 - 10:21:00 AM | $5.00 | imperryx5 |