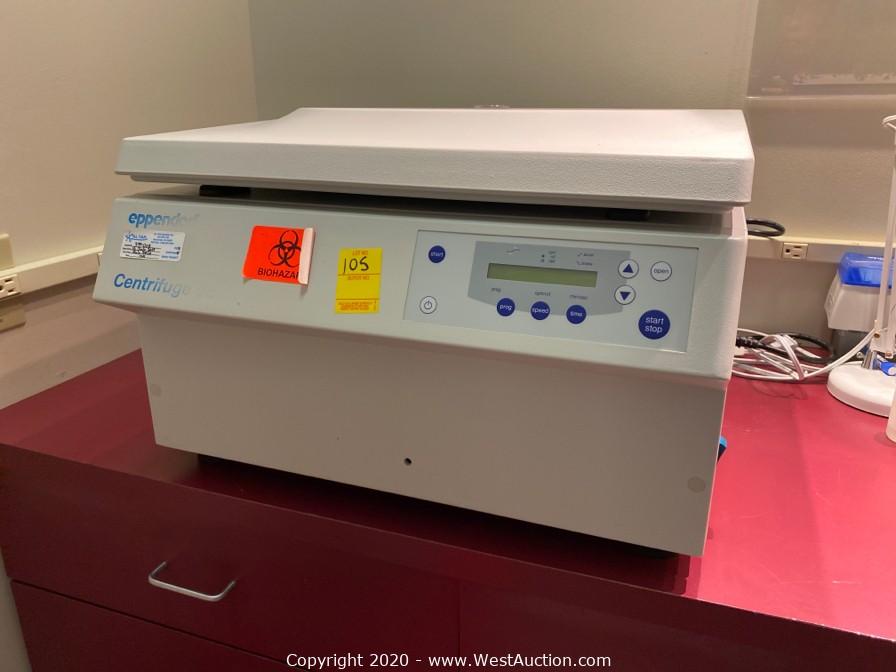 Lot #0105:
Eppendorf 5810 Centrifuge
Bidding is

closed

.
High Bid:
$1,800.00
NA
Bidding Ended:
Thu, Sep 24 10:08:06 am PT
High Bidder:
rmellon
Bid Increment:
$50.00
Starting Bid:
$5.00
Item Location:

Hercules

,

CA

94547

Item has been viewed 354 times.

Eppendorf Centrifuge
Model Number: 5810
Voltage: 120 V
Approximate Weight: 100+ Lbs
NOTE

: Unit is extremely heavy and fragile. Buyer should come with adequate manpower to safely move this item. West Auction employees will not be responsible for moving/loading the device. A dolly/hand truck is also strongly recommended.
| | | |
| --- | --- | --- |
| Bid Date | Bid Amount | Bidder |
| Sep 24, 2020 - 10:06:06 AM | $1,800.00 | irmellon |
| Sep 24, 2020 - 10:06:06 AM | $1,750.00 | inoelcjr |
| Sep 24, 2020 - 10:04:47 AM | $1,700.00 | irmellon |
| Sep 24, 2020 - 10:04:43 AM | $1,650.00 | inoelcjr |
| Sep 24, 2020 - 10:03:16 AM | $1,600.00 | irmellon |
| Sep 24, 2020 - 10:02:37 AM | $1,550.00 | inoelcjr |
| Sep 24, 2020 - 10:00:40 AM | $1,500.00 | irmellon |
| Sep 24, 2020 - 10:00:40 AM | $1,450.00 | inoelcjr |
| Sep 24, 2020 - 10:00:02 AM | $1,400.00 | irmellon |
| Sep 24, 2020 - 10:00:02 AM | $1,350.00 | inoelcjr |
| Sep 24, 2020 - 9:59:16 AM | $1,300.00 | irmellon |
| Sep 24, 2020 - 9:59:16 AM | $1,250.00 | inoelcjr |
| Sep 24, 2020 - 9:58:22 AM | $1,170.00 | irmellon |
| Sep 24, 2020 - 9:58:22 AM | $1,120.00 | inoelcjr |
| Sep 24, 2020 - 9:58:06 AM | $1,060.00 | irmellon |
| Sep 24, 2020 - 8:08:06 AM | $1,010.00 | inoelcjr |
| Sep 24, 2020 - 8:02:15 AM | $1,000.00 | irmellon |
| Sep 24, 2020 - 8:02:16 AM | $1,000.00 | inoelcjr |
| Sep 24, 2020 - 8:02:05 AM | $990.00 | irmellon |
| Sep 24, 2020 - 8:02:05 AM | $980.00 | inoelcjr |
| Sep 24, 2020 - 8:01:56 AM | $970.00 | irmellon |
| Sep 24, 2020 - 8:01:56 AM | $960.00 | inoelcjr |
| Sep 24, 2020 - 8:01:47 AM | $950.00 | irmellon |
| Sep 24, 2020 - 8:01:47 AM | $940.00 | inoelcjr |
| Sep 24, 2020 - 8:01:34 AM | $930.00 | irmellon |
| Sep 24, 2020 - 8:01:34 AM | $920.00 | inoelcjr |
| Sep 24, 2020 - 8:01:25 AM | $910.00 | irmellon |
| Sep 24, 2020 - 8:01:25 AM | $900.00 | inoelcjr |
| Sep 24, 2020 - 8:01:17 AM | $890.00 | irmellon |
| Sep 24, 2020 - 8:01:17 AM | $880.00 | inoelcjr |
| Sep 24, 2020 - 8:01:09 AM | $870.00 | irmellon |
| Sep 24, 2020 - 8:01:09 AM | $860.00 | inoelcjr |
| Sep 24, 2020 - 8:00:58 AM | $850.00 | irmellon |
| Sep 24, 2020 - 8:00:58 AM | $840.00 | inoelcjr |
| Sep 24, 2020 - 8:00:48 AM | $830.00 | irmellon |
| Sep 24, 2020 - 8:00:48 AM | $820.00 | inoelcjr |
| Sep 24, 2020 - 7:32:00 AM | $810.00 | irmellon |
| Sep 24, 2020 - 7:32:00 AM | $800.00 | inoelcjr |
| Sep 23, 2020 - 9:50:56 PM | $760.00 | inoelcjr |
| Sep 23, 2020 - 9:50:41 PM | $750.00 | imiller |
| Sep 23, 2020 - 9:50:42 PM | $750.00 | inoelcjr |
| Sep 23, 2020 - 3:57:30 PM | $730.00 | imiller |
| Sep 23, 2020 - 3:57:30 PM | $720.00 | inoelcjr |
| Sep 23, 2020 - 3:57:08 PM | $710.00 | imiller |
| Sep 23, 2020 - 3:57:08 PM | $700.00 | inoelcjr |
| Sep 23, 2020 - 3:56:58 PM | $690.00 | imiller |
| Sep 23, 2020 - 3:56:58 PM | $680.00 | inoelcjr |
| Sep 23, 2020 - 3:56:47 PM | $670.00 | imiller |
| Sep 23, 2020 - 3:56:47 PM | $660.00 | inoelcjr |
| Sep 23, 2020 - 3:56:38 PM | $650.00 | imiller |
| Sep 23, 2020 - 3:56:38 PM | $640.00 | inoelcjr |
| Sep 23, 2020 - 3:56:22 PM | $630.00 | imiller |
| Sep 23, 2020 - 3:56:22 PM | $620.00 | inoelcjr |
| Sep 23, 2020 - 12:50:11 PM | $610.00 | imiller |
| Sep 23, 2020 - 12:50:11 PM | $600.00 | inoelcjr |
| Sep 23, 2020 - 8:41:24 AM | $510.00 | inoelcjr |
| Sep 23, 2020 - 8:41:01 AM | $500.00 | irmellon |
| Sep 23, 2020 - 8:41:02 AM | $500.00 | inoelcjr |
| Sep 23, 2020 - 8:40:47 AM | $460.00 | irmellon |
| Sep 23, 2020 - 8:40:47 AM | $450.00 | inoelcjr |
| Sep 23, 2020 - 8:40:39 AM | $440.00 | irmellon |
| Sep 23, 2020 - 8:40:39 AM | $430.00 | inoelcjr |
| Sep 23, 2020 - 8:40:20 AM | $420.00 | irmellon |
| Sep 23, 2020 - 8:40:20 AM | $410.00 | inoelcjr |
| Sep 23, 2020 - 8:40:06 AM | $400.00 | irmellon |
| Sep 23, 2020 - 8:40:06 AM | $390.00 | inoelcjr |
| Sep 23, 2020 - 8:39:38 AM | $380.00 | irmellon |
| Sep 23, 2020 - 8:39:38 AM | $370.00 | inoelcjr |
| Sep 23, 2020 - 8:18:11 AM | $360.00 | irmellon |
| Sep 23, 2020 - 8:18:11 AM | $350.00 | inoelcjr |
| Sep 23, 2020 - 8:17:55 AM | $330.00 | irmellon |
| Sep 23, 2020 - 8:17:55 AM | $320.00 | inoelcjr |
| Sep 23, 2020 - 8:17:45 AM | $310.00 | irmellon |
| Sep 23, 2020 - 8:17:45 AM | $300.00 | inoelcjr |
| Sep 23, 2020 - 8:17:32 AM | $290.00 | irmellon |
| Sep 23, 2020 - 8:17:32 AM | $280.00 | inoelcjr |
| Sep 23, 2020 - 8:17:14 AM | $260.00 | irmellon |
| Sep 23, 2020 - 8:17:14 AM | $250.00 | inoelcjr |
| Sep 22, 2020 - 4:06:50 PM | $220.00 | irmellon |
| Sep 22, 2020 - 11:30:08 AM | $210.00 | inoelcjr |
| Sep 22, 2020 - 11:04:04 AM | $200.00 | irmellon |
| Sep 22, 2020 - 11:04:04 AM | $190.00 | inoelcjr |
| Sep 22, 2020 - 10:49:23 AM | $177.00 | irmellon |
| Sep 22, 2020 - 10:49:23 AM | $167.00 | icarmet |
| Sep 22, 2020 - 10:49:04 AM | $105.00 | icarmet |
| Sep 22, 2020 - 10:49:04 AM | $100.00 | irmellon |
| Sep 22, 2020 - 10:30:05 AM | $10.00 | icarmet |
| Sep 22, 2020 - 10:11:46 AM | $5.00 | inorcal2000 |