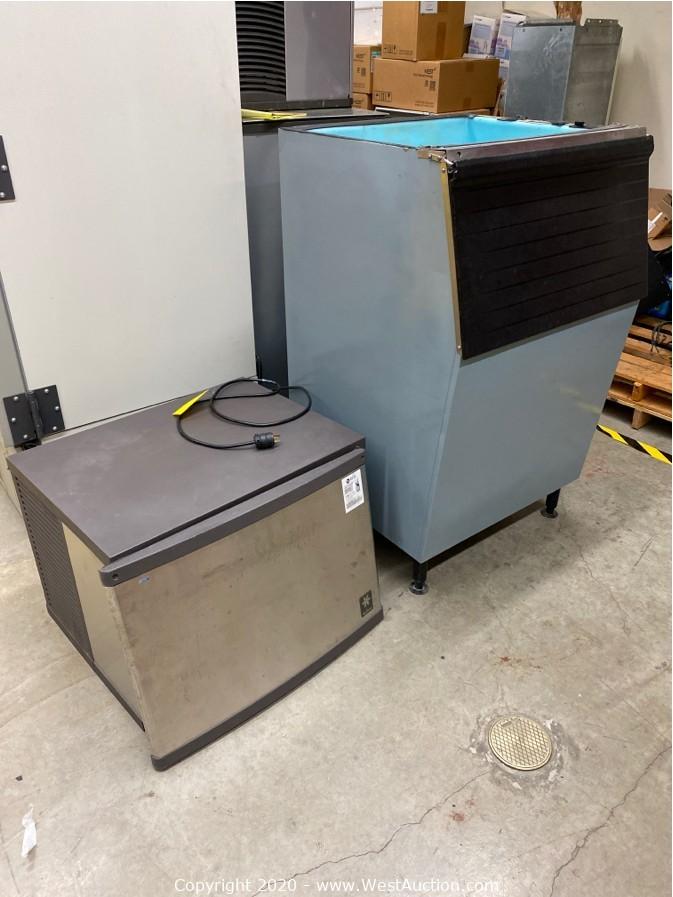 Lot #0107:
Manitowoc Ice Maker with Bin
Bidding is

closed

.
High Bid:
$890.00
NA
Bidding Ended:
Thu, Oct 1 10:07:40 am PT
High Bidder:
buysell
Bid Increment:
$10.00
Starting Bid:
$5.00
Item Location:

Richmond

,

CA

94806

Item has been viewed 362 times.

Manitowoc Ice Maker with Bin
Bin dimensions: 30" x 30" x 28" (to opening) 44" (to top)
NOTE: Items are located on the second floor which is directly connected to a loading dock. Buyers must come to removal prepared with all necessary tools and equipment to load and remove items. 
| | | |
| --- | --- | --- |
| Bid Date | Bid Amount | Bidder |
| Oct 1, 2020 - 10:05:40 AM | $890.00 | ibuysell |
| Oct 1, 2020 - 10:05:40 AM | $880.00 | irmg707 |
| Oct 1, 2020 - 10:00:11 AM | $870.00 | ibuysell |
| Oct 1, 2020 - 7:37:10 AM | $860.00 | irmg707 |
| Oct 1, 2020 - 7:37:10 AM | $850.00 | ibuysell |
| Oct 1, 2020 - 6:11:22 AM | $810.00 | ibuysell |
| Oct 1, 2020 - 6:11:22 AM | $800.00 | irmg707 |
| Oct 1, 2020 - 6:11:00 AM | $760.00 | irmg707 |
| Oct 1, 2020 - 6:11:00 AM | $750.00 | ibuysell |
| Sep 30, 2020 - 5:40:22 PM | $660.00 | irmg707 |
| Sep 30, 2020 - 5:40:22 PM | $650.00 | ibuysell |
| Sep 30, 2020 - 12:08:28 AM | $470.00 | ibuysell |
| Sep 29, 2020 - 10:56:52 PM | $460.00 | irmg707 |
| Sep 29, 2020 - 10:56:52 PM | $450.00 | ibuysell |
| Sep 29, 2020 - 10:56:39 PM | $410.00 | ibuysell |
| Sep 29, 2020 - 10:56:39 PM | $400.00 | irmg707 |
| Sep 29, 2020 - 10:56:24 PM | $335.00 | ibuysell |
| Sep 29, 2020 - 10:56:24 PM | $325.00 | irmg707 |
| Sep 29, 2020 - 5:12:02 PM | $315.00 | ibuysell |
| Sep 29, 2020 - 5:12:02 PM | $305.00 | iWTE FARMS |
| Sep 29, 2020 - 4:48:17 PM | $295.00 | ibuysell |
| Sep 29, 2020 - 4:48:17 PM | $285.00 | iWTE FARMS |
| Sep 29, 2020 - 3:45:59 PM | $235.00 | ibuysell |
| Sep 29, 2020 - 3:45:59 PM | $225.00 | iWTE FARMS |
| Sep 29, 2020 - 3:45:40 PM | $190.00 | ibuysell |
| Sep 29, 2020 - 3:45:40 PM | $180.00 | iWTE FARMS |
| Sep 29, 2020 - 2:51:44 PM | $120.00 | ibuysell |
| Sep 29, 2020 - 2:51:25 PM | $110.00 | iWTE FARMS |
| Sep 29, 2020 - 2:51:25 PM | $105.00 | ibuysell |
| Sep 29, 2020 - 1:50:17 PM | $35.00 | iWTE FARMS |
| Sep 29, 2020 - 12:25:16 PM | $30.00 | iboblacksmith |
| Sep 29, 2020 - 12:24:56 PM | $25.00 | iWTE FARMS |
| Sep 29, 2020 - 12:24:56 PM | $20.00 | iboblacksmith |
| Sep 29, 2020 - 12:03:50 PM | $10.00 | iWTE FARMS |
| Sep 29, 2020 - 11:04:01 AM | $5.00 | iGreenarts |