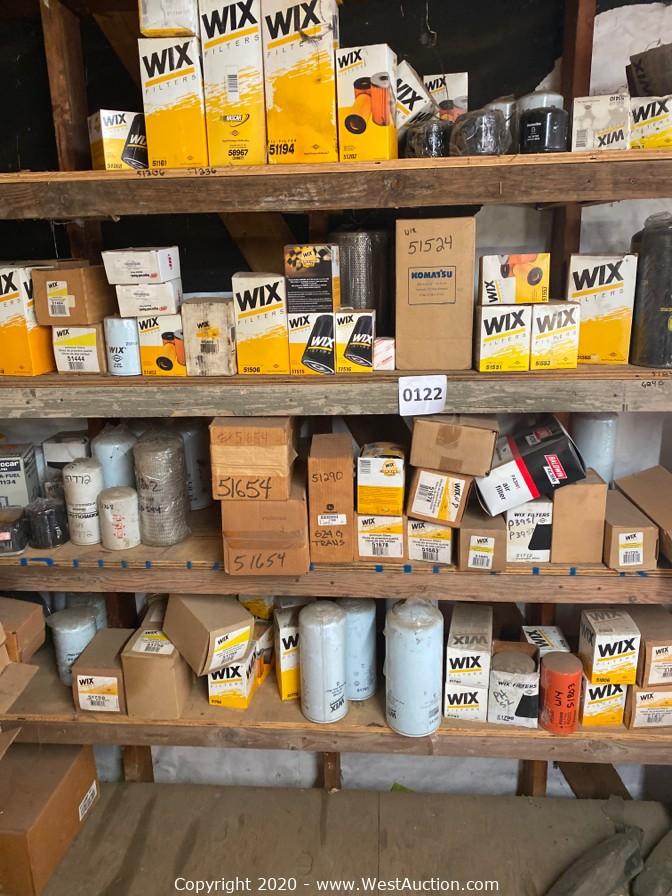 Lot #0122:
390+ Oil, Fuel and Air Filters
Bidding is

closed

.
High Bid:
$510.00
NA
Bidding Ended:
Thu, Nov 5 10:25:59 am PT
High Bidder:
abdultarin
Bid Increment:
$10.00
Starting Bid:
$5.00
Item has been viewed 241 times.

Filters
390+ Oil, fuel, & air filters
Brands included are:
Wix
John Deere
Caterpillar
Fram
Note: All photos and descriptions have been provided by the Seller and have not been verified by West Auctions. 
| | | |
| --- | --- | --- |
| Bid Date | Bid Amount | Bidder |
| Nov 5, 2020 - 10:23:59 AM | $510.00 | iabdultarin |
| Nov 5, 2020 - 10:23:59 AM | $500.00 | iMakeawishfoundation |
| Nov 5, 2020 - 10:23:37 AM | $460.00 | iabdultarin |
| Nov 5, 2020 - 10:23:37 AM | $450.00 | iMakeawishfoundation |
| Nov 5, 2020 - 10:23:22 AM | $410.00 | iabdultarin |
| Nov 5, 2020 - 10:23:22 AM | $400.00 | iMakeawishfoundation |
| Nov 5, 2020 - 10:23:09 AM | $360.00 | iabdultarin |
| Nov 5, 2020 - 10:23:09 AM | $350.00 | iMakeawishfoundation |
| Nov 5, 2020 - 10:23:04 AM | $332.02 | iabdultarin |
| Nov 5, 2020 - 10:23:04 AM | $322.02 | idididi |
| Nov 5, 2020 - 10:22:47 AM | $312.02 | iabdultarin |
| Nov 5, 2020 - 10:22:47 AM | $302.02 | idididi |
| Nov 5, 2020 - 10:21:57 AM | $211.00 | iabdultarin |
| Nov 5, 2020 - 10:21:57 AM | $201.00 | idididi |
| Nov 5, 2020 - 10:21:43 AM | $105.00 | idididi |
| Nov 5, 2020 - 10:21:43 AM | $100.00 | iabdultarin |
| Nov 5, 2020 - 10:21:35 AM | $90.00 | idididi |
| Nov 5, 2020 - 10:21:35 AM | $85.00 | iabdultarin |
| Nov 5, 2020 - 10:21:24 AM | $75.00 | idididi |
| Nov 5, 2020 - 10:21:24 AM | $70.00 | iabdultarin |
| Nov 5, 2020 - 10:16:01 AM | $65.00 | idididi |
| Nov 5, 2020 - 10:16:01 AM | $60.00 | iabdultarin |
| Nov 5, 2020 - 9:49:51 AM | $56.00 | iabdultarin |
| Nov 5, 2020 - 9:49:32 AM | $51.00 | idhillonx |
| Nov 5, 2020 - 9:49:32 AM | $50.00 | iabdultarin |
| Nov 5, 2020 - 9:49:14 AM | $40.00 | idhillonx |
| Nov 5, 2020 - 9:49:14 AM | $35.00 | iabdultarin |
| Nov 5, 2020 - 9:30:57 AM | $30.00 | idhillonx |
| Nov 4, 2020 - 7:07:20 PM | $25.00 | idididi |
| Nov 4, 2020 - 8:29:16 AM | $20.00 | idood6 |
| Nov 4, 2020 - 8:29:17 AM | $20.00 | ikingfish |
| Nov 3, 2020 - 6:41:56 PM | $15.00 | idood6 |
| Nov 3, 2020 - 6:41:56 PM | $10.00 | ithe scar |
| Nov 3, 2020 - 10:37:32 AM | $5.00 | ithe scar |