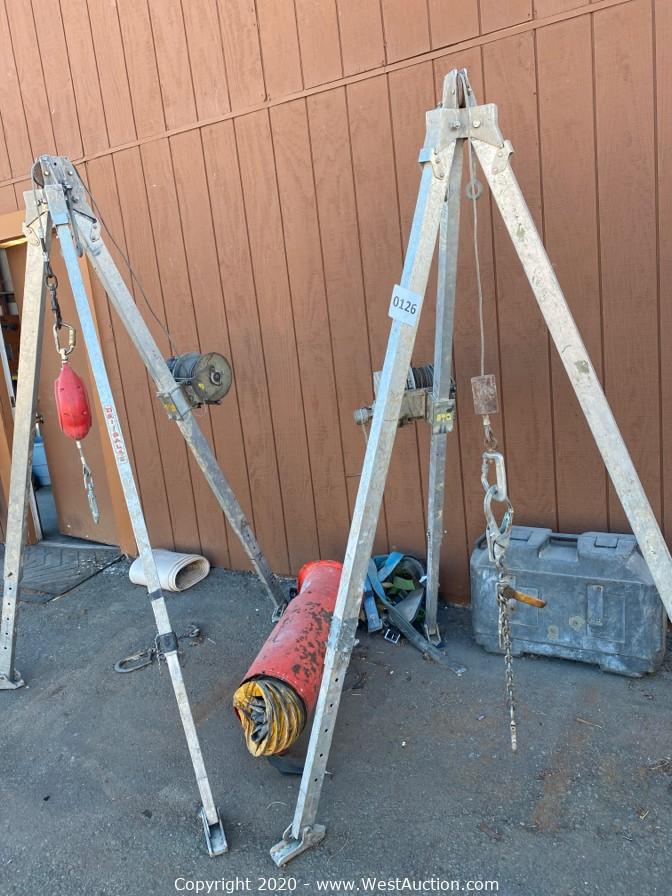 Lot #0126:
Manlift Confined Space Tripods
Bidding is

closed

.
High Bid:
$165.00
NA
Bidding Ended:
Thu, Nov 5 10:27:00 am PT
High Bidder:
Makeawishfoundation
Bid Increment:
$10.00
Starting Bid:
$5.00
Item has been viewed 200 times.

Manlift confined space tripods
(2) tripods manlift to winches
fall line fan harnesses
Note: All photos and descriptions have been provided by the Seller and have not been verified by West Auctions. 
| | | |
| --- | --- | --- |
| Bid Date | Bid Amount | Bidder |
| Nov 5, 2020 - 10:24:37 AM | $165.00 | iMakeawishfoundation |
| Nov 5, 2020 - 10:09:55 AM | $155.00 | ilowtech |
| Nov 5, 2020 - 10:09:55 AM | $146.00 | iBoostgauge |
| Nov 5, 2020 - 10:09:47 AM | $136.00 | ilowtech |
| Nov 5, 2020 - 10:09:47 AM | $126.00 | iBoostgauge |
| Nov 5, 2020 - 10:09:36 AM | $116.00 | ilowtech |
| Nov 5, 2020 - 10:09:36 AM | $106.00 | iBoostgauge |
| Nov 5, 2020 - 9:32:30 AM | $101.00 | ilowtech |
| Nov 5, 2020 - 9:32:30 AM | $96.00 | irob1234 |
| Nov 5, 2020 - 7:35:59 AM | $91.00 | ilowtech |
| Nov 5, 2020 - 7:35:59 AM | $86.00 | irob1234 |
| Nov 5, 2020 - 7:35:16 AM | $80.00 | ilowtech |
| Nov 5, 2020 - 7:35:16 AM | $75.00 | irob1234 |
| Nov 5, 2020 - 7:35:03 AM | $70.00 | ilowtech |
| Nov 5, 2020 - 7:35:03 AM | $65.00 | irob1234 |
| Nov 5, 2020 - 7:34:55 AM | $60.00 | ilowtech |
| Nov 5, 2020 - 7:34:55 AM | $55.00 | irob1234 |
| Nov 5, 2020 - 7:34:30 AM | $50.00 | ilowtech |
| Nov 5, 2020 - 7:34:30 AM | $45.00 | irob1234 |
| Nov 4, 2020 - 7:57:14 PM | $40.00 | ilowtech |
| Nov 4, 2020 - 7:57:14 PM | $35.00 | ihardway23 |
| Nov 4, 2020 - 7:57:11 PM | $30.00 | ilowtech |
| Nov 4, 2020 - 7:57:11 PM | $25.00 | ihardway23 |
| Nov 4, 2020 - 7:57:08 PM | $20.00 | ilowtech |
| Nov 4, 2020 - 7:57:08 PM | $15.00 | ihardway23 |
| Nov 3, 2020 - 9:55:25 PM | $10.00 | ilowtech |
| Nov 3, 2020 - 4:39:04 PM | $5.00 | ihardway23 |