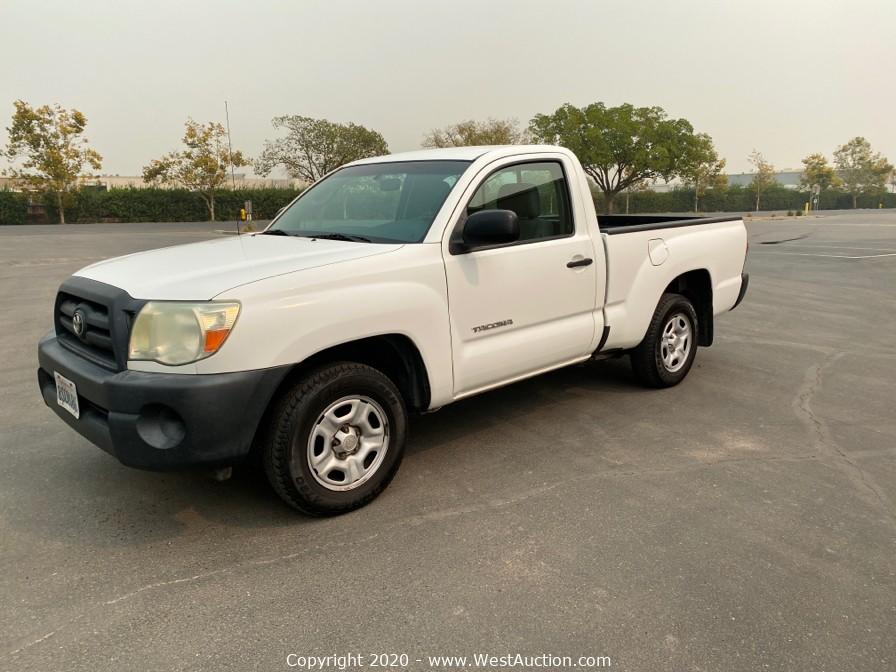 Bankruptcy Auction of 2010 Toyota Tacoma Truck
Bidding is

closed

.
High Bid:
$5,800.00
NA
Bidding Ended:
Thu, Oct 8 10:00:00 am PT
High Bidder:
PLinkCtw
Bid Increment:
$100.00
Starting Bid:
$5.00
Item has been viewed 4,390 times.

ASK ABOUT THIS ITEM

Bankruptcy Auction of 2010 Toyota Tacoma Truck
Specifications
Year: 2010
Make: Toyota
Model: Tacoma
VIN: 5TENX4CN0AZ735773
License: 8S02486

Registration Expiration: 10/31/2020

Odometer Reads: 230,617
Key: Available
GVWR: 4650 lbs.
Drive Type: Rear Wheel Drive
Body Style: Truck
Fuel Type: Gasoline
Transmission: Automatic
Tire Size: P215/70R15
Exterior
Exterior Color: White
Doors: Two Door
Interior
Interior Material: Cloth
Interior Color: Gray
Features: CD Player
Features:

Auxiliary Sound Port
Air Conditioning
Bed Liner
Model: HTG9000ER
Single phase
120/240 Volts
Note: Certificate of Title, Transfer Form and Court Order will be mailed 4-6 weeks following close of the auction. Buyer is responsible for smog, registration, transfer and fees due to California DMV. Please note, there may be a delay in receiving the court order due to COVID some court offices are closed. 
| | | |
| --- | --- | --- |
| Bid Date | Bid Amount | Bidder |
| Oct 8, 2020 - 9:57:04 AM | $5,800.00 | iPLinkCtw |
| Oct 8, 2020 - 9:56:51 AM | $5,700.00 | iHktire21 |
| Oct 8, 2020 - 9:55:12 AM | $5,600.00 | irefyred |
| Oct 8, 2020 - 9:49:35 AM | $5,500.00 | iHktire21 |
| Oct 8, 2020 - 9:49:35 AM | $5,400.00 | irefyred |
| Oct 8, 2020 - 9:48:32 AM | $5,200.00 | irefyred |
| Oct 8, 2020 - 9:48:32 AM | $5,100.00 | iJudgedude |
| Oct 8, 2020 - 9:44:58 AM | $5,000.00 | irefyred |
| Oct 8, 2020 - 9:44:59 AM | $5,000.00 | iHktire21 |
| Oct 8, 2020 - 9:44:32 AM | $4,800.00 | irefyred |
| Oct 8, 2020 - 9:44:33 AM | $4,800.00 | iHktire21 |
| Oct 8, 2020 - 9:44:26 AM | $4,750.00 | irefyred |
| Oct 8, 2020 - 9:44:26 AM | $4,700.00 | iHktire21 |
| Oct 8, 2020 - 9:44:17 AM | $4,650.00 | irefyred |
| Oct 8, 2020 - 9:44:17 AM | $4,600.00 | iHktire21 |
| Oct 8, 2020 - 9:44:04 AM | $4,550.00 | irefyred |
| Oct 8, 2020 - 9:44:04 AM | $4,500.00 | iHktire21 |
| Oct 8, 2020 - 9:43:56 AM | $4,450.00 | irefyred |
| Oct 8, 2020 - 9:43:56 AM | $4,400.00 | iHktire21 |
| Oct 8, 2020 - 9:43:41 AM | $4,350.00 | irefyred |
| Oct 8, 2020 - 9:43:41 AM | $4,300.00 | iHktire21 |
| Oct 8, 2020 - 9:41:22 AM | $4,250.00 | irefyred |
| Oct 8, 2020 - 9:41:22 AM | $4,200.00 | iHktire21 |
| Oct 8, 2020 - 8:26:11 AM | $4,150.00 | irefyred |
| Oct 8, 2020 - 8:25:29 AM | $4,100.00 | iyupyup1 |
| Oct 8, 2020 - 8:25:30 AM | $4,100.00 | irefyred |
| Oct 7, 2020 - 8:31:59 PM | $4,050.00 | iyupyup1 |
| Oct 7, 2020 - 8:30:17 PM | $4,000.00 | iMareks |
| Oct 7, 2020 - 8:30:18 PM | $4,000.00 | iyupyup1 |
| Oct 7, 2020 - 5:14:34 PM | $3,950.00 | iMareks |
| Oct 7, 2020 - 5:14:19 PM | $3,900.00 | itammylariz |
| Oct 7, 2020 - 5:14:20 PM | $3,900.00 | iMareks |
| Oct 7, 2020 - 5:14:07 PM | $3,850.00 | itammylariz |
| Oct 7, 2020 - 5:14:07 PM | $3,800.00 | iMareks |
| Oct 7, 2020 - 5:13:49 PM | $3,750.00 | itammylariz |
| Oct 7, 2020 - 5:13:49 PM | $3,700.00 | iMareks |
| Oct 7, 2020 - 10:23:02 AM | $3,600.00 | itammylariz |
| Oct 7, 2020 - 1:26:21 AM | $3,550.00 | iMAXXLY |
| Oct 7, 2020 - 1:26:18 AM | $3,500.00 | iaziz1112 |
| Oct 7, 2020 - 1:26:19 AM | $3,500.00 | iMAXXLY |
| Oct 7, 2020 - 1:26:16 AM | $3,450.00 | iaziz1112 |
| Oct 7, 2020 - 1:26:16 AM | $3,400.00 | iMAXXLY |
| Oct 7, 2020 - 1:26:11 AM | $3,350.00 | iaziz1112 |
| Oct 7, 2020 - 1:26:11 AM | $3,300.00 | iMAXXLY |
| Oct 6, 2020 - 9:55:57 PM | $3,250.00 | iaziz1112 |
| Oct 6, 2020 - 9:55:57 PM | $3,200.00 | iMalibu |
| Oct 6, 2020 - 7:42:37 PM | $3,100.00 | iaziz1112 |
| Oct 6, 2020 - 7:42:19 PM | $3,050.00 | iMalibu |
| Oct 6, 2020 - 7:42:19 PM | $3,000.00 | iaziz1112 |
| Oct 6, 2020 - 2:58:35 PM | $2,600.00 | iMalibu |
| Oct 6, 2020 - 2:07:40 PM | $2,550.00 | iManzoMachining |
| Oct 6, 2020 - 2:07:35 PM | $2,500.00 | iaziz1112 |
| Oct 6, 2020 - 2:07:36 PM | $2,500.00 | iManzoMachining |
| Oct 6, 2020 - 2:07:29 PM | $2,450.00 | iaziz1112 |
| Oct 6, 2020 - 2:07:29 PM | $2,400.00 | iManzoMachining |
| Oct 6, 2020 - 2:07:24 PM | $2,350.00 | iaziz1112 |
| Oct 6, 2020 - 2:07:24 PM | $2,300.00 | iManzoMachining |
| Oct 6, 2020 - 2:07:18 PM | $2,250.00 | iaziz1112 |
| Oct 6, 2020 - 2:07:18 PM | $2,200.00 | iManzoMachining |
| Oct 6, 2020 - 12:41:23 PM | $2,150.00 | iaziz1112 |
| Oct 6, 2020 - 12:41:23 PM | $2,100.00 | iMalibu |
| Oct 6, 2020 - 12:41:15 PM | $2,050.00 | iMalibu |
| Oct 6, 2020 - 12:41:15 PM | $2,000.00 | iaziz1112 |
| Oct 6, 2020 - 12:36:03 PM | $1,850.00 | iMalibu |
| Oct 6, 2020 - 12:36:03 PM | $1,800.00 | iaziz1112 |
| Oct 6, 2020 - 12:07:28 PM | $1,750.00 | iMalibu |
| Oct 6, 2020 - 12:07:28 PM | $1,700.00 | iCbruce |
| Oct 6, 2020 - 12:07:18 PM | $1,517.00 | iMalibu |
| Oct 6, 2020 - 12:07:18 PM | $1,467.00 | iCbruce |
| Oct 6, 2020 - 12:07:10 PM | $1,417.00 | iMalibu |
| Oct 6, 2020 - 12:07:10 PM | $1,367.00 | iCbruce |
| Oct 6, 2020 - 11:06:21 AM | $1,317.00 | iMalibu |
| Oct 6, 2020 - 11:06:21 AM | $1,267.00 | isacfx13 |
| Oct 6, 2020 - 10:58:41 AM | $1,010.00 | isacfx13 |
| Oct 6, 2020 - 10:50:43 AM | $1,000.00 | ismsllc |
| Oct 6, 2020 - 10:50:44 AM | $1,000.00 | iNorCal95207 |
| Oct 6, 2020 - 10:49:32 AM | $910.00 | ismsllc |
| Oct 6, 2020 - 10:14:47 AM | $900.00 | iMalibu |
| Oct 6, 2020 - 10:14:48 AM | $900.00 | iravetildon |
| Oct 6, 2020 - 10:14:41 AM | $510.00 | iMalibu |
| Oct 6, 2020 - 10:14:41 AM | $500.00 | iravetildon |
| Oct 6, 2020 - 10:08:52 AM | $105.00 | iMalibu |
| Oct 6, 2020 - 10:08:52 AM | $100.00 | iravetildon |
| Oct 6, 2020 - 10:05:14 AM | $5.00 | iravetildon |