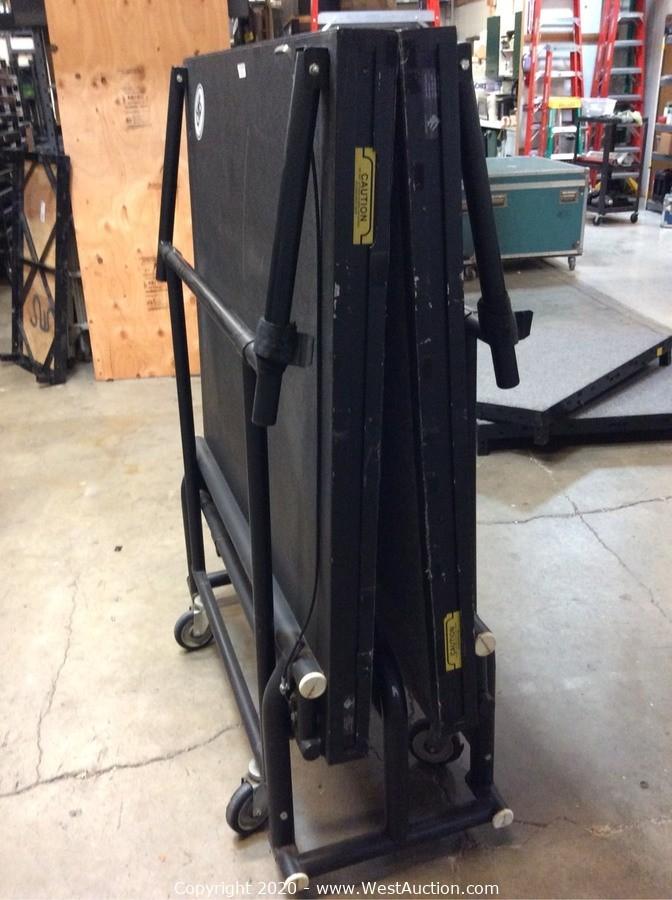 Lot #0867:
Biljax Dual 4'x4' Carpeted Clamshell Staging
Bidding is

closed

.
High Bid:
$230.00
NA
Bidding Ended:
Fri, Oct 16 11:17:32 am PT
High Bidder:
YoMomma
Bid Increment:
$10.00
Starting Bid:
$5.00
Item has been viewed 217 times.

Biljax Dual 4'x4' Staging
Biljax
Model# xxx
Biljax Dual 4'x4' carpeted clamshell Staging
2' high 4'x8' wide
Note:  All photos and descriptions have been provided by the Seller and have not been verified by West Auctions. 
| | | |
| --- | --- | --- |
| Bid Date | Bid Amount | Bidder |
| Oct 16, 2020 - 11:15:32 AM | $230.00 | iYoMomma |
| Oct 16, 2020 - 11:15:32 AM | $220.00 | iPlease |
| Oct 16, 2020 - 11:15:00 AM | $210.00 | iYoMomma |
| Oct 16, 2020 - 11:15:00 AM | $200.00 | iPlease |
| Oct 16, 2020 - 11:14:34 AM | $190.00 | iYoMomma |
| Oct 16, 2020 - 11:14:34 AM | $180.00 | iPlease |
| Oct 16, 2020 - 11:13:20 AM | $170.00 | iYoMomma |
| Oct 16, 2020 - 11:13:20 AM | $160.00 | iPlease |
| Oct 16, 2020 - 11:12:18 AM | $150.00 | iYoMomma |
| Oct 16, 2020 - 11:12:18 AM | $140.00 | iPlease |
| Oct 16, 2020 - 11:11:23 AM | $130.00 | iYoMomma |
| Oct 16, 2020 - 11:11:23 AM | $120.00 | isacfx13 |
| Oct 16, 2020 - 11:11:10 AM | $105.00 | iYoMomma |
| Oct 16, 2020 - 11:11:10 AM | $100.00 | isacfx13 |
| Oct 16, 2020 - 10:24:58 AM | $66.00 | isacfx13 |
| Oct 15, 2020 - 5:29:40 AM | $61.00 | iMister WA |
| Oct 15, 2020 - 5:29:40 AM | $60.00 | iDrjamesconley |
| Oct 14, 2020 - 8:57:17 PM | $45.00 | iMister WA |
| Oct 14, 2020 - 8:57:11 PM | $40.00 | iDrjamesconley |
| Oct 14, 2020 - 8:57:11 PM | $35.00 | iMister WA |
| Oct 14, 2020 - 8:57:01 PM | $30.00 | iDrjamesconley |
| Oct 14, 2020 - 8:57:01 PM | $25.00 | iMister WA |
| Oct 14, 2020 - 5:32:23 PM | $20.00 | iDrjamesconley |
| Oct 14, 2020 - 8:25:04 AM | $15.00 | ibbrotzman |
| Oct 14, 2020 - 8:23:57 AM | $10.00 | iDrjamesconley |
| Oct 14, 2020 - 8:23:58 AM | $10.00 | ibbrotzman |
| Oct 14, 2020 - 5:58:44 AM | $5.00 | iDrjamesconley |