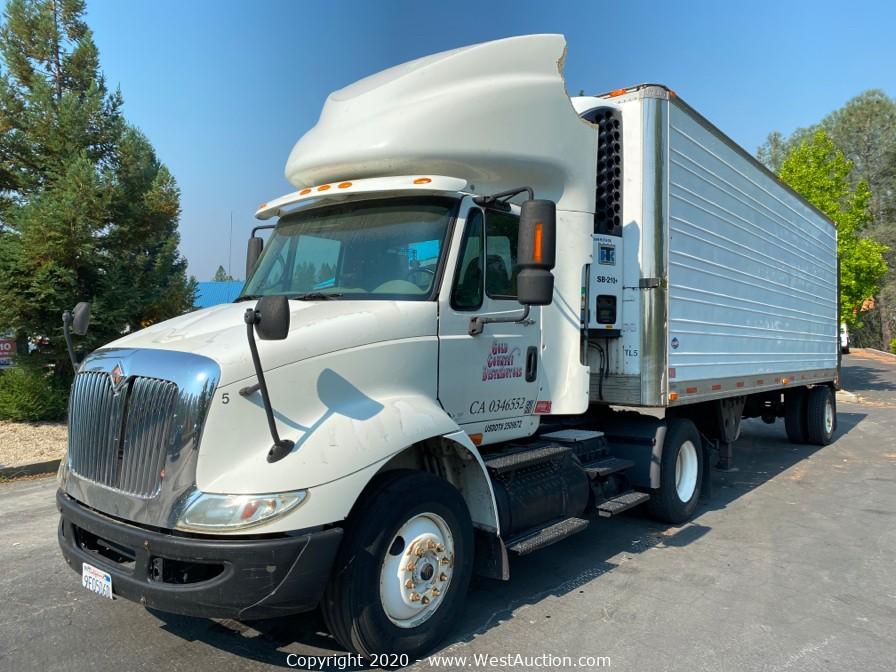 Lot #0105:
2008 International 8600 SBA 4X2 Semi Truck
Bidding is

closed

.
High Bid:
$4,000.00
NA
Bidding Ended:
Mon, Oct 19 10:08:21 am PT
High Bidder:
Ecats
Bid Increment:
$50.00
Starting Bid:
$5.00
Item Location:

810 Whispering Pines Ln

,

Grass Valley

,

CA

95945

Item has been viewed 370 times.

Note: Seller States this vehicle is equipped with "ARB is ULETRU Electric standby that stands for (engine used an alternative technology) electric standby."
2008 International 8600 SBA 4X2 Semi Truck
Manufacturer: International
Model: 8600
VIN: 1HSHWAHN18J673142
License: 9F05060

Expiration Date: 12/31/2019 Planned Non-Operational

GVWR: 32,000
Miles: 611211
Axles: 2
Transmission: Manual
Number of Tires: 5
Tire Size: 295/75R22.5G
Fuel Type: Diesel
Features:

Air Ride Seats
Air Conditioning
(Lot 105A, Refrigerated Trailer, sold separately)

VDO

Dash mount
Cruise control
Power locks and windows
Truck No.: TR5
Type of Reg.: Commercial
Notes from Seller "2008 International 8600 Engine Cummins ISM 10 speed transmission"
Note: Certificate of Title, Transfer Form will be mailed 4-6 weeks following the close of the auction. The buyer is fully responsible for all aspects of registration, transfer, and fess due to California DMV.
CARB Truck and Bus Regulation Statement: "An on-road heavy-duty diesel or alternative-diesel vehicle operated in California may be subject to the California Air Resources Board Regulation to Reduce Particulate Matter and Criteria Pollutant Emissions from In-Use Heavy-Duty Diesel Vehicles. It, therefore, could be subject to exhaust retrofit or accelerated turnover requirements to reduce emissions of air pollutants." For more information, please visit the California Air Resources Board website at http://www.arb.ca.gov/dieseltruck." This vehicle may be reported as a Non-Compliant Vehicle, you will not be able to register in California without meeting the CARB Truck and Bus Regulations. It is the buyer's responsibility to read and understand the ARB Multi-Regulation Summary Requirements for Diesel Truck Owners. Beginning January 1, 2020, the Department of Motor Vehicles (DMV) CANNOT register any vehicle that does not meet the requirements of the Truck and Bus Regulation.
| | | |
| --- | --- | --- |
| Bid Date | Bid Amount | Bidder |
| Oct 19, 2020 - 10:06:21 AM | $4,000.00 | iEcats |
| Oct 19, 2020 - 10:06:21 AM | $3,951.00 | ibigtrux |
| Oct 19, 2020 - 10:06:13 AM | $3,950.00 | ibigtrux |
| Oct 19, 2020 - 10:06:04 AM | $3,900.00 | iEcats |
| Oct 19, 2020 - 10:06:04 AM | $3,851.00 | ibigtrux |
| Oct 19, 2020 - 10:05:43 AM | $3,850.00 | ibigtrux |
| Oct 19, 2020 - 10:05:33 AM | $3,800.00 | iEcats |
| Oct 19, 2020 - 10:05:33 AM | $3,751.00 | ibigtrux |
| Oct 19, 2020 - 10:05:20 AM | $3,750.00 | ibigtrux |
| Oct 19, 2020 - 10:05:12 AM | $3,700.00 | iEcats |
| Oct 19, 2020 - 10:05:12 AM | $3,651.00 | ibigtrux |
| Oct 19, 2020 - 10:04:55 AM | $3,650.00 | ibigtrux |
| Oct 19, 2020 - 10:04:29 AM | $3,600.00 | iEcats |
| Oct 19, 2020 - 10:04:29 AM | $3,551.00 | ibigtrux |
| Oct 19, 2020 - 10:04:20 AM | $3,550.00 | ibigtrux |
| Oct 19, 2020 - 10:03:53 AM | $3,500.00 | iEcats |
| Oct 19, 2020 - 10:03:53 AM | $3,451.00 | ibigtrux |
| Oct 19, 2020 - 10:03:02 AM | $3,450.00 | ibigtrux |
| Oct 19, 2020 - 10:02:54 AM | $3,400.00 | iEcats |
| Oct 19, 2020 - 10:02:54 AM | $3,351.00 | ibigtrux |
| Oct 19, 2020 - 10:02:45 AM | $3,300.00 | iEcats |
| Oct 19, 2020 - 10:02:45 AM | $3,251.00 | ibigtrux |
| Oct 19, 2020 - 10:02:16 AM | $3,250.00 | ibigtrux |
| Oct 19, 2020 - 10:01:52 AM | $3,200.00 | iEcats |
| Oct 19, 2020 - 10:01:53 AM | $3,200.00 | ibigtrux |
| Oct 19, 2020 - 10:01:42 AM | $3,100.00 | iEcats |
| Oct 19, 2020 - 10:01:39 AM | $3,050.00 | ibigtrux |
| Oct 19, 2020 - 10:01:30 AM | $3,000.00 | iEcats |
| Oct 19, 2020 - 10:01:31 AM | $3,000.00 | ibigtrux |
| Oct 19, 2020 - 10:00:37 AM | $2,900.00 | iEcats |
| Oct 19, 2020 - 9:59:59 AM | $2,850.00 | inorcalhotrod |
| Oct 19, 2020 - 9:59:43 AM | $2,800.00 | iEcats |
| Oct 19, 2020 - 9:59:24 AM | $2,750.00 | inorcalhotrod |
| Oct 19, 2020 - 9:55:36 AM | $2,700.00 | iEcats |
| Oct 19, 2020 - 9:55:15 AM | $2,650.00 | inorcalhotrod |
| Oct 19, 2020 - 9:55:10 AM | $2,600.00 | iEcats |
| Oct 19, 2020 - 9:55:11 AM | $2,600.00 | inorcalhotrod |
| Oct 19, 2020 - 9:50:31 AM | $2,550.00 | iEcats |
| Oct 19, 2020 - 9:50:26 AM | $2,500.00 | iGuerra73 |
| Oct 19, 2020 - 9:50:27 AM | $2,500.00 | iEcats |
| Oct 19, 2020 - 9:47:51 AM | $2,450.00 | iGuerra73 |
| Oct 19, 2020 - 9:47:51 AM | $2,400.00 | iEcats |
| Oct 19, 2020 - 9:46:48 AM | $1,950.00 | iEcats |
| Oct 19, 2020 - 9:46:48 AM | $1,900.00 | iGuerra73 |
| Oct 19, 2020 - 9:34:16 AM | $1,850.00 | iEcats |
| Oct 19, 2020 - 9:34:16 AM | $1,800.00 | inorcalhotrod |
| Oct 19, 2020 - 9:20:57 AM | $1,750.00 | iEcats |
| Oct 19, 2020 - 9:20:49 AM | $1,700.00 | iPan-man101 |
| Oct 19, 2020 - 9:20:49 AM | $1,650.00 | iEcats |
| Oct 19, 2020 - 9:16:40 AM | $1,600.00 | iPan-man101 |
| Oct 19, 2020 - 9:11:35 AM | $1,550.00 | iPeterpounder |
| Oct 19, 2020 - 9:11:32 AM | $1,500.00 | iPan-man101 |
| Oct 19, 2020 - 9:11:32 AM | $1,450.00 | iPeterpounder |
| Oct 19, 2020 - 9:08:53 AM | $1,400.00 | iPan-man101 |
| Oct 19, 2020 - 9:08:53 AM | $1,350.00 | iPeterpounder |
| Oct 19, 2020 - 9:08:29 AM | $1,300.00 | iPan-man101 |
| Oct 19, 2020 - 8:57:54 AM | $1,250.00 | iGuerra73 |
| Oct 19, 2020 - 8:42:09 AM | $1,200.00 | ihardway23 |
| Oct 19, 2020 - 8:42:10 AM | $1,200.00 | iGuerra73 |
| Oct 17, 2020 - 4:38:23 PM | $1,009.00 | ihardway23 |
| Oct 17, 2020 - 4:38:23 PM | $999.00 | imark123 |
| Oct 17, 2020 - 4:01:40 PM | $910.00 | imark123 |
| Oct 17, 2020 - 4:01:40 PM | $900.00 | iZachary Shaffer |
| Oct 17, 2020 - 4:01:27 PM | $715.00 | iZachary Shaffer |
| Oct 17, 2020 - 4:01:27 PM | $705.00 | imark123 |
| Oct 17, 2020 - 4:01:03 PM | $565.00 | iZachary Shaffer |
| Oct 17, 2020 - 4:01:03 PM | $555.00 | imark123 |
| Oct 17, 2020 - 4:00:47 PM | $365.00 | iZachary Shaffer |
| Oct 17, 2020 - 4:00:47 PM | $355.00 | imark123 |
| Oct 17, 2020 - 4:00:32 PM | $240.00 | iZachary Shaffer |
| Oct 17, 2020 - 4:00:32 PM | $230.00 | imark123 |
| Oct 17, 2020 - 4:00:14 PM | $135.00 | iZachary Shaffer |
| Oct 17, 2020 - 4:00:14 PM | $125.00 | imark123 |
| Oct 17, 2020 - 3:57:06 PM | $15.00 | iZachary Shaffer |
| Oct 16, 2020 - 5:26:52 PM | $10.00 | ihardway23 |
| Oct 16, 2020 - 12:11:37 PM | $5.00 | iMAXXLY |