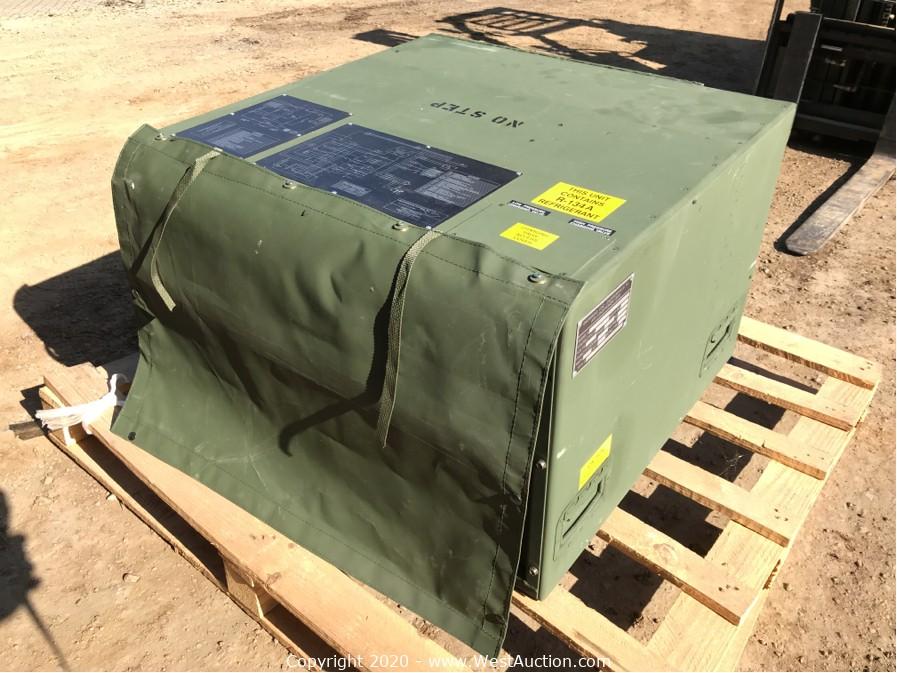 Lot #0128:
Snowbird ECU Military Air Conditioning Unit ERUAS-24KH-R134A
Bidding is

closed

.
High Bid:
$320.00
NA
Bidding Ended:
Thu, Dec 3 10:28:17 am PT
High Bidder:
Homeless Veterans
Bid Increment:
$10.00
Starting Bid:
$5.00
Item Location:

980 Tudor Rd

,

Yuba City

,

CA

95991

Item has been viewed 146 times.

Snowbird ECU Military Air Conditioning Unit ERUAS-24KH-R134A
Quantity: 1
Year: 2006
Manufacturer: Snowbird ESC
Model Number: ERUAS-24KH-R134A
Power Source: Electric
Voltage: 208V
AC Power: 3 Phase
Width: 30in
Length: 30in
Height: 20in
Approximate Weight: 290LB
Capacity: 24,000 Cooling/14,000 Heating
Contents: included.
The air conditioner is a horizontal compact air conditioner with nominal heating capacity of 24,000BTU/hr and nominal heating capacity of 13,400

BTU

/hr. The air conditioner is intended primarily for use in mobile technical electronics shelters.
- Lightweight, compact, and horizontal
- Wall/floor-mounted and air-cooled
- Electric motor driven and designed for continuous operation under varying loads
- Furnishes 24,000BTU/hr for cooling; 13,400BTU/hr for heating
- Handles for team lifting
- Roll-up canvas condenser cover
- Canvas Cover – Protects condenser coil from extreme cold temperatures during winter months.
- Condenser Air Filter – Keeps condenser coil free of dirt and debris.
- Condenser Guard – Protects condenser from external damage.
- Evaporator Air Intake – Directs room air into air conditioner for recycling.
- Evaporator Air Discharge – Directs conditioned air into room.
- Charging Valve Access Cover – Provides entry for servicing refrigeration system.
- Condensate Drain – Allows discharge of condensate during operation.
- Control Module – Contains operator control switches
***Units may still be in bound crates***
***Crates are 35in x 35in x 30in (H)
Contents Note: Roll-up Canvas Condenser Cover, Condenser Guard
Photo Gallery Note: photos are representative of this item.
| | | |
| --- | --- | --- |
| Bid Date | Bid Amount | Bidder |
| Dec 3, 2020 - 10:26:17 AM | $320.00 | iHomeless Veterans |
| Dec 3, 2020 - 10:26:17 AM | $310.00 | icolfaxian |
| Dec 3, 2020 - 10:26:06 AM | $280.00 | iHomeless Veterans |
| Dec 3, 2020 - 10:26:06 AM | $270.00 | icolfaxian |
| Dec 3, 2020 - 10:24:12 AM | $260.00 | icolfaxian |
| Dec 3, 2020 - 10:24:12 AM | $250.00 | iCBMcontractor01 |
| Dec 3, 2020 - 10:21:00 AM | $220.00 | iCBMcontractor01 |
| Dec 3, 2020 - 10:21:00 AM | $210.00 | icbc engineering |
| Dec 3, 2020 - 10:20:28 AM | $170.00 | iCBMcontractor01 |
| Dec 3, 2020 - 10:20:28 AM | $160.00 | icbc engineering |
| Dec 3, 2020 - 10:16:17 AM | $150.00 | iCBMcontractor01 |
| Dec 3, 2020 - 10:16:17 AM | $140.00 | icjm51213 |
| Dec 3, 2020 - 10:14:31 AM | $125.00 | icjm51213 |
| Dec 3, 2020 - 10:14:31 AM | $115.00 | iGribbiesmalls |
| Dec 3, 2020 - 10:12:36 AM | $105.00 | icjm51213 |
| Dec 3, 2020 - 10:12:17 AM | $100.00 | isupersocket1 |
| Dec 3, 2020 - 10:12:17 AM | $95.00 | iJFTTRKN |
| Dec 3, 2020 - 10:12:11 AM | $90.00 | isupersocket1 |
| Dec 3, 2020 - 10:12:11 AM | $85.00 | iJFTTRKN |
| Dec 3, 2020 - 10:12:07 AM | $80.00 | isupersocket1 |
| Dec 3, 2020 - 10:12:07 AM | $75.00 | iJFTTRKN |
| Dec 2, 2020 - 10:35:48 PM | $70.00 | isupersocket1 |
| Dec 2, 2020 - 10:35:48 PM | $65.00 | icbc engineering |
| Dec 2, 2020 - 6:31:18 PM | $15.00 | isupersocket1 |
| Dec 2, 2020 - 5:44:58 PM | $10.00 | ipiper2600 |
| Dec 2, 2020 - 11:08:05 AM | $5.00 | iKevDude |