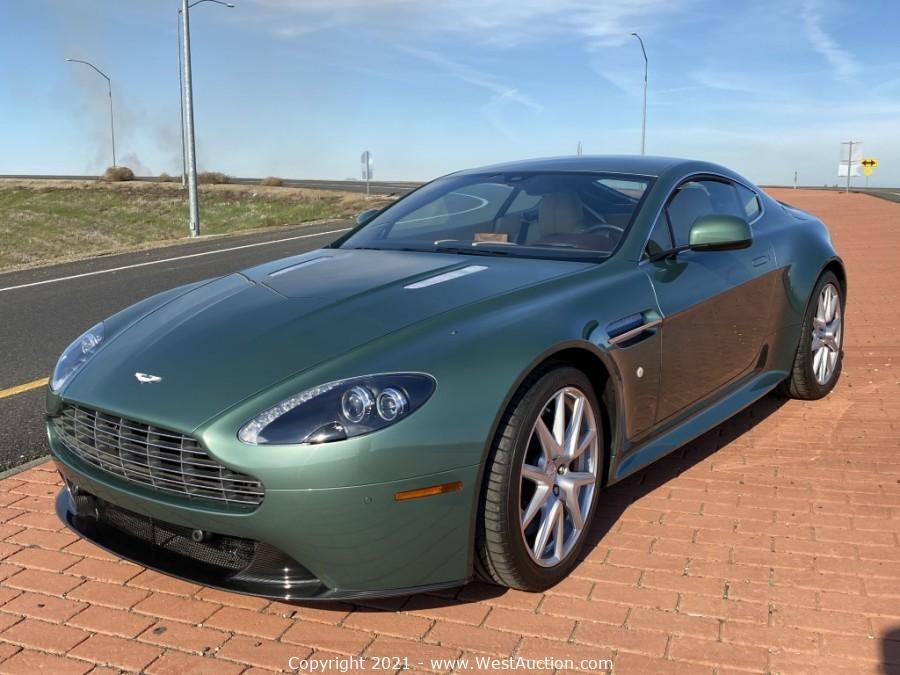 2013 Aston Martin V8 Vantage Coupe (3,200 Original Miles)
Bidding is

closed

.
High Bid:
$67,501.99
NA
Bidding Ended:
Thu, Feb 25 10:06:15 am PT
High Bidder:
Dano1954
Bid Increment:
$500.00
Starting Bid:
$5.00
Item Location:

Yuba City

,

CA

95991

Item has been viewed 12,595 times.

ASK ABOUT THIS ITEM

Bankruptcy Auction of 2013 Aston Martin V8 Vantage Coupe
 Specifications
Year: 2013
Make: Aston Martin
Model: Vantage S
VIN: SCFEKBDL1DGC17767
License: 7FLN319

Registration Expiration: 5/2/2021

Odometer reads: 3,232
Key: Available
GVWR: 4,210
Drive Type: Rear Wheel Drive
Engine: 4.7L V8
HP: 420
Top Speed: 220 MPH
Body Style: Coupe
Fuel Type: Gasoline
Transmission: Automatic
Tire Size: 245/40ZR19 Front, 285/35ZR19 Back
Hand Built in England

Final Inspection by Kieran Coffey
Exterior
Exterior Color: Aston Martin Racing Green
Doors: Two Door
Interior
Interior Material: Leather
Interior Color: Beige
Features:

Backup Camera
Bluetooth Hands-Free
CD Player
Cruise Control
Heated Seats
Leather Seats
Navigation
Power Locks
Power Windows
Power Mirrors
Premium Audio
Steering Wheel Controls
Vehicle battery maintenance system
Pen holder
Note: Certificate of Title, Transfer Form, and Certified Court Order will be mailed 3-4 weeks following the close of the auction. The Buyer is fully responsible for all aspects of transfer, registration, smog, and fees due to California DMV. 
| | | |
| --- | --- | --- |
| Bid Date | Bid Amount | Bidder |
| Feb 25, 2021 - 10:04:15 AM | $67,501.99 | iDano1954 |
| Feb 25, 2021 - 10:03:10 AM | $67,001.99 | icarneasaduck |
| Feb 25, 2021 - 10:03:10 AM | $67,000.00 | iDano1954 |
| Feb 25, 2021 - 10:02:46 AM | $66,501.99 | iDano1954 |
| Feb 25, 2021 - 10:02:46 AM | $66,001.99 | icarneasaduck |
| Feb 25, 2021 - 10:02:11 AM | $65,501.99 | iDano1954 |
| Feb 25, 2021 - 10:01:06 AM | $65,001.99 | icarneasaduck |
| Feb 25, 2021 - 10:01:06 AM | $65,000.00 | iDano1954 |
| Feb 25, 2021 - 10:00:09 AM | $64,501.99 | iDano1954 |
| Feb 25, 2021 - 10:00:09 AM | $64,001.99 | icarneasaduck |
| Feb 25, 2021 - 9:59:03 AM | $63,333.33 | icarneasaduck |
| Feb 25, 2021 - 9:59:03 AM | $63,287.02 | iDano1954 |
| Feb 25, 2021 - 9:51:33 AM | $61,101.01 | icarneasaduck |
| Feb 25, 2021 - 9:51:33 AM | $60,666.00 | iDano1954 |
| Feb 25, 2021 - 7:49:45 AM | $59,501.00 | iDano1954 |
| Feb 24, 2021 - 11:17:09 AM | $59,001.00 | ioneonz |
| Feb 24, 2021 - 11:17:09 AM | $58,502.00 | igunjwebb |
| Feb 23, 2021 - 5:25:01 PM | $58,501.00 | igunjwebb |
| Feb 23, 2021 - 1:03:44 PM | $58,001.00 | iAtinderjits |
| Feb 23, 2021 - 1:03:44 PM | $58,000.00 | iLandiman |
| Feb 23, 2021 - 1:03:06 PM | $57,501.00 | iLandiman |
| Feb 23, 2021 - 1:03:06 PM | $57,001.00 | iAtinderjits |
| Feb 23, 2021 - 1:00:59 PM | $56,501.00 | iLandiman |
| Feb 23, 2021 - 1:00:59 PM | $56,001.00 | iAtinderjits |
| Feb 23, 2021 - 11:28:47 AM | $55,501.00 | iLandiman |
| Feb 23, 2021 - 11:04:57 AM | $55,001.00 | icarneasaduck |
| Feb 23, 2021 - 11:04:57 AM | $55,000.00 | iLandiman |
| Feb 23, 2021 - 10:47:27 AM | $50,501.00 | iLandiman |
| Feb 23, 2021 - 10:47:27 AM | $50,001.00 | icarneasaduck |
| Feb 23, 2021 - 10:25:08 AM | $45,600.00 | icarneasaduck |
| Feb 23, 2021 - 10:25:08 AM | $45,500.00 | imartok55 |
| Feb 23, 2021 - 10:24:50 AM | $45,100.00 | icarneasaduck |
| Feb 23, 2021 - 10:24:50 AM | $45,000.00 | imartok55 |
| Feb 23, 2021 - 10:21:54 AM | $44,100.00 | icarneasaduck |
| Feb 23, 2021 - 10:21:54 AM | $44,000.00 | iLandiman |
| Feb 23, 2021 - 10:21:34 AM | $37,100.00 | iLandiman |
| Feb 23, 2021 - 10:21:34 AM | $37,000.00 | iRainman |
| Feb 23, 2021 - 10:21:07 AM | $35,100.00 | iLandiman |
| Feb 23, 2021 - 10:21:07 AM | $35,000.00 | iRainman |
| Feb 23, 2021 - 10:17:20 AM | $30,100.00 | iLandiman |
| Feb 23, 2021 - 10:17:20 AM | $30,000.00 | iRainman |
| Feb 23, 2021 - 10:16:59 AM | $25,301.00 | iLandiman |
| Feb 23, 2021 - 10:16:59 AM | $25,201.00 | iRainman |
| Feb 23, 2021 - 10:12:00 AM | $25,101.00 | iLandiman |
| Feb 23, 2021 - 10:12:00 AM | $25,001.00 | icitadelroofingandsolar |
| Feb 23, 2021 - 10:11:52 AM | $20,100.00 | icitadelroofingandsolar |
| Feb 23, 2021 - 10:11:52 AM | $20,000.00 | iartkurud |
| Feb 23, 2021 - 10:11:45 AM | $17,100.00 | icitadelroofingandsolar |
| Feb 23, 2021 - 10:11:45 AM | $17,000.00 | iartkurud |
| Feb 23, 2021 - 10:11:29 AM | $16,100.00 | icitadelroofingandsolar |
| Feb 23, 2021 - 10:11:29 AM | $16,000.00 | iartkurud |
| Feb 23, 2021 - 10:04:15 AM | $15,066.66 | icitadelroofingandsolar |
| Feb 23, 2021 - 10:04:15 AM | $14,966.66 | imatspitz0 |
| Feb 23, 2021 - 10:03:41 AM | $13,433.00 | icitadelroofingandsolar |
| Feb 23, 2021 - 10:03:41 AM | $13,333.00 | imatspitz0 |
| Feb 23, 2021 - 10:03:30 AM | $11,766.00 | icitadelroofingandsolar |
| Feb 23, 2021 - 10:03:30 AM | $11,666.00 | imatspitz0 |
| Feb 23, 2021 - 10:03:20 AM | $10,100.00 | icitadelroofingandsolar |
| Feb 23, 2021 - 10:03:20 AM | $10,000.00 | imatspitz0 |
| Feb 23, 2021 - 10:02:41 AM | $135.00 | icitadelroofingandsolar |
| Feb 23, 2021 - 10:02:41 AM | $125.00 | ijtoulze |
| Feb 23, 2021 - 10:01:19 AM | $5.00 | ijtoulze |