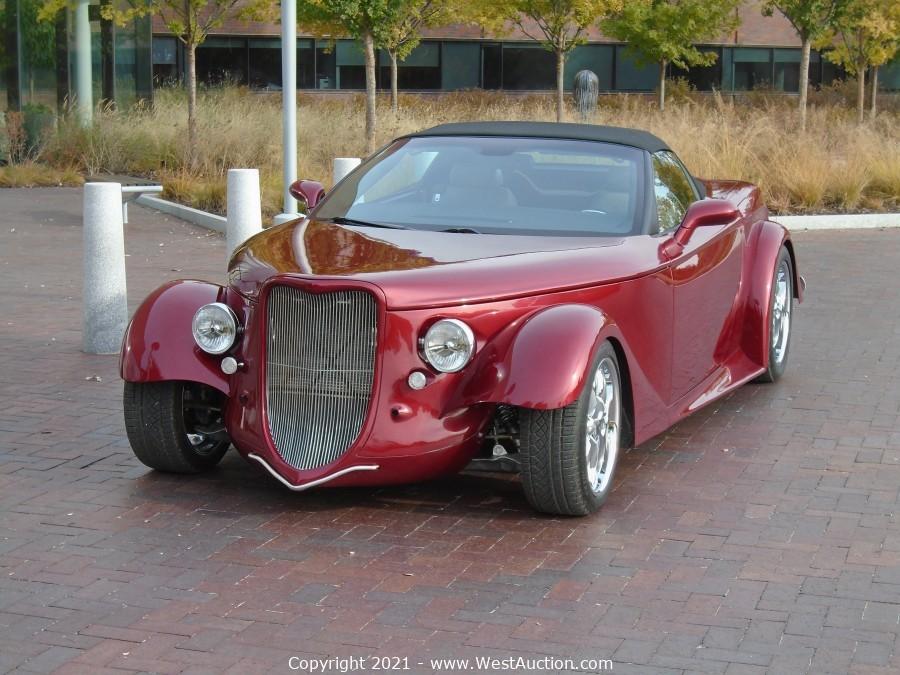 1933 Ford Cabriolet Tribute
Stock:
one item remaining
Item Price:
$150,000.00
Item Location:
Item has been viewed 5,628 times.

ASK ABOUT THIS ITEM

1933 Ford Cabriolet Tribute

A wide body street rod made to be driven, with the luxury of a contemporary car.
This '33 Ford Cabriolet Tribute is a unique "wide body" vehicle conceived and built by Contemporary Classic Cars, Inc. so that it would have the amenities of a luxury car; however, look like, sound like and perform like a street rod. It has the side profile of a '33 Ford classic car with a "swoopy" contemporary look. 
It is displayed by my Sales Agent in Fort Lauderdale, FL.  Call/text 954-614-6133 or 316-305-3517 with questions or for SERIOUS NEGOTIATION.
If you would like to learn more about Contemporary Classic Cars, check out www.contemporaryclassiccars.com
The C6 power convertible top and huge trunk give you the flexibility to drive in any weather, as well as having room for two sets of golf clubs and baggage—even with the top down!  It's no fun going someplace by yourself; with the Cabriolet you can take your spouse or a friend in comfort in any weather.  Besides, your spouse may not want you riding a motorcycle!  The solid tonneau cover hides the convertible top when the top is down. 
Of course, for the purist's, Ford did not build a Cabriolet in 1933 with a power top.  So, what does one do when they like the classic looks of the '33 but want the latest concept in creature comfort and convertible top convenience—you design your own!!  This unique concept deserved a special name, and the company president's daughter coined the term "Ravenhawk". 
The creation of the Ravenhawk was the fulfillment of a dream of the president of Contemporary Classis Cars, Inc.  After a successful career as an engineer and program manager at a major aircraft company, he retired to form his own company. He had already worked his way through ownership of several muscle cars (Mustang, Corvettes, '40 Ford), but he always wanted a street rod.  He quickly learned that the "normal" street rod did not meet his standards of comfort and space.  Through considerable effort and expense, the Ravenhawk concept was born. 
The Ravenhawk is a hand built, beautiful and unique car that immediately attracts attention whenever driven or shown. There have only been two Ravenhawks built:  The first has found its way into a collection, and this one is owned by the president of Contemporary Classic Cars, Inc.  It has been on long road trips across the US from Las Vegas to Miami and has been shown extensively by my Sales Agent at car shows and events garnering People's Choice awards. 
The Ravenhawk has a space tube frame with a custom fiberglass body; however, it has a steel firewall, floor, center tunnel, rear bulkhead, and trunk floor.  
NOTE: The passenger compartment is 14" wider than a standard '33 Ford, plus there is ample leg room to stretch one's legs!  
Contemporary systems were also utilized: i.e., engine, transmission, and suspension.  As many parts as possible were purchased from existing major car manufacturers so that if any repair work is needed, at home or on the road, the local car dealer's mechanics are familiar with them. This means that existing production parts are available (all glass, power/heated outside mirrors, door latches/locks, window regulators, brakes, convertible top, radiator & dual fans,) vs having to send your car back to a custom shop to rebuild the only part that exists. 
The 20 gallon fuel system consists of two interconnected custom stainless steel tanks (similar to C6 Corvette), and the fuel tanks are located under the steel floor forward of the IRS, not in the trunk or aft of the differential!  
The comfortable 21" leather, 6 way adjustable power bucket seats have headrests and three point retractable shoulder harnesses.  
The windshield and doors are 4" higher than a C6 Corvette which makes for easier entry and egress, especially vs an exotic car.  The frame rails are 2" X 6", and instead of mounting the floor on top of the frame, we placed the floor at the bottom of the frame.  This provides additional space from the top of the seat to the floor, which keeps your knees away from your chin, as well as ample headroom, and making it easier to get into and out of.  Built as a '33 Tribute, titled as 2017 Assembled Vehicle.
The Ravenhawk has a professional, detailed Owner's Manual, as well as an alphabetized parts list.  Odometer mileage is after completion.  
This vehicle is "For Sale by Owner" on an "As Is, Where Is" basis.  It is displayed by my Sales Agent in Fort Lauderdale, FL.  Call/text 954-614-6133 or 316-305-3517 with questions or for SERIOUS NEGOTIATION.

If you would like to learn more about the Ravenhawk or Contemporary Classic Cars, check out www.contemporaryclassiccars.com
VIDEOS
Ravenhawk Specifications
 DRIVETRAIN
430 Hp 6.2L GM V8 with Cold Ram Air Intake      

6 Speed GM Automatic Transmission with Tap Up/Dn

GM Independent Rear Suspension

Cruise Control

Front:  Independent QA1 Coil Overs with 1 1/8" Sway Bar

Rear:  Independent QA1 Coil Overs with 1" Sway Bar

Power 4 Wheel 14" Vented Disc Brakes

Front:  Corvette Drilled     Rear: Brembo

GM Radiator w/2 Automatic Electric Fans & Shroud

20 Gallons of Fuel: Two Interconnected Stainless Fuel Tanks

Under Steel Floor, Forward of the IRS (not in the trunk)

Solenoid Activated External Filler Door

Dual Exhaust w/Dual Magnaflow Muffler

Power Rack &Pinion Steering

Battery with Cut Off Switch &Charge Tender

Space Tube Frame

Under Hood Insulation

Keyless Entry and Push Button Start
WHEELS/TIRES
Chrome 5-Spoke Alloy

Front:  18 x 7, 225/45R18

Rear:  20 x 10, 295/40R20
EXTERIOR
Ruby Red Tri-Color Urethane Paint

Fiberglass Body with Steel Firewall and Floor

Power C6 Convertible Top, Lined

Hard Tonneau Cover w/Solenoid Latch

Clamshell Forward Opening Hood with Single

Lever/Dual Latches

Glass Windshield w/3 Speed Wipers

Glass Door Windows w/One Touch Down

Heated Glass Rear Window

Solenoid Actuated Doors &Trunk

Keyless entry FOB (2)

Power Adjustable Heated Outside Mirrors

Modified '33 Ford Grille

Tri Bar Headlights w/

LED 

Bullet Park Lights

'39 Ford 

LED

 Teardrop Taillights

Long Bar 

LED

 3rd Brake Light in Scoop                                

Stainless Steel Front Nerf Bar

Aluminum Ribbed Rear Bumper

Lighted License Plate Surround

Object Warning Tone

Back Up Camera in Rear View Mirror

LED

 Back Up Lights

Automatic Headlight On/Off with "Lights On" Warning

Power Windows and Door Locks
 INTERIOR
Gray 21" Leather Covered Bucket Seats w/Recline

6 Way Power Adjustable Seats with Headrests

Three Point Retractable Shoulder Harnesses

Black and Gray Vinyl Covered Side Panels

Banjo Style Steering Wheel w/Tilt and Horn

Stereo with 4 Speakers

Charcoal Plush Carpet

Emergency Brake w/Pull Handle on Console      

Courtesy Lights: Footwells, Trunk, and

Vanity Mirrors in Sun Visors

Vintage Air HVAC w/Dash & Floor Vents

Glove Box w/Locking Lid and Power Socket in Console

Cupholders (2)

Large Trunk w/Plush Carpet

Ceramic and Foil Backed Blanket Insulation

with Dynamat Sound Mat
INSTRUMENTATION
Classic Style Dash

Round Gauges:  Fuel, Speedometer, Tachometer

Oil Pressure, Water Temperature, Voltmeter, Clock
SPECIFICATIONS
Wheelbase:  123.5"

Track (Outside to Outside):

Front 71.5"   Rear 79.5"

Weight:  4,100 lbs.

Length:  15' 4"

Width:  6' 8"

Height:  4' 4"
TERMS:  This vehicle is "For Sale by Owner" on an "As Is, Where Is" basis.  It is displayed by my Sales Agent in Fort Lauderdale, FL.  Call/text 954-614-6133 or 316-305-3517.  Only serious inquiries please.
PAYMENT:  Only serious offers are appreciated, and Seller reserves the right to cancel at any time.  A non-refundable $1,000.00 deposit is required within 48 hours of offer being placed.  The deposit is a commitment to purchase and will be applied toward the purchase price.  The commitment to purchase is not contingent upon inspection, financing, or any other terms.
Full payment is required within 7 business days of offer acceptance unless other arrangements are agreed to in writing.  If deposit and/or full payment are not provided within said time frame, transaction will be considered void.
We will accept cashier's check (no personal check or credit cards please); however, wire transfer is preferred.
VEHICLE RELEASE:  Vehicle will not be released until all funds have been posted in Seller's account.  Bill of Sale and vehicle Title will be provided at time of delivery at Sales Agent's location. 
DELIVERY:  Buyer is responsible for vehicle pickup or shipping from Fort Lauderdale, FL 33325