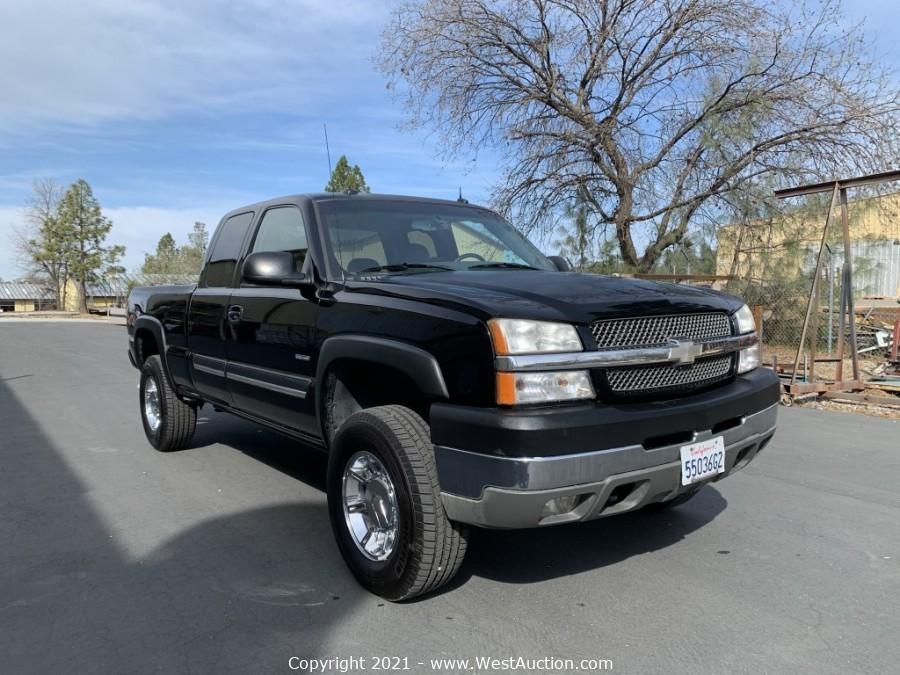 2003 Chevrolet Silverado 2500HD Duramax 4x4 Diesel Pickup Truck
Bidding is

closed

.
High Bid:
$11,100.00
NA
Bidding Ended:
Thu, Apr 8 10:01:05 am PT
High Bidder:
petaluma
Bid Increment:
$100.00
Starting Bid:
$5.00
Item Location:

Diamond Springs

,

CA

95619

Item has been viewed 5,876 times.

ASK ABOUT THIS ITEM

2003 Chevrolet Silverado 2500HD Duramax 4x4 Diesel Pickup Truck
Specifications:
Year: 2003
Make: Chevrolet
Model: Silverado 2500HD Duramax
VIN: 1GCHK29143E250210
License Plate: 55036G2


Registration Expiration: 06/30/2021

Odometer Reads: 266,702
Key Available: (2) keys and fobs
GVWR: 9200lbs
Drive Type: 4WD
Engine: 6.6 V8 Turbo Diesel 
Body Style: Extended Cab Pickup
Fuel Type: Diesel
Transmission: Allison 5spd automatic trans
Tire Size: LT285/70R17
Color: Black
Doors: (2) full, (2) suicide
Interior Material: Leather
Interior Color: Dark Charcoal
Features: 
A/C, Dual-zone auto
ISRV Mirror w/Compass & temp
OSRV Mirrors w/Driver side auto-dimming, power fold, and adj, heat, tilt & turn signal
Rear window defogger
Deep tint glass
Electronic shift transfer case
Front fog lamps
AM/FM stereo w/6 disc CD changer & bose speaker system
Electronic speed control
Power locks and windows
Remote keyless entry
Leather-wrapped steering wheel
Bodyside moldings
Onstar communication system
Redundant radio controls
Automatic retractable running boards
Note: Certificate of Title, Transfer Forms and Smog Certificate will be mailed 3-4 weeks following the close of the auction. The Buyer is fully responsible for all aspects of transfer, registration and fees due to DMV. 
| | | |
| --- | --- | --- |
| Bid Date | Bid Amount | Bidder |
| Apr 8, 2021 - 9:59:05 AM | $11,100.00 | ipetaluma |
| Apr 8, 2021 - 9:59:05 AM | $11,000.00 | iRosemary |
| Apr 8, 2021 - 9:57:49 AM | $10,850.00 | ipetaluma |
| Apr 8, 2021 - 9:57:49 AM | $10,750.00 | ikevin.thrift |
| Apr 8, 2021 - 9:48:07 AM | $10,650.00 | ipetaluma |
| Apr 8, 2021 - 9:41:43 AM | $10,550.00 | iMfarshad |
| Apr 8, 2021 - 9:41:43 AM | $10,500.00 | ipetaluma |
| Apr 8, 2021 - 9:40:19 AM | $10,450.00 | ipetaluma |
| Apr 8, 2021 - 9:40:19 AM | $10,350.00 | iMfarshad |
| Apr 8, 2021 - 9:39:36 AM | $10,250.00 | ipetaluma |
| Apr 8, 2021 - 9:39:36 AM | $10,150.00 | iMfarshad |
| Apr 8, 2021 - 9:39:08 AM | $10,050.00 | ipetaluma |
| Apr 8, 2021 - 9:39:08 AM | $9,950.00 | iMfarshad |
| Apr 8, 2021 - 9:38:11 AM | $9,850.00 | ipetaluma |
| Apr 8, 2021 - 9:38:11 AM | $9,750.00 | iMfarshad |
| Apr 8, 2021 - 9:37:59 AM | $9,650.00 | ipetaluma |
| Apr 8, 2021 - 9:37:59 AM | $9,550.00 | iMfarshad |
| Apr 8, 2021 - 9:37:44 AM | $9,450.00 | ipetaluma |
| Apr 8, 2021 - 9:37:44 AM | $9,350.00 | iMfarshad |
| Apr 8, 2021 - 9:37:29 AM | $9,250.00 | ipetaluma |
| Apr 8, 2021 - 9:37:29 AM | $9,150.00 | iMfarshad |
| Apr 8, 2021 - 9:26:34 AM | $9,050.00 | ipetaluma |
| Apr 8, 2021 - 9:26:34 AM | $8,950.00 | iwillyguess |
| Apr 8, 2021 - 9:26:13 AM | $8,550.00 | ipetaluma |
| Apr 8, 2021 - 9:26:13 AM | $8,450.00 | iwillyguess |
| Apr 8, 2021 - 9:25:46 AM | $8,350.00 | ipetaluma |
| Apr 8, 2021 - 9:25:46 AM | $8,250.00 | iwillyguess |
| Apr 8, 2021 - 5:22:39 AM | $8,150.00 | ipetaluma |
| Apr 8, 2021 - 2:13:32 AM | $8,050.00 | iDoug Stewart |
| Apr 8, 2021 - 1:57:35 AM | $7,950.00 | iMfarshad |
| Apr 8, 2021 - 1:57:35 AM | $7,900.00 | iDoug Stewart |
| Apr 8, 2021 - 1:57:21 AM | $7,800.00 | iMfarshad |
| Apr 8, 2021 - 1:57:21 AM | $7,700.00 | iDoug Stewart |
| Apr 8, 2021 - 1:57:06 AM | $7,600.00 | iMfarshad |
| Apr 8, 2021 - 1:57:06 AM | $7,500.00 | iDoug Stewart |
| Apr 7, 2021 - 1:38:24 PM | $7,400.00 | iMfarshad |
| Apr 7, 2021 - 1:38:24 PM | $7,300.00 | iwillyguess |
| Apr 7, 2021 - 1:37:45 PM | $7,200.00 | iMfarshad |
| Apr 7, 2021 - 1:37:45 PM | $7,100.00 | iwillyguess |
| Apr 7, 2021 - 8:12:45 AM | $7,000.00 | iMfarshad |
| Apr 7, 2021 - 8:12:45 AM | $6,900.00 | ikingfish |
| Apr 7, 2021 - 7:39:09 AM | $6,550.00 | iMfarshad |
| Apr 7, 2021 - 3:12:32 AM | $6,450.00 | iDoug Stewart |
| Apr 7, 2021 - 1:02:23 AM | $6,350.00 | iMfarshad |
| Apr 7, 2021 - 1:02:07 AM | $6,250.00 | itammylariz |
| Apr 7, 2021 - 1:02:07 AM | $6,200.00 | iMfarshad |
| Apr 6, 2021 - 11:22:47 PM | $6,100.00 | itammylariz |
| Apr 6, 2021 - 11:22:47 PM | $6,000.00 | iIjlas |
| Apr 6, 2021 - 11:22:32 PM | $5,900.00 | itammylariz |
| Apr 6, 2021 - 11:22:32 PM | $5,800.00 | iIjlas |
| Apr 6, 2021 - 6:10:04 PM | $5,650.00 | itammylariz |
| Apr 6, 2021 - 4:19:45 PM | $5,550.00 | iBendecko13 |
| Apr 6, 2021 - 4:19:45 PM | $5,500.00 | iseniorcruz |
| Apr 6, 2021 - 4:13:09 PM | $5,450.00 | iseniorcruz |
| Apr 6, 2021 - 4:13:09 PM | $5,350.00 | ijdodoubleg |
| Apr 6, 2021 - 4:13:00 PM | $5,250.00 | iseniorcruz |
| Apr 6, 2021 - 4:13:00 PM | $5,150.00 | ijdodoubleg |
| Apr 6, 2021 - 4:10:01 PM | $5,050.00 | iseniorcruz |
| Apr 6, 2021 - 4:03:40 PM | $5,000.00 | ijdodoubleg |
| Apr 6, 2021 - 4:03:41 PM | $5,000.00 | iseniorcruz |
| Apr 6, 2021 - 1:53:20 PM | $4,300.00 | ijdodoubleg |
| Apr 6, 2021 - 1:00:59 PM | $4,250.00 | iTKELLY |
| Apr 6, 2021 - 12:17:34 PM | $4,200.00 | ijdodoubleg |
| Apr 6, 2021 - 10:57:13 AM | $4,150.00 | iJwarner |
| Apr 6, 2021 - 10:57:08 AM | $4,100.00 | iDoug Stewart |
| Apr 6, 2021 - 10:57:09 AM | $4,100.00 | iJwarner |
| Apr 6, 2021 - 10:56:51 AM | $4,050.00 | iDoug Stewart |
| Apr 6, 2021 - 10:56:27 AM | $4,000.00 | iMikebaz |
| Apr 6, 2021 - 10:56:28 AM | $4,000.00 | iDoug Stewart |
| Apr 6, 2021 - 10:56:13 AM | $3,900.00 | iMikebaz |
| Apr 6, 2021 - 10:56:13 AM | $3,850.00 | iDoug Stewart |
| Apr 6, 2021 - 10:55:58 AM | $3,750.00 | iMikebaz |
| Apr 6, 2021 - 10:55:58 AM | $3,700.00 | iDoug Stewart |
| Apr 6, 2021 - 10:55:36 AM | $3,600.00 | iMikebaz |
| Apr 6, 2021 - 10:55:36 AM | $3,550.00 | iDoug Stewart |
| Apr 6, 2021 - 10:55:19 AM | $3,450.00 | iMikebaz |
| Apr 6, 2021 - 10:55:19 AM | $3,400.00 | iDoug Stewart |
| Apr 6, 2021 - 10:54:54 AM | $3,300.00 | iMikebaz |
| Apr 6, 2021 - 10:54:54 AM | $3,250.00 | iDoug Stewart |
| Apr 6, 2021 - 10:29:01 AM | $3,150.00 | iMikebaz |
| Apr 6, 2021 - 10:29:01 AM | $3,100.00 | iDoug Stewart |
| Apr 6, 2021 - 10:04:19 AM | $3,050.00 | iDoug Stewart |
| Apr 6, 2021 - 10:04:02 AM | $3,000.00 | iSauce |
| Apr 6, 2021 - 10:04:03 AM | $3,000.00 | iDoug Stewart |
| Apr 6, 2021 - 10:03:51 AM | $2,550.00 | iSauce |
| Apr 6, 2021 - 10:03:51 AM | $2,500.00 | iDoug Stewart |
| Apr 6, 2021 - 10:03:36 AM | $2,420.00 | iSauce |
| Apr 6, 2021 - 10:03:36 AM | $2,370.00 | iDoug Stewart |
| Apr 6, 2021 - 10:03:15 AM | $2,310.00 | iSauce |
| Apr 6, 2021 - 10:03:15 AM | $2,260.00 | iDoug Stewart |
| Apr 6, 2021 - 10:02:40 AM | $2,200.00 | iSauce |
| Apr 6, 2021 - 10:02:40 AM | $2,150.00 | iDoug Stewart |
| Apr 6, 2021 - 10:01:08 AM | $2,050.00 | iSauce |
| Apr 6, 2021 - 10:01:08 AM | $2,000.00 | igreatwhite |
| Apr 6, 2021 - 10:00:28 AM | $1,010.00 | iSauce |
| Apr 6, 2021 - 10:00:28 AM | $1,000.00 | igreatwhite |
| Apr 6, 2021 - 10:00:24 AM | $5.00 | iSauce |