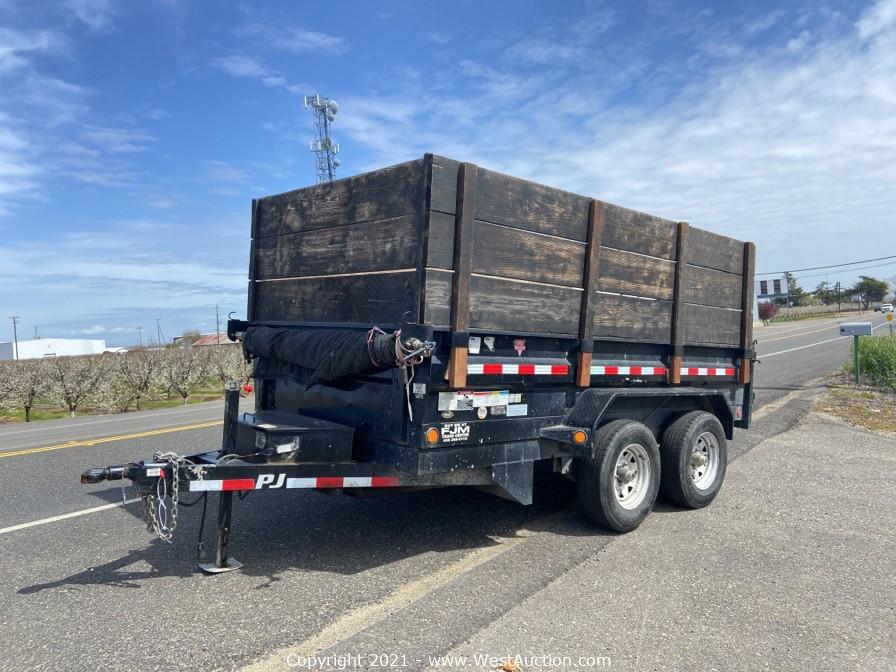 2016 P.J. Trailers 12' Dump Trailer
Bidding is

closed

.
High Bid:
$9,300.00
NA
Bidding Ended:
Thu, Apr 15 10:05:17 am PT
High Bidder:
Maxpazy33
Bid Increment:
$100.00
Starting Bid:
$5.00
Item Location:

980 Tudor Rd

,

Yuba City

,

CA

95991

Item has been viewed 7,787 times.

ASK ABOUT THIS ITEM

Bankruptcy Auction of 2016 P.J. Trailers 12' Dump Trailer
Trailer Details
Year: 2016
Make: P.J. Trailer Manufacturing Company
Model: TRA/REM Dump D3122
VIN: 4P5D31226G1249071
License: 4PM7264

Expiration Date: 3/31/2021

Gross Vehicle Weight Rating (GVWR): 9,899 Lb
Trailer Type: Dump
Dimensions
Overall Length: 198"
Overall Width: 94"
Deck Length: 11.5'
Deck Width: 6'
Side Height: 20"
Axles, Brakes, and Tires
Empty Weight: 2,630
Suspension: Leaf Spring
Number of Axles: 2
Brake Type: Electric
Number of Wheels: 4
Tire Size: ST225/75R15
Electric Plug Type: 6-Way Round
Hitch: 2 5/16" Ball
Wall height with wood panels is 54"
Note: Certificate of Title, Transfer Form, and Court Order will be mailed 3-4 weeks following the close of the auction. The Buyer is fully responsible for all aspects s of registration, transfer, and fees due to DMV.
| | | |
| --- | --- | --- |
| Bid Date | Bid Amount | Bidder |
| Apr 15, 2021 - 10:03:17 AM | $9,300.00 | iMaxpazy33 |
| Apr 15, 2021 - 10:02:09 AM | $9,200.00 | iTrucha! |
| Apr 15, 2021 - 10:02:09 AM | $9,100.00 | iMaxpazy33 |
| Apr 15, 2021 - 10:01:22 AM | $9,000.00 | iTrucha! |
| Apr 15, 2021 - 9:59:27 AM | $8,900.00 | iMaxpazy33 |
| Apr 15, 2021 - 9:58:54 AM | $8,800.00 | iTrucha! |
| Apr 15, 2021 - 9:58:54 AM | $8,700.00 | iMaxpazy33 |
| Apr 15, 2021 - 9:58:44 AM | $8,600.00 | iTrucha! |
| Apr 15, 2021 - 9:58:44 AM | $8,500.00 | iMaxpazy33 |
| Apr 15, 2021 - 9:58:37 AM | $8,400.00 | iTrucha! |
| Apr 15, 2021 - 9:58:37 AM | $8,300.00 | iMaxpazy33 |
| Apr 15, 2021 - 9:58:27 AM | $8,200.00 | iTrucha! |
| Apr 15, 2021 - 9:58:27 AM | $8,100.00 | iMaxpazy33 |
| Apr 15, 2021 - 9:58:20 AM | $8,000.00 | iTrucha! |
| Apr 15, 2021 - 9:58:20 AM | $7,900.00 | iMaxpazy33 |
| Apr 15, 2021 - 9:58:12 AM | $7,800.00 | iTrucha! |
| Apr 15, 2021 - 9:58:12 AM | $7,700.00 | iMaxpazy33 |
| Apr 15, 2021 - 12:18:44 AM | $7,600.00 | iTrucha! |
| Apr 15, 2021 - 12:18:25 AM | $7,500.00 | iflyman |
| Apr 15, 2021 - 12:18:26 AM | $7,500.00 | iTrucha! |
| Apr 14, 2021 - 5:46:22 PM | $7,300.00 | iflyman |
| Apr 14, 2021 - 5:46:11 PM | $7,200.00 | iTrucha! |
| Apr 14, 2021 - 5:46:12 PM | $7,200.00 | iflyman |
| Apr 14, 2021 - 5:45:51 PM | $7,100.00 | iTrucha! |
| Apr 14, 2021 - 5:45:51 PM | $7,000.00 | iflyman |
| Apr 14, 2021 - 7:51:52 AM | $6,900.00 | iTrucha! |
| Apr 13, 2021 - 8:45:22 PM | $6,800.00 | iMaxpazy33 |
| Apr 13, 2021 - 8:09:27 PM | $6,700.00 | iConnerfire |
| Apr 13, 2021 - 12:21:42 PM | $6,600.00 | iMaxpazy33 |
| Apr 13, 2021 - 12:21:39 PM | $6,500.00 | iflyman |
| Apr 13, 2021 - 12:21:40 PM | $6,500.00 | iMaxpazy33 |
| Apr 13, 2021 - 12:21:35 PM | $6,400.00 | iflyman |
| Apr 13, 2021 - 12:21:35 PM | $6,300.00 | iMaxpazy33 |
| Apr 13, 2021 - 12:21:22 PM | $6,200.00 | iflyman |
| Apr 13, 2021 - 12:21:22 PM | $6,100.00 | iMaxpazy33 |
| Apr 13, 2021 - 12:21:18 PM | $6,000.00 | iflyman |
| Apr 13, 2021 - 12:21:18 PM | $5,900.00 | iMaxpazy33 |
| Apr 13, 2021 - 12:21:14 PM | $5,800.00 | iflyman |
| Apr 13, 2021 - 12:21:14 PM | $5,700.00 | iMaxpazy33 |
| Apr 13, 2021 - 12:21:11 PM | $5,600.00 | iflyman |
| Apr 13, 2021 - 12:21:11 PM | $5,500.00 | iMaxpazy33 |
| Apr 13, 2021 - 12:21:07 PM | $5,400.00 | iflyman |
| Apr 13, 2021 - 12:21:07 PM | $5,300.00 | iMaxpazy33 |
| Apr 13, 2021 - 12:20:43 PM | $5,200.00 | iflyman |
| Apr 13, 2021 - 12:20:43 PM | $5,100.00 | iMaxpazy33 |
| Apr 13, 2021 - 12:20:25 PM | $4,850.00 | iflyman |
| Apr 13, 2021 - 12:20:25 PM | $4,800.00 | iMaxpazy33 |
| Apr 13, 2021 - 12:20:20 PM | $4,750.00 | iflyman |
| Apr 13, 2021 - 12:20:20 PM | $4,700.00 | iMaxpazy33 |
| Apr 13, 2021 - 12:20:12 PM | $4,650.00 | iflyman |
| Apr 13, 2021 - 12:20:12 PM | $4,600.00 | iMaxpazy33 |
| Apr 13, 2021 - 12:15:05 PM | $4,550.00 | iflyman |
| Apr 13, 2021 - 12:12:26 PM | $4,500.00 | ibrycehintz30 |
| Apr 13, 2021 - 12:03:57 PM | $4,450.00 | iAdany16 |
| Apr 13, 2021 - 11:59:21 AM | $4,400.00 | iMaxpazy33 |
| Apr 13, 2021 - 11:58:56 AM | $4,350.00 | ibrycehintz30 |
| Apr 13, 2021 - 11:58:57 AM | $4,350.00 | iMaxpazy33 |
| Apr 13, 2021 - 11:58:43 AM | $4,300.00 | ibrycehintz30 |
| Apr 13, 2021 - 11:58:43 AM | $4,250.00 | iMaxpazy33 |
| Apr 13, 2021 - 11:55:38 AM | $4,200.00 | ibrycehintz30 |
| Apr 13, 2021 - 11:55:38 AM | $4,160.00 | iconcrete916 |
| Apr 13, 2021 - 11:55:35 AM | $4,150.00 | iconcrete916 |
| Apr 13, 2021 - 11:55:35 AM | $4,100.00 | ibrycehintz30 |
| Apr 13, 2021 - 11:55:28 AM | $4,050.00 | iconcrete916 |
| Apr 13, 2021 - 11:55:28 AM | $4,000.00 | ibrycehintz30 |
| Apr 13, 2021 - 11:48:53 AM | $3,950.00 | iconcrete916 |
| Apr 13, 2021 - 11:48:53 AM | $3,900.00 | iDR |
| Apr 13, 2021 - 11:32:57 AM | $3,850.00 | iconcrete916 |
| Apr 13, 2021 - 11:32:57 AM | $3,800.00 | iAdany16 |
| Apr 13, 2021 - 11:03:32 AM | $3,725.00 | iAdany16 |
| Apr 13, 2021 - 11:03:32 AM | $3,675.00 | iconcrete916 |
| Apr 13, 2021 - 11:00:51 AM | $3,550.00 | iconcrete916 |
| Apr 13, 2021 - 11:00:51 AM | $3,500.00 | iAdany16 |
| Apr 13, 2021 - 11:00:31 AM | $3,450.00 | iconcrete916 |
| Apr 13, 2021 - 11:00:31 AM | $3,400.00 | iAdany16 |
| Apr 13, 2021 - 10:59:41 AM | $3,350.00 | iconcrete916 |
| Apr 13, 2021 - 10:57:41 AM | $3,300.00 | iAdany16 |
| Apr 13, 2021 - 10:57:41 AM | $3,275.00 | iconcrete916 |
| Apr 13, 2021 - 10:57:00 AM | $3,250.00 | iconcrete916 |
| Apr 13, 2021 - 10:57:00 AM | $3,200.00 | iAdany16 |
| Apr 13, 2021 - 10:56:45 AM | $3,150.00 | iconcrete916 |
| Apr 13, 2021 - 10:56:45 AM | $3,100.00 | iAdany16 |
| Apr 13, 2021 - 10:56:11 AM | $3,050.00 | iconcrete916 |
| Apr 13, 2021 - 10:55:44 AM | $3,000.00 | iHkhauling |
| Apr 13, 2021 - 10:55:44 AM | $2,950.00 | iconcrete916 |
| Apr 13, 2021 - 10:52:48 AM | $2,900.00 | iHkhauling |
| Apr 13, 2021 - 10:32:16 AM | $2,850.00 | iAdany16 |
| Apr 13, 2021 - 10:28:48 AM | $2,800.00 | iHkhauling |
| Apr 13, 2021 - 10:28:48 AM | $2,765.00 | ikingfish |
| Apr 13, 2021 - 10:25:41 AM | $2,550.00 | ikingfish |
| Apr 13, 2021 - 10:25:41 AM | $2,500.00 | iHkhauling |
| Apr 13, 2021 - 10:20:20 AM | $2,250.00 | iHkhauling |
| Apr 13, 2021 - 10:20:20 AM | $2,200.00 | itiny2nz |
| Apr 13, 2021 - 10:18:43 AM | $2,100.00 | itiny2nz |
| Apr 13, 2021 - 10:12:43 AM | $2,050.00 | iHkhauling |
| Apr 13, 2021 - 10:12:40 AM | $2,000.00 | iJwhite60 |
| Apr 13, 2021 - 10:12:41 AM | $2,000.00 | iHkhauling |
| Apr 13, 2021 - 10:12:37 AM | $1,950.00 | iJwhite60 |
| Apr 13, 2021 - 10:12:37 AM | $1,900.00 | iHkhauling |
| Apr 13, 2021 - 10:12:34 AM | $1,850.00 | iJwhite60 |
| Apr 13, 2021 - 10:12:34 AM | $1,800.00 | iHkhauling |
| Apr 13, 2021 - 10:12:29 AM | $1,750.00 | iJwhite60 |
| Apr 13, 2021 - 10:12:29 AM | $1,700.00 | iHkhauling |
| Apr 13, 2021 - 10:12:22 AM | $1,650.00 | iJwhite60 |
| Apr 13, 2021 - 10:12:22 AM | $1,600.00 | iHkhauling |
| Apr 13, 2021 - 10:11:25 AM | $1,550.00 | iJwhite60 |
| Apr 13, 2021 - 10:11:25 AM | $1,500.00 | iHkhauling |
| Apr 13, 2021 - 10:11:09 AM | $1,350.00 | iHkhauling |
| Apr 13, 2021 - 10:11:09 AM | $1,300.00 | iJwhite60 |
| Apr 13, 2021 - 10:09:59 AM | $1,250.00 | iHkhauling |
| Apr 13, 2021 - 10:09:59 AM | $1,200.00 | ibigbuilder |
| Apr 13, 2021 - 10:09:50 AM | $1,125.00 | ibigbuilder |
| Apr 13, 2021 - 10:09:50 AM | $1,075.00 | itiny2nz |
| Apr 13, 2021 - 10:08:53 AM | $1,060.00 | itiny2nz |
| Apr 13, 2021 - 10:07:16 AM | $1,010.00 | iJwhite60 |
| Apr 13, 2021 - 10:03:54 AM | $1,000.00 | ikiwani |
| Apr 13, 2021 - 10:03:55 AM | $1,000.00 | itiny2nz |
| Apr 13, 2021 - 10:03:38 AM | $210.00 | ikiwani |
| Apr 13, 2021 - 10:03:38 AM | $200.00 | itiny2nz |
| Apr 13, 2021 - 10:03:11 AM | $55.00 | ikiwani |
| Apr 13, 2021 - 10:03:11 AM | $50.00 | itiny2nz |
| Apr 13, 2021 - 10:02:40 AM | $5.00 | ikiwani |