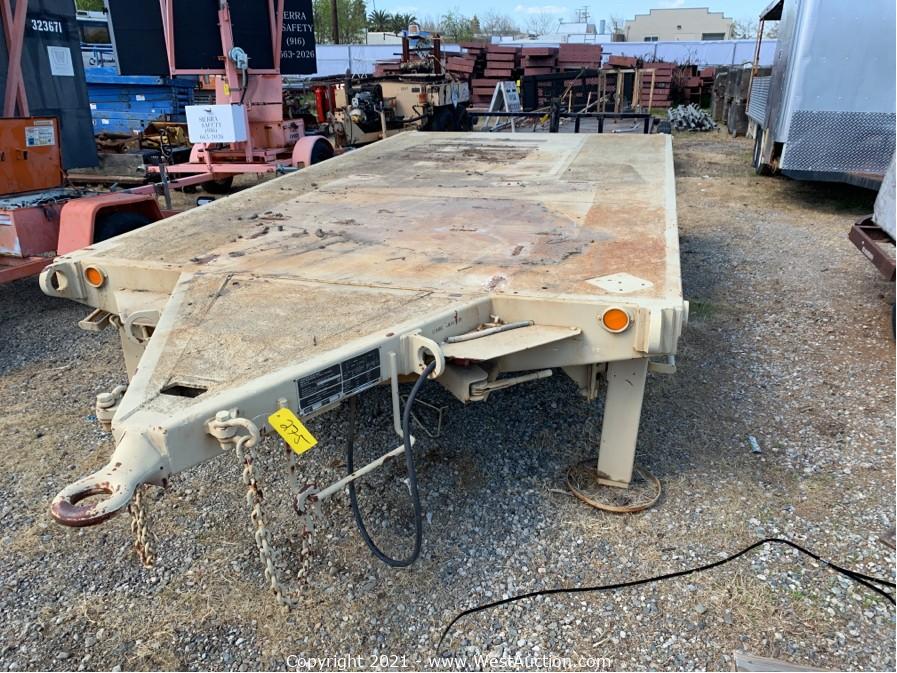 Lot #0275:
5-Ton 4-Wheel Flatbed Trailer
Bidding is

closed

.
High Bid:
$2,050.00
NA
Bidding Ended:
Thu, May 6 10:33:05 am PT
High Bidder:
mountainman7
Bid Increment:
$50.00
Starting Bid:
$5.00
Item Location:

Yuba City

,

CA

95991

Item has been viewed 790 times.

5-Ton 4-Wheel Flatbed Trailer
Trailer Details
VIN: 2048
License not on Trailer: 4MU4090

Expiration Date: 12/31/2023

Gross Vehicle Weight Rating (GVWR): 15,850lb
Trailer Type: Flatbed
Dimensions
Overall Length: 255"
Overall Width: 96"
Deck Length: 223"
Deck Width: 96"
Side height: 37"
Width Between Fenders: 96"
Axles, Brakes, and Tires
Empty Weight: 5,850lb
Suspension: Independent Rubber Suspension (IRS)
Number of Axles: 2
Note: Certificate of Title and Transfer Form will be mailed 4-5 weeks following the close of the auction. The Buyer is fully responsible for all aspects of registration, inspections, transfers, and fees due to DMV.
| | | |
| --- | --- | --- |
| Bid Date | Bid Amount | Bidder |
| May 6, 2021 - 10:31:05 AM | $2,050.00 | imountainman7 |
| May 6, 2021 - 10:31:05 AM | $2,000.00 | iRedawg |
| May 6, 2021 - 10:16:59 AM | $1,875.00 | iRedawg |
| May 6, 2021 - 10:16:45 AM | $1,825.00 | ielgringobrian |
| May 6, 2021 - 10:16:45 AM | $1,800.00 | iRedawg |
| May 6, 2021 - 10:16:38 AM | $1,550.00 | ielgringobrian |
| May 6, 2021 - 10:16:38 AM | $1,500.00 | iRedawg |
| May 6, 2021 - 10:16:21 AM | $1,350.00 | ielgringobrian |
| May 6, 2021 - 10:16:21 AM | $1,300.00 | iRedawg |
| May 6, 2021 - 9:43:54 AM | $1,010.00 | ielgringobrian |
| May 6, 2021 - 9:43:54 AM | $1,000.00 | iRedawg |
| May 6, 2021 - 8:15:35 AM | $781.00 | iRedawg |
| May 6, 2021 - 8:15:35 AM | $771.00 | iMattrat |
| May 6, 2021 - 7:53:19 AM | $560.00 | iMattrat |
| May 6, 2021 - 7:53:19 AM | $550.00 | ibuytank |
| May 5, 2021 - 6:02:12 PM | $503.00 | ibuytank |
| May 5, 2021 - 6:02:12 PM | $493.00 | iLowboy |
| May 5, 2021 - 6:02:09 PM | $483.00 | ibuytank |
| May 5, 2021 - 6:02:09 PM | $473.00 | iLowboy |
| May 5, 2021 - 6:02:05 PM | $463.00 | ibuytank |
| May 5, 2021 - 6:02:05 PM | $453.00 | iLowboy |
| May 4, 2021 - 4:24:10 PM | $443.00 | ibuytank |
| May 4, 2021 - 4:24:10 PM | $433.00 | iMary013$$ |
| May 4, 2021 - 4:24:06 PM | $423.00 | ibuytank |
| May 4, 2021 - 4:24:06 PM | $413.00 | iMary013$$ |
| May 4, 2021 - 4:24:04 PM | $403.00 | ibuytank |
| May 4, 2021 - 4:24:04 PM | $393.00 | iMary013$$ |
| May 4, 2021 - 4:24:01 PM | $383.00 | ibuytank |
| May 4, 2021 - 4:24:01 PM | $373.00 | iMary013$$ |
| May 4, 2021 - 4:23:59 PM | $363.00 | ibuytank |
| May 4, 2021 - 4:23:59 PM | $353.00 | iMary013$$ |
| May 4, 2021 - 4:23:56 PM | $343.00 | ibuytank |
| May 4, 2021 - 4:23:56 PM | $333.00 | iMary013$$ |
| May 4, 2021 - 4:23:53 PM | $323.00 | ibuytank |
| May 4, 2021 - 4:23:53 PM | $313.00 | iMary013$$ |
| May 4, 2021 - 4:23:51 PM | $303.00 | ibuytank |
| May 4, 2021 - 4:23:51 PM | $293.00 | iMary013$$ |
| May 4, 2021 - 4:23:48 PM | $283.00 | ibuytank |
| May 4, 2021 - 4:23:48 PM | $273.00 | iMary013$$ |
| May 4, 2021 - 4:23:46 PM | $263.00 | ibuytank |
| May 4, 2021 - 4:23:46 PM | $253.00 | iMary013$$ |
| May 4, 2021 - 4:23:43 PM | $243.00 | ibuytank |
| May 4, 2021 - 4:23:43 PM | $233.00 | iMary013$$ |
| May 4, 2021 - 4:23:39 PM | $223.00 | ibuytank |
| May 4, 2021 - 4:23:39 PM | $213.00 | iMary013$$ |
| May 4, 2021 - 4:23:36 PM | $203.00 | ibuytank |
| May 4, 2021 - 4:23:36 PM | $193.00 | iMary013$$ |
| May 4, 2021 - 4:23:34 PM | $183.00 | ibuytank |
| May 4, 2021 - 4:23:34 PM | $173.00 | iMary013$$ |
| May 4, 2021 - 4:23:31 PM | $163.00 | ibuytank |
| May 4, 2021 - 4:23:31 PM | $153.00 | iMary013$$ |
| May 4, 2021 - 4:23:29 PM | $143.00 | ibuytank |
| May 4, 2021 - 4:23:29 PM | $133.00 | iMary013$$ |
| May 4, 2021 - 4:23:26 PM | $123.00 | ibuytank |
| May 4, 2021 - 4:23:26 PM | $113.00 | iMary013$$ |
| May 4, 2021 - 4:23:23 PM | $103.00 | ibuytank |
| May 4, 2021 - 4:23:23 PM | $98.00 | iMary013$$ |
| May 4, 2021 - 4:23:21 PM | $93.00 | ibuytank |
| May 4, 2021 - 4:23:21 PM | $88.00 | iMary013$$ |
| May 4, 2021 - 4:23:19 PM | $83.00 | ibuytank |
| May 4, 2021 - 4:23:19 PM | $78.00 | iMary013$$ |
| May 4, 2021 - 4:23:16 PM | $73.00 | ibuytank |
| May 4, 2021 - 4:23:16 PM | $68.00 | iMary013$$ |
| May 4, 2021 - 4:23:13 PM | $63.00 | ibuytank |
| May 4, 2021 - 4:23:13 PM | $58.00 | iMary013$$ |
| May 4, 2021 - 3:11:53 PM | $53.00 | ibuytank |
| May 4, 2021 - 3:11:53 PM | $48.00 | ikingfish |
| May 4, 2021 - 11:04:20 AM | $15.00 | ikingfish |
| May 4, 2021 - 11:04:20 AM | $10.00 | idaswede73 |
| May 4, 2021 - 10:15:09 AM | $5.00 | ikingfish |