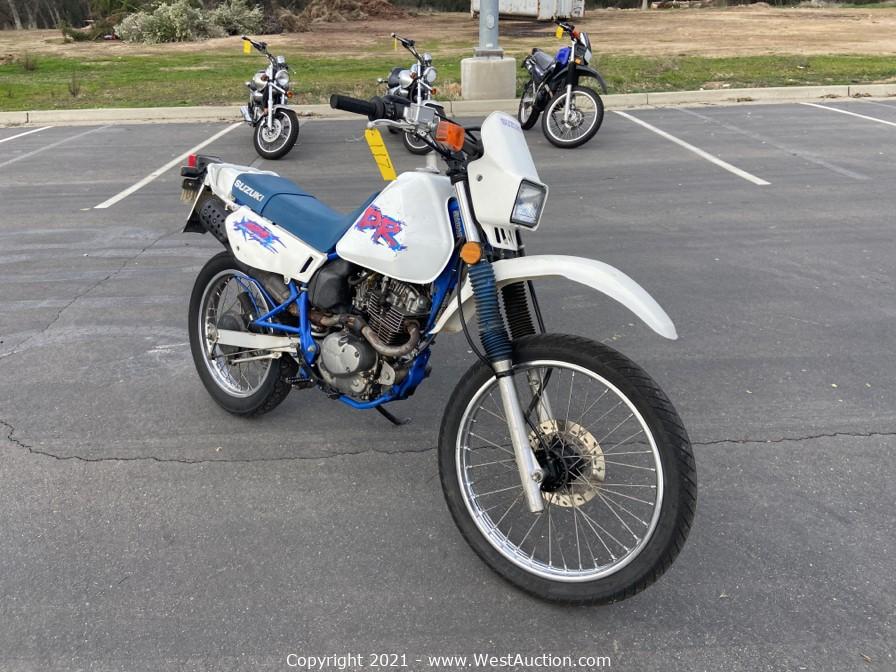 Lot #0117:
1994 Suzuki 125 Electric Start Motorcycle
Bidding is

closed

.
High Bid:
$2,050.00
NA
Bidding Ended:
Thu, Apr 22 10:10:54 am PT
High Bidder:
CHUADE
Bid Increment:
$50.00
Starting Bid:
$5.00
Item has been viewed 1,659 times.

1994 Suzuki 125 Electric Start Motorcycle
General Specifications:
Year: 1994
Make: Suzuki
Model: SUZ2SP0125
VIN: JS1SF44A9R2102099
License: 13X2718

Registration Expiration: 2/8/2016 Planned Non-Operational 

Odometer Reads: 8559
GVWR: 650 lbs
Key: Available
Engine:
Brakes/Wheels:
Wheels: 2 Wheel
Brakes: Disc Brakes
Note: Lien sale paperwork. May take 2-3 weeks for processing via a third-party lien company. Please note, this bike may not have a license plate on it, the license information stated is provided from DMV. The buyer is fully responsible for all aspects of registration, transfer, and fees that may apply.
| | | |
| --- | --- | --- |
| Bid Date | Bid Amount | Bidder |
| Apr 22, 2021 - 10:08:54 AM | $2,050.00 | iCHUADE |
| Apr 22, 2021 - 10:08:39 AM | $2,000.00 | iRexwolfden |
| Apr 22, 2021 - 10:06:49 AM | $1,950.00 | iCHUADE |
| Apr 22, 2021 - 10:06:32 AM | $1,900.00 | iRexwolfden |
| Apr 22, 2021 - 10:04:58 AM | $1,850.00 | iCHUADE |
| Apr 22, 2021 - 10:04:46 AM | $1,800.00 | iRexwolfden |
| Apr 22, 2021 - 10:03:06 AM | $1,750.00 | iCHUADE |
| Apr 22, 2021 - 10:03:06 AM | $1,700.00 | iRexwolfden |
| Apr 22, 2021 - 10:02:42 AM | $1,650.00 | iRexwolfden |
| Apr 22, 2021 - 10:02:31 AM | $1,600.00 | iCHUADE |
| Apr 22, 2021 - 10:02:32 AM | $1,600.00 | iRexwolfden |
| Apr 22, 2021 - 10:01:30 AM | $1,525.00 | iCHUADE |
| Apr 22, 2021 - 10:00:26 AM | $1,475.00 | iDouglas Lemos |
| Apr 22, 2021 - 9:59:07 AM | $1,425.00 | iRexwolfden |
| Apr 22, 2021 - 9:53:55 AM | $1,375.00 | iDouglas Lemos |
| Apr 22, 2021 - 9:50:28 AM | $1,325.00 | iRexwolfden |
| Apr 22, 2021 - 9:50:28 AM | $1,300.00 | iwesman |
| Apr 22, 2021 - 8:54:48 AM | $1,270.00 | iwesman |
| Apr 22, 2021 - 8:54:48 AM | $1,220.00 | imotherspeed |
| Apr 22, 2021 - 7:06:41 AM | $1,210.00 | imotherspeed |
| Apr 22, 2021 - 6:34:02 AM | $1,160.00 | iRexwolfden |
| Apr 22, 2021 - 6:34:02 AM | $1,120.00 | imotherspeed |
| Apr 22, 2021 - 6:24:48 AM | $1,110.00 | imotherspeed |
| Apr 21, 2021 - 10:10:53 PM | $1,060.00 | iEnrike1982 |
| Apr 21, 2021 - 10:10:53 PM | $1,025.00 | iRexwolfden |
| Apr 21, 2021 - 6:40:03 PM | $1,010.00 | iRexwolfden |
| Apr 21, 2021 - 6:18:00 PM | $1,000.00 | iMarkEE |
| Apr 21, 2021 - 6:18:01 PM | $1,000.00 | iRexwolfden |
| Apr 21, 2021 - 6:17:47 PM | $955.00 | iMarkEE |
| Apr 21, 2021 - 6:17:47 PM | $945.00 | iRexwolfden |
| Apr 21, 2021 - 5:09:26 PM | $935.00 | iMarkEE |
| Apr 21, 2021 - 5:09:26 PM | $925.00 | iRexwolfden |
| Apr 21, 2021 - 5:07:08 PM | $910.00 | iRexwolfden |
| Apr 21, 2021 - 5:06:59 PM | $900.00 | iMarkEE |
| Apr 21, 2021 - 5:07:00 PM | $900.00 | iRexwolfden |
| Apr 21, 2021 - 5:06:48 PM | $885.00 | iMarkEE |
| Apr 21, 2021 - 5:06:48 PM | $875.00 | iRexwolfden |
| Apr 21, 2021 - 5:05:34 PM | $860.00 | iMarkEE |
| Apr 21, 2021 - 5:05:34 PM | $850.00 | iRexwolfden |
| Apr 21, 2021 - 4:53:13 PM | $830.00 | iMarkEE |
| Apr 21, 2021 - 4:17:10 PM | $820.00 | iwesman |
| Apr 21, 2021 - 3:56:53 PM | $810.00 | iRexwolfden |
| Apr 21, 2021 - 3:56:44 PM | $800.00 | iEnrike1982 |
| Apr 21, 2021 - 3:56:45 PM | $800.00 | iRexwolfden |
| Apr 21, 2021 - 3:56:34 PM | $790.00 | iEnrike1982 |
| Apr 21, 2021 - 3:56:34 PM | $780.00 | iRexwolfden |
| Apr 21, 2021 - 3:51:51 PM | $770.00 | iEnrike1982 |
| Apr 21, 2021 - 3:51:09 PM | $760.00 | iDont waste ur time bidding on that DR125 shes mine |
| Apr 21, 2021 - 1:27:14 PM | $750.00 | iRexwolfden |
| Apr 21, 2021 - 1:02:42 PM | $740.00 | iEnrike1982 |
| Apr 21, 2021 - 11:55:15 AM | $730.00 | iRexwolfden |
| Apr 21, 2021 - 11:54:16 AM | $720.00 | iEnrike1982 |
| Apr 21, 2021 - 11:54:17 AM | $720.00 | iRexwolfden |
| Apr 21, 2021 - 11:43:49 AM | $710.00 | iEnrike1982 |
| Apr 21, 2021 - 11:43:49 AM | $700.00 | irzrbenz58 |
| Apr 21, 2021 - 11:25:34 AM | $670.00 | iEnrike1982 |
| Apr 21, 2021 - 11:05:21 AM | $660.00 | iRexwolfden |
| Apr 21, 2021 - 11:05:07 AM | $650.00 | iEnrike1982 |
| Apr 21, 2021 - 11:05:08 AM | $650.00 | iRexwolfden |
| Apr 21, 2021 - 11:04:56 AM | $635.00 | iEnrike1982 |
| Apr 21, 2021 - 11:04:56 AM | $625.00 | iRexwolfden |
| Apr 21, 2021 - 11:04:45 AM | $615.00 | iEnrike1982 |
| Apr 21, 2021 - 11:04:45 AM | $605.00 | iRexwolfden |
| Apr 21, 2021 - 10:54:49 AM | $595.00 | iEnrike1982 |
| Apr 21, 2021 - 10:53:34 AM | $585.00 | iRexwolfden |
| Apr 21, 2021 - 10:30:05 AM | $575.00 | iDont waste ur time bidding on that DR125 shes mine |
| Apr 21, 2021 - 10:18:52 AM | $565.00 | iRexwolfden |
| Apr 21, 2021 - 8:53:29 AM | $555.00 | iDouglas Lemos |
| Apr 21, 2021 - 7:50:58 AM | $545.00 | iwesman |
| Apr 21, 2021 - 7:50:58 AM | $540.00 | imotherspeed |
| Apr 21, 2021 - 6:26:58 AM | $535.00 | imotherspeed |
| Apr 20, 2021 - 8:36:35 PM | $525.00 | idjkev |
| Apr 20, 2021 - 8:36:35 PM | $520.00 | iRexwolfden |
| Apr 20, 2021 - 7:47:52 PM | $510.00 | idjkev |
| Apr 20, 2021 - 7:47:52 PM | $500.00 | iWsprad |
| Apr 20, 2021 - 7:22:17 PM | $490.00 | iWsprad |
| Apr 20, 2021 - 7:22:17 PM | $480.00 | iRexwolfden |
| Apr 20, 2021 - 7:20:50 PM | $467.00 | iWsprad |
| Apr 20, 2021 - 6:42:11 PM | $457.00 | idjkev |
| Apr 20, 2021 - 6:42:11 PM | $450.00 | iDont waste ur time bidding on that DR125 shes mine |
| Apr 20, 2021 - 3:25:35 PM | $427.00 | idjkev |
| Apr 20, 2021 - 3:25:35 PM | $417.00 | iJack Burton |
| Apr 20, 2021 - 1:17:14 PM | $310.00 | iJack Burton |
| Apr 20, 2021 - 1:17:14 PM | $300.00 | iCabigbuck |
| Apr 20, 2021 - 10:36:48 AM | $190.00 | iJack Burton |
| Apr 20, 2021 - 10:36:48 AM | $180.00 | ikingfish |
| Apr 20, 2021 - 10:36:28 AM | $50.00 | iJack Burton |
| Apr 20, 2021 - 10:36:28 AM | $45.00 | ikingfish |
| Apr 20, 2021 - 10:15:08 AM | $5.00 | iJack Burton |