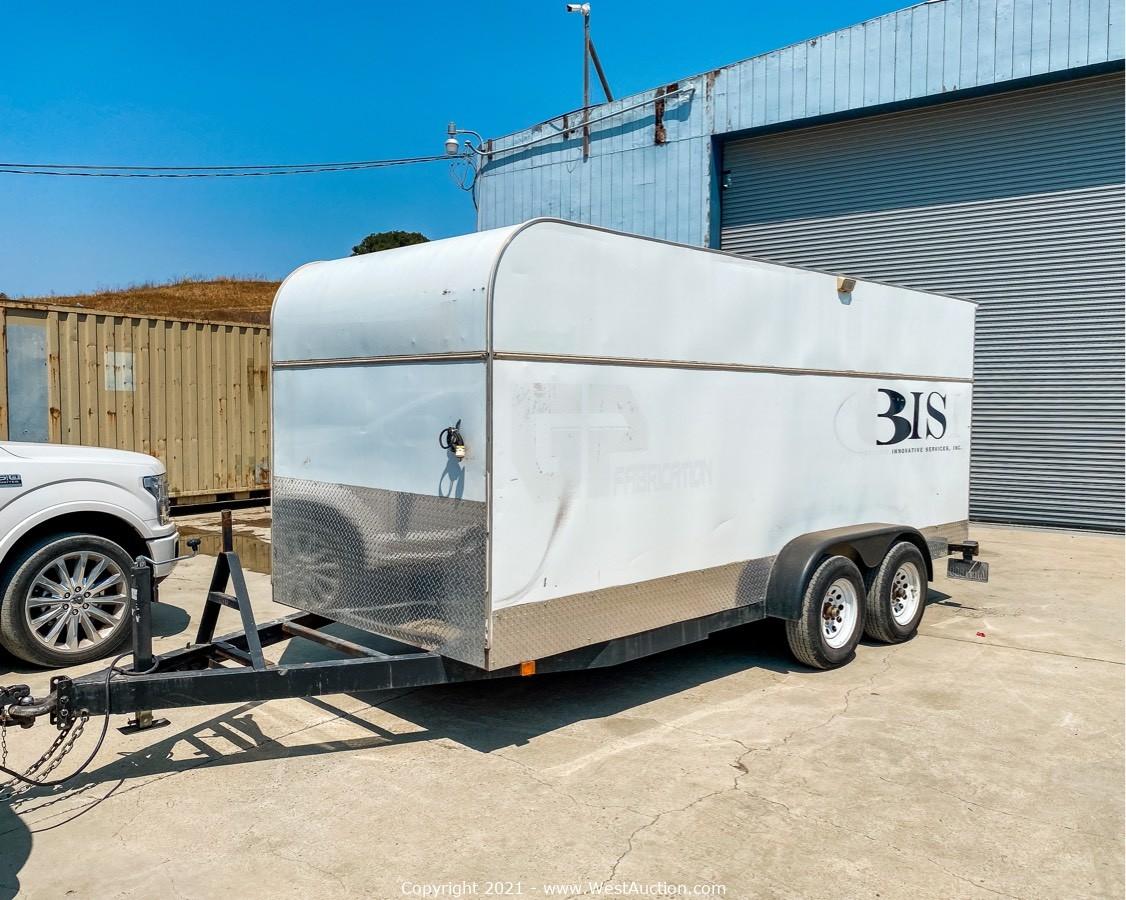 Lot #0008:
2000 Enclosed 16' Aztex Trailer
Bidding is

closed

.
High Bid:
$6,225.00
NA
Bidding Ended:
Thu, Sep 30 10:12:24 am PT
High Bidder:
SG Riley
Bid Increment:
$100.00
Starting Bid:
$5.00
Item Location:

Benicia

,

CA

94510

Item has been viewed 2,508 times.

2000 Enclosed 16' Aztex Trailer
Trailer Details
VIN: 4ZBUE0089YH000190
License: 4NW7800

Expiration Date: 11/30/2017

Trailer Type: Enclosed
Dimensions
Overall Length: 21'
Overall Width: 8'
Deck Length: 16'
Deck Width: 77"
Side Height: 82"
Axles, Brakes, and Tires
Suspension: Leaf Spring
Number of Axles: 2
Brake Type: Electric
Number of Wheels: 4
Tire Size: ST205/75R15
Electric Plug Type: 6-Way Round
Hitch: Pintle Hitch
Note: Certificate of Title and Transfer form will be mailed 2-3 weeks following the close of the auction. The Buyer is fully responsible for all aspects of transfer, registration and fees due to DMV.
| | | |
| --- | --- | --- |
| Bid Date | Bid Amount | Bidder |
| Sep 30, 2021 - 10:10:24 AM | $6,225.00 | iSG Riley |
| Sep 30, 2021 - 10:10:24 AM | $6,199.00 | iranger1911 |
| Sep 30, 2021 - 10:09:26 AM | $6,125.00 | iranger1911 |
| Sep 30, 2021 - 10:09:26 AM | $6,025.00 | iSG Riley |
| Sep 30, 2021 - 10:08:20 AM | $5,850.00 | iSG Riley |
| Sep 30, 2021 - 10:08:20 AM | $5,750.00 | iranger1911 |
| Sep 30, 2021 - 10:07:47 AM | $5,500.00 | iranger1911 |
| Sep 30, 2021 - 10:07:47 AM | $5,450.00 | iSG Riley |
| Sep 30, 2021 - 10:07:07 AM | $5,350.00 | iranger1911 |
| Sep 30, 2021 - 10:06:28 AM | $5,250.00 | iSG Riley |
| Sep 30, 2021 - 10:06:05 AM | $5,150.00 | ipradorc |
| Sep 30, 2021 - 10:06:05 AM | $5,130.00 | iranger1911 |
| Sep 30, 2021 - 10:05:47 AM | $5,050.00 | iranger1911 |
| Sep 30, 2021 - 10:05:47 AM | $5,000.00 | ipradorc |
| Sep 30, 2021 - 10:05:40 AM | $4,950.00 | iranger1911 |
| Sep 30, 2021 - 10:05:40 AM | $4,900.00 | iSG Riley |
| Sep 30, 2021 - 10:04:25 AM | $4,755.00 | iranger1911 |
| Sep 30, 2021 - 10:04:25 AM | $4,705.00 | ipradorc |
| Sep 30, 2021 - 10:03:13 AM | $4,655.00 | iranger1911 |
| Sep 30, 2021 - 10:03:13 AM | $4,605.00 | ipradorc |
| Sep 30, 2021 - 10:03:03 AM | $4,555.00 | iranger1911 |
| Sep 30, 2021 - 10:03:03 AM | $4,505.00 | ipradorc |
| Sep 30, 2021 - 10:02:46 AM | $4,455.00 | iranger1911 |
| Sep 30, 2021 - 9:57:48 AM | $4,405.00 | ipradorc |
| Sep 30, 2021 - 9:57:36 AM | $4,355.00 | iseanranney |
| Sep 30, 2021 - 9:57:36 AM | $4,350.00 | ipradorc |
| Sep 30, 2021 - 9:57:18 AM | $4,300.00 | iseanranney |
| Sep 30, 2021 - 9:57:18 AM | $4,250.00 | ipradorc |
| Sep 30, 2021 - 9:52:20 AM | $4,200.00 | iseanranney |
| Sep 30, 2021 - 9:08:59 AM | $4,150.00 | ipradorc |
| Sep 30, 2021 - 7:30:59 AM | $4,100.00 | icam9876789 |
| Sep 29, 2021 - 7:53:47 PM | $4,050.00 | iMigulquiroz |
| Sep 29, 2021 - 7:53:37 PM | $4,000.00 | iFrnkie2016 |
| Sep 29, 2021 - 7:53:38 PM | $4,000.00 | iMigulquiroz |
| Sep 29, 2021 - 7:53:23 PM | $3,650.00 | iFrnkie2016 |
| Sep 29, 2021 - 7:53:23 PM | $3,600.00 | iMigulquiroz |
| Sep 29, 2021 - 7:42:42 PM | $3,550.00 | iFrnkie2016 |
| Sep 29, 2021 - 7:42:42 PM | $3,500.00 | irzrbenz58 |
| Sep 29, 2021 - 7:42:06 PM | $3,250.00 | iFrnkie2016 |
| Sep 29, 2021 - 7:42:06 PM | $3,200.00 | irzrbenz58 |
| Sep 29, 2021 - 4:07:34 PM | $3,100.00 | iFrnkie2016 |
| Sep 29, 2021 - 3:45:41 PM | $3,050.00 | iBobbyjoe |
| Sep 29, 2021 - 3:45:31 PM | $3,000.00 | idhedin |
| Sep 29, 2021 - 3:45:31 PM | $2,950.00 | iBobbyjoe |
| Sep 29, 2021 - 3:45:17 PM | $2,900.00 | idhedin |
| Sep 29, 2021 - 3:45:17 PM | $2,850.00 | iBobbyjoe |
| Sep 29, 2021 - 12:45:15 PM | $2,800.00 | idhedin |
| Sep 29, 2021 - 12:45:15 PM | $2,750.00 | isteviewayne |
| Sep 29, 2021 - 11:21:42 AM | $2,550.00 | isteviewayne |
| Sep 29, 2021 - 11:21:42 AM | $2,500.00 | iGPF |
| Sep 29, 2021 - 6:22:14 AM | $2,450.00 | isteviewayne |
| Sep 29, 2021 - 6:22:14 AM | $2,400.00 | ifarmerl |
| Sep 28, 2021 - 9:46:34 PM | $2,350.00 | isteviewayne |
| Sep 28, 2021 - 9:46:34 PM | $2,300.00 | iBilly |
| Sep 28, 2021 - 6:19:08 PM | $2,200.00 | isteviewayne |
| Sep 28, 2021 - 6:02:35 PM | $2,150.00 | ihardway23 |
| Sep 28, 2021 - 1:03:37 PM | $2,100.00 | iramis01 |
| Sep 28, 2021 - 12:28:27 PM | $2,050.00 | ihardway23 |
| Sep 28, 2021 - 10:26:00 AM | $2,000.00 | iramis01 |
| Sep 28, 2021 - 10:26:00 AM | $1,950.00 | iShevanazar |
| Sep 28, 2021 - 10:25:58 AM | $1,900.00 | iramis01 |
| Sep 28, 2021 - 10:25:58 AM | $1,850.00 | iShevanazar |
| Sep 28, 2021 - 10:25:56 AM | $1,800.00 | iramis01 |
| Sep 28, 2021 - 10:25:56 AM | $1,750.00 | iShevanazar |
| Sep 28, 2021 - 10:25:54 AM | $1,700.00 | iramis01 |
| Sep 28, 2021 - 10:25:54 AM | $1,650.00 | iShevanazar |
| Sep 28, 2021 - 10:25:51 AM | $1,600.00 | iramis01 |
| Sep 28, 2021 - 10:25:51 AM | $1,550.00 | iShevanazar |
| Sep 28, 2021 - 10:25:49 AM | $1,500.00 | iramis01 |
| Sep 28, 2021 - 10:25:49 AM | $1,450.00 | iShevanazar |
| Sep 28, 2021 - 10:25:47 AM | $1,400.00 | iramis01 |
| Sep 28, 2021 - 10:25:47 AM | $1,350.00 | iShevanazar |
| Sep 28, 2021 - 10:25:44 AM | $1,300.00 | iramis01 |
| Sep 28, 2021 - 10:25:44 AM | $1,250.00 | iShevanazar |
| Sep 28, 2021 - 10:20:24 AM | $1,200.00 | iramis01 |
| Sep 28, 2021 - 10:20:24 AM | $1,150.00 | iCordial |
| Sep 28, 2021 - 10:19:24 AM | $1,010.00 | iCordial |
| Sep 28, 2021 - 10:19:24 AM | $1,000.00 | iramis01 |
| Sep 28, 2021 - 10:18:29 AM | $710.00 | iCordial |
| Sep 28, 2021 - 10:18:29 AM | $700.00 | iramis01 |
| Sep 28, 2021 - 10:18:18 AM | $650.00 | iCordial |
| Sep 28, 2021 - 10:18:18 AM | $640.00 | iramis01 |
| Sep 28, 2021 - 10:17:22 AM | $630.00 | iCordial |
| Sep 28, 2021 - 10:17:22 AM | $620.00 | iramis01 |
| Sep 28, 2021 - 10:09:16 AM | $610.00 | iCordial |
| Sep 28, 2021 - 10:09:16 AM | $600.00 | iccano1988 |
| Sep 28, 2021 - 10:09:04 AM | $590.00 | iCordial |
| Sep 28, 2021 - 10:09:04 AM | $580.00 | iccano1988 |
| Sep 28, 2021 - 10:08:30 AM | $570.00 | iCordial |
| Sep 28, 2021 - 10:08:30 AM | $560.00 | iccano1988 |
| Sep 28, 2021 - 10:07:56 AM | $550.00 | iCordial |
| Sep 28, 2021 - 10:07:56 AM | $540.00 | iccano1988 |
| Sep 28, 2021 - 10:07:44 AM | $530.00 | iCordial |
| Sep 28, 2021 - 10:07:44 AM | $520.00 | iccano1988 |
| Sep 28, 2021 - 10:07:33 AM | $510.00 | iCordial |
| Sep 28, 2021 - 10:07:33 AM | $500.00 | iDLvend |
| Sep 28, 2021 - 10:05:36 AM | $5.00 | iCordial |