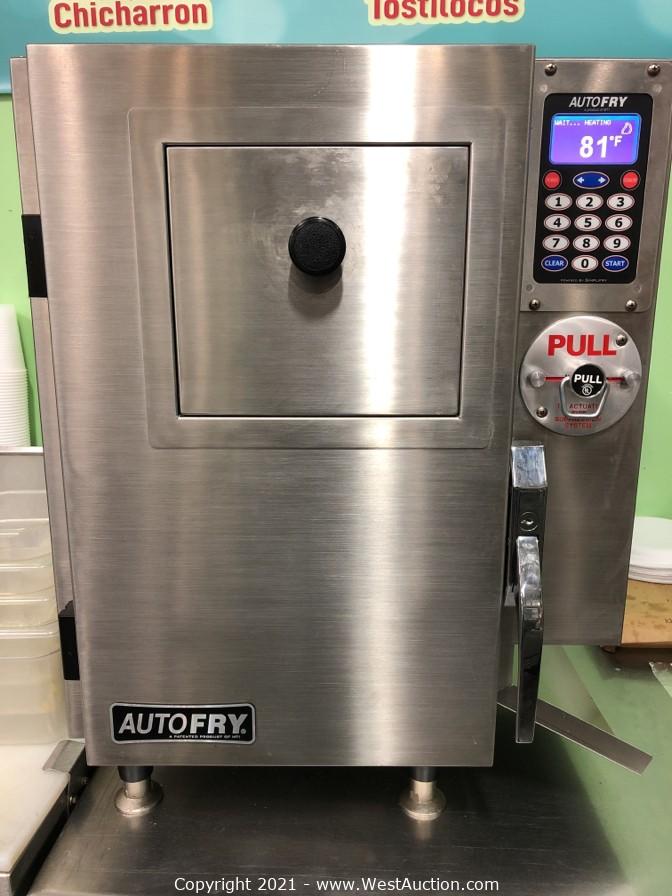 Lot #0301:
Automated Fully Enclosed Fryer
Bidding is

closed

.
High Bid:
$4,450.00
NA
Bidding Ended:
Thu, Sep 23 10:56:08 am PT
High Bidder:
margreen
Bid Increment:
$50.00
Starting Bid:
$5.00
Item Location:

Sacramento

,

CA

95823

Item has been viewed 534 times.

Automated Fully Enclosed Fryer
Seller states: Like new just went into service June 2021. $8,000 unit purchased last year but was not used due to

COVID

. Up to 4lbs per fry cycle. No hood, no vents needed. Has its own fire suppression system. Fully enclosed keeps employees safe.
| | | |
| --- | --- | --- |
| Bid Date | Bid Amount | Bidder |
| Sep 23, 2021 - 10:54:08 AM | $4,450.00 | imargreen |
| Sep 23, 2021 - 10:54:08 AM | $4,400.00 | iswtradeco |
| Sep 23, 2021 - 10:53:38 AM | $4,250.00 | iswtradeco |
| Sep 23, 2021 - 10:53:00 AM | $4,200.00 | imargreen |
| Sep 23, 2021 - 10:53:01 AM | $4,200.00 | iswtradeco |
| Sep 23, 2021 - 10:52:00 AM | $4,050.00 | imargreen |
| Sep 23, 2021 - 10:51:38 AM | $4,000.00 | iswtradeco |
| Sep 23, 2021 - 10:51:39 AM | $4,000.00 | imargreen |
| Sep 23, 2021 - 10:51:12 AM | $3,850.00 | iswtradeco |
| Sep 23, 2021 - 10:51:12 AM | $3,800.00 | imargreen |
| Sep 23, 2021 - 10:50:38 AM | $3,550.00 | iswtradeco |
| Sep 23, 2021 - 10:50:38 AM | $3,500.00 | imargreen |
| Sep 23, 2021 - 10:49:30 AM | $3,300.00 | iswtradeco |
| Sep 23, 2021 - 10:49:30 AM | $3,250.00 | iwoodsbeer |
| Sep 22, 2021 - 3:03:18 PM | $2,900.00 | iwoodsbeer |
| Sep 22, 2021 - 3:03:18 PM | $2,850.00 | iVinceH |
| Sep 22, 2021 - 12:20:34 PM | $2,845.00 | iVinceH |
| Sep 22, 2021 - 12:19:34 PM | $2,795.00 | iwoodsbeer |
| Sep 22, 2021 - 12:19:34 PM | $2,750.00 | iVinceH |
| Sep 22, 2021 - 12:19:27 PM | $2,700.00 | iwoodsbeer |
| Sep 22, 2021 - 12:19:27 PM | $2,650.00 | iVinceH |
| Sep 22, 2021 - 12:19:19 PM | $2,600.00 | iwoodsbeer |
| Sep 22, 2021 - 12:19:19 PM | $2,550.00 | iVinceH |
| Sep 22, 2021 - 12:19:08 PM | $2,400.00 | iwoodsbeer |
| Sep 22, 2021 - 12:19:08 PM | $2,350.00 | iVinceH |
| Sep 22, 2021 - 12:18:54 PM | $2,300.00 | iwoodsbeer |
| Sep 22, 2021 - 12:18:54 PM | $2,250.00 | iVinceH |
| Sep 22, 2021 - 12:18:48 PM | $2,200.00 | iwoodsbeer |
| Sep 22, 2021 - 12:18:48 PM | $2,150.00 | iVinceH |
| Sep 22, 2021 - 12:18:36 PM | $2,100.00 | iwoodsbeer |
| Sep 22, 2021 - 12:18:36 PM | $2,050.00 | iVinceH |
| Sep 21, 2021 - 5:10:53 PM | $1,800.00 | iwoodsbeer |
| Sep 21, 2021 - 5:10:53 PM | $1,750.00 | iVinceH |
| Sep 21, 2021 - 1:33:04 PM | $611.00 | iVinceH |
| Sep 21, 2021 - 1:33:04 PM | $601.00 | iBBSTEEL |
| Sep 21, 2021 - 1:32:54 PM | $511.00 | iVinceH |
| Sep 21, 2021 - 1:32:54 PM | $501.00 | iBBSTEEL |
| Sep 21, 2021 - 10:12:30 AM | $210.00 | iVinceH |
| Sep 21, 2021 - 10:12:30 AM | $200.00 | iwala68 |
| Sep 21, 2021 - 10:12:24 AM | $105.00 | iwala68 |
| Sep 21, 2021 - 10:12:07 AM | $100.00 | iSheru |
| Sep 21, 2021 - 10:12:08 AM | $100.00 | iwala68 |
| Sep 21, 2021 - 10:08:29 AM | $5.00 | iSheru |