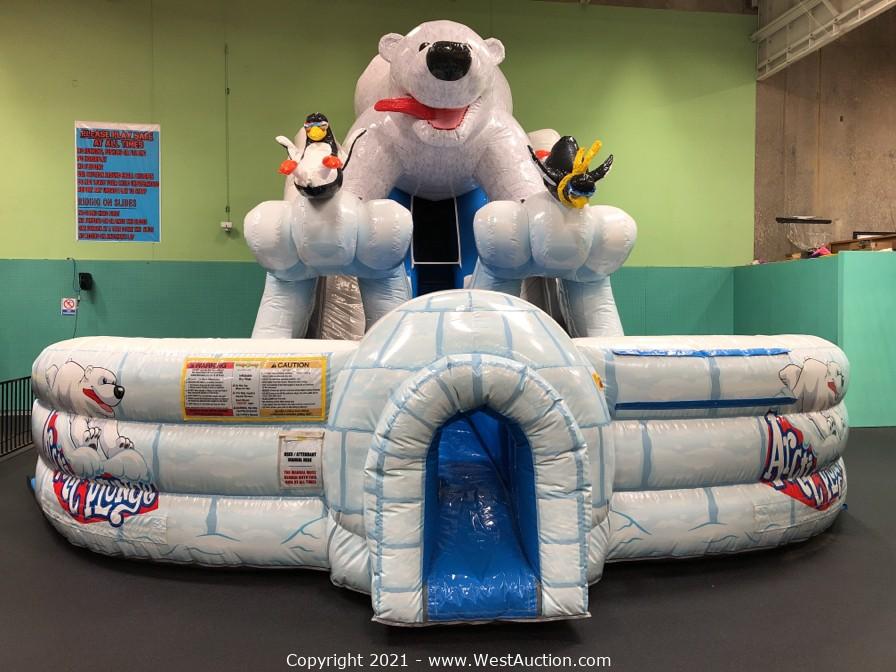 Lot #0202:
Polar Bear Dual Slide Inflatable
Bidding is

closed

.
High Bid:
$1,710.00
NA
Bidding Ended:
Thu, Sep 23 10:12:01 am PT
High Bidder:
Jmnzrm
Bid Increment:
$50.00
Starting Bid:
$5.00
Item Location:

Sacramento

,

CA

95823

Item has been viewed 791 times.

Polar Bear Dual Slide Inflatable
30'0"L x 21'6"W x 20'0'H
Unit Weight 570 Lbs
1 Blower Included
Seller States: LIKE NEW UNIT PURCHASED AND PUT INTO SERVICE JUNE 2021
Removal Note: Item must be removed on the first day of removal.
Note: Inflatables will be left laid out flat on the ground.  Buyers are responsible for rolling, packaging for transport, and removing from the building.  Larger units will take multiple people to package for transport. 
| | | |
| --- | --- | --- |
| Bid Date | Bid Amount | Bidder |
| Sep 23, 2021 - 10:10:01 AM | $1,710.00 | iJmnzrm |
| Sep 23, 2021 - 10:09:44 AM | $1,660.00 | i4head |
| Sep 23, 2021 - 10:07:46 AM | $1,610.00 | iJmnzrm |
| Sep 23, 2021 - 10:07:34 AM | $1,560.00 | i4head |
| Sep 23, 2021 - 10:06:51 AM | $1,510.00 | iJmnzrm |
| Sep 23, 2021 - 10:06:28 AM | $1,460.00 | i4head |
| Sep 23, 2021 - 10:06:05 AM | $1,410.00 | iJmnzrm |
| Sep 23, 2021 - 10:05:59 AM | $1,360.00 | i4head |
| Sep 23, 2021 - 10:05:51 AM | $1,310.00 | iJmnzrm |
| Sep 23, 2021 - 10:05:20 AM | $1,260.00 | i4head |
| Sep 23, 2021 - 10:05:03 AM | $1,210.00 | iJmnzrm |
| Sep 23, 2021 - 10:03:23 AM | $1,160.00 | i4head |
| Sep 23, 2021 - 9:30:04 AM | $1,110.00 | iJmnzrm |
| Sep 22, 2021 - 11:34:22 PM | $1,060.00 | iTheone |
| Sep 22, 2021 - 9:12:07 AM | $1,010.00 | iJmnzrm |
| Sep 22, 2021 - 9:12:05 AM | $1,000.00 | ifireinthesky |
| Sep 22, 2021 - 9:12:05 AM | $990.00 | iJmnzrm |
| Sep 22, 2021 - 9:12:01 AM | $980.00 | ifireinthesky |
| Sep 22, 2021 - 9:12:01 AM | $970.00 | iJmnzrm |
| Sep 22, 2021 - 9:11:58 AM | $960.00 | ifireinthesky |
| Sep 22, 2021 - 9:11:58 AM | $950.00 | iJmnzrm |
| Sep 22, 2021 - 9:11:56 AM | $940.00 | ifireinthesky |
| Sep 22, 2021 - 9:11:56 AM | $930.00 | iJmnzrm |
| Sep 22, 2021 - 9:09:53 AM | $920.00 | ifireinthesky |
| Sep 22, 2021 - 9:09:53 AM | $910.00 | iJmnzrm |
| Sep 22, 2021 - 9:08:51 AM | $900.00 | ifireinthesky |
| Sep 22, 2021 - 9:08:51 AM | $890.00 | iJmnzrm |
| Sep 22, 2021 - 8:49:06 AM | $880.00 | ifireinthesky |
| Sep 22, 2021 - 8:49:06 AM | $870.00 | iVasili75 |
| Sep 21, 2021 - 9:09:38 PM | $860.00 | ifireinthesky |
| Sep 21, 2021 - 9:09:38 PM | $850.00 | iTheone |
| Sep 21, 2021 - 6:53:19 PM | $810.00 | iTheone |
| Sep 21, 2021 - 6:52:04 PM | $800.00 | ifireinthesky |
| Sep 21, 2021 - 6:52:05 PM | $800.00 | iTheone |
| Sep 21, 2021 - 6:50:57 PM | $730.00 | ifireinthesky |
| Sep 21, 2021 - 6:50:57 PM | $720.00 | iTheone |
| Sep 21, 2021 - 6:49:52 PM | $660.00 | ifireinthesky |
| Sep 21, 2021 - 6:49:52 PM | $650.00 | iTheone |
| Sep 21, 2021 - 6:48:58 PM | $630.00 | ifireinthesky |
| Sep 21, 2021 - 6:48:58 PM | $620.00 | iTheone |
| Sep 21, 2021 - 6:47:57 PM | $580.00 | ifireinthesky |
| Sep 21, 2021 - 6:47:57 PM | $570.00 | iTheone |
| Sep 21, 2021 - 6:47:05 PM | $560.00 | ifireinthesky |
| Sep 21, 2021 - 6:47:05 PM | $550.00 | iTheone |
| Sep 21, 2021 - 6:45:59 PM | $535.00 | ifireinthesky |
| Sep 21, 2021 - 6:45:59 PM | $525.00 | iTheone |
| Sep 21, 2021 - 6:44:58 PM | $505.00 | ifireinthesky |
| Sep 21, 2021 - 6:44:58 PM | $495.00 | iTheone |
| Sep 21, 2021 - 6:42:25 PM | $485.00 | ifireinthesky |
| Sep 21, 2021 - 6:42:25 PM | $475.00 | iTheone |
| Sep 21, 2021 - 6:28:27 PM | $465.00 | ifireinthesky |
| Sep 21, 2021 - 6:28:27 PM | $455.00 | iLolo18 |
| Sep 21, 2021 - 5:08:52 PM | $445.00 | ifireinthesky |
| Sep 21, 2021 - 12:08:06 PM | $435.00 | iTheone |
| Sep 21, 2021 - 12:06:48 PM | $425.00 | iStephen007! |
| Sep 21, 2021 - 12:06:48 PM | $420.00 | iTheone |
| Sep 21, 2021 - 12:03:01 PM | $410.00 | iStephen007! |
| Sep 21, 2021 - 11:52:07 AM | $400.00 | igomike |
| Sep 21, 2021 - 11:52:08 AM | $400.00 | idfoss |
| Sep 21, 2021 - 11:46:25 AM | $370.00 | igomike |
| Sep 21, 2021 - 10:54:24 AM | $360.00 | idfoss |
| Sep 21, 2021 - 10:54:23 AM | $350.00 | igomike |
| Sep 21, 2021 - 10:54:23 AM | $345.00 | idfoss |
| Sep 21, 2021 - 10:54:21 AM | $335.00 | igomike |
| Sep 21, 2021 - 10:54:21 AM | $325.00 | idfoss |
| Sep 21, 2021 - 10:51:02 AM | $315.00 | igomike |
| Sep 21, 2021 - 10:50:32 AM | $305.00 | idfoss |
| Sep 21, 2021 - 10:50:32 AM | $300.00 | igomike |
| Sep 21, 2021 - 10:49:57 AM | $295.00 | igomike |
| Sep 21, 2021 - 10:49:57 AM | $285.00 | idfoss |
| Sep 21, 2021 - 10:49:52 AM | $275.00 | igomike |
| Sep 21, 2021 - 10:49:52 AM | $265.00 | idfoss |
| Sep 21, 2021 - 10:49:48 AM | $255.00 | igomike |
| Sep 21, 2021 - 10:49:48 AM | $245.00 | idfoss |
| Sep 21, 2021 - 10:48:22 AM | $235.00 | igomike |
| Sep 21, 2021 - 10:44:06 AM | $225.00 | idfoss |
| Sep 21, 2021 - 10:38:46 AM | $215.00 | iacmebeer |
| Sep 21, 2021 - 10:26:57 AM | $205.00 | iBBSTEEL |
| Sep 21, 2021 - 10:26:57 AM | $200.00 | igomike |
| Sep 21, 2021 - 10:13:10 AM | $135.00 | igomike |
| Sep 21, 2021 - 10:13:10 AM | $125.00 | iBBSTEEL |
| Sep 21, 2021 - 10:10:57 AM | $105.00 | iBBSTEEL |
| Sep 21, 2021 - 10:10:57 AM | $100.00 | igomike |
| Sep 21, 2021 - 10:04:39 AM | $5.00 | igomike |