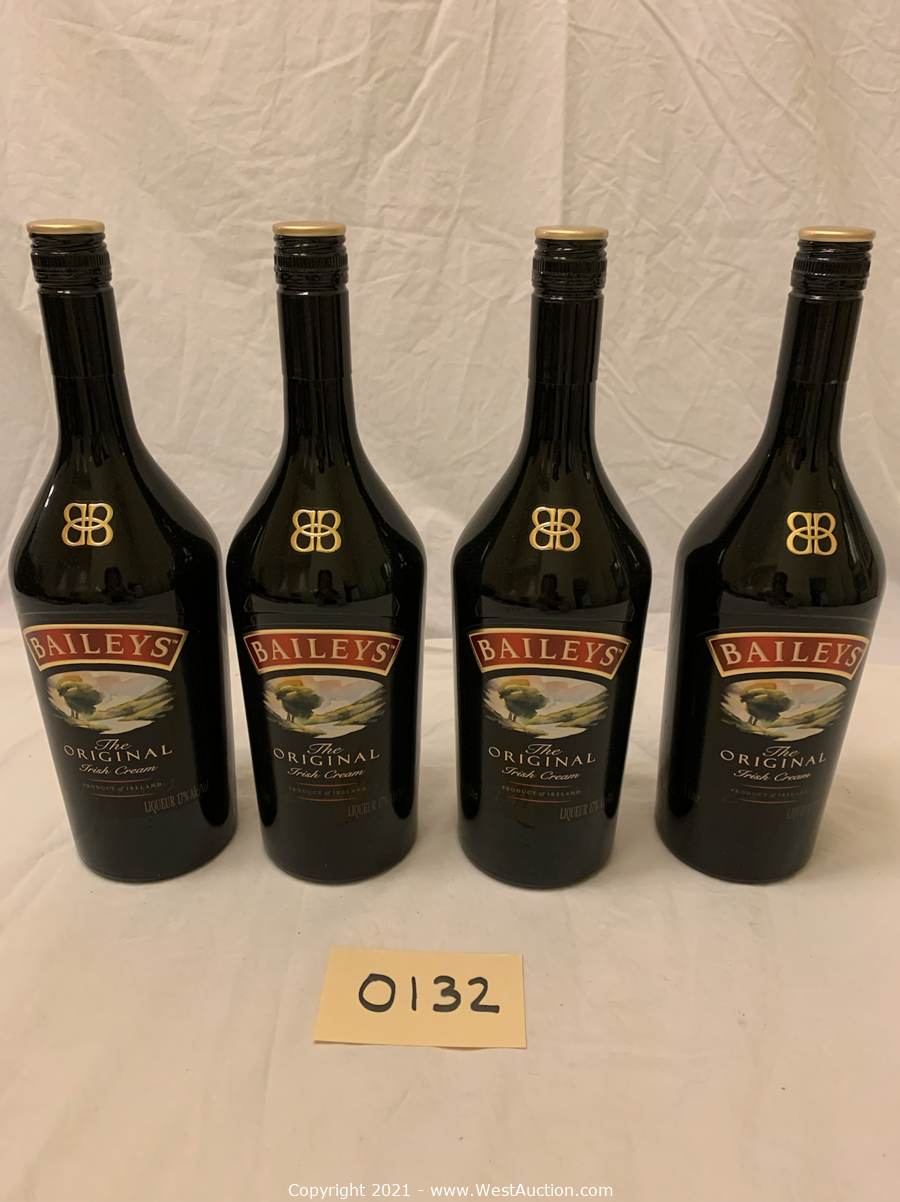 Lot #0132:
Bailey's Irish Cream Liqueur
Bidding is

closed

.
High Bid:
$102.00
NA
Bidding Ended:
Thu, Jan 20 10:32:00 am PT
High Bidder:
gbeal457
Bid Increment:
$1.00
Starting Bid:
$5.00
Item Location:

Sacramento

,

CA

95816

Item has been viewed 297 times.

Bailey's Irish Cream Liqueur
Quantity: 4
Capacity: 1L
Photo Gallery Note: photos are representative of this item.
4 bottles of 1L of Bailey's Irish Cream liqueur
Note: All participants of this auction and removal must be 21+ years or older. Proof of age will be required. 
| | | |
| --- | --- | --- |
| Bid Date | Bid Amount | Bidder |
| Jan 20, 2022 - 9:13:11 AM | $102.00 | igbeal457 |
| Jan 20, 2022 - 9:13:11 AM | $101.00 | ileojnamaj |
| Jan 20, 2022 - 9:12:54 AM | $98.01 | igbeal457 |
| Jan 20, 2022 - 9:12:54 AM | $97.01 | ileojnamaj |
| Jan 20, 2022 - 9:12:31 AM | $90.00 | igbeal457 |
| Jan 20, 2022 - 9:12:31 AM | $89.00 | ileojnamaj |
| Jan 20, 2022 - 9:12:04 AM | $82.00 | igbeal457 |
| Jan 20, 2022 - 9:12:04 AM | $81.00 | ileojnamaj |
| Jan 20, 2022 - 7:28:52 AM | $76.01 | igbeal457 |
| Jan 20, 2022 - 7:28:52 AM | $75.01 | ilmfence |
| Jan 19, 2022 - 5:42:48 PM | $72.00 | igbeal457 |
| Jan 19, 2022 - 5:42:48 PM | $71.00 | igunjwebb |
| Jan 19, 2022 - 5:42:14 PM | $69.00 | igbeal457 |
| Jan 19, 2022 - 5:42:14 PM | $68.00 | igunjwebb |
| Jan 19, 2022 - 1:59:51 AM | $66.00 | igbeal457 |
| Jan 19, 2022 - 1:59:51 AM | $65.00 | igeorgiecat10 |
| Jan 19, 2022 - 12:27:32 AM | $61.00 | igbeal457 |
| Jan 19, 2022 - 12:27:32 AM | $60.00 | ilmfence |
| Jan 18, 2022 - 2:02:47 PM | $57.00 | ilmfence |
| Jan 18, 2022 - 2:02:47 PM | $56.00 | ileojnamaj |
| Jan 18, 2022 - 1:31:41 PM | $51.00 | ileojnamaj |
| Jan 18, 2022 - 1:31:41 PM | $50.00 | ilmfence |
| Jan 18, 2022 - 1:16:39 PM | $41.00 | ileojnamaj |
| Jan 18, 2022 - 1:16:39 PM | $40.00 | ilmfence |
| Jan 18, 2022 - 11:49:36 AM | $29.00 | ileojnamaj |
| Jan 18, 2022 - 11:49:36 AM | $28.00 | igunjwebb |
| Jan 18, 2022 - 10:36:29 AM | $20.00 | igunjwebb |
| Jan 18, 2022 - 10:36:30 AM | $20.00 | idvel2003 |
| Jan 18, 2022 - 10:36:18 AM | $17.00 | igunjwebb |
| Jan 18, 2022 - 10:36:18 AM | $16.00 | idvel2003 |
| Jan 18, 2022 - 10:07:21 AM | $12.00 | igunjwebb |
| Jan 18, 2022 - 10:07:21 AM | $11.00 | iJojo25 |
| Jan 18, 2022 - 10:07:04 AM | $5.00 | iJojo25 |