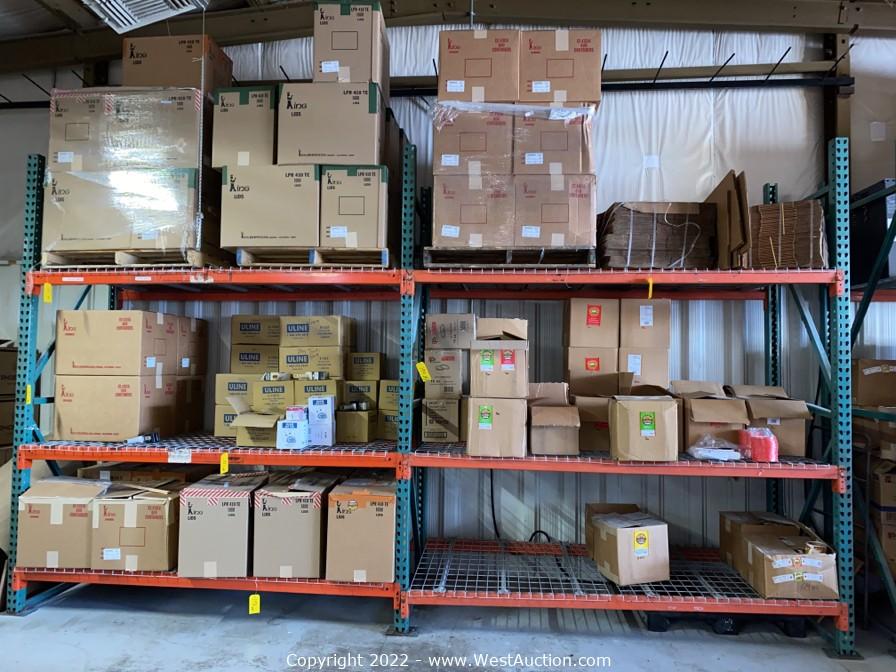 Lot #0200:
(2) Sections of 8' Pallet Racking
Bidding is

closed

.
High Bid:
$730.00
NA
Bidding Ended:
Thu, Feb 17 11:53:55 am PT
High Bidder:
Red Apple
Bid Increment:
$10.00
Starting Bid:
$5.00
Item Location:

Woodland

,

CA

95695

Item has been viewed 291 times.

(2) Sections of 8' Pallet Racking
(3) 42" x 116" uprights
(12) 8' crossbeams
(12) 46" x 46" 3-support channels wire decking
Contents: Not included.
This lot is to be picked up on the last day of removal. 
Removal Note: This unit is fully assembled as pictured and is bolted to the floor and wall. Buyer is responsible for all aspects of disassembly and removal of this lot. No assistance will be provided by West Auctions. Please bring necessary tools and assistance.  
| | | |
| --- | --- | --- |
| Bid Date | Bid Amount | Bidder |
| Feb 17, 2022 - 11:51:55 AM | $730.00 | iRed Apple |
| Feb 17, 2022 - 11:51:49 AM | $720.00 | iapplumbing1 |
| Feb 17, 2022 - 11:51:39 AM | $710.00 | iRed Apple |
| Feb 17, 2022 - 11:50:47 AM | $700.00 | iapplumbing1 |
| Feb 17, 2022 - 11:50:48 AM | $700.00 | iRed Apple |
| Feb 17, 2022 - 11:50:41 AM | $680.00 | iapplumbing1 |
| Feb 17, 2022 - 11:50:41 AM | $670.00 | iRed Apple |
| Feb 17, 2022 - 11:50:31 AM | $660.00 | iapplumbing1 |
| Feb 17, 2022 - 11:50:32 AM | $660.00 | iRed Apple |
| Feb 17, 2022 - 11:50:18 AM | $650.00 | iapplumbing1 |
| Feb 17, 2022 - 11:50:19 AM | $650.00 | iRed Apple |
| Feb 17, 2022 - 11:50:06 AM | $610.00 | iapplumbing1 |
| Feb 17, 2022 - 11:50:06 AM | $600.00 | iRed Apple |
| Feb 17, 2022 - 11:49:58 AM | $550.00 | iapplumbing1 |
| Feb 17, 2022 - 11:49:58 AM | $540.00 | iRed Apple |
| Feb 17, 2022 - 11:49:50 AM | $530.00 | iapplumbing1 |
| Feb 17, 2022 - 11:49:50 AM | $520.00 | iRed Apple |
| Feb 17, 2022 - 11:49:39 AM | $510.00 | iapplumbing1 |
| Feb 17, 2022 - 11:49:39 AM | $500.00 | iRed Apple |
| Feb 17, 2022 - 11:49:30 AM | $490.00 | iapplumbing1 |
| Feb 17, 2022 - 11:49:30 AM | $480.00 | iRed Apple |
| Feb 17, 2022 - 11:49:07 AM | $470.00 | iapplumbing1 |
| Feb 17, 2022 - 11:49:07 AM | $460.00 | iRed Apple |
| Feb 17, 2022 - 11:48:40 AM | $450.00 | iapplumbing1 |
| Feb 17, 2022 - 11:48:34 AM | $440.00 | iRed Apple |
| Feb 17, 2022 - 11:47:45 AM | $430.00 | iapplumbing1 |
| Feb 17, 2022 - 11:47:26 AM | $420.00 | iRed Apple |
| Feb 17, 2022 - 9:40:27 AM | $410.00 | iapplumbing1 |
| Feb 17, 2022 - 9:40:24 AM | $400.00 | iBillygoat |
| Feb 17, 2022 - 9:40:24 AM | $390.00 | iapplumbing1 |
| Feb 17, 2022 - 9:40:21 AM | $380.00 | iBillygoat |
| Feb 17, 2022 - 9:40:21 AM | $370.00 | iapplumbing1 |
| Feb 17, 2022 - 9:40:10 AM | $360.00 | iBillygoat |
| Feb 17, 2022 - 9:40:10 AM | $350.00 | iapplumbing1 |
| Feb 17, 2022 - 9:40:01 AM | $280.00 | iBillygoat |
| Feb 17, 2022 - 9:40:01 AM | $270.00 | iapplumbing1 |
| Feb 16, 2022 - 10:55:34 PM | $260.00 | iBillygoat |
| Feb 16, 2022 - 10:55:34 PM | $250.00 | iG3XGeneralContracting |
| Feb 16, 2022 - 7:50:04 PM | $210.00 | iG3XGeneralContracting |
| Feb 16, 2022 - 7:49:50 PM | $200.00 | ifarmmac1 |
| Feb 16, 2022 - 7:49:51 PM | $200.00 | iG3XGeneralContracting |
| Feb 16, 2022 - 6:10:03 PM | $55.00 | ifarmmac1 |
| Feb 15, 2022 - 9:23:34 PM | $50.00 | i72Chevy |
| Feb 15, 2022 - 9:22:41 PM | $45.00 | ibgillming |
| Feb 15, 2022 - 9:22:41 PM | $40.02 | i72Chevy |
| Feb 15, 2022 - 9:22:27 PM | $35.02 | ibgillming |
| Feb 15, 2022 - 9:22:27 PM | $30.02 | i72Chevy |
| Feb 15, 2022 - 9:22:16 PM | $25.02 | ibgillming |
| Feb 15, 2022 - 9:22:16 PM | $20.02 | i72Chevy |
| Feb 15, 2022 - 8:01:16 PM | $15.02 | ibgillming |
| Feb 15, 2022 - 8:01:16 PM | $10.02 | irocha |
| Feb 15, 2022 - 1:14:38 PM | $5.00 | ibgillming |