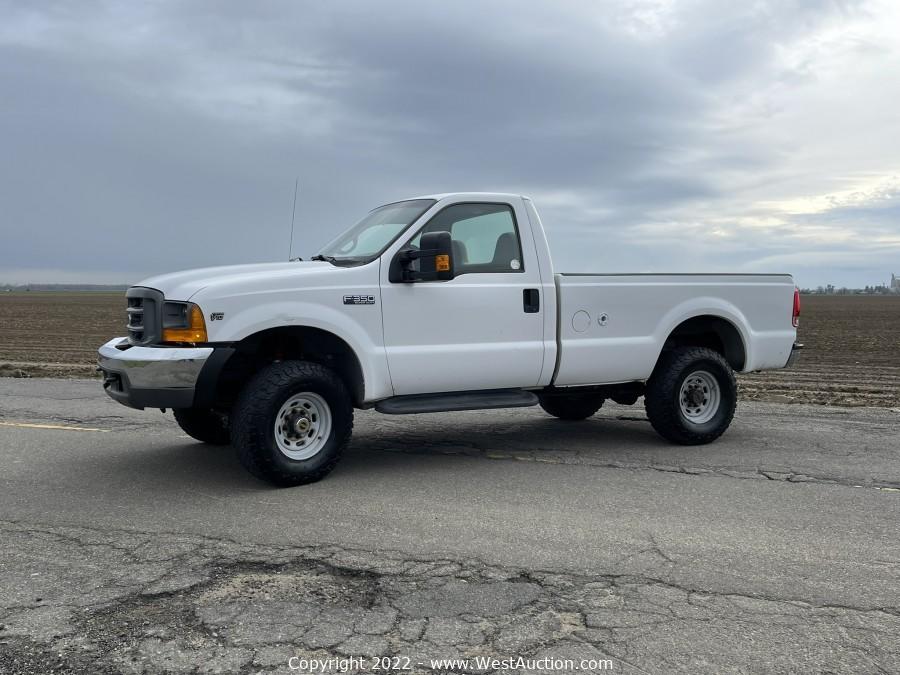 2000 Ford F350 4x4
Bidding is

closed

.
High Bid:
$7,309.00
NA
Bidding Ended:
Thu, Feb 10 10:21:47 am PT
High Bidder:
timgianelli
Bid Increment:
$100.00
Starting Bid:
$5.00
Item Location:

Woodland

,

CA

95776

Item has been viewed 3,710 times.

ASK ABOUT THIS ITEM

2000 Ford F350 4x4 
Year: 2000
Make: Ford
Model: F-350
VIN: FTSF31S3YEE27681
License: 6J19484
Odometer: 180,610
Engine: 6.8 Liter V10
Transmission: Automatic
Fuel: Gasoline
Drivetrain: 4WD
Features:

BFG ko all terrain tires 
Power stop brakes and rotors
Warn locking hubs
Ranch 5000 shocks
Wireless airlift system and bags 
Warn winch mount and bumper spacer
Kenwood backup camera 
JBL speakers
New dash
B&W fifth wheel hitch
JW Speaker Led headlights 
Led tail lights
Led front turn lights
Led roof brake light
Cold air intake
Gibson carb headers
Custom exhaust system and catalytic converter
New Ford transmission installed by Ford with 3yr warranty. 
New steering rack and pinion
New fuel filter
New battery
New MishiMoto radiator
New MishiMoto transmission cooler
New Ford air conditioner system
Upgraded tow mirrors
Tekonsha Prodigy P2 trailer brake controller 
Note: Certificate of Title, Transfer Form and Smog Cert will be mailed 1-2 weeks following close of the auction. The Buyer is fully responsible for all aspects of registration, transfer and fees due to DMV. 
| | | |
| --- | --- | --- |
| Bid Date | Bid Amount | Bidder |
| Feb 10, 2022 - 10:19:47 AM | $7,309.00 | itimgianelli |
| Feb 10, 2022 - 10:19:47 AM | $7,209.00 | igrapebunch |
| Feb 10, 2022 - 10:17:56 AM | $7,200.00 | igrapebunch |
| Feb 10, 2022 - 10:17:18 AM | $7,100.00 | ipier76 |
| Feb 10, 2022 - 10:17:18 AM | $7,009.00 | igrapebunch |
| Feb 10, 2022 - 10:16:08 AM | $7,000.00 | igrapebunch |
| Feb 10, 2022 - 10:16:09 AM | $7,000.00 | ipBob |
| Feb 10, 2022 - 10:15:19 AM | $6,900.00 | igrapebunch |
| Feb 10, 2022 - 10:15:19 AM | $6,800.00 | itimgianelli |
| Feb 10, 2022 - 10:14:46 AM | $6,700.00 | igrapebunch |
| Feb 10, 2022 - 10:14:46 AM | $6,600.00 | ipBob |
| Feb 10, 2022 - 10:14:00 AM | $6,500.00 | igrapebunch |
| Feb 10, 2022 - 10:14:00 AM | $6,400.00 | ipBob |
| Feb 10, 2022 - 10:13:00 AM | $6,300.00 | igrapebunch |
| Feb 10, 2022 - 10:13:00 AM | $6,200.00 | itimgianelli |
| Feb 10, 2022 - 10:12:12 AM | $5,900.00 | itimgianelli |
| Feb 10, 2022 - 10:07:53 AM | $5,800.00 | ispanlman |
| Feb 10, 2022 - 10:04:50 AM | $5,700.00 | idocbailey |
| Feb 10, 2022 - 10:04:51 AM | $5,700.00 | ispanlman |
| Feb 10, 2022 - 9:09:42 AM | $5,600.00 | idocbailey |
| Feb 10, 2022 - 9:09:42 AM | $5,500.00 | itimgianelli |
| Feb 10, 2022 - 8:59:31 AM | $5,400.00 | itimgianelli |
| Feb 10, 2022 - 8:59:10 AM | $5,300.00 | idocbailey |
| Feb 10, 2022 - 8:59:10 AM | $5,250.00 | itimgianelli |
| Feb 9, 2022 - 8:25:37 PM | $5,150.00 | idocbailey |
| Feb 9, 2022 - 7:39:08 PM | $5,050.00 | iBBJ |
| Feb 9, 2022 - 5:03:19 PM | $5,000.00 | iAlan12 |
| Feb 9, 2022 - 5:03:19 PM | $4,975.00 | iLadyEddie |
| Feb 9, 2022 - 5:02:48 PM | $4,750.00 | iAlan12 |
| Feb 9, 2022 - 5:02:48 PM | $4,700.00 | iLadyEddie |
| Feb 9, 2022 - 5:02:29 PM | $4,250.00 | iAlan12 |
| Feb 9, 2022 - 5:02:29 PM | $4,200.00 | iLadyEddie |
| Feb 9, 2022 - 9:16:39 AM | $3,850.00 | iAlan12 |
| Feb 9, 2022 - 9:16:39 AM | $3,800.00 | iJohn Williams |
| Feb 9, 2022 - 9:09:19 AM | $3,750.00 | iAlan12 |
| Feb 9, 2022 - 9:06:52 AM | $3,700.00 | iginjeet |
| Feb 9, 2022 - 9:06:53 AM | $3,700.00 | iAlan12 |
| Feb 9, 2022 - 9:02:03 AM | $3,650.00 | iginjeet |
| Feb 9, 2022 - 9:02:03 AM | $3,600.00 | iortizx97 |
| Feb 8, 2022 - 4:14:25 PM | $3,550.00 | iginjeet |
| Feb 8, 2022 - 4:14:25 PM | $3,500.00 | iAAholdings |
| Feb 8, 2022 - 3:26:31 PM | $2,750.00 | iginjeet |
| Feb 8, 2022 - 3:26:31 PM | $2,700.00 | iraya1993 |
| Feb 8, 2022 - 2:23:44 PM | $2,550.00 | iraya1993 |
| Feb 8, 2022 - 2:23:44 PM | $2,500.00 | iLadyEddie |
| Feb 8, 2022 - 1:29:17 PM | $2,066.60 | iLadyEddie |
| Feb 8, 2022 - 11:26:30 AM | $2,016.60 | iHansFritz |
| Feb 8, 2022 - 11:26:30 AM | $2,000.00 | igreg2579greg |
| Feb 8, 2022 - 11:26:12 AM | $1,910.00 | igreg2579greg |
| Feb 8, 2022 - 11:26:12 AM | $1,860.00 | iHansFritz |
| Feb 8, 2022 - 11:25:40 AM | $1,810.00 | igreg2579greg |
| Feb 8, 2022 - 11:25:40 AM | $1,760.00 | iHansFritz |
| Feb 8, 2022 - 10:57:38 AM | $1,710.00 | igreg2579greg |
| Feb 8, 2022 - 10:57:38 AM | $1,660.00 | iMary013$$ |
| Feb 8, 2022 - 10:57:15 AM | $1,610.00 | igreg2579greg |
| Feb 8, 2022 - 10:57:15 AM | $1,560.00 | iMary013$$ |
| Feb 8, 2022 - 10:57:11 AM | $1,510.00 | igreg2579greg |
| Feb 8, 2022 - 10:57:11 AM | $1,460.00 | iMary013$$ |
| Feb 8, 2022 - 10:57:07 AM | $1,410.00 | igreg2579greg |
| Feb 8, 2022 - 10:57:07 AM | $1,360.00 | iMary013$$ |
| Feb 8, 2022 - 10:56:59 AM | $1,310.00 | igreg2579greg |
| Feb 8, 2022 - 10:56:59 AM | $1,260.00 | iMary013$$ |
| Feb 8, 2022 - 10:56:51 AM | $1,210.00 | igreg2579greg |
| Feb 8, 2022 - 10:56:51 AM | $1,160.00 | iMary013$$ |
| Feb 8, 2022 - 10:56:41 AM | $1,110.00 | igreg2579greg |
| Feb 8, 2022 - 10:56:41 AM | $1,060.00 | iMary013$$ |
| Feb 8, 2022 - 10:17:57 AM | $1,010.00 | igreg2579greg |
| Feb 8, 2022 - 10:17:57 AM | $1,000.00 | iLadyEddie |
| Feb 8, 2022 - 10:17:39 AM | $660.00 | igreg2579greg |
| Feb 8, 2022 - 10:17:39 AM | $650.00 | iLadyEddie |
| Feb 8, 2022 - 10:16:12 AM | $510.00 | igreg2579greg |
| Feb 8, 2022 - 10:16:12 AM | $500.00 | iTrucha! |
| Feb 8, 2022 - 10:11:58 AM | $265.00 | igreg2579greg |
| Feb 8, 2022 - 10:11:58 AM | $255.00 | ikutubraja |
| Feb 8, 2022 - 10:11:10 AM | $185.00 | igreg2579greg |
| Feb 8, 2022 - 10:11:10 AM | $175.00 | ikutubraja |
| Feb 8, 2022 - 10:10:33 AM | $155.00 | igreg2579greg |
| Feb 8, 2022 - 10:10:33 AM | $145.00 | ikutubraja |
| Feb 8, 2022 - 10:07:38 AM | $135.00 | igreg2579greg |
| Feb 8, 2022 - 10:07:38 AM | $125.00 | imorethanscrap |
| Feb 8, 2022 - 10:07:01 AM | $105.00 | igreg2579greg |
| Feb 8, 2022 - 10:07:01 AM | $100.00 | iravetildon |
| Feb 8, 2022 - 10:03:16 AM | $5.00 | igreg2579greg |