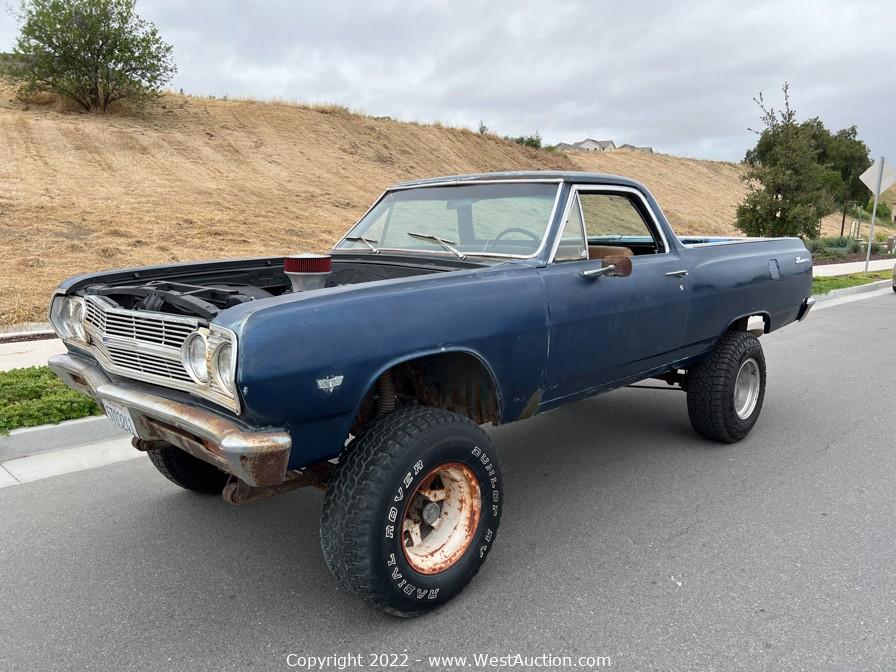 Lot #0100:
1965 Chevrolet El Camino
Bidding is

closed

.
High Bid:
$4,950.00
NA
Bidding Ended:
Fri, May 20 12:07:41 pm PT
High Bidder:
Badbob1919
Bid Increment:
$50.00
Starting Bid:
$5.00
Item Location:

Hollister

,

CA

95023

Item has been viewed 2,607 times.

1965 Chevrolet El Camino
Specifications
Year: 1965
Make: Chevrolet
Model: El Camino
VIN: 134805Z108297
License per 2015 Registration: 5T03241
Current License: NA 

Registration Expiration: 5/31/2022

Odometer Reads: 00228
Key: Available
Drive Type: AWD/4WD
Engine: V8
Body Style: Truck
Fuel Type: Gasoline
Transmission: Manual
Tire Size: 31x10.5R15LT
Deck Length: 76"
Deck Width: 61"
Wall Height: 15"
Exterior
Exterior Color: Blue
Doors: Two Door
Interior
Interior Material: Vinyl
Interior Color: Beige
Features: Lift Kit
4 wheel drive conversion Jeep running gear, Muncie 4 speed
Note: Certificate of Title or Application for Replacement Title and Transfer Form will be mailed to the buyer 2-3 weeks following pickup. The Bidder shall not bid on behalf of another individual, the Bidder/Purchaser/DMV Registrant must be the same. The Buyer is fully responsible for all aspects of registration, transfer, and fees due to DMV. 
| | | |
| --- | --- | --- |
| Bid Date | Bid Amount | Bidder |
| May 20, 2022 - 12:05:41 PM | $4,950.00 | iBadbob1919 |
| May 20, 2022 - 12:05:41 PM | $4,900.00 | iMCbigblock |
| May 20, 2022 - 12:05:31 PM | $4,850.00 | iBadbob1919 |
| May 20, 2022 - 12:05:31 PM | $4,800.00 | iMCbigblock |
| May 20, 2022 - 12:05:28 PM | $4,750.00 | iBadbob1919 |
| May 20, 2022 - 12:05:28 PM | $4,700.00 | iMCbigblock |
| May 20, 2022 - 12:04:09 PM | $4,650.00 | iBadbob1919 |
| May 20, 2022 - 12:04:09 PM | $4,600.00 | iMCbigblock |
| May 20, 2022 - 12:03:58 PM | $4,550.00 | iBadbob1919 |
| May 20, 2022 - 12:03:58 PM | $4,500.00 | iMCbigblock |
| May 20, 2022 - 12:03:51 PM | $4,450.00 | iBadbob1919 |
| May 20, 2022 - 12:03:51 PM | $4,400.00 | iMCbigblock |
| May 20, 2022 - 12:03:40 PM | $4,350.00 | iBadbob1919 |
| May 20, 2022 - 12:03:40 PM | $4,300.00 | iMCbigblock |
| May 20, 2022 - 12:03:16 PM | $4,250.00 | iBadbob1919 |
| May 20, 2022 - 12:03:16 PM | $4,200.00 | iMCbigblock |
| May 20, 2022 - 12:03:01 PM | $4,048.00 | iBadbob1919 |
| May 20, 2022 - 12:03:01 PM | $3,998.00 | itoby088 |
| May 20, 2022 - 12:02:10 PM | $3,948.00 | iBadbob1919 |
| May 20, 2022 - 12:02:10 PM | $3,898.00 | itoby088 |
| May 20, 2022 - 12:00:00 PM | $3,848.00 | iBadbob1919 |
| May 20, 2022 - 12:00:00 PM | $3,798.00 | i2big bronco |
| May 20, 2022 - 3:22:38 AM | $3,778.00 | i2big bronco |
| May 20, 2022 - 3:22:38 AM | $3,728.00 | iBadbob1919 |
| May 17, 2022 - 3:40:37 PM | $3,678.00 | i2big bronco |
| May 17, 2022 - 3:40:37 PM | $3,628.00 | iJLO54 |
| May 17, 2022 - 3:40:24 PM | $3,575.00 | iJLO54 |
| May 17, 2022 - 3:40:24 PM | $3,525.00 | i2big bronco |
| May 17, 2022 - 3:40:18 PM | $3,475.00 | iJLO54 |
| May 17, 2022 - 3:40:18 PM | $3,425.00 | i2big bronco |
| May 17, 2022 - 3:40:07 PM | $3,150.00 | iJLO54 |
| May 17, 2022 - 3:40:07 PM | $3,100.00 | i2big bronco |
| May 17, 2022 - 3:40:03 PM | $3,050.00 | iJLO54 |
| May 17, 2022 - 3:40:03 PM | $3,000.00 | i2big bronco |
| May 17, 2022 - 3:39:58 PM | $2,950.00 | iJLO54 |
| May 17, 2022 - 3:39:58 PM | $2,900.00 | i2big bronco |
| May 17, 2022 - 3:39:46 PM | $2,850.00 | iJLO54 |
| May 17, 2022 - 3:39:46 PM | $2,800.00 | i2big bronco |
| May 17, 2022 - 12:43:58 PM | $2,750.00 | iJLO54 |
| May 17, 2022 - 12:43:58 PM | $2,700.00 | idboudreault1965 |
| May 17, 2022 - 12:43:46 PM | $2,650.00 | iJLO54 |
| May 17, 2022 - 12:43:46 PM | $2,600.00 | idboudreault1965 |
| May 17, 2022 - 12:43:27 PM | $2,550.00 | iJLO54 |
| May 17, 2022 - 12:43:27 PM | $2,500.00 | idboudreault1965 |
| May 17, 2022 - 12:43:03 PM | $1,910.00 | iJLO54 |
| May 17, 2022 - 12:43:03 PM | $1,860.00 | idboudreault1965 |
| May 17, 2022 - 12:42:43 PM | $1,810.00 | iJLO54 |
| May 17, 2022 - 12:42:43 PM | $1,760.00 | idboudreault1965 |
| May 17, 2022 - 11:54:20 AM | $1,710.00 | iJLO54 |
| May 17, 2022 - 11:54:20 AM | $1,660.00 | idboudreault1965 |
| May 17, 2022 - 11:17:07 AM | $1,610.00 | iJLO54 |
| May 17, 2022 - 11:17:07 AM | $1,560.00 | iLawnmower |
| May 17, 2022 - 11:16:53 AM | $1,510.00 | iJLO54 |
| May 17, 2022 - 11:16:53 AM | $1,460.00 | iLawnmower |
| May 17, 2022 - 11:16:49 AM | $1,410.00 | iJLO54 |
| May 17, 2022 - 11:16:49 AM | $1,360.00 | iLawnmower |
| May 17, 2022 - 11:16:45 AM | $1,310.00 | iJLO54 |
| May 17, 2022 - 11:16:45 AM | $1,260.00 | iLawnmower |
| May 17, 2022 - 11:16:34 AM | $1,210.00 | iJLO54 |
| May 17, 2022 - 11:16:34 AM | $1,160.00 | iLawnmower |
| May 17, 2022 - 11:16:30 AM | $1,110.00 | iJLO54 |
| May 17, 2022 - 11:16:30 AM | $1,060.00 | iLawnmower |
| May 17, 2022 - 11:10:49 AM | $1,010.00 | iJLO54 |
| May 17, 2022 - 11:10:49 AM | $1,000.00 | iJwarner |
| May 17, 2022 - 11:10:15 AM | $985.00 | iJwarner |
| May 17, 2022 - 11:10:15 AM | $975.00 | iJLO54 |
| May 17, 2022 - 11:04:46 AM | $530.00 | iJwarner |
| May 17, 2022 - 11:04:46 AM | $520.00 | iLawnmower |
| May 17, 2022 - 11:03:05 AM | $510.00 | iLawnmower |
| May 17, 2022 - 11:03:05 AM | $500.00 | iJwarner |
| May 17, 2022 - 11:02:57 AM | $320.00 | iJwarner |
| May 17, 2022 - 11:02:57 AM | $310.00 | iLawnmower |
| May 17, 2022 - 10:56:58 AM | $300.00 | iJwarner |
| May 17, 2022 - 10:46:44 AM | $290.00 | iLawnmower |
| May 17, 2022 - 10:46:45 AM | $290.00 | iHockeyguy32 |
| May 17, 2022 - 10:45:47 AM | $280.00 | iLawnmower |
| May 17, 2022 - 10:42:27 AM | $270.00 | iHockeyguy32 |
| May 17, 2022 - 10:42:27 AM | $265.00 | iMike925 |
| May 17, 2022 - 10:39:02 AM | $260.00 | iMike925 |
| May 17, 2022 - 10:39:02 AM | $250.00 | iLawnmower |
| May 17, 2022 - 10:38:56 AM | $220.00 | iLawnmower |
| May 17, 2022 - 10:38:56 AM | $210.00 | iMike925 |
| May 17, 2022 - 10:38:45 AM | $115.00 | iLawnmower |
| May 17, 2022 - 10:38:45 AM | $105.00 | iMike925 |
| May 17, 2022 - 10:18:53 AM | $55.00 | iLawnmower |
| May 17, 2022 - 10:18:53 AM | $50.00 | iCAD |
| May 17, 2022 - 10:01:28 AM | $5.00 | iLawnmower |