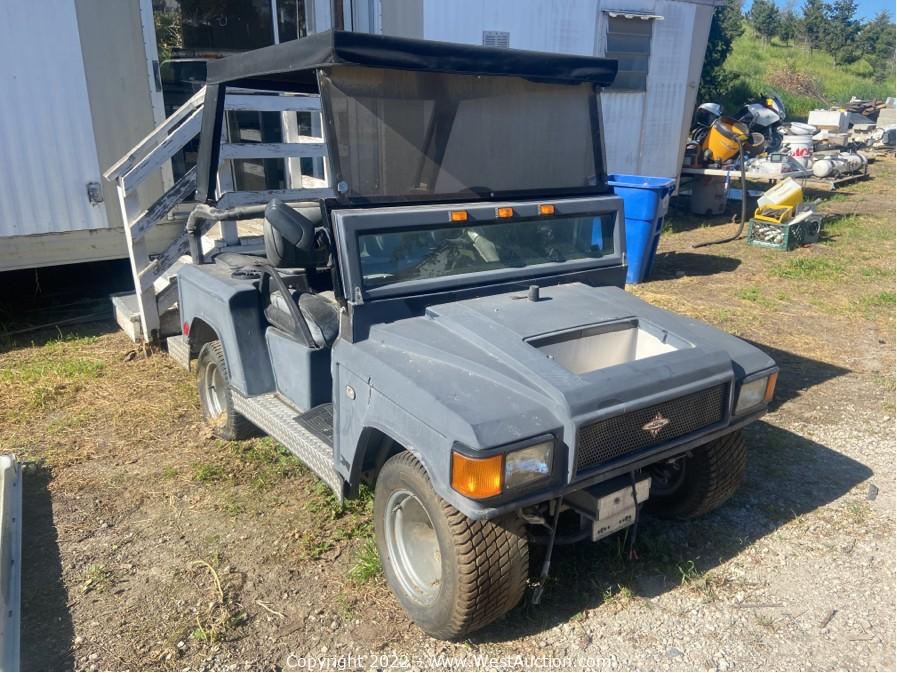 Lot #0114:
Hot Carts Inc. Golf Cart
Bidding is

closed

.
High Bid:
$1,325.00
NA
Bidding Ended:
Fri, May 20 12:21:12 pm PT
High Bidder:
santiagonavarro45
Bid Increment:
$50.00
Starting Bid:
$5.00
Item Location:

Hollister

,

CA

95023

Item has been viewed 1,159 times.

Hot Carts Inc. Golf Cart
Specifications
Year: 2004
Make: Hot Carts Inc
VIN: 1H9E4102030433055
Key: Available
GVWR: 2000 Lb
Tire Size: 23x10.5-12
Note: This VIN is currently not registered with California DMV. Buyer will receive Bill of Sale only and will be mailed 2-3 weeks following the pickup. The Bidder shall not bid on behalf of another individual, the Bidder/Purchaser/DMV Registrant must be the same. Buyer is fully responsible for the registration process, transfer, fees, and inspections due to DMV to register this vehicle in Buyers name if they so choose to obtain a new title/VIN/License.
| | | |
| --- | --- | --- |
| Bid Date | Bid Amount | Bidder |
| May 20, 2022 - 12:19:12 PM | $1,325.00 | isantiagonavarro45 |
| May 20, 2022 - 12:18:10 PM | $1,275.00 | izcook408 |
| May 20, 2022 - 12:17:50 PM | $1,225.00 | i12345bargainhunter |
| May 20, 2022 - 12:17:50 PM | $1,200.00 | isantiagonavarro45 |
| May 20, 2022 - 12:16:33 PM | $1,175.00 | isantiagonavarro45 |
| May 20, 2022 - 12:16:21 PM | $1,125.00 | iDuane1823 |
| May 20, 2022 - 12:16:21 PM | $1,100.00 | isantiagonavarro45 |
| May 20, 2022 - 12:14:27 PM | $1,060.00 | isantiagonavarro45 |
| May 20, 2022 - 12:14:18 PM | $1,010.00 | iDirkdiggler |
| May 20, 2022 - 12:13:52 PM | $1,000.00 | isantiagonavarro45 |
| May 20, 2022 - 12:13:52 PM | $999.99 | iDirkdiggler |
| May 20, 2022 - 12:13:45 PM | $970.00 | iDirkdiggler |
| May 20, 2022 - 12:13:45 PM | $960.00 | isantiagonavarro45 |
| May 20, 2022 - 12:13:33 PM | $910.00 | iDirkdiggler |
| May 20, 2022 - 12:13:33 PM | $900.00 | isantiagonavarro45 |
| May 20, 2022 - 12:13:27 PM | $885.00 | iDirkdiggler |
| May 20, 2022 - 12:13:27 PM | $875.00 | isantiagonavarro45 |
| May 20, 2022 - 12:13:18 PM | $855.00 | iDirkdiggler |
| May 20, 2022 - 12:13:18 PM | $845.00 | isantiagonavarro45 |
| May 20, 2022 - 12:13:09 PM | $835.00 | iDirkdiggler |
| May 20, 2022 - 12:13:09 PM | $825.00 | iDuane1823 |
| May 20, 2022 - 12:12:57 PM | $785.00 | iDirkdiggler |
| May 20, 2022 - 12:12:57 PM | $775.00 | iDuane1823 |
| May 20, 2022 - 12:12:47 PM | $680.00 | iDuane1823 |
| May 20, 2022 - 12:12:47 PM | $670.00 | isantiagonavarro45 |
| May 20, 2022 - 12:12:31 PM | $664.00 | isantiagonavarro45 |
| May 20, 2022 - 12:12:20 PM | $654.00 | iDuane1823 |
| May 20, 2022 - 12:12:16 PM | $644.00 | i12345bargainhunter |
| May 20, 2022 - 12:12:16 PM | $640.00 | isantiagonavarro45 |
| May 20, 2022 - 12:09:13 PM | $634.00 | isantiagonavarro45 |
| May 20, 2022 - 12:08:59 PM | $624.00 | i12345bargainhunter |
| May 20, 2022 - 12:08:59 PM | $620.00 | isantiagonavarro45 |
| May 20, 2022 - 12:07:26 PM | $614.00 | isantiagonavarro45 |
| May 20, 2022 - 12:00:33 PM | $604.00 | i12345bargainhunter |
| May 20, 2022 - 12:00:33 PM | $600.00 | isantiagonavarro45 |
| May 20, 2022 - 12:00:27 PM | $594.00 | isantiagonavarro45 |
| May 20, 2022 - 12:00:27 PM | $584.00 | i12345bargainhunter |
| May 20, 2022 - 11:56:08 AM | $574.00 | isantiagonavarro45 |
| May 20, 2022 - 11:55:43 AM | $564.00 | iCalpac |
| May 20, 2022 - 11:55:43 AM | $560.00 | isantiagonavarro45 |
| May 20, 2022 - 11:53:42 AM | $554.00 | isantiagonavarro45 |
| May 20, 2022 - 11:52:42 AM | $544.00 | i12345bargainhunter |
| May 20, 2022 - 11:52:42 AM | $540.00 | isantiagonavarro45 |
| May 20, 2022 - 11:51:44 AM | $534.00 | isantiagonavarro45 |
| May 20, 2022 - 11:51:23 AM | $524.00 | i12345bargainhunter |
| May 20, 2022 - 11:51:23 AM | $520.00 | isantiagonavarro45 |
| May 20, 2022 - 11:50:46 AM | $514.00 | isantiagonavarro45 |
| May 20, 2022 - 11:50:28 AM | $504.00 | iCalpac |
| May 20, 2022 - 11:50:28 AM | $500.00 | isantiagonavarro45 |
| May 20, 2022 - 11:43:32 AM | $494.00 | isantiagonavarro45 |
| May 20, 2022 - 11:42:36 AM | $484.00 | i12345bargainhunter |
| May 20, 2022 - 11:42:36 AM | $480.00 | isantiagonavarro45 |
| May 20, 2022 - 11:34:39 AM | $474.00 | isantiagonavarro45 |
| May 20, 2022 - 10:39:06 AM | $464.00 | iCalpac |
| May 20, 2022 - 10:39:06 AM | $455.00 | isantiagonavarro45 |
| May 20, 2022 - 9:51:27 AM | $454.00 | isantiagonavarro45 |
| May 20, 2022 - 9:51:27 AM | $444.00 | ishedevil4000 |
| May 20, 2022 - 9:51:17 AM | $435.00 | ishedevil4000 |
| May 20, 2022 - 9:51:17 AM | $425.00 | isantiagonavarro45 |
| May 20, 2022 - 9:50:26 AM | $415.00 | ishedevil4000 |
| May 20, 2022 - 9:50:26 AM | $405.00 | isantiagonavarro45 |
| May 20, 2022 - 9:50:14 AM | $395.00 | ishedevil4000 |
| May 20, 2022 - 9:50:14 AM | $385.00 | isantiagonavarro45 |
| May 20, 2022 - 9:49:37 AM | $375.00 | ishedevil4000 |
| May 20, 2022 - 9:49:37 AM | $365.00 | isantiagonavarro45 |
| May 20, 2022 - 9:15:03 AM | $355.00 | ishedevil4000 |
| May 19, 2022 - 4:32:26 PM | $345.00 | ipurple65 |
| May 17, 2022 - 3:02:37 PM | $335.00 | izcook408 |
| May 17, 2022 - 3:02:34 PM | $325.00 | ipurple65 |
| May 17, 2022 - 3:02:35 PM | $325.00 | izcook408 |
| May 17, 2022 - 3:02:29 PM | $315.00 | ipurple65 |
| May 17, 2022 - 3:02:29 PM | $305.00 | izcook408 |
| May 17, 2022 - 3:02:24 PM | $295.00 | ipurple65 |
| May 17, 2022 - 3:02:24 PM | $285.00 | izcook408 |
| May 17, 2022 - 3:01:49 PM | $275.00 | ipurple65 |
| May 17, 2022 - 3:01:33 PM | $265.00 | izcook408 |
| May 17, 2022 - 3:01:31 PM | $255.00 | ipurple65 |
| May 17, 2022 - 3:01:31 PM | $245.00 | izcook408 |
| May 17, 2022 - 3:01:28 PM | $235.00 | ipurple65 |
| May 17, 2022 - 3:01:28 PM | $225.00 | izcook408 |
| May 17, 2022 - 3:01:25 PM | $215.00 | ipurple65 |
| May 17, 2022 - 3:01:25 PM | $205.00 | izcook408 |
| May 17, 2022 - 3:01:22 PM | $195.00 | ipurple65 |
| May 17, 2022 - 3:01:22 PM | $185.00 | izcook408 |
| May 17, 2022 - 3:01:20 PM | $175.00 | ipurple65 |
| May 17, 2022 - 3:01:20 PM | $165.00 | izcook408 |
| May 17, 2022 - 3:01:18 PM | $155.00 | ipurple65 |
| May 17, 2022 - 3:01:18 PM | $145.00 | izcook408 |
| May 17, 2022 - 3:01:16 PM | $135.00 | ipurple65 |
| May 17, 2022 - 3:01:16 PM | $125.00 | izcook408 |
| May 17, 2022 - 3:01:13 PM | $115.00 | ipurple65 |
| May 17, 2022 - 3:01:13 PM | $105.00 | izcook408 |
| May 17, 2022 - 3:01:11 PM | $100.00 | ipurple65 |
| May 17, 2022 - 3:01:11 PM | $95.00 | izcook408 |
| May 17, 2022 - 3:01:08 PM | $90.00 | ipurple65 |
| May 17, 2022 - 3:01:08 PM | $85.00 | izcook408 |
| May 17, 2022 - 3:01:06 PM | $80.00 | ipurple65 |
| May 17, 2022 - 3:01:06 PM | $75.00 | izcook408 |
| May 17, 2022 - 3:01:03 PM | $70.00 | ipurple65 |
| May 17, 2022 - 3:01:03 PM | $65.00 | izcook408 |
| May 17, 2022 - 3:01:00 PM | $60.00 | ipurple65 |
| May 17, 2022 - 3:01:00 PM | $55.00 | izcook408 |
| May 17, 2022 - 3:00:57 PM | $50.00 | ipurple65 |
| May 17, 2022 - 3:00:57 PM | $45.00 | izcook408 |
| May 17, 2022 - 3:00:53 PM | $40.00 | ipurple65 |
| May 17, 2022 - 3:00:53 PM | $35.00 | izcook408 |
| May 17, 2022 - 3:00:46 PM | $30.00 | ipurple65 |
| May 17, 2022 - 3:00:46 PM | $25.00 | izcook408 |
| May 17, 2022 - 3:00:38 PM | $20.00 | ipurple65 |
| May 17, 2022 - 3:00:38 PM | $15.00 | izcook408 |
| May 17, 2022 - 2:43:38 PM | $10.00 | ipurple65 |
| May 17, 2022 - 11:04:16 AM | $5.00 | iCoffee |