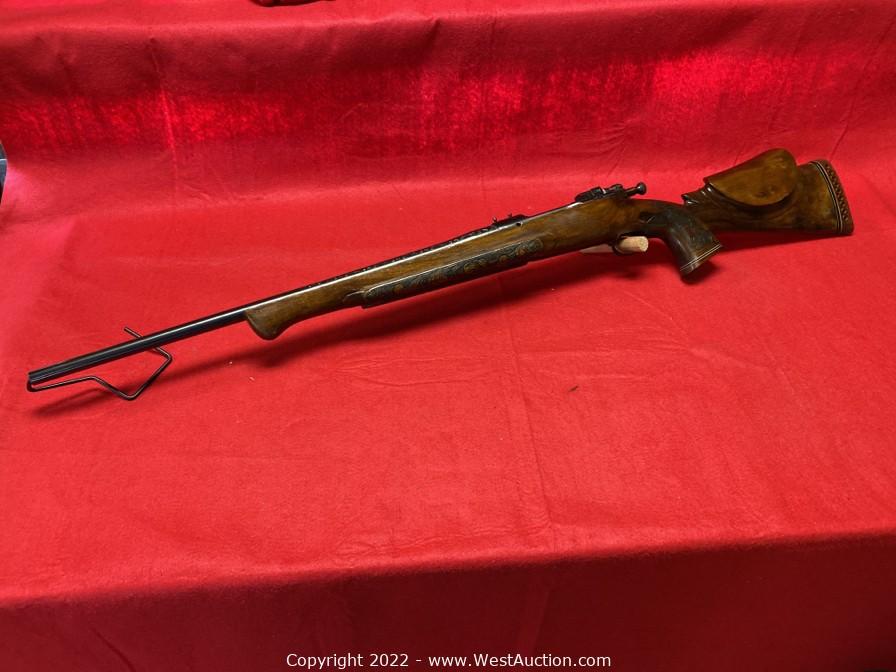 Lot #0237:
U.S. Remington Model 1903 Bolt Action Rifle
Bidding is

closed

.
High Bid:
$760.00
NA
Bidding Ended:
Thu, Jun 9 12:15:00 pm PT
High Bidder:
lmfence
Bid Increment:
$10.00
Starting Bid:
$5.00
Item Location:

Lodi

,

CA

95240

Item has been viewed 352 times.

U.S. Remington Model 1903 Bolt Action Rifle
Authorized to be sold in California.
No purchase limit in this Auction.
Ammo available (see lots 0316 - 0475).
Buyer agrees to abide by all Federal, State, and Local laws governing the offering, transfer, ownership, and sale of firearms. It is the obligation of the user to know the law regarding such a sale and to abide by the law as set forth. In accordance with the California Penal Code, the buyer understands there will be a mandatory background check for firearm transfers. Buyers agree not to participate in the auction unless they are 21 years of age or older and have a valid license and/or state identification card.
No refunds will be issued if the winning bidder does not pass the background check.
All bidders acknowledge they are participating in the auction on their own behalf and not on the behalf of any other parties. No adjustments will be made to the auction's final invoice. 
| | | |
| --- | --- | --- |
| Bid Date | Bid Amount | Bidder |
| Jun 9, 2022 - 12:12:52 PM | $760.00 | ilmfence |
| Jun 9, 2022 - 12:12:52 PM | $750.00 | iRattlesnake |
| Jun 9, 2022 - 6:11:51 AM | $720.00 | iRattlesnake |
| Jun 8, 2022 - 9:49:30 PM | $710.00 | iEdie2016 |
| Jun 8, 2022 - 9:49:28 PM | $700.00 | iRattlesnake |
| Jun 8, 2022 - 9:49:28 PM | $690.00 | iEdie2016 |
| Jun 8, 2022 - 9:49:25 PM | $680.00 | iRattlesnake |
| Jun 8, 2022 - 9:49:25 PM | $670.00 | iEdie2016 |
| Jun 8, 2022 - 9:49:22 PM | $660.00 | iRattlesnake |
| Jun 8, 2022 - 9:49:22 PM | $650.00 | iEdie2016 |
| Jun 8, 2022 - 9:49:20 PM | $640.00 | iRattlesnake |
| Jun 8, 2022 - 9:49:20 PM | $630.00 | iEdie2016 |
| Jun 8, 2022 - 8:07:50 PM | $620.00 | iRattlesnake |
| Jun 8, 2022 - 6:25:28 PM | $610.00 | iEdie2016 |
| Jun 8, 2022 - 6:25:25 PM | $600.00 | iRattlesnake |
| Jun 8, 2022 - 6:25:26 PM | $600.00 | iEdie2016 |
| Jun 8, 2022 - 6:25:23 PM | $590.00 | iRattlesnake |
| Jun 8, 2022 - 6:25:23 PM | $580.00 | iEdie2016 |
| Jun 8, 2022 - 6:25:21 PM | $570.00 | iRattlesnake |
| Jun 8, 2022 - 6:25:21 PM | $560.00 | iEdie2016 |
| Jun 8, 2022 - 6:25:18 PM | $550.00 | iRattlesnake |
| Jun 8, 2022 - 6:25:18 PM | $540.00 | iEdie2016 |
| Jun 8, 2022 - 6:25:07 PM | $530.00 | iRattlesnake |
| Jun 8, 2022 - 6:25:07 PM | $520.00 | iEdie2016 |
| Jun 8, 2022 - 4:58:43 PM | $510.00 | iRattlesnake |
| Jun 8, 2022 - 4:57:54 PM | $500.00 | ilmfence |
| Jun 8, 2022 - 4:57:55 PM | $500.00 | iRattlesnake |
| Jun 8, 2022 - 4:57:20 PM | $410.00 | ilmfence |
| Jun 8, 2022 - 4:57:20 PM | $400.00 | iRattlesnake |
| Jun 8, 2022 - 4:57:02 PM | $360.00 | ilmfence |
| Jun 8, 2022 - 4:57:02 PM | $350.00 | iRattlesnake |
| Jun 8, 2022 - 9:20:49 AM | $310.00 | ilmfence |
| Jun 8, 2022 - 9:20:49 AM | $300.00 | iRattlesnake |
| Jun 7, 2022 - 10:10:49 PM | $265.00 | iRattlesnake |
| Jun 7, 2022 - 10:10:22 PM | $255.00 | ibuzzard |
| Jun 7, 2022 - 10:10:22 PM | $250.00 | iRattlesnake |
| Jun 7, 2022 - 9:47:20 PM | $240.00 | ibuzzard |
| Jun 7, 2022 - 9:47:20 PM | $230.00 | iRattlesnake |
| Jun 7, 2022 - 3:55:41 PM | $210.00 | ibuzzard |
| Jun 7, 2022 - 3:55:41 PM | $200.00 | iRattlesnake |
| Jun 7, 2022 - 1:50:00 PM | $166.00 | iRattlesnake |
| Jun 7, 2022 - 1:50:00 PM | $156.00 | imyers1185 |
| Jun 7, 2022 - 12:49:42 PM | $135.00 | iRattlesnake |
| Jun 7, 2022 - 12:49:42 PM | $125.00 | imyers1185 |
| Jun 7, 2022 - 12:49:18 PM | $105.00 | imyers1185 |
| Jun 7, 2022 - 12:49:18 PM | $100.00 | iRattlesnake |
| Jun 7, 2022 - 11:20:52 AM | $10.00 | imyers1185 |
| Jun 7, 2022 - 11:20:36 AM | $5.00 | ibowzer21000 |