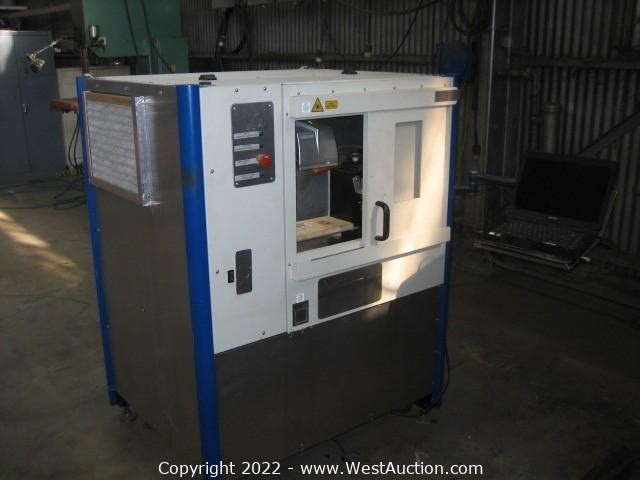 Keyence ML-G9310F Co2 Laser Marking System
Bidding is

closed

.
High Bid:
$3,752.00
NA
Bidding Ended:
Thu, May 19 10:00:00 am PT
High Bidder:
actioniron
Bid Increment:
$50.00
Starting Bid:
$5.00
Item has been viewed 1,749 times.

ASK ABOUT THIS ITEM

Keyence ML-G9310F Co2 Laser Marking System
Make: Keyence
Model: ML-G9310F
Manufacture Date: 2014
Overall Footprint/Dimensions: 

Width: 48"
Depth: 40"
Height: 60"

Approximate Weight: 600 lb
Note from Seller: This is a Keyence ML-G9310F Co2 Laser marking system. It includes a class 1 laser enclosure and is mounted to a 4" thick granite surface plate and a 1.5" aluminum plate. This enclosure has a built-in air dryer and vacuum system. The unit runs on 110V and 5 psi of air. It is capable of laser marking lettering and graphics as well sequential serial numbering and QPC codes. Artwork can be generated by programs like Adobe Illustrator and imported into proprietary Keyence software. This package includes a Toshiba laptop with all software loaded on and the security dongle. The Keyence users manual is also included. The date of manufacture is 2014.
| | | |
| --- | --- | --- |
| Bid Date | Bid Amount | Bidder |
| May 19, 2022 - 9:06:37 AM | $3,752.00 | iactioniron |
| May 19, 2022 - 9:06:37 AM | $3,702.00 | iclaesson1975 |
| May 19, 2022 - 9:06:16 AM | $3,651.00 | iactioniron |
| May 19, 2022 - 9:06:16 AM | $3,601.00 | iclaesson1975 |
| May 19, 2022 - 7:14:54 AM | $3,150.00 | iactioniron |
| May 19, 2022 - 7:14:54 AM | $3,100.00 | iMitynerp |
| May 18, 2022 - 5:03:48 PM | $3,055.00 | iMitynerp |
| May 18, 2022 - 5:03:48 PM | $3,005.00 | iactioniron |
| May 18, 2022 - 7:22:17 AM | $2,050.00 | iactioniron |
| May 18, 2022 - 7:22:17 AM | $2,000.00 | iclaesson1975 |
| May 17, 2022 - 7:05:34 PM | $1,650.00 | iclaesson1975 |
| May 17, 2022 - 7:05:34 PM | $1,600.00 | iOutback6 |
| May 17, 2022 - 7:05:13 PM | $1,550.00 | iOutback6 |
| May 17, 2022 - 7:05:13 PM | $1,500.00 | iclaesson1975 |
| May 17, 2022 - 7:04:50 PM | $1,010.00 | iOutback6 |
| May 17, 2022 - 7:04:50 PM | $1,000.00 | iclaesson1975 |
| May 17, 2022 - 7:03:40 PM | $780.00 | iOutback6 |
| May 17, 2022 - 7:03:40 PM | $770.00 | iclaesson1975 |
| May 17, 2022 - 3:50:05 PM | $760.00 | iOutback6 |
| May 17, 2022 - 3:50:05 PM | $750.00 | iJLO54 |
| May 17, 2022 - 12:47:09 PM | $700.00 | iJLO54 |
| May 17, 2022 - 12:47:09 PM | $690.00 | irayl |
| May 17, 2022 - 11:15:52 AM | $660.00 | iJLO54 |
| May 17, 2022 - 11:15:52 AM | $650.00 | iMike925 |
| May 17, 2022 - 10:37:39 AM | $510.00 | iMike925 |
| May 17, 2022 - 10:37:39 AM | $500.00 | iCAESO.LLC |
| May 17, 2022 - 10:37:28 AM | $460.00 | iCAESO.LLC |
| May 17, 2022 - 10:37:28 AM | $450.00 | iMike925 |
| May 17, 2022 - 10:37:21 AM | $210.00 | iCAESO.LLC |
| May 17, 2022 - 10:37:21 AM | $200.00 | iMike925 |
| May 17, 2022 - 10:37:12 AM | $105.00 | iCAESO.LLC |
| May 17, 2022 - 10:37:12 AM | $100.00 | iMike925 |
| May 17, 2022 - 10:18:55 AM | $5.00 | iCAESO.LLC |