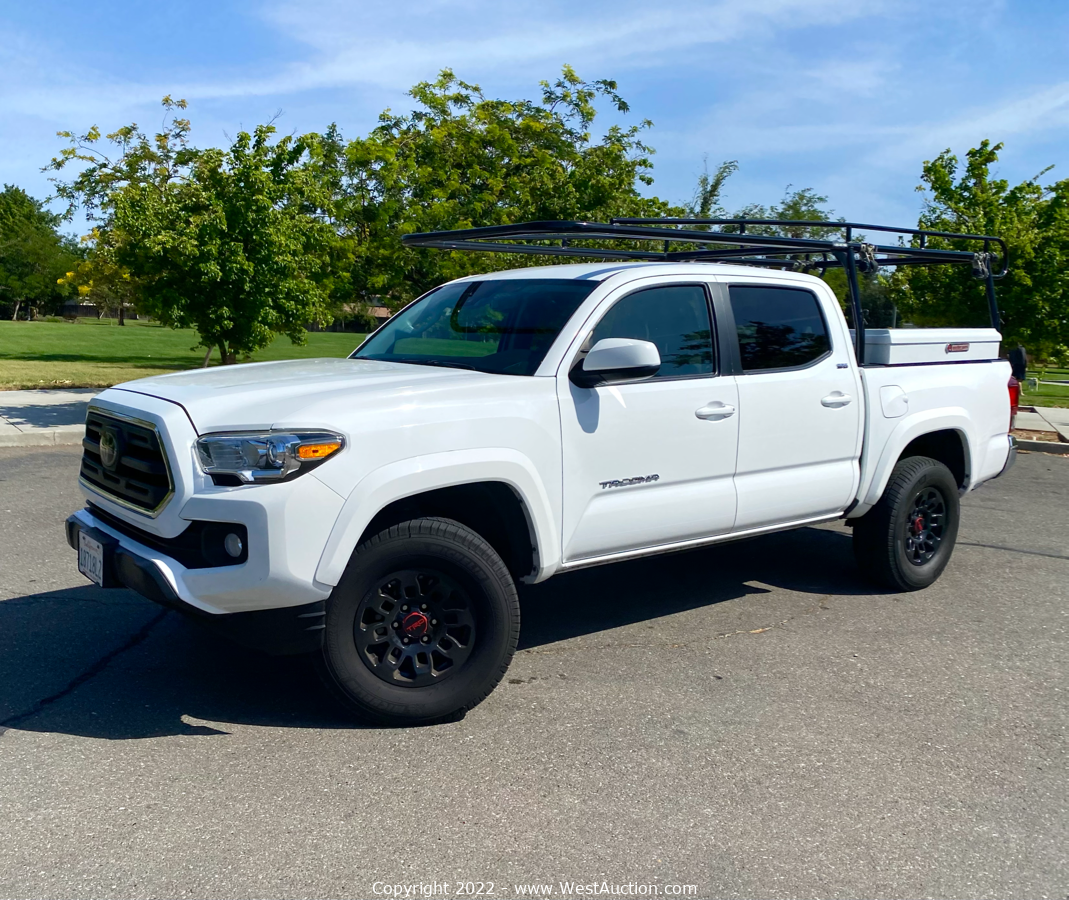 Court Order Auction of 2018 Toyota Tacoma SR5 Pickup Truck
Bidding is

closed

.
High Bid:
$28,300.00
NA
Bidding Ended:
Thu, Jul 7 10:00:00 am PT
High Bidder:
Shane2488
Bid Increment:
$100.00
Starting Bid:
$5.00
Item has been viewed 4,688 times.

ASK ABOUT THIS ITEM

Court Order Auction of 2018 Toyota Tacoma SR5 Pickup Truck - NO Buyer's Premium!
Specifications
Year: 2018
Make: Toyota
Model: Tacoma SR5
VIN: 3TMAZ5CN5JM058392
License: 18718L2

Registration Expiration: 4/30/2023

Odometer Reads: 62,932 (updated 7/5/2022 1:18pm)
Key: Available
GVWR: 5600 Lb
Drive Type: Rear Wheel Drive
Engine: D4S V6
Body Style: Truck
Fuel Type: Gasoline
Transmission: Automatic
Tire Size: 265/70R16
Deck Length: 5'
Deck Width: 4'
Exterior
Exterior Color: White
Doors: Four Door
Bed Liner
Bed Rack
Bed Mounted Tool Boxes
Interior
Interior Material: Cloth
Interior Color: Gray
Features:

Backup Camera
Bluetooth Hands-Free
CD Player
Keyless Entry
Navigation
Auxiliary Sound Port
Power Locks
Power Windows
Power Mirrors
Premium Wheels
Security System
Steering Wheel Controls
Air Conditioning
Touch Screen
Note: The sale of this vehicle is subject to the Bankruptcy Trustee's confirmation.
Note: Certificate of Title, Transfer Form, and Court Order will be mailed 4-5 weeks following the close of the auction. Please note the title will be received directly from the lien holder, thank you for your patience in this process. The Bidder shall not bid on behalf of another individual, the Bidder/Purchaser/DMV Registrant must be the same. The Buyer is fully responsible for all aspects of smog, registration, transfer, and fees due to DMV. 
| | | |
| --- | --- | --- |
| Bid Date | Bid Amount | Bidder |
| Jul 7, 2022 - 9:57:18 AM | $28,300.00 | iShane2488 |
| Jul 7, 2022 - 9:57:18 AM | $28,200.00 | ijkenzie |
| Jul 7, 2022 - 9:54:51 AM | $28,100.00 | iShane2488 |
| Jul 7, 2022 - 9:54:51 AM | $28,000.00 | ipurple65 |
| Jul 7, 2022 - 9:42:15 AM | $27,900.00 | iShane2488 |
| Jul 7, 2022 - 9:42:15 AM | $27,800.00 | ijkenzie |
| Jul 7, 2022 - 9:41:05 AM | $27,700.00 | iShane2488 |
| Jul 7, 2022 - 9:41:05 AM | $27,600.00 | ipurple65 |
| Jul 7, 2022 - 9:40:53 AM | $27,100.00 | ipurple65 |
| Jul 7, 2022 - 9:40:53 AM | $27,000.00 | iShane2488 |
| Jul 7, 2022 - 9:40:49 AM | $26,900.00 | ipurple65 |
| Jul 7, 2022 - 9:40:49 AM | $26,800.00 | iShane2488 |
| Jul 7, 2022 - 9:40:42 AM | $26,700.00 | ipurple65 |
| Jul 7, 2022 - 9:40:42 AM | $26,600.00 | ijkenzie |
| Jul 7, 2022 - 9:33:29 AM | $26,500.00 | ipurple65 |
| Jul 7, 2022 - 8:41:49 AM | $26,400.00 | iShane2488 |
| Jul 6, 2022 - 8:18:30 PM | $26,300.00 | iAVSJEFF |
| Jul 6, 2022 - 5:57:05 PM | $26,200.00 | iShane2488 |
| Jul 6, 2022 - 2:38:47 PM | $26,100.00 | iauto one |
| Jul 6, 2022 - 2:38:47 PM | $26,000.00 | iRor wyman |
| Jul 6, 2022 - 2:37:55 PM | $25,800.00 | iauto one |
| Jul 6, 2022 - 2:37:55 PM | $25,700.00 | iRor wyman |
| Jul 6, 2022 - 2:36:58 PM | $25,500.00 | iauto one |
| Jul 6, 2022 - 2:36:58 PM | $25,400.00 | iRor wyman |
| Jul 6, 2022 - 2:15:23 AM | $25,300.00 | iauto one |
| Jul 6, 2022 - 1:29:06 AM | $25,200.00 | ibidman |
| Jul 5, 2022 - 9:49:21 PM | $25,100.00 | iauto one |
| Jul 5, 2022 - 9:49:21 PM | $25,000.00 | iShane2488 |
| Jul 5, 2022 - 9:49:10 PM | $24,400.00 | iShane2488 |
| Jul 5, 2022 - 9:49:10 PM | $24,300.00 | iauto one |
| Jul 5, 2022 - 9:48:53 PM | $22,700.00 | iShane2488 |
| Jul 5, 2022 - 9:48:53 PM | $22,600.00 | iauto one |
| Jul 5, 2022 - 9:17:45 PM | $20,100.00 | iShane2488 |
| Jul 5, 2022 - 9:17:45 PM | $20,000.00 | icascarito |
| Jul 5, 2022 - 7:05:59 PM | $19,600.00 | iShane2488 |
| Jul 5, 2022 - 7:05:59 PM | $19,500.00 | ibidman |
| Jul 5, 2022 - 4:00:12 PM | $17,400.00 | ibidman |
| Jul 5, 2022 - 4:00:12 PM | $17,300.00 | idanewsguy |
| Jul 5, 2022 - 1:21:46 PM | $17,100.00 | ibidman |
| Jul 5, 2022 - 1:21:46 PM | $17,000.00 | iRor wyman |
| Jul 5, 2022 - 1:21:28 PM | $16,100.00 | ibidman |
| Jul 5, 2022 - 1:21:28 PM | $16,000.00 | iRor wyman |
| Jul 5, 2022 - 12:49:36 PM | $15,300.00 | ibidman |
| Jul 5, 2022 - 12:49:36 PM | $15,200.00 | itimt408 |
| Jul 5, 2022 - 11:41:04 AM | $15,100.00 | ibidman |
| Jul 5, 2022 - 11:41:04 AM | $15,000.00 | iVineman99 |
| Jul 5, 2022 - 11:39:57 AM | $14,100.00 | iVineman99 |
| Jul 5, 2022 - 11:39:57 AM | $14,000.00 | ibidman |
| Jul 5, 2022 - 11:39:20 AM | $10,600.00 | iVineman99 |
| Jul 5, 2022 - 11:39:20 AM | $10,500.00 | ibidman |
| Jul 5, 2022 - 10:45:13 AM | $9,600.00 | iVineman99 |
| Jul 5, 2022 - 10:45:13 AM | $9,500.00 | iCalinonstop |
| Jul 5, 2022 - 10:45:09 AM | $9,100.00 | iVineman99 |
| Jul 5, 2022 - 10:45:09 AM | $9,000.00 | iCalinonstop |
| Jul 5, 2022 - 10:45:05 AM | $8,600.00 | iVineman99 |
| Jul 5, 2022 - 10:45:05 AM | $8,500.00 | iCalinonstop |
| Jul 5, 2022 - 10:45:01 AM | $8,100.00 | iVineman99 |
| Jul 5, 2022 - 10:45:01 AM | $8,000.00 | iCalinonstop |
| Jul 5, 2022 - 10:44:51 AM | $7,600.00 | iVineman99 |
| Jul 5, 2022 - 10:44:51 AM | $7,500.00 | iCalinonstop |
| Jul 5, 2022 - 10:44:42 AM | $6,600.00 | iVineman99 |
| Jul 5, 2022 - 10:44:42 AM | $6,500.00 | iCalinonstop |
| Jul 5, 2022 - 10:26:37 AM | $4,110.00 | iVineman99 |
| Jul 5, 2022 - 10:26:37 AM | $4,060.00 | iJwarner |
| Jul 5, 2022 - 10:26:35 AM | $4,010.00 | iVineman99 |
| Jul 5, 2022 - 10:26:35 AM | $3,960.00 | iJwarner |
| Jul 5, 2022 - 10:26:32 AM | $3,910.00 | iVineman99 |
| Jul 5, 2022 - 10:26:32 AM | $3,860.00 | iJwarner |
| Jul 5, 2022 - 10:26:30 AM | $3,810.00 | iVineman99 |
| Jul 5, 2022 - 10:26:30 AM | $3,760.00 | iJwarner |
| Jul 5, 2022 - 10:26:28 AM | $3,710.00 | iVineman99 |
| Jul 5, 2022 - 10:26:28 AM | $3,660.00 | iJwarner |
| Jul 5, 2022 - 10:26:26 AM | $3,610.00 | iVineman99 |
| Jul 5, 2022 - 10:26:26 AM | $3,560.00 | iJwarner |
| Jul 5, 2022 - 10:26:24 AM | $3,510.00 | iVineman99 |
| Jul 5, 2022 - 10:26:24 AM | $3,460.00 | iJwarner |
| Jul 5, 2022 - 10:26:22 AM | $3,410.00 | iVineman99 |
| Jul 5, 2022 - 10:26:22 AM | $3,360.00 | iJwarner |
| Jul 5, 2022 - 10:26:20 AM | $3,310.00 | iVineman99 |
| Jul 5, 2022 - 10:26:20 AM | $3,260.00 | iJwarner |
| Jul 5, 2022 - 10:26:18 AM | $3,210.00 | iVineman99 |
| Jul 5, 2022 - 10:26:18 AM | $3,160.00 | iJwarner |
| Jul 5, 2022 - 10:26:16 AM | $3,110.00 | iVineman99 |
| Jul 5, 2022 - 10:26:16 AM | $3,060.00 | iJwarner |
| Jul 5, 2022 - 10:26:13 AM | $3,010.00 | iVineman99 |
| Jul 5, 2022 - 10:26:13 AM | $2,960.00 | iJwarner |
| Jul 5, 2022 - 10:26:11 AM | $2,910.00 | iVineman99 |
| Jul 5, 2022 - 10:26:11 AM | $2,860.00 | iJwarner |
| Jul 5, 2022 - 10:26:09 AM | $2,810.00 | iVineman99 |
| Jul 5, 2022 - 10:26:09 AM | $2,760.00 | iJwarner |
| Jul 5, 2022 - 10:26:07 AM | $2,710.00 | iVineman99 |
| Jul 5, 2022 - 10:26:07 AM | $2,660.00 | iJwarner |
| Jul 5, 2022 - 10:26:05 AM | $2,610.00 | iVineman99 |
| Jul 5, 2022 - 10:26:05 AM | $2,560.00 | iJwarner |
| Jul 5, 2022 - 10:26:03 AM | $2,510.00 | iVineman99 |
| Jul 5, 2022 - 10:26:03 AM | $2,460.00 | iJwarner |
| Jul 5, 2022 - 10:26:00 AM | $2,410.00 | iVineman99 |
| Jul 5, 2022 - 10:26:00 AM | $2,360.00 | iJwarner |
| Jul 5, 2022 - 10:25:40 AM | $2,310.00 | iVineman99 |
| Jul 5, 2022 - 10:25:40 AM | $2,260.00 | iJwarner |
| Jul 5, 2022 - 10:25:38 AM | $2,210.00 | iVineman99 |
| Jul 5, 2022 - 10:25:38 AM | $2,160.00 | iJwarner |
| Jul 5, 2022 - 10:25:36 AM | $2,110.00 | iVineman99 |
| Jul 5, 2022 - 10:25:36 AM | $2,060.00 | iJwarner |
| Jul 5, 2022 - 10:25:33 AM | $2,010.00 | iVineman99 |
| Jul 5, 2022 - 10:25:33 AM | $1,960.00 | iJwarner |
| Jul 5, 2022 - 10:25:31 AM | $1,910.00 | iVineman99 |
| Jul 5, 2022 - 10:25:31 AM | $1,860.00 | iJwarner |
| Jul 5, 2022 - 10:25:29 AM | $1,810.00 | iVineman99 |
| Jul 5, 2022 - 10:25:29 AM | $1,760.00 | iJwarner |
| Jul 5, 2022 - 10:25:26 AM | $1,710.00 | iVineman99 |
| Jul 5, 2022 - 10:25:26 AM | $1,660.00 | iJwarner |
| Jul 5, 2022 - 10:25:24 AM | $1,610.00 | iVineman99 |
| Jul 5, 2022 - 10:25:24 AM | $1,560.00 | iJwarner |
| Jul 5, 2022 - 10:25:22 AM | $1,510.00 | iVineman99 |
| Jul 5, 2022 - 10:25:22 AM | $1,460.00 | iJwarner |
| Jul 5, 2022 - 10:25:19 AM | $1,410.00 | iVineman99 |
| Jul 5, 2022 - 10:25:19 AM | $1,360.00 | iJwarner |
| Jul 5, 2022 - 10:25:17 AM | $1,310.00 | iVineman99 |
| Jul 5, 2022 - 10:25:17 AM | $1,260.00 | iJwarner |
| Jul 5, 2022 - 10:25:14 AM | $1,210.00 | iVineman99 |
| Jul 5, 2022 - 10:25:14 AM | $1,160.00 | iJwarner |
| Jul 5, 2022 - 10:25:08 AM | $1,110.00 | iVineman99 |
| Jul 5, 2022 - 10:25:08 AM | $1,060.00 | iJwarner |
| Jul 5, 2022 - 10:10:02 AM | $1,010.00 | iVineman99 |
| Jul 5, 2022 - 10:10:02 AM | $1,000.00 | iAnothertreasure123 |
| Jul 5, 2022 - 10:09:50 AM | $510.00 | iVineman99 |
| Jul 5, 2022 - 10:09:50 AM | $500.00 | iAnothertreasure123 |
| Jul 5, 2022 - 10:02:08 AM | $5.00 | iVineman99 |