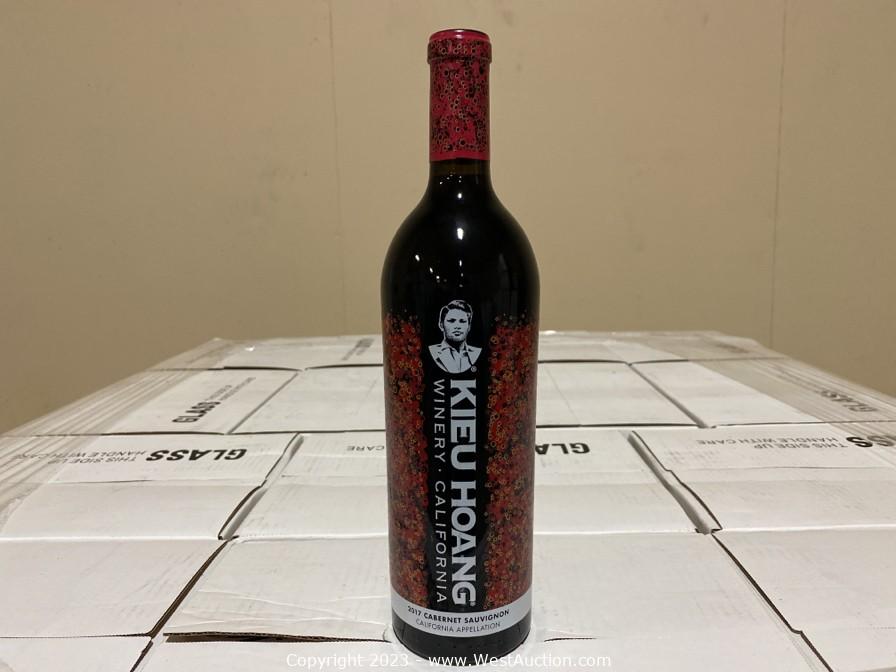 Lot #0397:
(56) Cases of KHW 2017 Lodi Cabernet Sauvignon Wine
Bidding is

closed

.
High Bid:
$2.80 x 672 = $1,881.60
NA
Bidding Ended:
Thu, Feb 16 3:03:15 pm PT
High Bidder:
thangnlp
Bid Increment:
$0.10
Starting Bid:
$0.50 x 672 = $336.00
Item Location:

Napa

,

CA

94559

Item has been viewed 724 times.

(56) Cases of KHW 2017 Lodi Cabernet Sauvignon Wine
ABV: 13.8% 
Bottle Size: 750ml
Winery: Kieu Hoang
Vintage: 2017
Region: Lodi, California
Varietal: Cabernet Sauvignon
Number of Cases: 56
Number of Bottles: 672
Seller's Tasting Notes: Aromas of green bell pepper and pine with a hint of toasted cedar. On the pallet, it has notes of cherry, plum, pepper, and a hint of allspice.
Notes: 
Bidding starts at $0.50 per bottle.
This lot features (1) pallet of (56) cases of wine inventory, which is a total of (672) bottles.
Bid increments are multiplied by the bottle.
Photos shown are representative of this lot.
Disclaimer: All information presented here is believed to be correct but is not guaranteed and is subject to inspection and verification by all parties relying on it. Sellers, their representatives, and auctioneer/agent shall not be liable for inaccuracies, errors, or omissions. All quantities, measurements, and other figures are approximate. 
| | | |
| --- | --- | --- |
| Bid Date | Bid Amount | Bidder |
| Feb 16, 2023 - 3:01:15 PM | $2.80 | ithangnlp |
| Feb 16, 2023 - 3:01:12 PM | $2.70 | iGeorge Awuzie |
| Feb 16, 2023 - 2:59:43 PM | $2.60 | ithangnlp |
| Feb 16, 2023 - 2:59:35 PM | $2.50 | iltrinh1155 |
| Feb 16, 2023 - 2:59:36 PM | $2.50 | ithangnlp |
| Feb 16, 2023 - 2:59:29 PM | $2.40 | iltrinh1155 |
| Feb 16, 2023 - 2:58:02 PM | $2.30 | ithangnlp |
| Feb 16, 2023 - 2:57:53 PM | $2.20 | ikingtran |
| Feb 16, 2023 - 2:57:54 PM | $2.20 | ithangnlp |
| Feb 16, 2023 - 2:56:37 PM | $2.10 | ikingtran |
| Feb 16, 2023 - 2:53:40 PM | $2.00 | iDavidasmith1970 |
| Feb 16, 2023 - 2:52:54 PM | $1.90 | iQuangl |
| Feb 16, 2023 - 2:52:55 PM | $1.90 | iLancemk |
| Feb 16, 2023 - 2:52:00 PM | $1.80 | iQuangl |
| Feb 16, 2023 - 2:52:00 PM | $1.70 | iDipnetfan |
| Feb 16, 2023 - 2:44:37 PM | $1.60 | iQuangl |
| Feb 16, 2023 - 2:44:37 PM | $1.50 | iDavidasmith1970 |
| Feb 16, 2023 - 2:38:18 PM | $1.40 | iQuangl |
| Feb 16, 2023 - 2:07:08 PM | $1.30 | iAdamPolky |
| Feb 16, 2023 - 11:15:50 AM | $1.20 | ithangnlp |
| Feb 16, 2023 - 11:05:45 AM | $1.10 | ihenrylam626 |
| Feb 16, 2023 - 10:00:18 AM | $1.00 | ithangnlp |
| Feb 16, 2023 - 9:49:37 AM | $0.90 | iQuangl |
| Feb 16, 2023 - 9:36:09 AM | $0.80 | ithangnlp |
| Feb 15, 2023 - 9:32:38 AM | $0.70 | itimt408 |
| Feb 15, 2023 - 2:53:15 AM | $0.60 | ibrmai |
| Feb 14, 2023 - 11:04:41 AM | $0.50 | ikingtran |