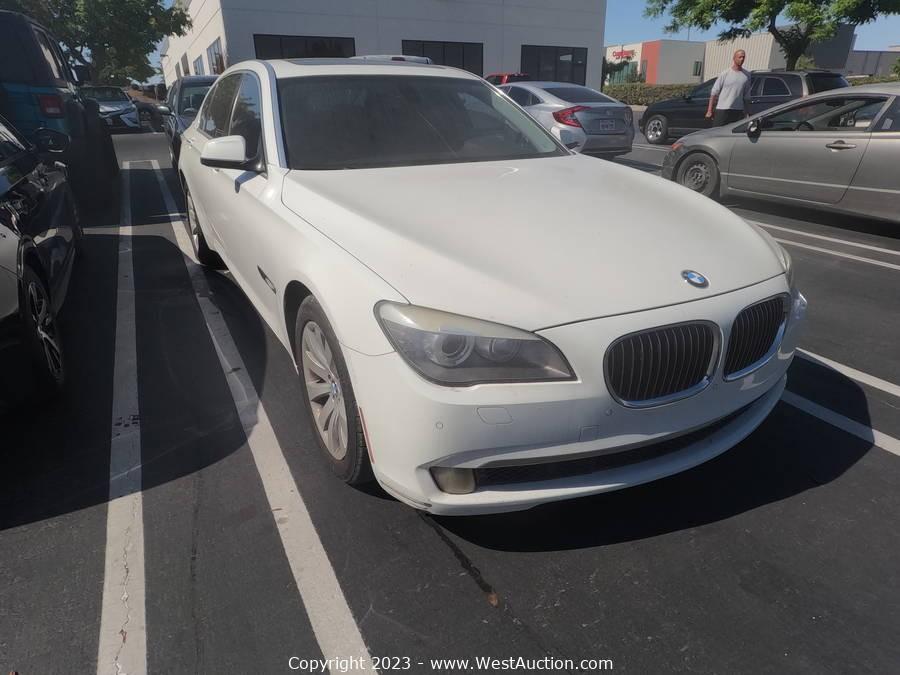 Lot #0102:
2009 BMW 750 Li
Bidding is

closed

.
High Bid:
$6,600.00
NA
Bidding Ended:
Thu, Sep 28 10:00:00 am PT
High Bidder:
ALUCATERO79
Bid Increment:
$100.00
Starting Bid:
$5.00
Item Location:

Antioch

,

CA

94509

Item has been viewed 2,422 times.

2009 BMW 750 Li
Specifications
Year: 2009
Make: BMW
Model: 750 Li
VIN: WBAKB83579CY60916
License: 7WLS790

Registration Expiration: 7/18/2024

Odometer Reads: 101,003 (per smog receipt 9/21/2023)
Key: Available
GVWR: 5787 LBS
Drive Type: Rear Wheel Drive
Engine: V8 Twin Turbo
Body Style: Sedan
Fuel Type: Gasoline
Transmission: Automatic
Tire Size: 235/50ZR18
Exterior
Exterior Color: White
Doors: Four Door
Interior
Interior Material: Leather
Interior Color: Black
Features:

Cruise Control
DVD Player
Heated Seats
Keyless Entry
Leather Seats
Multi-Zone Climate Control
Power Locks
Power Windows
Power Mirrors
Premium Audio
Premium Wheels
Security System
Steering Wheel Controls
Sunroof
Air Conditioning
Note: Application for Replacement Title, Transfer Form, and smog certificate will be mailed after October 16th. The buyer is fully responsible for all aspects of registration, transfer, taxes, and fees due to DMV. The Bidder shall not bid on behalf of another individual; the Bidder/Purchaser/DMV Registrant must be the same.
| | | |
| --- | --- | --- |
| Bid Date | Bid Amount | Bidder |
| Sep 28, 2023 - 9:48:35 AM | $6,600.00 | iALUCATERO79 |
| Sep 28, 2023 - 9:48:35 AM | $6,550.00 | idr187pc |
| Sep 28, 2023 - 9:48:28 AM | $6,400.00 | idr187pc |
| Sep 28, 2023 - 9:48:28 AM | $6,300.00 | iALUCATERO79 |
| Sep 28, 2023 - 9:48:18 AM | $6,100.00 | idr187pc |
| Sep 28, 2023 - 9:48:18 AM | $6,000.00 | iALUCATERO79 |
| Sep 28, 2023 - 9:48:13 AM | $5,800.00 | idr187pc |
| Sep 28, 2023 - 9:48:13 AM | $5,700.00 | iALUCATERO79 |
| Sep 28, 2023 - 9:47:58 AM | $5,500.00 | idr187pc |
| Sep 28, 2023 - 9:47:58 AM | $5,400.00 | iALUCATERO79 |
| Sep 28, 2023 - 9:47:33 AM | $5,300.00 | idr187pc |
| Sep 28, 2023 - 9:47:33 AM | $5,200.00 | iPMP |
| Sep 26, 2023 - 8:11:15 AM | $5,050.00 | idr187pc |
| Sep 26, 2023 - 6:55:00 AM | $5,000.00 | iThorman |
| Sep 26, 2023 - 6:55:01 AM | $5,000.00 | iSouthpaw77 |
| Sep 26, 2023 - 6:54:41 AM | $4,950.00 | iThorman |
| Sep 26, 2023 - 6:54:41 AM | $4,900.00 | iSouthpaw77 |
| Sep 26, 2023 - 6:54:34 AM | $4,750.00 | iThorman |
| Sep 26, 2023 - 6:54:34 AM | $4,700.00 | iSouthpaw77 |
| Sep 26, 2023 - 6:54:12 AM | $4,650.00 | iThorman |
| Sep 26, 2023 - 6:54:12 AM | $4,600.00 | iSouthpaw77 |
| Sep 26, 2023 - 6:53:58 AM | $4,550.00 | iThorman |
| Sep 26, 2023 - 6:53:58 AM | $4,500.00 | iSouthpaw77 |
| Sep 26, 2023 - 6:53:39 AM | $4,450.00 | iThorman |
| Sep 26, 2023 - 6:53:39 AM | $4,400.00 | iSouthpaw77 |
| Sep 25, 2023 - 10:30:41 PM | $4,350.00 | iThorman |
| Sep 25, 2023 - 10:30:41 PM | $4,300.00 | iJLee4444 |
| Sep 25, 2023 - 3:28:58 PM | $4,100.00 | iThorman |
| Sep 25, 2023 - 3:10:55 PM | $4,050.00 | idregray |
| Sep 25, 2023 - 3:10:39 PM | $4,000.00 | itypeone66 |
| Sep 25, 2023 - 3:10:40 PM | $4,000.00 | idregray |
| Sep 25, 2023 - 3:10:25 PM | $3,550.00 | itypeone66 |
| Sep 25, 2023 - 3:10:25 PM | $3,500.00 | idregray |
| Sep 25, 2023 - 3:04:39 PM | $3,450.00 | itypeone66 |
| Sep 25, 2023 - 3:04:39 PM | $3,400.00 | idregray |
| Sep 25, 2023 - 2:25:06 PM | $3,350.00 | itypeone66 |
| Sep 25, 2023 - 2:25:06 PM | $3,300.00 | igarylum |
| Sep 23, 2023 - 8:01:50 AM | $3,155.00 | itypeone66 |
| Sep 23, 2023 - 8:01:50 AM | $3,105.00 | ijimmyb131 |
| Sep 23, 2023 - 8:01:02 AM | $2,755.00 | itypeone66 |
| Sep 23, 2023 - 8:01:02 AM | $2,705.00 | ijimmyb131 |
| Sep 23, 2023 - 8:00:35 AM | $2,552.00 | itypeone66 |
| Sep 23, 2023 - 8:00:35 AM | $2,502.00 | ijimmyb131 |
| Sep 23, 2023 - 8:00:26 AM | $2,381.00 | itypeone66 |
| Sep 23, 2023 - 8:00:26 AM | $2,331.00 | ijimmyb131 |
| Sep 22, 2023 - 5:11:23 PM | $2,281.00 | itypeone66 |
| Sep 22, 2023 - 5:11:23 PM | $2,231.00 | ijimmyb131 |
| Sep 22, 2023 - 5:03:57 PM | $1,750.00 | ijimmyb131 |
| Sep 22, 2023 - 5:03:57 PM | $1,700.00 | iPriest1992 |
| Sep 22, 2023 - 3:43:54 PM | $1,650.00 | ijimmyb131 |
| Sep 22, 2023 - 3:43:54 PM | $1,600.00 | iPriest1992 |
| Sep 22, 2023 - 2:59:29 PM | $1,550.00 | ijimmyb131 |
| Sep 22, 2023 - 2:59:29 PM | $1,500.00 | isuperwhiz88 |
| Sep 22, 2023 - 2:58:58 PM | $1,416.00 | isuperwhiz88 |
| Sep 22, 2023 - 2:58:58 PM | $1,366.00 | ijimmyb131 |
| Sep 22, 2023 - 2:04:45 PM | $1,151.00 | isuperwhiz88 |
| Sep 22, 2023 - 2:04:45 PM | $1,101.00 | ijimmyb131 |
| Sep 22, 2023 - 11:51:34 AM | $1,010.00 | ijimmyb131 |
| Sep 22, 2023 - 11:51:34 AM | $1,000.00 | isuperwhiz88 |
| Sep 22, 2023 - 11:51:16 AM | $811.00 | isuperwhiz88 |
| Sep 22, 2023 - 11:51:16 AM | $801.00 | ijimmyb131 |
| Sep 22, 2023 - 11:45:47 AM | $360.00 | isuperwhiz88 |
| Sep 22, 2023 - 11:45:47 AM | $350.00 | iLiebenberg |
| Sep 22, 2023 - 11:28:33 AM | $161.07 | isuperwhiz88 |
| Sep 22, 2023 - 11:28:33 AM | $151.07 | iearonp42 |
| Sep 22, 2023 - 10:59:17 AM | $10.00 | iearonp42 |
| Sep 22, 2023 - 10:45:26 AM | $5.00 | iGregmena8 |