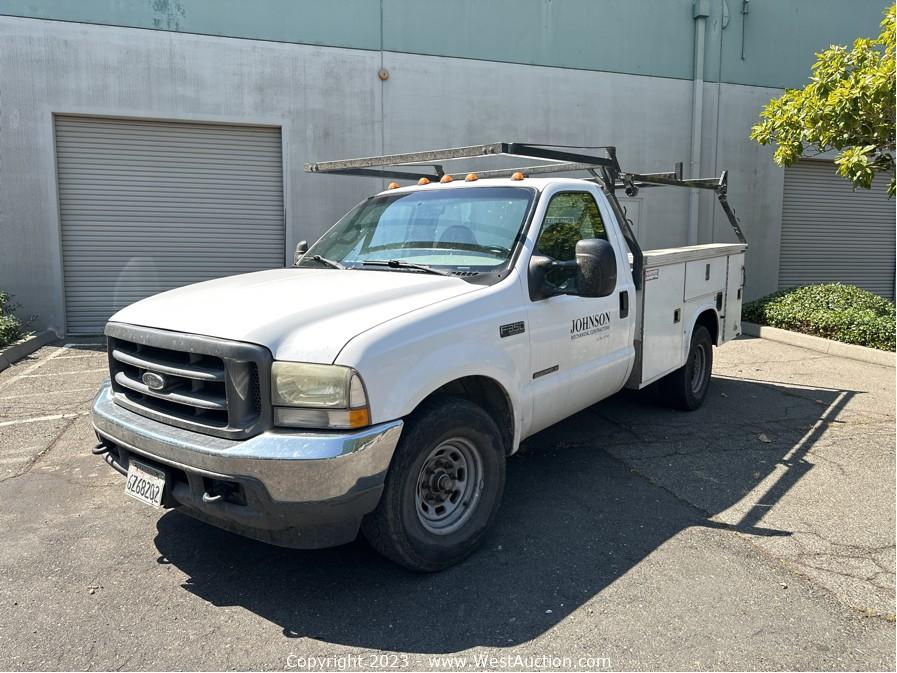 Lot #0001:
2002 Ford F-350 Super Duty Diesel Pickup Truck with New Motor
Bidding is

closed

.
High Bid:
$7,050.00
NA
Bidding Ended:
Thu, Oct 12 10:30:02 am PT
High Bidder:
MadDogC
Bid Increment:
$100.00
Starting Bid:
$5.00
Item Location:

Davis

,

CA

95616

Item has been viewed 1,950 times.

2002 Ford F-350 Super Duty Diesel Pickup Truck with New Motor
Specifications
Year: 2002
Make: Ford
Model: F-350 Super Duty
VIN: 1FDSF34F02ED28740
License: 6Z68202

Registration Expiration: 9/30/2024

Odometer Reads: 364,168 (will increase after smog)
Key: Available
GVWR: 9,700lbs
Drive Type: Rear Wheel Drive
Engine: 7.3L Diesel Power Stroke
Body Style: Truck
Fuel Type: Diesel
Transmission: Automatic
Tire Size: LT265/75R16
Deck Length: 108"
Deck Width: 48"
Wall Height: 20"
Exterior
Exterior Color: White
Doors: Two Door
Interior
Interior Material: Vinyl
Interior Color: Gray
Features: Trailer Hitch, Air Conditioning , Bed Rack, Bed Mounted Tool Boxes
No contents or tools inside the truck are included with this lot. 
Seller states:
On December 8th, 2021, A new motor was installed at 347,000 miles, current motor only has 17,XXX miles on it.
Diesel v8
Photos of new motor invoice at end of photo gallery.
Note: Certificate of Replacement Title, Transfer Form, and smog certificate will be mailed 1-2 weeks following the pickup. The buyer is fully responsible for all aspects of registration, transfer, taxes, and fees due to DMV. The Bidder shall not bid on behalf of another individual; the Bidder/Purchaser/DMV Registrant must be the same.
| | | |
| --- | --- | --- |
| Bid Date | Bid Amount | Bidder |
| Oct 12, 2023 - 10:28:02 AM | $7,050.00 | iMadDogC |
| Oct 12, 2023 - 10:26:23 AM | $6,950.00 | iDebM |
| Oct 12, 2023 - 10:24:24 AM | $6,850.00 | iJimmyHands |
| Oct 12, 2023 - 10:24:24 AM | $6,800.00 | iDebM |
| Oct 12, 2023 - 10:24:09 AM | $6,700.00 | iDebM |
| Oct 12, 2023 - 10:24:09 AM | $6,650.00 | iJimmyHands |
| Oct 12, 2023 - 10:22:16 AM | $6,600.00 | iJimmyHands |
| Oct 12, 2023 - 10:22:16 AM | $6,500.00 | iDebM |
| Oct 12, 2023 - 10:18:46 AM | $6,400.00 | iJimmyHands |
| Oct 12, 2023 - 10:18:29 AM | $6,300.00 | iDebM |
| Oct 12, 2023 - 10:18:29 AM | $6,200.00 | iJimmyHands |
| Oct 12, 2023 - 10:15:45 AM | $6,100.00 | iDebM |
| Oct 12, 2023 - 10:15:29 AM | $6,000.00 | iDcaswell |
| Oct 12, 2023 - 10:15:30 AM | $6,000.00 | iDebM |
| Oct 12, 2023 - 10:04:48 AM | $5,900.00 | iDcaswell |
| Oct 12, 2023 - 10:04:48 AM | $5,800.00 | iDebM |
| Oct 12, 2023 - 9:46:00 AM | $5,700.00 | iDcaswell |
| Oct 12, 2023 - 9:39:21 AM | $5,600.00 | iDebM |
| Oct 12, 2023 - 9:39:01 AM | $5,500.00 | iMadDogC |
| Oct 12, 2023 - 9:39:02 AM | $5,500.00 | iDebM |
| Oct 12, 2023 - 9:23:20 AM | $5,050.00 | iMadDogC |
| Oct 12, 2023 - 9:23:20 AM | $5,000.00 | iDebM |
| Oct 12, 2023 - 9:21:57 AM | $4,850.00 | iDebM |
| Oct 12, 2023 - 9:21:57 AM | $4,800.00 | iMadDogC |
| Oct 12, 2023 - 8:39:14 AM | $4,750.00 | iDebM |
| Oct 12, 2023 - 8:39:14 AM | $4,700.00 | iDcaswell |
| Oct 12, 2023 - 8:39:10 AM | $4,650.00 | iDebM |
| Oct 12, 2023 - 8:39:10 AM | $4,600.00 | iDcaswell |
| Oct 12, 2023 - 8:39:04 AM | $4,550.00 | iDebM |
| Oct 12, 2023 - 8:39:04 AM | $4,500.00 | iDcaswell |
| Oct 12, 2023 - 8:38:59 AM | $4,450.00 | iDebM |
| Oct 12, 2023 - 8:38:59 AM | $4,400.00 | iDcaswell |
| Oct 12, 2023 - 8:37:05 AM | $4,350.00 | iDebM |
| Oct 12, 2023 - 8:37:05 AM | $4,300.00 | iDcaswell |
| Oct 12, 2023 - 8:36:39 AM | $4,050.00 | iDebM |
| Oct 12, 2023 - 8:36:39 AM | $4,000.00 | iDcaswell |
| Oct 12, 2023 - 8:36:18 AM | $3,950.00 | iDebM |
| Oct 12, 2023 - 8:36:18 AM | $3,900.00 | iDcaswell |
| Oct 12, 2023 - 8:36:02 AM | $3,850.00 | iDebM |
| Oct 12, 2023 - 8:36:02 AM | $3,800.00 | iDcaswell |
| Oct 12, 2023 - 8:24:54 AM | $3,750.00 | iDebM |
| Oct 12, 2023 - 8:24:54 AM | $3,700.00 | iJimmyHands |
| Oct 12, 2023 - 8:17:49 AM | $3,500.00 | iJimmyHands |
| Oct 12, 2023 - 8:17:49 AM | $3,450.00 | iTomMelton |
| Oct 12, 2023 - 8:17:36 AM | $3,400.00 | iJimmyHands |
| Oct 12, 2023 - 8:17:36 AM | $3,350.00 | iTomMelton |
| Oct 10, 2023 - 10:09:10 PM | $3,300.00 | iJimmyHands |
| Oct 10, 2023 - 10:09:10 PM | $3,250.00 | iSouthpaw77 |
| Oct 8, 2023 - 12:10:50 PM | $3,050.00 | iSouthpaw77 |
| Oct 8, 2023 - 12:10:36 PM | $3,000.00 | imagnuss73 |
| Oct 8, 2023 - 12:10:37 PM | $3,000.00 | iSouthpaw77 |
| Oct 8, 2023 - 11:25:41 AM | $2,550.00 | imagnuss73 |
| Oct 8, 2023 - 11:25:41 AM | $2,500.00 | iSouthpaw77 |
| Oct 7, 2023 - 7:33:44 PM | $2,350.00 | iSouthpaw77 |
| Oct 7, 2023 - 5:36:57 PM | $2,300.00 | iEagle |
| Oct 7, 2023 - 2:19:11 PM | $2,250.00 | iglassice |
| Oct 7, 2023 - 2:19:11 PM | $2,200.00 | iChuckdpro |
| Oct 7, 2023 - 2:19:09 PM | $2,150.00 | iglassice |
| Oct 7, 2023 - 2:19:09 PM | $2,100.00 | iChuckdpro |
| Oct 7, 2023 - 2:18:47 PM | $2,050.00 | iglassice |
| Oct 7, 2023 - 2:17:33 PM | $2,000.00 | iSouthpaw77 |
| Oct 7, 2023 - 2:17:34 PM | $2,000.00 | iglassice |
| Oct 7, 2023 - 2:16:47 PM | $1,950.00 | iSouthpaw77 |
| Oct 7, 2023 - 2:16:47 PM | $1,900.00 | iglassice |
| Oct 7, 2023 - 6:35:12 AM | $1,840.00 | iSouthpaw77 |
| Oct 7, 2023 - 12:11:45 AM | $1,790.00 | iChuckdpro |
| Oct 7, 2023 - 12:11:42 AM | $1,740.00 | iJimmyHands |
| Oct 7, 2023 - 12:11:42 AM | $1,700.00 | iChuckdpro |
| Oct 7, 2023 - 12:11:37 AM | $1,650.00 | iJimmyHands |
| Oct 7, 2023 - 12:11:37 AM | $1,600.00 | iChuckdpro |
| Oct 6, 2023 - 10:16:31 PM | $1,550.00 | iJimmyHands |
| Oct 6, 2023 - 10:16:31 PM | $1,500.00 | iNorcal/transport |
| Oct 6, 2023 - 10:16:06 PM | $1,170.00 | iNorcal/transport |
| Oct 6, 2023 - 10:16:06 PM | $1,120.00 | iJimmyHands |
| Oct 6, 2023 - 9:30:05 PM | $1,010.00 | iNorcal/transport |
| Oct 6, 2023 - 9:30:05 PM | $1,000.00 | iSouthpaw77 |
| Oct 6, 2023 - 9:29:53 PM | $630.00 | iSouthpaw77 |
| Oct 6, 2023 - 9:29:53 PM | $620.00 | iNorcal/transport |
| Oct 6, 2023 - 7:46:24 PM | $610.00 | iSouthpaw77 |
| Oct 6, 2023 - 7:46:24 PM | $600.00 | iAlim |
| Oct 6, 2023 - 7:46:19 PM | $590.00 | iSouthpaw77 |
| Oct 6, 2023 - 7:46:19 PM | $580.00 | iAlim |
| Oct 6, 2023 - 7:46:11 PM | $570.00 | iSouthpaw77 |
| Oct 6, 2023 - 7:46:11 PM | $560.00 | iAlim |
| Oct 6, 2023 - 7:46:07 PM | $550.00 | iSouthpaw77 |
| Oct 6, 2023 - 7:46:07 PM | $540.00 | iAlim |
| Oct 6, 2023 - 7:46:04 PM | $530.00 | iSouthpaw77 |
| Oct 6, 2023 - 7:46:04 PM | $520.00 | iAlim |
| Oct 6, 2023 - 7:46:00 PM | $510.00 | iSouthpaw77 |
| Oct 6, 2023 - 7:46:00 PM | $500.00 | iAlim |
| Oct 6, 2023 - 7:45:56 PM | $490.00 | iSouthpaw77 |
| Oct 6, 2023 - 7:45:56 PM | $480.00 | iAlim |
| Oct 6, 2023 - 7:45:51 PM | $470.00 | iSouthpaw77 |
| Oct 6, 2023 - 7:45:51 PM | $460.00 | iAlim |
| Oct 6, 2023 - 7:45:47 PM | $450.00 | iSouthpaw77 |
| Oct 6, 2023 - 7:45:47 PM | $440.00 | iAlim |
| Oct 6, 2023 - 7:45:41 PM | $430.00 | iSouthpaw77 |
| Oct 6, 2023 - 7:45:41 PM | $420.00 | iAlim |
| Oct 6, 2023 - 7:45:26 PM | $410.00 | iSouthpaw77 |
| Oct 6, 2023 - 7:45:26 PM | $400.00 | iAlim |
| Oct 6, 2023 - 6:59:58 PM | $370.00 | iSouthpaw77 |
| Oct 6, 2023 - 6:31:39 PM | $360.00 | iRamon408 |
| Oct 6, 2023 - 6:31:39 PM | $350.00 | iSamualadams |
| Oct 6, 2023 - 6:05:39 PM | $65.00 | iSamualadams |
| Oct 6, 2023 - 6:05:39 PM | $60.00 | ipurple65 |
| Oct 6, 2023 - 5:24:58 PM | $55.00 | iSamualadams |
| Oct 6, 2023 - 5:24:58 PM | $50.00 | iHammer6624$ |
| Oct 6, 2023 - 5:19:54 PM | $15.00 | iHammer6624$ |
| Oct 6, 2023 - 5:19:54 PM | $10.00 | iPrime1 |
| Oct 6, 2023 - 2:30:30 PM | $5.00 | iHammer6624$ |