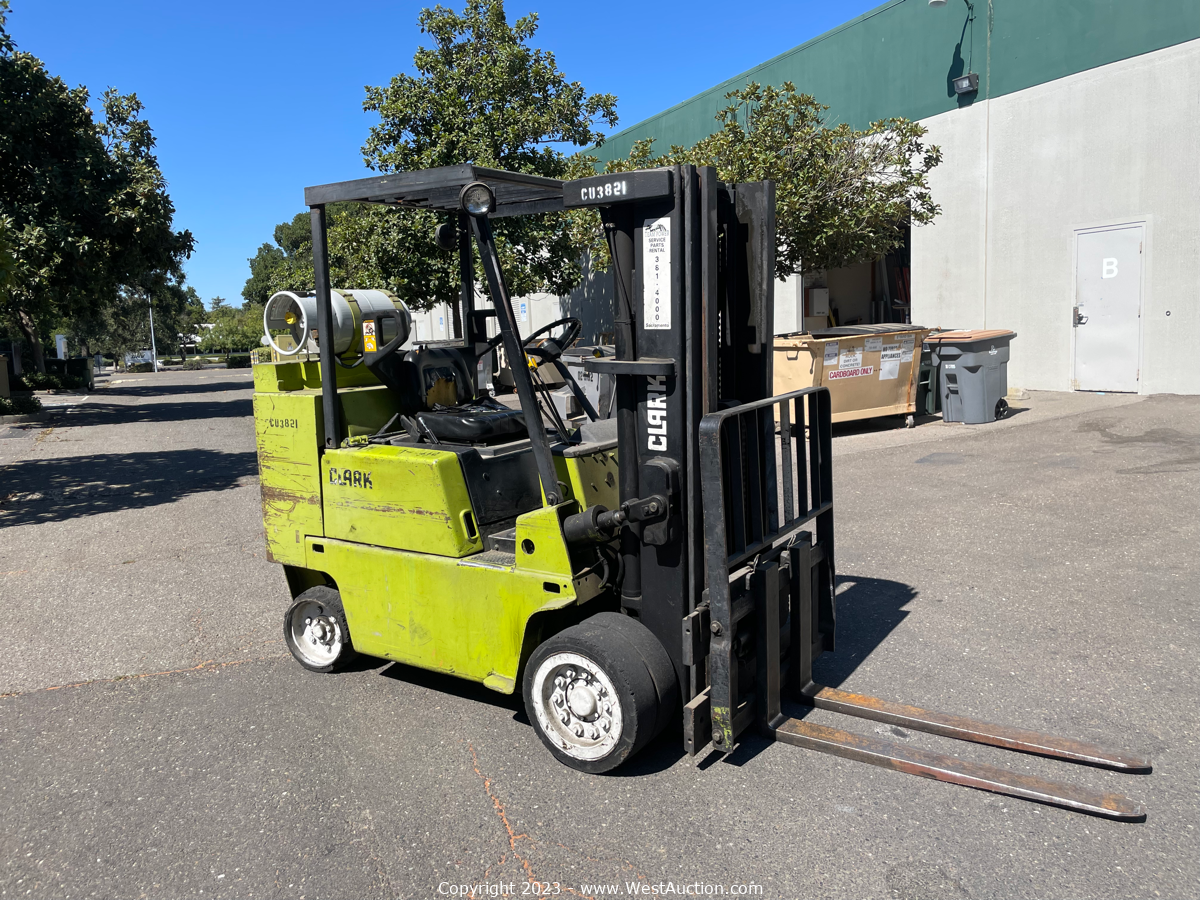 Lot #0107:
Clark 9,000 Lb Capacity Propane Forklift
Bidding is

closed

.
High Bid:
$11,350.00
NA
Bidding Ended:
Thu, Oct 12 10:31:00 am PT
High Bidder:
vegaironworks
Bid Increment:
$100.00
Starting Bid:
$5.00
Item Location:

Davis

,

CA

95616

Item has been viewed 1,581 times.

Clark 9,000 Lb Capacity Propane Forklift 
Note: Forklift has been reserved by Auctioneer and will be available for pickup by appointment only on Thursday, October 19th, 2023 from 2:00 pm - 3:30 pm. This unit will be used during the removal period, therefore the hours below are an approximate guideline.
Manufacturer: Clark
Model: C500-S100
Load Capacity: 9,825 lb
Fuel Type: Propane
Mast Type: Three Stage
Hour Meter Reads: 6223
Serial Number: 685-0067-8425KOF
Tire Type: Solid Rubber
Number of Front Tires: 4
Number of Rear Tires: 2
Fork Length: 50"
Engine: Propane
Transmission: Automatic
Condition: Used
Starts: Yes
Features:
Removal Note: this lot is to be picked up last day of removal.
| | | |
| --- | --- | --- |
| Bid Date | Bid Amount | Bidder |
| Oct 12, 2023 - 10:26:45 AM | $11,350.00 | ivegaironworks |
| Oct 12, 2023 - 10:26:45 AM | $11,250.00 | iDan Shavlik |
| Oct 12, 2023 - 10:25:33 AM | $11,100.00 | iDan Shavlik |
| Oct 12, 2023 - 10:25:33 AM | $11,000.00 | ivegaironworks |
| Oct 12, 2023 - 10:25:21 AM | $10,600.00 | iDan Shavlik |
| Oct 12, 2023 - 10:25:21 AM | $10,500.00 | ivegaironworks |
| Oct 12, 2023 - 10:25:03 AM | $9,900.00 | iDan Shavlik |
| Oct 12, 2023 - 10:25:03 AM | $9,800.00 | ivegaironworks |
| Oct 12, 2023 - 10:24:27 AM | $9,350.00 | ivegaironworks |
| Oct 12, 2023 - 10:24:27 AM | $9,250.00 | iDan Shavlik |
| Oct 12, 2023 - 10:22:29 AM | $8,750.00 | ivegaironworks |
| Oct 12, 2023 - 10:22:29 AM | $8,650.00 | iDan Shavlik |
| Oct 12, 2023 - 10:19:59 AM | $8,350.00 | ivegaironworks |
| Oct 12, 2023 - 10:19:59 AM | $8,250.00 | iDan Shavlik |
| Oct 12, 2023 - 10:19:45 AM | $8,100.00 | iDan Shavlik |
| Oct 12, 2023 - 10:19:45 AM | $8,000.00 | ivegaironworks |
| Oct 12, 2023 - 10:19:38 AM | $7,600.00 | iDan Shavlik |
| Oct 12, 2023 - 10:19:38 AM | $7,500.00 | ivegaironworks |
| Oct 12, 2023 - 10:18:29 AM | $7,100.00 | iDan Shavlik |
| Oct 12, 2023 - 9:08:01 AM | $7,000.00 | ivegaironworks |
| Oct 12, 2023 - 9:08:01 AM | $6,900.00 | ijas.topnotch |
| Oct 12, 2023 - 8:48:56 AM | $6,600.00 | ijas.topnotch |
| Oct 12, 2023 - 8:48:56 AM | $6,500.00 | ivegaironworks |
| Oct 10, 2023 - 12:15:27 AM | $6,150.00 | ivegaironworks |
| Oct 10, 2023 - 12:15:10 AM | $6,050.00 | iRamon408 |
| Oct 10, 2023 - 12:15:10 AM | $6,000.00 | ivegaironworks |
| Oct 9, 2023 - 6:38:12 PM | $5,600.00 | iRamon408 |
| Oct 9, 2023 - 6:38:12 PM | $5,500.00 | ijas.topnotch |
| Oct 9, 2023 - 6:37:28 PM | $5,450.00 | ijas.topnotch |
| Oct 9, 2023 - 6:37:28 PM | $5,350.00 | iRamon408 |
| Oct 9, 2023 - 6:37:25 PM | $5,250.00 | ijas.topnotch |
| Oct 9, 2023 - 6:37:25 PM | $5,150.00 | iRamon408 |
| Oct 9, 2023 - 6:37:19 PM | $5,050.00 | ijas.topnotch |
| Oct 9, 2023 - 6:37:19 PM | $5,000.00 | iRamon408 |
| Oct 9, 2023 - 6:37:15 PM | $4,950.00 | ijas.topnotch |
| Oct 9, 2023 - 6:37:15 PM | $4,900.00 | iRamon408 |
| Oct 9, 2023 - 6:37:12 PM | $4,850.00 | ijas.topnotch |
| Oct 9, 2023 - 6:37:12 PM | $4,800.00 | iRamon408 |
| Oct 9, 2023 - 6:37:09 PM | $4,750.00 | ijas.topnotch |
| Oct 9, 2023 - 6:37:09 PM | $4,700.00 | iRamon408 |
| Oct 9, 2023 - 6:37:05 PM | $4,650.00 | ijas.topnotch |
| Oct 9, 2023 - 6:37:05 PM | $4,600.00 | iRamon408 |
| Oct 9, 2023 - 6:36:57 PM | $4,550.00 | ijas.topnotch |
| Oct 9, 2023 - 6:36:57 PM | $4,500.00 | iRamon408 |
| Oct 9, 2023 - 3:57:57 AM | $4,050.00 | ijas.topnotch |
| Oct 9, 2023 - 3:57:57 AM | $4,000.00 | ivegaironworks |
| Oct 8, 2023 - 8:56:05 AM | $3,850.00 | ivegaironworks |
| Oct 8, 2023 - 8:56:05 AM | $3,800.00 | isupersocket1 |
| Oct 8, 2023 - 3:45:12 AM | $3,650.00 | ivegaironworks |
| Oct 8, 2023 - 3:45:12 AM | $3,600.00 | iSjflores0520 |
| Oct 7, 2023 - 8:59:02 PM | $3,550.00 | iSjflores0520 |
| Oct 7, 2023 - 8:58:57 PM | $3,500.00 | ivegaironworks |
| Oct 7, 2023 - 8:58:58 PM | $3,500.00 | iSjflores0520 |
| Oct 7, 2023 - 8:58:40 PM | $3,250.00 | ivegaironworks |
| Oct 7, 2023 - 8:58:40 PM | $3,200.00 | iSjflores0520 |
| Oct 7, 2023 - 10:24:23 AM | $2,450.00 | ivegaironworks |
| Oct 7, 2023 - 10:24:23 AM | $2,400.00 | ibrian4961 |
| Oct 7, 2023 - 10:24:13 AM | $2,350.00 | ivegaironworks |
| Oct 7, 2023 - 10:24:13 AM | $2,300.00 | ibrian4961 |
| Oct 7, 2023 - 9:02:42 AM | $2,250.00 | ivegaironworks |
| Oct 7, 2023 - 9:02:42 AM | $2,200.00 | iWeld pro |
| Oct 7, 2023 - 7:50:40 AM | $2,100.00 | iWeld pro |
| Oct 7, 2023 - 12:12:45 AM | $2,050.00 | iChuckdpro |
| Oct 7, 2023 - 12:12:42 AM | $2,000.00 | iNorcal/transport |
| Oct 7, 2023 - 12:12:43 AM | $2,000.00 | iChuckdpro |
| Oct 7, 2023 - 12:12:38 AM | $1,950.00 | iNorcal/transport |
| Oct 7, 2023 - 12:12:38 AM | $1,900.00 | iChuckdpro |
| Oct 7, 2023 - 12:12:34 AM | $1,850.00 | iNorcal/transport |
| Oct 7, 2023 - 12:12:34 AM | $1,800.00 | iChuckdpro |
| Oct 7, 2023 - 12:12:29 AM | $1,750.00 | iNorcal/transport |
| Oct 7, 2023 - 12:12:29 AM | $1,700.00 | iChuckdpro |
| Oct 6, 2023 - 9:39:00 PM | $1,650.00 | iNorcal/transport |
| Oct 6, 2023 - 9:39:00 PM | $1,600.00 | iPrime1 |
| Oct 6, 2023 - 9:30:41 PM | $1,550.00 | iNorcal/transport |
| Oct 6, 2023 - 9:30:41 PM | $1,500.00 | iTHC Mechanical Inc |
| Oct 6, 2023 - 7:54:17 PM | $1,010.00 | iTHC Mechanical Inc |
| Oct 6, 2023 - 7:54:17 PM | $1,000.00 | iRamon408 |
| Oct 6, 2023 - 7:54:01 PM | $950.00 | iRamon408 |
| Oct 6, 2023 - 7:54:01 PM | $940.00 | iTHC Mechanical Inc |
| Oct 6, 2023 - 7:53:54 PM | $930.00 | iRamon408 |
| Oct 6, 2023 - 7:53:54 PM | $920.00 | iTHC Mechanical Inc |
| Oct 6, 2023 - 7:31:39 PM | $910.00 | iRamon408 |
| Oct 6, 2023 - 7:31:39 PM | $900.00 | ikelcotools |
| Oct 6, 2023 - 7:31:14 PM | $720.00 | iRamon408 |
| Oct 6, 2023 - 7:31:14 PM | $710.00 | ikelcotools |
| Oct 6, 2023 - 6:32:03 PM | $510.00 | iRamon408 |
| Oct 6, 2023 - 6:32:03 PM | $500.00 | iFlying hammer |
| Oct 6, 2023 - 6:21:22 PM | $260.00 | iFlying hammer |
| Oct 6, 2023 - 6:21:22 PM | $250.00 | iPrime1 |
| Oct 6, 2023 - 5:56:03 PM | $20.00 | iPrime1 |
| Oct 6, 2023 - 5:41:06 PM | $15.00 | iPhoenixRising |
| Oct 6, 2023 - 5:40:59 PM | $10.00 | iPrime1 |
| Oct 6, 2023 - 5:41:00 PM | $10.00 | iPhoenixRising |
| Oct 6, 2023 - 5:20:57 PM | $5.00 | iPrime1 |