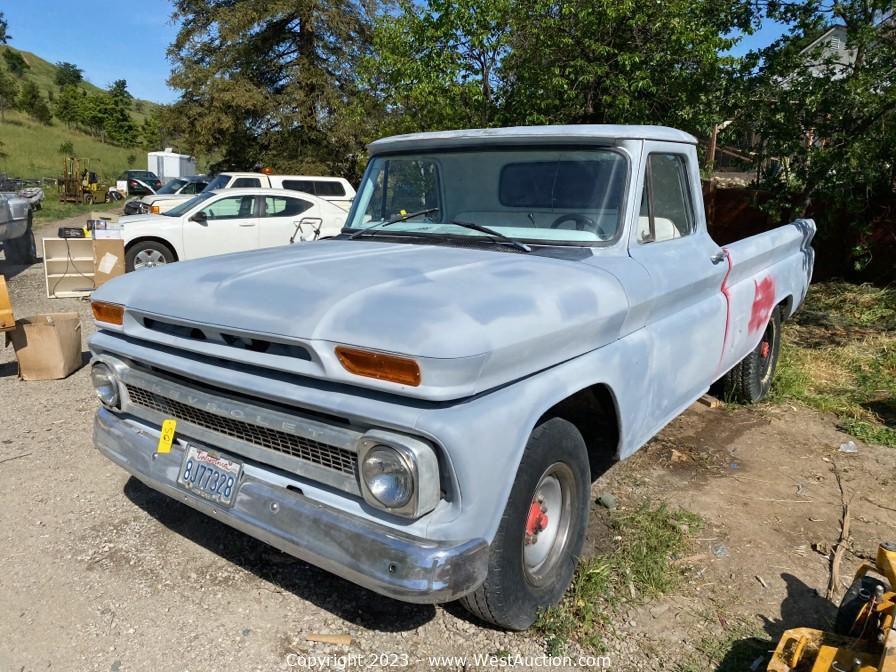 1966 Chevrolet C10/C20 Pickup
Bidding is

closed

.
High Bid:
$4,100.00
NA
Bidding Ended:
Tue, Jun 6 10:00:00 am PT
High Bidder:
YOLO
Bid Increment:
$50.00
Starting Bid:
$5.00
Item Location:

39 Monterey St

,

Hollister

,

CA

95023

Item has been viewed 3,056 times.

ASK ABOUT THIS ITEM

1966 Chevrolet C10 Pickup
Specifications
Year: 1966
Make: Chevrolet
Model: C10/C20
VIN: 6Z181327
License: 8J77328

Registration Expiration: 10/31/2009 Planned Non-Op

Odometer Reads: 51,994
Key: Available
GVWR: 7,500 lb
Drive Type: Rear Wheel Drive
Engine: 350
Body Style: Truck
Fuel Type: Gasoline
Transmission: Automatic
Tire Size: LT235/85R16
Deck Length: 96"
Deck Width: 72"
Wall Height: 19"
Exterior
Exterior Color: Other
Doors: Two Door
Interior
Interior Material: Vinyl
Interior Color: Beige
Note: Certificate of Title and Transfer Form will be mailed 4-5 weeks following the close of the auction. The Bidder shall not bid on behalf of another individual, the Bidder/Purchaser/DMV Registrant must be the same. The Buyer is fully responsible for all aspects of registration, transfer, taxes, and fees due to DMV.
| | | |
| --- | --- | --- |
| Bid Date | Bid Amount | Bidder |
| Jun 6, 2023 - 9:55:43 AM | $4,100.00 | iYOLO |
| Jun 3, 2023 - 2:53:04 PM | $4,050.00 | icoastsupply |
| Jun 2, 2023 - 4:31:36 PM | $4,000.00 | iJCurnutt |
| Jun 2, 2023 - 4:31:37 PM | $4,000.00 | icoastsupply |
| Jun 2, 2023 - 4:31:24 PM | $3,900.00 | iJCurnutt |
| Jun 2, 2023 - 4:31:24 PM | $3,850.00 | icoastsupply |
| Jun 2, 2023 - 4:28:43 PM | $3,650.00 | iJCurnutt |
| Jun 2, 2023 - 4:28:43 PM | $3,600.00 | iFunCar49 |
| Jun 2, 2023 - 4:28:29 PM | $2,200.00 | iJCurnutt |
| Jun 2, 2023 - 4:28:29 PM | $2,150.00 | iFunCar49 |
| Jun 2, 2023 - 4:28:01 PM | $2,100.00 | iJCurnutt |
| Jun 2, 2023 - 4:27:47 PM | $2,050.00 | ikgilbert |
| Jun 2, 2023 - 4:27:38 PM | $2,000.00 | iJCurnutt |
| Jun 2, 2023 - 4:27:39 PM | $2,000.00 | ikgilbert |
| Jun 2, 2023 - 4:27:35 PM | $1,950.00 | iJCurnutt |
| Jun 2, 2023 - 4:27:35 PM | $1,900.00 | ikgilbert |
| Jun 2, 2023 - 4:27:29 PM | $1,850.00 | iJCurnutt |
| Jun 2, 2023 - 4:27:29 PM | $1,800.00 | ikgilbert |
| Jun 2, 2023 - 4:27:21 PM | $1,750.00 | iJCurnutt |
| Jun 2, 2023 - 4:27:21 PM | $1,700.00 | ikgilbert |
| Jun 2, 2023 - 4:24:31 PM | $1,650.00 | iJCurnutt |
| Jun 2, 2023 - 4:24:31 PM | $1,600.00 | iseniorcruz |
| Jun 2, 2023 - 4:23:51 PM | $1,545.00 | iseniorcruz |
| Jun 2, 2023 - 4:23:51 PM | $1,495.00 | iFunCar49 |
| Jun 2, 2023 - 4:23:24 PM | $680.00 | iseniorcruz |
| Jun 2, 2023 - 4:23:24 PM | $670.00 | iFunCar49 |
| Jun 2, 2023 - 4:21:12 PM | $660.00 | iseniorcruz |
| Jun 2, 2023 - 4:21:12 PM | $650.00 | iJCurnutt |
| Jun 2, 2023 - 4:16:56 PM | $310.00 | iJCurnutt |
| Jun 2, 2023 - 4:16:56 PM | $300.00 | idkauto3510 |
| Jun 2, 2023 - 4:12:02 PM | $105.00 | idkauto3510 |
| Jun 2, 2023 - 4:12:02 PM | $100.00 | iLiebenberg |
| Jun 2, 2023 - 3:41:35 PM | $5.00 | iLiebenberg |