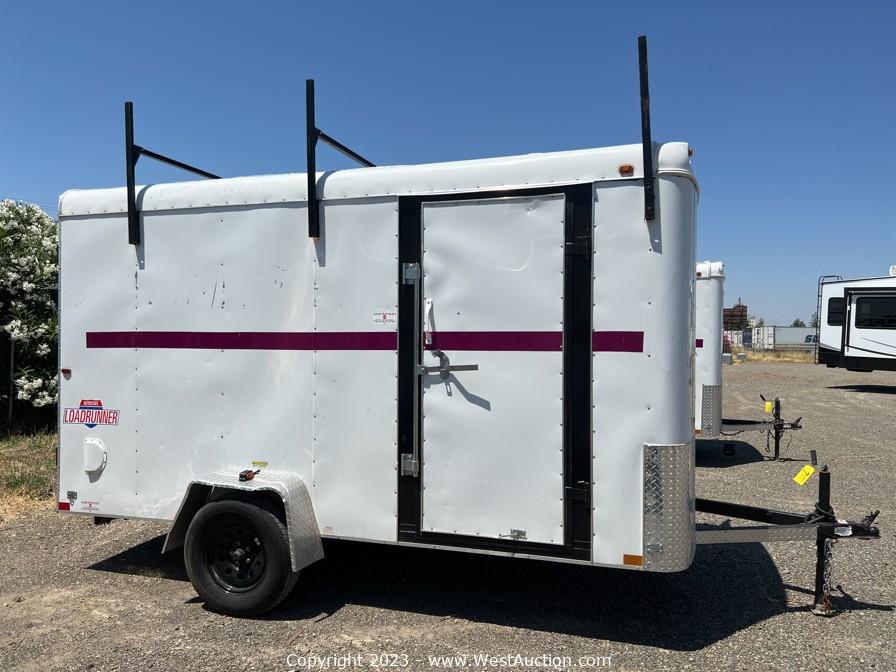 Lot #0215:
2021 Interstate LoadRunner 12' Enclosed Cargo Trailer
Bidding is

closed

.
High Bid:
$3,100.00
NA
Bidding Ended:
Thu, Oct 19 11:30:00 am PT
High Bidder:
steviewayne
Bid Increment:
$50.00
Starting Bid:
$5.00
Item Location:

Woodland

,

CA

95776

Item has been viewed 1,330 times.

2021 Interstate LoadRunner 12' Enclosed Cargo Trailer
Trailer Details
Year: 2021
Make: Interstate Kingman
Model: LoadRunner
VIN: 4RALS1213MK078511
License: 4UC1660

Expiration Date: 6/30/2026

Gross Vehicle Weight Rating (GVWR): 2,990 lbs
Trailer Type: Enclosed
Dimensions
Overall Length: 204"
Overall Width: 92"
Overall Height: 117"
Deck Length: 144"
Deck Width: 72"
Side Height: 30"
Width Between Fenders: 72"
Axles, Brakes, and Tires
Empty Weight: 3500
Suspension: Leaf Spring
Number of Axles: 1
Brake Type: None
Number of Wheels: 2
Tire Size: 205/75R15
Electric Plug Type: 4-Way Flat
Hitch: 2" Ball
Square conduit NOT included
Note: The trailer is registered in California, but no title has been issued. Buyer will receive a Bill of Sale and Statement of Facts 1-2 weeks following pickup. The Buyer is fully responsible for any and all inspections, registration transfers, taxes, and fees due to DMV. It will be the Buyer's responsibility to apply for a title. 
| | | |
| --- | --- | --- |
| Bid Date | Bid Amount | Bidder |
| Oct 19, 2023 - 9:06:26 AM | $3,100.00 | isteviewayne |
| Oct 19, 2023 - 9:06:26 AM | $3,050.00 | igumshoe77 |
| Oct 19, 2023 - 8:53:46 AM | $3,000.00 | isteviewayne |
| Oct 19, 2023 - 8:53:46 AM | $2,950.00 | icherryblossoms |
| Oct 19, 2023 - 8:27:38 AM | $2,900.00 | isteviewayne |
| Oct 19, 2023 - 8:27:38 AM | $2,850.00 | igumshoe77 |
| Oct 19, 2023 - 8:22:55 AM | $2,800.00 | isteviewayne |
| Oct 19, 2023 - 8:22:55 AM | $2,750.00 | icherryblossoms |
| Oct 19, 2023 - 7:56:25 AM | $2,700.00 | isteviewayne |
| Oct 19, 2023 - 7:56:25 AM | $2,650.00 | igumshoe77 |
| Oct 19, 2023 - 7:51:58 AM | $2,600.00 | isteviewayne |
| Oct 19, 2023 - 7:51:58 AM | $2,550.00 | icherryblossoms |
| Oct 17, 2023 - 4:56:03 PM | $2,500.00 | isteviewayne |
| Oct 17, 2023 - 4:56:03 PM | $2,450.00 | iMDCONTRACTOR |
| Oct 14, 2023 - 12:53:36 PM | $2,150.00 | isteviewayne |
| Oct 14, 2023 - 12:53:36 PM | $2,100.00 | icherryblossoms |
| Oct 14, 2023 - 12:53:26 PM | $1,850.00 | isteviewayne |
| Oct 14, 2023 - 12:53:26 PM | $1,800.00 | icherryblossoms |
| Oct 14, 2023 - 12:53:15 PM | $1,250.00 | isteviewayne |
| Oct 14, 2023 - 12:53:15 PM | $1,200.00 | icherryblossoms |
| Oct 14, 2023 - 12:52:53 PM | $1,110.00 | isteviewayne |
| Oct 14, 2023 - 12:52:53 PM | $1,060.00 | icherryblossoms |
| Oct 14, 2023 - 9:26:12 AM | $1,010.00 | isteviewayne |
| Oct 14, 2023 - 9:26:12 AM | $1,000.00 | iJgraham5104 |
| Oct 14, 2023 - 7:17:21 AM | $220.00 | iJgraham5104 |
| Oct 13, 2023 - 7:29:23 PM | $210.00 | iMaceton123 |
| Oct 13, 2023 - 7:29:07 PM | $200.00 | iAugie42 |
| Oct 13, 2023 - 7:29:08 PM | $200.00 | iMaceton123 |
| Oct 13, 2023 - 6:55:54 PM | $155.00 | iAugie42 |
| Oct 13, 2023 - 6:55:54 PM | $145.00 | imarc1 |
| Oct 13, 2023 - 6:10:45 PM | $130.00 | iAugie42 |
| Oct 13, 2023 - 6:10:45 PM | $120.00 | iPriest1992 |
| Oct 13, 2023 - 5:42:58 PM | $105.00 | iAugie42 |
| Oct 13, 2023 - 5:42:46 PM | $100.00 | iMaceton123 |
| Oct 13, 2023 - 5:42:47 PM | $100.00 | iAugie42 |
| Oct 13, 2023 - 5:42:25 PM | $75.00 | iMaceton123 |
| Oct 13, 2023 - 5:42:25 PM | $70.00 | iAugie42 |
| Oct 13, 2023 - 3:53:54 PM | $60.00 | iMaceton123 |
| Oct 13, 2023 - 3:22:46 PM | $55.00 | iSELF-RELIANT |
| Oct 13, 2023 - 3:22:46 PM | $50.00 | iMaceton123 |
| Oct 13, 2023 - 3:21:27 PM | $45.00 | iMaceton123 |
| Oct 13, 2023 - 3:21:27 PM | $40.00 | iSELF-RELIANT |
| Oct 13, 2023 - 2:58:36 PM | $20.00 | iMaceton123 |
| Oct 13, 2023 - 2:58:36 PM | $15.00 | iSELF-RELIANT |
| Oct 13, 2023 - 2:46:19 PM | $5.00 | iMaceton123 |