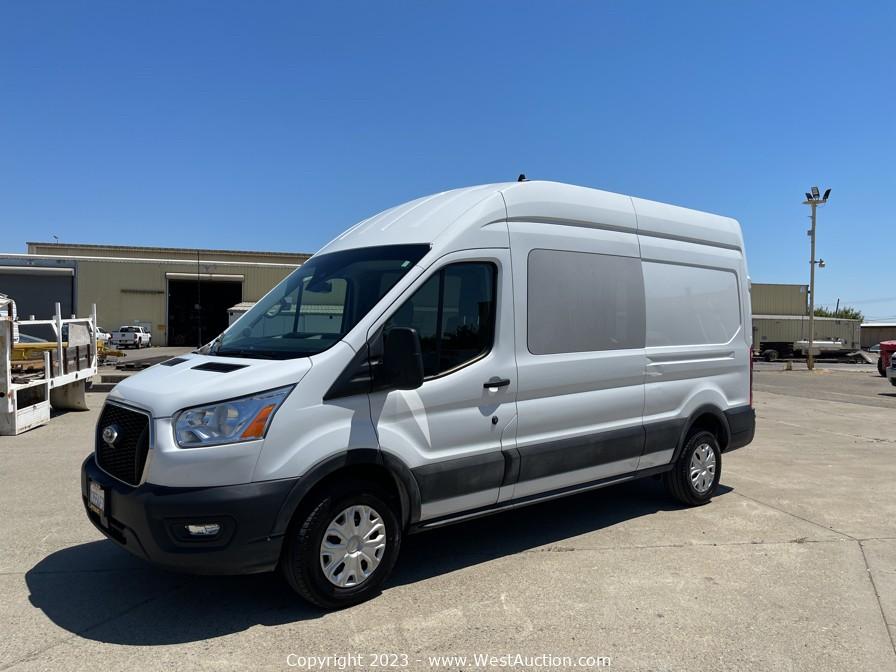 Bankruptcy Auction of 2021 Ford Transit Van
Bidding is

closed

.
High Bid:
$38,600.00
NA
Bidding Ended:
Thu, Sep 14 10:06:11 am PT
High Bidder:
purple65
Bid Increment:
$100.00
Starting Bid:
$5.00
Item Location:

Woodland

,

CA

95776

Item has been viewed 5,685 times.

ASK ABOUT THIS ITEM

Bankruptcy Auction of 2021 Ford Transit Van- No Buyers Premium!
Specifications
Year: 2021
Make: Ford
Model: Transit
VIN: 1FTBR1V89MKA03282
License: 03554F3

Registration Expiration: 4/30/2024

Odometer Reads: 19,159
Key: Available
GVWR: 9,070 lbs.
Drive Type: Rear Wheel Drive
Engine: 3.5L V6
Body Style: Cargo Van
Fuel Type: Gasoline
Transmission: 6-Speed Automatic
Tire Size: 235/65R16 121/119R
Exterior
Exterior Color: White
Doors: Five Door
Interior
Interior Material: Cloth
Interior Color: Black
Note: Certificate of Title, Transfer Form and Court Order will be mailed 3-4 weeks following the pickup. The Bidder shall not bid on behalf of another individual; the Bidder/Purchaser/DMV Registrant must be the same. The Buyer is fully responsible for all aspects of smog, registration, transfer, taxes, and fees due to the DMV. This vehicle is being sold on behalf of the US Bankruptcy Court.
| | | |
| --- | --- | --- |
| Bid Date | Bid Amount | Bidder |
| Sep 14, 2023 - 10:04:11 AM | $38,600.00 | ipurple65 |
| Sep 14, 2023 - 10:04:11 AM | $38,575.00 | iAJ FARMS |
| Sep 14, 2023 - 10:03:28 AM | $38,475.00 | ipurple65 |
| Sep 14, 2023 - 10:03:28 AM | $38,375.00 | iAJ FARMS |
| Sep 14, 2023 - 10:02:09 AM | $38,275.00 | ipurple65 |
| Sep 14, 2023 - 10:01:34 AM | $38,175.00 | iAJ FARMS |
| Sep 14, 2023 - 10:01:34 AM | $38,100.00 | ipurple65 |
| Sep 14, 2023 - 10:01:07 AM | $38,075.00 | ipurple65 |
| Sep 14, 2023 - 10:01:07 AM | $37,975.00 | iAJ FARMS |
| Sep 14, 2023 - 10:00:42 AM | $37,675.00 | ipurple65 |
| Sep 14, 2023 - 10:00:14 AM | $37,575.00 | iAJ FARMS |
| Sep 14, 2023 - 10:00:14 AM | $37,500.00 | idonavan |
| Sep 14, 2023 - 10:00:07 AM | $37,200.00 | idonavan |
| Sep 14, 2023 - 10:00:07 AM | $37,100.00 | ipurple65 |
| Sep 14, 2023 - 9:59:44 AM | $37,000.00 | idonavan |
| Sep 14, 2023 - 9:59:44 AM | $36,975.00 | iAJ FARMS |
| Sep 14, 2023 - 9:59:31 AM | $36,675.00 | idonavan |
| Sep 14, 2023 - 9:59:31 AM | $36,575.00 | iAJ FARMS |
| Sep 14, 2023 - 9:59:21 AM | $35,675.00 | idonavan |
| Sep 14, 2023 - 9:59:21 AM | $35,575.00 | iAJ FARMS |
| Sep 14, 2023 - 9:59:04 AM | $35,100.00 | iAJ FARMS |
| Sep 14, 2023 - 9:59:04 AM | $35,000.00 | idonavan |
| Sep 14, 2023 - 9:58:51 AM | $34,600.00 | idonavan |
| Sep 14, 2023 - 9:58:51 AM | $34,500.00 | iAJ FARMS |
| Sep 14, 2023 - 9:58:43 AM | $33,675.00 | idonavan |
| Sep 14, 2023 - 9:58:43 AM | $33,575.00 | iAJ FARMS |
| Sep 14, 2023 - 9:58:28 AM | $33,250.00 | idonavan |
| Sep 14, 2023 - 9:58:28 AM | $33,150.00 | iAJ FARMS |
| Sep 14, 2023 - 9:58:05 AM | $32,600.00 | idonavan |
| Sep 14, 2023 - 9:58:05 AM | $32,500.00 | iAJ FARMS |
| Sep 14, 2023 - 9:57:50 AM | $32,075.00 | idonavan |
| Sep 14, 2023 - 9:57:50 AM | $31,975.00 | iAJ FARMS |
| Sep 14, 2023 - 9:57:35 AM | $31,750.00 | idonavan |
| Sep 14, 2023 - 9:57:35 AM | $31,650.00 | iAJ FARMS |
| Sep 14, 2023 - 9:57:16 AM | $31,400.00 | iAJ FARMS |
| Sep 14, 2023 - 9:57:16 AM | $31,300.00 | idonavan |
| Sep 14, 2023 - 9:56:42 AM | $31,200.00 | iAJ FARMS |
| Sep 14, 2023 - 9:56:42 AM | $31,100.00 | ipurple65 |
| Sep 14, 2023 - 9:56:36 AM | $30,900.00 | ipurple65 |
| Sep 14, 2023 - 9:56:36 AM | $30,800.00 | iortizx97 |
| Sep 14, 2023 - 9:55:49 AM | $30,600.00 | ipurple65 |
| Sep 14, 2023 - 9:55:49 AM | $30,500.00 | ijmautoland |
| Sep 14, 2023 - 9:55:09 AM | $30,300.00 | ipurple65 |
| Sep 14, 2023 - 9:53:58 AM | $30,200.00 | irnrdozer |
| Sep 14, 2023 - 9:51:36 AM | $30,100.00 | ipurple65 |
| Sep 14, 2023 - 9:51:36 AM | $30,000.00 | ijmautoland |
| Sep 14, 2023 - 9:51:20 AM | $29,600.00 | ipurple65 |
| Sep 14, 2023 - 9:51:20 AM | $29,500.00 | ijmautoland |
| Sep 14, 2023 - 9:50:52 AM | $29,100.00 | ipurple65 |
| Sep 14, 2023 - 9:50:52 AM | $29,000.00 | ijmautoland |
| Sep 14, 2023 - 9:50:31 AM | $28,900.00 | ipurple65 |
| Sep 14, 2023 - 9:49:37 AM | $28,800.00 | irnrdozer |
| Sep 14, 2023 - 9:49:33 AM | $28,700.00 | ipurple65 |
| Sep 14, 2023 - 9:49:33 AM | $28,600.00 | irnrdozer |
| Sep 14, 2023 - 9:49:28 AM | $28,500.00 | ipurple65 |
| Sep 14, 2023 - 9:49:28 AM | $28,400.00 | irnrdozer |
| Sep 14, 2023 - 9:49:17 AM | $28,300.00 | ipurple65 |
| Sep 14, 2023 - 9:45:56 AM | $28,200.00 | iAJ FARMS |
| Sep 14, 2023 - 9:42:17 AM | $28,100.00 | irnrdozer |
| Sep 14, 2023 - 9:42:12 AM | $28,000.00 | iortizx97 |
| Sep 14, 2023 - 9:42:13 AM | $28,000.00 | irnrdozer |
| Sep 14, 2023 - 9:16:03 AM | $27,900.00 | iortizx97 |
| Sep 14, 2023 - 8:54:03 AM | $27,800.00 | isaki0303 |
| Sep 14, 2023 - 8:40:07 AM | $27,700.00 | irnrdozer |
| Sep 14, 2023 - 8:34:44 AM | $27,600.00 | isaki0303 |
| Sep 14, 2023 - 8:34:34 AM | $27,500.00 | irnrdozer |
| Sep 14, 2023 - 8:34:34 AM | $27,400.00 | isaki0303 |
| Sep 14, 2023 - 8:34:14 AM | $27,300.00 | irnrdozer |
| Sep 14, 2023 - 8:34:14 AM | $27,200.00 | isaki0303 |
| Sep 14, 2023 - 8:33:51 AM | $27,100.00 | irnrdozer |
| Sep 14, 2023 - 8:33:51 AM | $27,000.00 | isaki0303 |
| Sep 14, 2023 - 8:33:38 AM | $26,900.00 | irnrdozer |
| Sep 14, 2023 - 8:33:38 AM | $26,800.00 | isaki0303 |
| Sep 14, 2023 - 8:33:07 AM | $26,700.00 | irnrdozer |
| Sep 14, 2023 - 8:33:07 AM | $26,600.00 | isaki0303 |
| Sep 14, 2023 - 8:32:56 AM | $26,500.00 | irnrdozer |
| Sep 14, 2023 - 8:32:56 AM | $26,400.00 | isaki0303 |
| Sep 14, 2023 - 8:32:39 AM | $26,300.00 | irnrdozer |
| Sep 14, 2023 - 8:32:39 AM | $26,200.00 | isaki0303 |
| Sep 14, 2023 - 8:29:59 AM | $26,100.00 | irnrdozer |
| Sep 14, 2023 - 8:29:59 AM | $26,000.00 | isaki0303 |
| Sep 14, 2023 - 8:29:43 AM | $25,900.00 | irnrdozer |
| Sep 14, 2023 - 8:29:43 AM | $25,800.00 | isaki0303 |
| Sep 14, 2023 - 8:29:08 AM | $25,700.00 | irnrdozer |
| Sep 14, 2023 - 8:29:08 AM | $25,600.00 | isaki0303 |
| Sep 14, 2023 - 8:28:47 AM | $25,500.00 | irnrdozer |
| Sep 14, 2023 - 8:28:47 AM | $25,400.00 | isaki0303 |
| Sep 14, 2023 - 8:28:29 AM | $25,300.00 | irnrdozer |
| Sep 14, 2023 - 8:28:29 AM | $25,200.00 | isaki0303 |
| Sep 14, 2023 - 8:05:32 AM | $25,100.00 | irnrdozer |
| Sep 14, 2023 - 8:05:32 AM | $25,000.00 | iFred1987 |
| Sep 14, 2023 - 8:05:11 AM | $24,156.00 | iFred1987 |
| Sep 14, 2023 - 8:05:11 AM | $24,056.00 | irnrdozer |
| Sep 14, 2023 - 7:17:51 AM | $23,956.00 | iFred1987 |
| Sep 14, 2023 - 7:17:51 AM | $23,856.00 | iAJ FARMS |
| Sep 13, 2023 - 6:35:39 PM | $23,700.00 | iAJ FARMS |
| Sep 12, 2023 - 5:51:24 PM | $23,600.00 | irnrdozer |
| Sep 12, 2023 - 11:58:57 AM | $23,500.00 | iOmarDarius |
| Sep 12, 2023 - 11:58:57 AM | $23,400.00 | iortizx97 |
| Sep 12, 2023 - 10:04:40 AM | $23,300.00 | iortizx97 |
| Sep 11, 2023 - 7:01:46 PM | $23,200.00 | irnrdozer |
| Sep 11, 2023 - 7:01:46 PM | $23,102.00 | iAJ FARMS |
| Sep 11, 2023 - 6:14:50 PM | $23,100.00 | iAJ FARMS |
| Sep 11, 2023 - 6:14:50 PM | $23,000.00 | irnrdozer |
| Sep 11, 2023 - 6:14:42 PM | $22,691.00 | irnrdozer |
| Sep 11, 2023 - 6:14:42 PM | $22,591.00 | iAJ FARMS |
| Sep 11, 2023 - 6:14:30 PM | $22,036.00 | irnrdozer |
| Sep 11, 2023 - 6:14:30 PM | $21,936.00 | iAJ FARMS |
| Sep 11, 2023 - 6:14:17 PM | $21,600.00 | irnrdozer |
| Sep 11, 2023 - 6:14:17 PM | $21,500.00 | iAJ FARMS |
| Sep 11, 2023 - 6:14:04 PM | $20,600.00 | irnrdozer |
| Sep 11, 2023 - 6:14:04 PM | $20,500.00 | iAJ FARMS |
| Sep 10, 2023 - 9:52:48 AM | $20,100.00 | irnrdozer |
| Sep 10, 2023 - 9:52:48 AM | $20,000.00 | iOverBidder |
| Sep 10, 2023 - 9:52:40 AM | $18,300.00 | irnrdozer |
| Sep 10, 2023 - 9:52:40 AM | $18,200.00 | iOverBidder |
| Sep 10, 2023 - 1:19:27 AM | $18,100.00 | irnrdozer |
| Sep 10, 2023 - 1:19:27 AM | $18,000.00 | irhfiii |
| Sep 9, 2023 - 11:45:43 AM | $17,800.00 | irnrdozer |
| Sep 9, 2023 - 11:45:43 AM | $17,700.00 | iOverBidder |
| Sep 9, 2023 - 11:35:30 AM | $17,600.00 | irnrdozer |
| Sep 9, 2023 - 11:35:30 AM | $17,500.00 | iOverBidder |
| Sep 9, 2023 - 9:40:15 AM | $15,900.00 | iOverBidder |
| Sep 9, 2023 - 9:40:15 AM | $15,800.00 | i57608789 |
| Sep 9, 2023 - 9:27:00 AM | $15,100.00 | i57608789 |
| Sep 9, 2023 - 9:26:34 AM | $15,000.00 | iOverBidder |
| Sep 9, 2023 - 9:26:35 AM | $15,000.00 | i57608789 |
| Sep 9, 2023 - 9:26:07 AM | $14,800.00 | iOverBidder |
| Sep 9, 2023 - 9:26:07 AM | $14,700.00 | i57608789 |
| Sep 9, 2023 - 9:25:43 AM | $14,100.00 | iOverBidder |
| Sep 9, 2023 - 9:25:43 AM | $14,000.00 | i57608789 |
| Sep 9, 2023 - 9:23:37 AM | $13,700.00 | iOverBidder |
| Sep 9, 2023 - 9:23:37 AM | $13,600.00 | i57608789 |
| Sep 9, 2023 - 9:22:58 AM | $12,600.00 | iOverBidder |
| Sep 9, 2023 - 9:22:58 AM | $12,500.00 | i57608789 |
| Sep 9, 2023 - 9:13:44 AM | $11,600.00 | iOverBidder |
| Sep 9, 2023 - 9:13:44 AM | $11,500.00 | irnrdozer |
| Sep 9, 2023 - 6:38:34 AM | $11,101.00 | irnrdozer |
| Sep 9, 2023 - 6:38:34 AM | $11,001.00 | igeminishele |
| Sep 8, 2023 - 10:49:57 PM | $10,800.00 | igeminishele |
| Sep 8, 2023 - 10:49:57 PM | $10,700.00 | isaloname |
| Sep 8, 2023 - 9:14:05 PM | $10,600.00 | igeminishele |
| Sep 8, 2023 - 9:14:05 PM | $10,500.00 | irnrdozer |
| Sep 8, 2023 - 8:51:12 PM | $10,100.00 | irnrdozer |
| Sep 8, 2023 - 8:51:12 PM | $10,000.00 | iCalinonstop |
| Sep 8, 2023 - 8:50:39 PM | $8,700.00 | iCalinonstop |
| Sep 8, 2023 - 8:50:39 PM | $8,600.00 | irnrdozer |
| Sep 8, 2023 - 8:50:35 PM | $8,500.00 | iCalinonstop |
| Sep 8, 2023 - 8:50:35 PM | $8,400.00 | irnrdozer |
| Sep 8, 2023 - 8:50:27 PM | $8,300.00 | iCalinonstop |
| Sep 8, 2023 - 8:50:27 PM | $8,200.00 | irnrdozer |
| Sep 8, 2023 - 4:09:50 PM | $8,100.00 | iCalinonstop |
| Sep 8, 2023 - 4:09:50 PM | $8,000.00 | irnrconsultants |
| Sep 8, 2023 - 4:09:41 PM | $7,800.00 | iCalinonstop |
| Sep 8, 2023 - 4:09:41 PM | $7,700.00 | irnrconsultants |
| Sep 8, 2023 - 3:54:05 PM | $7,600.00 | iCalinonstop |
| Sep 8, 2023 - 3:54:05 PM | $7,500.00 | irnrdozer |
| Sep 8, 2023 - 11:23:30 AM | $7,411.00 | irnrdozer |
| Sep 8, 2023 - 11:23:30 AM | $7,311.00 | ikopped |
| Sep 8, 2023 - 10:17:00 AM | $5,050.00 | irnrdozer |
| Sep 8, 2023 - 10:10:37 AM | $5,000.00 | iCraftman5437 |
| Sep 8, 2023 - 10:10:38 AM | $5,000.00 | iallathkani |
| Sep 8, 2023 - 10:10:23 AM | $3,050.00 | iCraftman5437 |
| Sep 8, 2023 - 10:10:23 AM | $3,000.00 | iallathkani |
| Sep 8, 2023 - 10:10:09 AM | $1,300.00 | iCraftman5437 |
| Sep 8, 2023 - 10:10:09 AM | $1,250.00 | iallathkani |
| Sep 8, 2023 - 10:04:11 AM | $10.00 | iCraftman5437 |
| Sep 8, 2023 - 10:01:48 AM | $5.00 | iJaswindersingh |