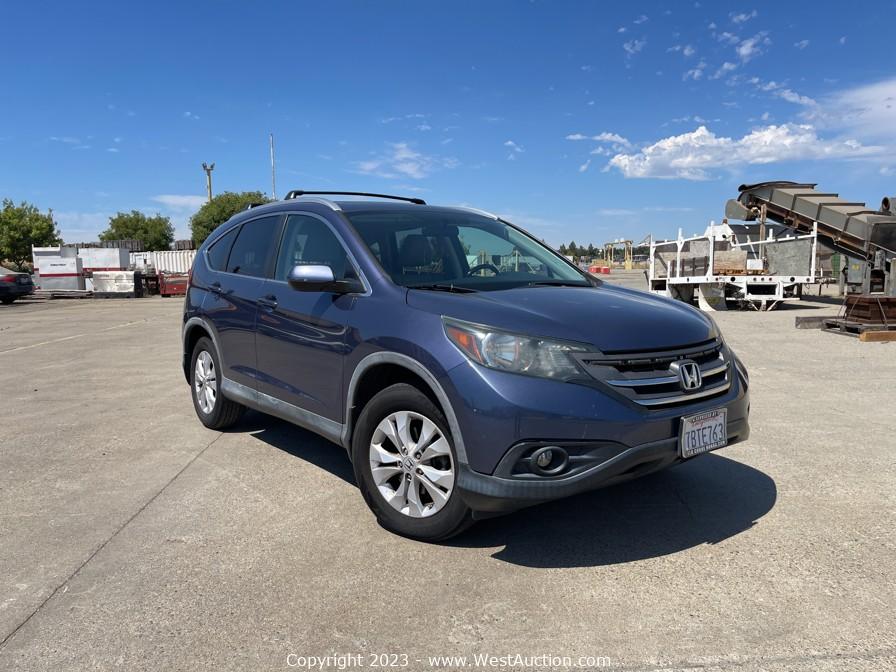 Online Bankruptcy Auction of 2013 Honda CR-V
Bidding is

closed

.
High Bid:
$11,700.00
NA
Bidding Ended:
Thu, Sep 21 10:00:38 am PT
High Bidder:
AJ FARMS
Bid Increment:
$100.00
Starting Bid:
$5.00
Item Location:

Woodland

,

CA

95776

Item has been viewed 4,820 times.

ASK ABOUT THIS ITEM

Online Bankruptcy Auction of 2013 Honda CR-V- NO Buyer's Premium!
Specifications
Year: 2013
Make: Honda
Model: CR-V
Trim: EX-L 2WD
VIN: 2HKRM3H72DH513225
License: 7BTE763

Registration Expiration: 7/8/2023

Odometer Reads: 80,363
Key: Available
GVWR: 4,464 LBS
Drive Type: Front Wheel Drive
Body Style: SUV
Fuel Type: Gasoline
Engine Type: 2.4L L4 DOHC 16V
Transmission: 5-Speed Automatic
Tire Size: 225/65 R17 102H
Exterior
Exterior Color: Blue
Doors: Four Door
Interior
Interior Material: Leather
Interior Color: Beige
Features: 

Power Driver Seat
Power Locks
Power Windows
Power Mirrors
Steering Wheel Controls
Cruise Control
Sunroof
Heated Seats
CD Player
Note: Application for Replacement Title, Transfer Form and Court Order will be mailed 3-4 weeks following the pickup. The Bidder shall not bid on behalf of another individual; the Bidder/Purchaser/DMV Registrant must be the same. The Buyer is fully responsible for all aspects of smog, registration, transfer, taxes, and fees due to the DMV. This vehicle is being sold on behalf of the US Bankruptcy Court.
| | | |
| --- | --- | --- |
| Bid Date | Bid Amount | Bidder |
| Sep 21, 2023 - 9:58:38 AM | $11,700.00 | iAJ FARMS |
| Sep 21, 2023 - 9:58:30 AM | $11,600.00 | ipurple65 |
| Sep 21, 2023 - 9:58:30 AM | $11,500.00 | iAJ FARMS |
| Sep 21, 2023 - 9:58:14 AM | $11,300.00 | ipurple65 |
| Sep 21, 2023 - 9:58:14 AM | $11,200.00 | iAJ FARMS |
| Sep 21, 2023 - 9:49:21 AM | $11,025.00 | ipurple65 |
| Sep 21, 2023 - 9:49:21 AM | $10,925.00 | ijjohal530 |
| Sep 21, 2023 - 9:48:32 AM | $10,811.00 | ipurple65 |
| Sep 21, 2023 - 9:48:32 AM | $10,711.00 | ijjohal530 |
| Sep 20, 2023 - 1:03:27 PM | $10,511.00 | ipurple65 |
| Sep 20, 2023 - 9:19:30 AM | $10,411.00 | igeminishele |
| Sep 20, 2023 - 9:19:30 AM | $10,330.00 | ijjohal530 |
| Sep 19, 2023 - 9:03:33 PM | $10,311.00 | ijjohal530 |
| Sep 19, 2023 - 7:49:24 AM | $10,211.00 | igeminishele |
| Sep 19, 2023 - 7:49:24 AM | $10,150.00 | ijjohal530 |
| Sep 18, 2023 - 9:22:54 PM | $10,111.00 | ijjohal530 |
| Sep 18, 2023 - 9:22:54 PM | $10,011.00 | igeminishele |
| Sep 18, 2023 - 3:46:08 PM | $10,000.00 | igeminishele |
| Sep 18, 2023 - 3:46:08 PM | $9,900.00 | imlbroco |
| Sep 18, 2023 - 3:46:02 PM | $9,771.00 | imlbroco |
| Sep 18, 2023 - 3:46:02 PM | $9,671.00 | igeminishele |
| Sep 18, 2023 - 3:45:57 PM | $9,511.00 | imlbroco |
| Sep 18, 2023 - 3:45:57 PM | $9,411.00 | igeminishele |
| Sep 18, 2023 - 1:40:47 PM | $9,223.45 | imlbroco |
| Sep 18, 2023 - 1:40:47 PM | $9,123.45 | iguycole |
| Sep 18, 2023 - 10:15:07 AM | $9,111.00 | iguycole |
| Sep 18, 2023 - 10:15:07 AM | $9,011.00 | igeminishele |
| Sep 18, 2023 - 8:29:09 AM | $9,010.00 | igeminishele |
| Sep 18, 2023 - 8:29:09 AM | $8,910.00 | ielgringobrian |
| Sep 18, 2023 - 8:28:58 AM | $8,650.00 | ielgringobrian |
| Sep 18, 2023 - 8:28:58 AM | $8,550.00 | igeminishele |
| Sep 16, 2023 - 4:50:01 PM | $8,450.00 | ielgringobrian |
| Sep 16, 2023 - 10:11:23 AM | $8,350.00 | iallathkani62 |
| Sep 15, 2023 - 11:55:50 PM | $8,250.00 | ijjohal530 |
| Sep 15, 2023 - 11:55:50 PM | $8,200.00 | iallathkani62 |
| Sep 15, 2023 - 11:50:28 PM | $8,100.00 | iallathkani62 |
| Sep 15, 2023 - 11:50:03 PM | $8,000.00 | ibily |
| Sep 15, 2023 - 11:50:04 PM | $8,000.00 | iallathkani62 |
| Sep 15, 2023 - 4:00:11 PM | $7,800.00 | ibily |
| Sep 15, 2023 - 4:00:11 PM | $7,700.00 | iallathkani62 |
| Sep 15, 2023 - 3:11:27 PM | $7,600.00 | iallathkani62 |
| Sep 15, 2023 - 12:50:50 PM | $7,500.00 | ibily |
| Sep 15, 2023 - 12:50:50 PM | $7,400.00 | iRico |
| Sep 15, 2023 - 12:34:25 PM | $7,100.00 | iRico |
| Sep 15, 2023 - 12:34:10 PM | $7,000.00 | iJfrii11 |
| Sep 15, 2023 - 12:34:11 PM | $7,000.00 | iRico |
| Sep 15, 2023 - 12:11:21 PM | $6,101.00 | iJfrii11 |
| Sep 15, 2023 - 12:11:21 PM | $6,001.00 | ipawhky |
| Sep 15, 2023 - 12:11:06 PM | $5,851.00 | iJfrii11 |
| Sep 15, 2023 - 12:11:06 PM | $5,751.00 | ipawhky |
| Sep 15, 2023 - 12:09:37 PM | $5,651.00 | iJfrii11 |
| Sep 15, 2023 - 12:09:37 PM | $5,551.00 | ipawhky |
| Sep 15, 2023 - 12:09:27 PM | $5,451.00 | iJfrii11 |
| Sep 15, 2023 - 12:09:27 PM | $5,351.00 | ipawhky |
| Sep 15, 2023 - 12:09:10 PM | $5,251.00 | iJfrii11 |
| Sep 15, 2023 - 12:09:10 PM | $5,151.00 | ipawhky |
| Sep 15, 2023 - 11:39:08 AM | $5,050.00 | iJfrii11 |
| Sep 15, 2023 - 11:38:19 AM | $5,000.00 | imagnuss73 |
| Sep 15, 2023 - 11:38:20 AM | $5,000.00 | iJfrii11 |
| Sep 15, 2023 - 11:34:34 AM | $1,010.00 | imagnuss73 |
| Sep 15, 2023 - 11:34:34 AM | $1,000.00 | iJfrii11 |
| Sep 15, 2023 - 11:29:41 AM | $5.00 | iJfrii11 |