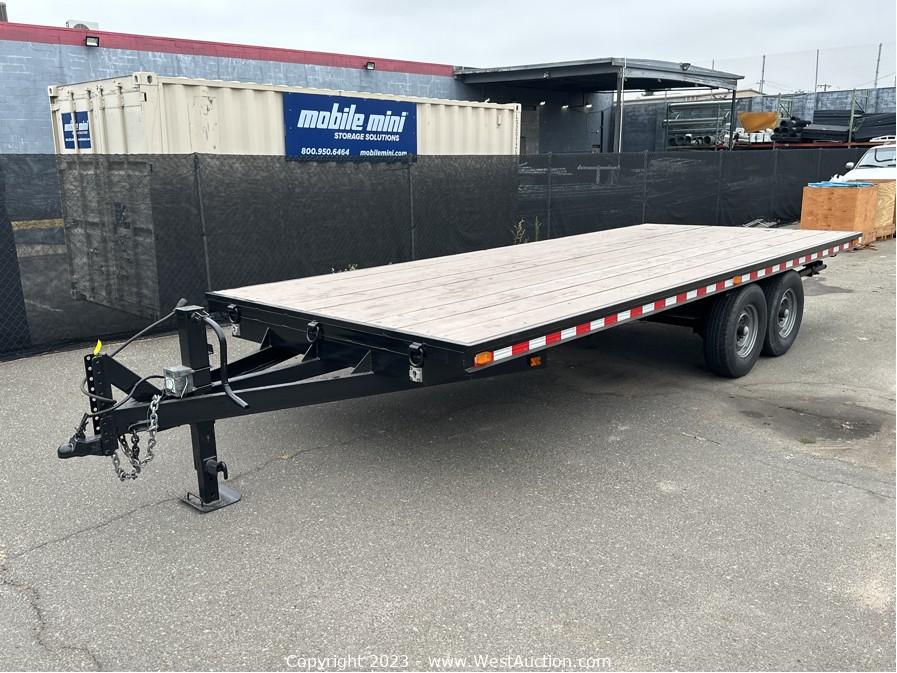 Lot #0124a:
Custom 20' Flatbed Trailer
Bidding is

closed

.
High Bid:
$6,550.00
NA
Bidding Ended:
Thu, Oct 5 10:07:46 am PT
High Bidder:
pbr1967
Bid Increment:
$100.00
Starting Bid:
$5.00
Item Location:

Oakland

,

CA

94603

Item has been viewed 1,766 times.

Custom 20' Flatbed Trailer
Trailer Details
VIN: 1A9CS2025XT290219
Licenser per DMV: Y033636

Expiration Date: 5/31/2021
Note: The license plate on the trailer is incorrect and will be removed by the Seller. 

Year Model Per DMV: 99
Trailer Type: Flatbed
Dimensions
Overall Length: 240" (20')
Overall Width: 96" (8')
Overall Height: 39-1/2"
Deck Length: 240" (20')
Deck Width: 96" (8')
Side Height: 39-1/2"
Width Between Fenders: 8'
Axles, Brakes, and Tires
Suspension: Leaf Spring
Number of Axles: 2
Brake Type: Electric
Number of Wheels: 4
Tire Size: LT235/85R16
Electric Plug Type: 6-Way Round
Hitch: 2 5/16" Ball
Approximately 14,000lb Capacity
Note: The trailer is registered in California, but no title has been issued. Buyer will receive a Bill of Sale after October 16th. The Buyer is fully responsible for any and all inspections, registration transfers, taxes, and fees due to DMV. Per Seller will need CHP Inspection. It will be the Buyer's responsibility to apply for a title. 
| | | |
| --- | --- | --- |
| Bid Date | Bid Amount | Bidder |
| Oct 5, 2023 - 10:05:46 AM | $6,550.00 | ipbr1967 |
| Oct 5, 2023 - 10:05:46 AM | $6,500.00 | ilmfence |
| Oct 5, 2023 - 10:05:29 AM | $6,450.00 | ilmfence |
| Oct 5, 2023 - 10:03:42 AM | $6,350.00 | ipbr1967 |
| Oct 5, 2023 - 10:02:37 AM | $6,250.00 | ilmfence |
| Oct 5, 2023 - 10:01:46 AM | $6,150.00 | ipbr1967 |
| Oct 5, 2023 - 10:01:46 AM | $6,051.00 | ilmfence |
| Oct 5, 2023 - 10:01:31 AM | $6,050.00 | ilmfence |
| Oct 5, 2023 - 10:00:49 AM | $5,950.00 | ipbr1967 |
| Oct 5, 2023 - 10:00:49 AM | $5,900.00 | ilmfence |
| Oct 5, 2023 - 10:00:37 AM | $5,850.00 | ilmfence |
| Oct 5, 2023 - 10:00:37 AM | $5,750.00 | ipbr1967 |
| Oct 5, 2023 - 10:00:02 AM | $5,650.00 | ilmfence |
| Oct 5, 2023 - 9:59:35 AM | $5,550.00 | ivictor2281 |
| Oct 5, 2023 - 9:59:35 AM | $5,500.00 | ilmfence |
| Oct 5, 2023 - 9:59:18 AM | $5,300.00 | ivictor2281 |
| Oct 5, 2023 - 9:59:18 AM | $5,200.00 | ilmfence |
| Oct 5, 2023 - 9:59:06 AM | $5,050.00 | ivictor2281 |
| Oct 5, 2023 - 9:59:06 AM | $5,000.00 | ilmfence |
| Oct 5, 2023 - 9:58:56 AM | $4,850.00 | ivictor2281 |
| Oct 5, 2023 - 9:58:56 AM | $4,800.00 | ilmfence |
| Oct 5, 2023 - 9:09:18 AM | $4,100.00 | ivictor2281 |
| Oct 5, 2023 - 9:09:18 AM | $4,050.00 | iconcrete916 |
| Oct 5, 2023 - 9:08:44 AM | $3,850.00 | ivictor2281 |
| Oct 5, 2023 - 9:08:44 AM | $3,800.00 | iconcrete916 |
| Oct 5, 2023 - 8:56:55 AM | $3,750.00 | ivictor2281 |
| Oct 5, 2023 - 8:56:55 AM | $3,700.00 | ilmfence |
| Oct 5, 2023 - 8:09:40 AM | $3,550.00 | ilmfence |
| Oct 5, 2023 - 8:09:40 AM | $3,500.00 | iconcrete916 |
| Oct 3, 2023 - 9:52:06 PM | $3,250.00 | iconcrete916 |
| Oct 3, 2023 - 9:52:06 PM | $3,200.00 | isaho3031 |
| Oct 3, 2023 - 9:51:51 PM | $3,150.00 | iconcrete916 |
| Oct 3, 2023 - 9:51:51 PM | $3,100.00 | isaho3031 |
| Oct 2, 2023 - 10:53:04 AM | $3,050.00 | iconcrete916 |
| Oct 2, 2023 - 10:53:04 AM | $3,000.00 | ipbr1967 |
| Oct 1, 2023 - 3:37:38 PM | $2,861.00 | iconcrete916 |
| Oct 1, 2023 - 3:37:38 PM | $2,811.00 | igfederas |
| Oct 1, 2023 - 12:23:00 PM | $2,750.00 | iconcrete916 |
| Oct 1, 2023 - 12:23:00 PM | $2,700.00 | idannygeez |
| Oct 1, 2023 - 9:49:35 AM | $2,650.00 | iconcrete916 |
| Oct 1, 2023 - 9:49:35 AM | $2,600.00 | ijbremmer |
| Sep 30, 2023 - 10:17:40 PM | $2,450.00 | ijbremmer |
| Sep 30, 2023 - 10:17:40 PM | $2,400.00 | iDavidorite |
| Sep 30, 2023 - 5:50:25 PM | $2,372.00 | iDavidorite |
| Sep 30, 2023 - 5:50:25 PM | $2,322.00 | iKleensolution |
| Sep 30, 2023 - 5:13:41 PM | $2,272.00 | iDavidorite |
| Sep 30, 2023 - 5:13:41 PM | $2,222.00 | i SCHOOL THEATER |
| Sep 30, 2023 - 5:13:29 PM | $2,110.00 | i SCHOOL THEATER |
| Sep 30, 2023 - 5:13:29 PM | $2,060.00 | iDavidorite |
| Sep 30, 2023 - 5:11:46 PM | $2,010.00 | i SCHOOL THEATER |
| Sep 30, 2023 - 5:11:46 PM | $1,960.00 | iDavidorite |
| Sep 30, 2023 - 6:55:04 AM | $1,910.00 | i SCHOOL THEATER |
| Sep 30, 2023 - 6:55:04 AM | $1,860.00 | iSouthpaw77 |
| Sep 29, 2023 - 1:50:59 PM | $1,850.00 | iSouthpaw77 |
| Sep 29, 2023 - 1:50:25 PM | $1,800.00 | iDonJose |
| Sep 29, 2023 - 1:50:25 PM | $1,750.00 | iSouthpaw77 |
| Sep 29, 2023 - 11:31:47 AM | $1,550.00 | iDonJose |
| Sep 29, 2023 - 11:31:47 AM | $1,500.00 | iSouthpaw77 |
| Sep 29, 2023 - 11:17:02 AM | $1,250.00 | iSouthpaw77 |
| Sep 29, 2023 - 11:17:02 AM | $1,200.00 | iDonJose |
| Sep 29, 2023 - 11:16:43 AM | $1,010.00 | iDonJose |
| Sep 29, 2023 - 11:16:43 AM | $1,000.00 | iSouthpaw77 |
| Sep 29, 2023 - 11:16:21 AM | $860.00 | iDonJose |
| Sep 29, 2023 - 11:16:21 AM | $850.00 | iSouthpaw77 |
| Sep 29, 2023 - 10:32:19 AM | $812.00 | iDonJose |
| Sep 29, 2023 - 10:32:19 AM | $802.00 | icj7taz |
| Sep 29, 2023 - 10:32:04 AM | $612.00 | iDonJose |
| Sep 29, 2023 - 10:32:04 AM | $602.00 | icj7taz |
| Sep 29, 2023 - 10:30:26 AM | $510.00 | iDonJose |
| Sep 29, 2023 - 10:30:26 AM | $500.00 | iSouthpaw77 |
| Sep 29, 2023 - 10:15:33 AM | $5.00 | iSouthpaw77 |