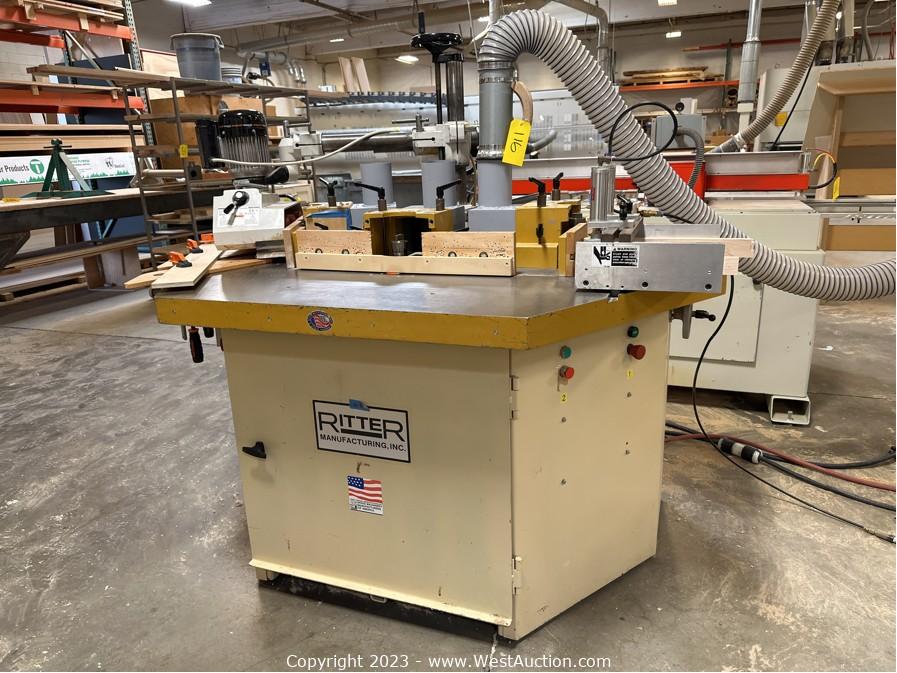 Lot #0116:
Ritter 3 Headed Door Machine
Bidding is

closed

.
High Bid:
$2,650.00
NA
Bidding Ended:
Thu, Oct 5 10:24:48 am PT
High Bidder:
CHU86
Bid Increment:
$50.00
Starting Bid:
$5.00
Item Location:

Oakland

,

CA

94603

Item has been viewed 622 times.

Ritter 3 Headed Door Machine
HP: 5
Voltage: 208-230/460
RPM: 3450
60 Hz
3 Phase
Width: 74"
Length: 40"
Height: 67"
No Cutters included.
Tooling NOT included 
Includes:

Ritter Shaper Tenoning Attachment R10TESA
Ritter Raise Panel
Ritter Cope
Steff 2038 Automatic Feeder
Removal Note: Seller will perform all necessary electrical disconnection prior to the removal of this item. Any disassembly, aside from electrical disconnection, is the sole responsibility of the buyer. 
| | | |
| --- | --- | --- |
| Bid Date | Bid Amount | Bidder |
| Oct 5, 2023 - 10:22:48 AM | $2,650.00 | iCHU86 |
| Oct 5, 2023 - 10:22:48 AM | $2,600.00 | iWaverunner |
| Oct 5, 2023 - 10:22:43 AM | $2,550.00 | iCHU86 |
| Oct 5, 2023 - 10:22:43 AM | $2,500.00 | iWaverunner |
| Oct 5, 2023 - 10:21:42 AM | $2,400.00 | iCHU86 |
| Oct 5, 2023 - 10:21:42 AM | $2,350.00 | iWaverunner |
| Oct 5, 2023 - 10:20:37 AM | $2,200.00 | iCHU86 |
| Oct 5, 2023 - 10:20:37 AM | $2,150.00 | iWaverunner |
| Oct 5, 2023 - 10:20:32 AM | $2,100.00 | iCHU86 |
| Oct 5, 2023 - 10:20:32 AM | $2,050.00 | iWaverunner |
| Oct 5, 2023 - 10:20:29 AM | $2,000.00 | iCHU86 |
| Oct 5, 2023 - 10:20:29 AM | $1,950.00 | iWaverunner |
| Oct 5, 2023 - 10:20:24 AM | $1,900.00 | iCHU86 |
| Oct 5, 2023 - 10:20:24 AM | $1,850.00 | iWaverunner |
| Oct 5, 2023 - 10:20:21 AM | $1,800.00 | iCHU86 |
| Oct 5, 2023 - 10:20:21 AM | $1,750.00 | iWaverunner |
| Oct 5, 2023 - 10:20:16 AM | $1,700.00 | iCHU86 |
| Oct 5, 2023 - 10:20:16 AM | $1,650.00 | iWaverunner |
| Oct 5, 2023 - 10:19:55 AM | $1,600.00 | iCHU86 |
| Oct 5, 2023 - 10:18:30 AM | $1,550.00 | iWaverunner |
| Oct 5, 2023 - 10:18:26 AM | $1,500.00 | iCHU86 |
| Oct 5, 2023 - 10:18:27 AM | $1,500.00 | iWaverunner |
| Oct 5, 2023 - 10:18:22 AM | $1,450.00 | iCHU86 |
| Oct 5, 2023 - 10:18:22 AM | $1,400.00 | iWaverunner |
| Oct 5, 2023 - 10:18:16 AM | $1,350.00 | iCHU86 |
| Oct 5, 2023 - 10:18:16 AM | $1,300.00 | iWaverunner |
| Oct 5, 2023 - 10:18:03 AM | $1,160.00 | iCHU86 |
| Oct 5, 2023 - 10:18:03 AM | $1,110.00 | iWaverunner |
| Oct 5, 2023 - 10:17:33 AM | $1,060.00 | iCHU86 |
| Oct 5, 2023 - 10:17:33 AM | $1,010.00 | iWaverunner |
| Oct 5, 2023 - 10:17:11 AM | $950.00 | iWaverunner |
| Oct 5, 2023 - 10:17:11 AM | $940.00 | iCHU86 |
| Oct 5, 2023 - 10:17:07 AM | $930.00 | iWaverunner |
| Oct 5, 2023 - 10:17:07 AM | $920.00 | iCHU86 |
| Oct 5, 2023 - 10:16:42 AM | $910.00 | iWaverunner |
| Oct 5, 2023 - 10:16:28 AM | $900.00 | iAndrewJessee |
| Oct 5, 2023 - 10:16:29 AM | $900.00 | iWaverunner |
| Oct 5, 2023 - 10:16:18 AM | $810.00 | iAndrewJessee |
| Oct 5, 2023 - 10:16:18 AM | $800.00 | iWaverunner |
| Oct 5, 2023 - 10:15:39 AM | $715.00 | iAndrewJessee |
| Oct 5, 2023 - 10:11:50 AM | $705.00 | iWaverunner |
| Oct 5, 2023 - 10:11:50 AM | $700.00 | iAndrewJessee |
| Oct 5, 2023 - 10:11:34 AM | $630.00 | iAndrewJessee |
| Oct 5, 2023 - 10:11:34 AM | $620.00 | iWaverunner |
| Oct 5, 2023 - 8:34:43 AM | $610.00 | iAndrewJessee |
| Oct 4, 2023 - 11:25:37 AM | $600.00 | ibobbyb |
| Oct 4, 2023 - 11:25:38 AM | $600.00 | i714mauricio |
| Oct 4, 2023 - 11:25:17 AM | $550.00 | ibobbyb |
| Oct 4, 2023 - 11:25:17 AM | $540.00 | i714mauricio |
| Oct 4, 2023 - 11:24:53 AM | $530.00 | ibobbyb |
| Oct 4, 2023 - 11:24:53 AM | $520.00 | i714mauricio |
| Oct 4, 2023 - 5:32:29 AM | $510.00 | ibobbyb |
| Oct 4, 2023 - 5:32:29 AM | $500.00 | iCHU86 |
| Oct 3, 2023 - 10:30:28 PM | $310.00 | ibobbyb |
| Oct 3, 2023 - 10:30:28 PM | $300.00 | iGmoney12 |
| Oct 3, 2023 - 3:03:19 PM | $260.00 | iGmoney12 |
| Oct 3, 2023 - 3:03:19 PM | $250.00 | iCHU86 |
| Oct 3, 2023 - 3:03:05 PM | $210.00 | iCHU86 |
| Oct 3, 2023 - 3:03:05 PM | $200.00 | iGmoney12 |
| Oct 3, 2023 - 3:02:43 PM | $105.00 | iCHU86 |
| Oct 3, 2023 - 3:02:43 PM | $100.00 | iGmoney12 |
| Oct 3, 2023 - 3:02:26 PM | $55.00 | iCHU86 |
| Oct 3, 2023 - 3:02:26 PM | $50.00 | iGmoney12 |
| Oct 3, 2023 - 6:46:36 AM | $15.00 | iCHU86 |
| Oct 1, 2023 - 9:09:40 PM | $10.00 | iGmoney12 |
| Oct 1, 2023 - 1:47:56 PM | $5.00 | iCHU86 |