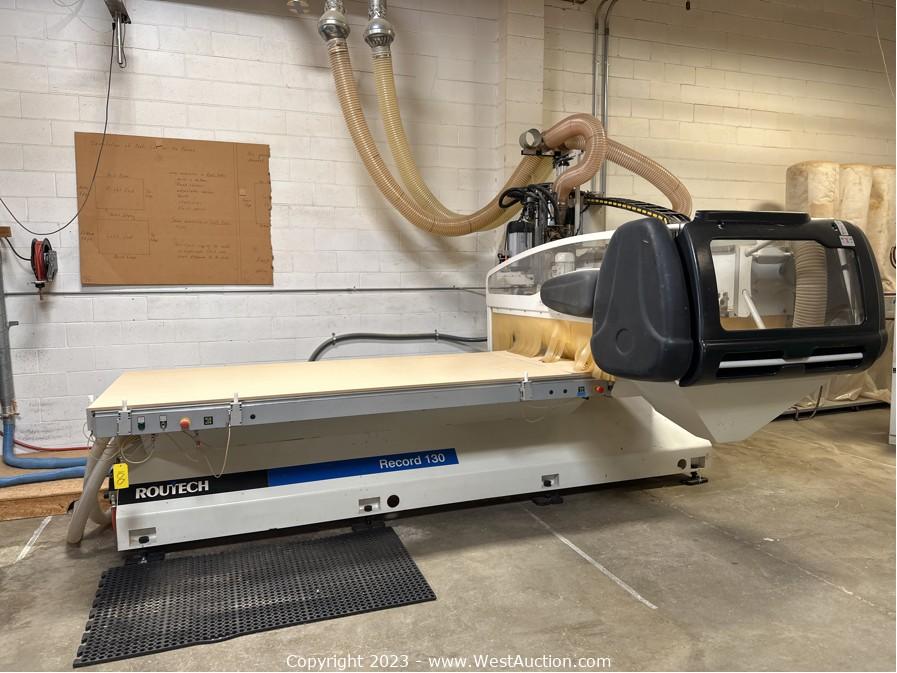 Lot #0100:
Routech Record 130 CNC Routing Table
Bidding is

closed

.
High Bid:
$5,250.00
NA
Bidding Ended:
Thu, Oct 5 10:16:00 am PT
High Bidder:
philmb
Bid Increment:
$100.00
Starting Bid:
$5.00
Item Location:

Oakland

,

CA

94603

Item has been viewed 1,259 times.

Routech Record 130 CNC Routing Table
Manufacturer: Routech
Year: 2001
Model: Record 130
AC Power: 3 Phase
Width: 168"
Length: 120"
Height: 117
Suction Table Dimensions: 49"L x 122"W
No ducting is included with this lot.
Removal Note: Seller will perform all necessary electrical disconnection prior to the removal of this item. Any disassembly, aside from electrical disconnection, is the sole responsibility of the buyer. 
Loading Assistance: A forklift will be available for loading assistance for this item at the Auctioneers discretion. Wait times may occur. The buyer may also bring their own equipment or hire a professional machinery mover to facilitate the removal of this item. Contact our office for more details. 
| | | |
| --- | --- | --- |
| Bid Date | Bid Amount | Bidder |
| Oct 5, 2023 - 10:14:00 AM | $5,250.00 | iphilmb |
| Oct 5, 2023 - 10:12:34 AM | $5,150.00 | idustinrex |
| Oct 5, 2023 - 10:12:34 AM | $5,100.00 | iphilmb |
| Oct 5, 2023 - 10:10:53 AM | $5,050.00 | iphilmb |
| Oct 5, 2023 - 10:10:53 AM | $5,000.00 | idustinrex |
| Oct 5, 2023 - 10:10:32 AM | $4,650.00 | iphilmb |
| Oct 5, 2023 - 10:10:32 AM | $4,600.00 | idustinrex |
| Oct 5, 2023 - 10:10:04 AM | $4,450.00 | iphilmb |
| Oct 5, 2023 - 10:10:04 AM | $4,400.00 | idustinrex |
| Oct 5, 2023 - 10:09:48 AM | $4,250.00 | iphilmb |
| Oct 5, 2023 - 10:09:48 AM | $4,200.00 | idustinrex |
| Oct 5, 2023 - 10:09:32 AM | $4,050.00 | iphilmb |
| Oct 5, 2023 - 10:09:32 AM | $4,000.00 | idustinrex |
| Oct 5, 2023 - 10:08:24 AM | $3,750.00 | iphilmb |
| Oct 5, 2023 - 10:08:24 AM | $3,700.00 | idustinrex |
| Oct 5, 2023 - 10:08:06 AM | $3,650.00 | iphilmb |
| Oct 5, 2023 - 10:08:06 AM | $3,600.00 | idustinrex |
| Oct 5, 2023 - 10:07:47 AM | $3,550.00 | idustinrex |
| Oct 5, 2023 - 10:07:36 AM | $3,500.00 | iphilmb |
| Oct 5, 2023 - 10:07:37 AM | $3,500.00 | idustinrex |
| Oct 5, 2023 - 10:07:28 AM | $3,350.00 | iphilmb |
| Oct 5, 2023 - 10:07:28 AM | $3,300.00 | idustinrex |
| Oct 5, 2023 - 10:07:24 AM | $3,250.00 | iphilmb |
| Oct 5, 2023 - 10:07:24 AM | $3,200.00 | ikarqin13 |
| Oct 5, 2023 - 10:07:16 AM | $3,150.00 | iphilmb |
| Oct 5, 2023 - 10:07:16 AM | $3,100.00 | idustinrex |
| Oct 5, 2023 - 10:06:47 AM | $3,050.00 | iphilmb |
| Oct 5, 2023 - 10:06:47 AM | $3,000.00 | idustinrex |
| Oct 5, 2023 - 10:06:41 AM | $2,950.00 | idustinrex |
| Oct 5, 2023 - 10:06:41 AM | $2,900.00 | iphilmb |
| Oct 5, 2023 - 10:06:31 AM | $2,650.00 | iphilmb |
| Oct 5, 2023 - 10:06:31 AM | $2,600.00 | ikarqin13 |
| Oct 5, 2023 - 10:06:23 AM | $2,550.00 | iphilmb |
| Oct 5, 2023 - 10:06:23 AM | $2,500.00 | idustinrex |
| Oct 5, 2023 - 10:06:01 AM | $2,450.00 | iphilmb |
| Oct 5, 2023 - 10:06:01 AM | $2,400.00 | ikarqin13 |
| Oct 5, 2023 - 10:05:42 AM | $2,350.00 | iphilmb |
| Oct 5, 2023 - 10:05:42 AM | $2,300.00 | ikarqin13 |
| Oct 5, 2023 - 10:05:24 AM | $2,250.00 | iphilmb |
| Oct 5, 2023 - 10:05:24 AM | $2,200.00 | iChernetskiym |
| Oct 5, 2023 - 10:00:13 AM | $2,100.00 | iChernetskiym |
| Oct 5, 2023 - 9:39:32 AM | $2,050.00 | ikarqin13 |
| Oct 5, 2023 - 1:31:37 AM | $2,000.00 | iwooodguy |
| Oct 5, 2023 - 1:31:38 AM | $2,000.00 | ikarqin13 |
| Oct 5, 2023 - 1:31:01 AM | $1,550.00 | iwooodguy |
| Oct 5, 2023 - 1:31:01 AM | $1,500.00 | ikarqin13 |
| Oct 4, 2023 - 9:51:05 PM | $1,400.00 | iwooodguy |
| Oct 4, 2023 - 9:51:05 PM | $1,350.00 | irawfltrevor |
| Oct 4, 2023 - 9:50:54 PM | $1,260.00 | irawfltrevor |
| Oct 4, 2023 - 9:50:54 PM | $1,210.00 | iwooodguy |
| Oct 4, 2023 - 8:23:11 PM | $1,160.00 | irawfltrevor |
| Oct 4, 2023 - 3:01:23 PM | $1,110.00 | ikarqin13 |
| Oct 4, 2023 - 3:01:23 PM | $1,100.00 | irawfltrevor |
| Oct 4, 2023 - 10:56:02 AM | $1,060.00 | irawfltrevor |
| Oct 4, 2023 - 10:55:45 AM | $1,010.00 | iwooodguy |
| Oct 4, 2023 - 10:55:46 AM | $1,010.00 | irawfltrevor |
| Oct 4, 2023 - 10:55:36 AM | $985.00 | iwooodguy |
| Oct 4, 2023 - 10:55:36 AM | $975.00 | irawfltrevor |
| Oct 4, 2023 - 10:28:16 AM | $775.00 | iwooodguy |
| Oct 4, 2023 - 10:28:16 AM | $765.00 | irawfltrevor |
| Oct 4, 2023 - 10:28:01 AM | $530.00 | irawfltrevor |
| Oct 4, 2023 - 10:28:01 AM | $520.00 | iwooodguy |
| Oct 4, 2023 - 7:46:34 AM | $510.00 | irawfltrevor |
| Oct 4, 2023 - 7:46:30 AM | $500.00 | ikarqin13 |
| Oct 4, 2023 - 7:46:31 AM | $500.00 | irawfltrevor |
| Oct 1, 2023 - 12:36:01 PM | $460.00 | ikarqin13 |
| Oct 1, 2023 - 12:36:01 PM | $450.00 | iYortiz66 |
| Sep 30, 2023 - 5:47:57 PM | $310.00 | iYortiz66 |
| Sep 30, 2023 - 5:19:32 PM | $300.00 | ikarqin13 |
| Sep 30, 2023 - 5:19:32 PM | $290.00 | iYortiz66 |
| Sep 30, 2023 - 5:19:14 PM | $280.00 | ikarqin13 |
| Sep 30, 2023 - 5:19:14 PM | $270.00 | iYortiz66 |
| Sep 29, 2023 - 8:39:44 PM | $260.00 | ikarqin13 |
| Sep 29, 2023 - 4:28:09 PM | $250.00 | irawfltrevor |
| Sep 29, 2023 - 4:28:10 PM | $250.00 | iteamtiki |
| Sep 29, 2023 - 10:53:49 AM | $210.00 | irawfltrevor |
| Sep 29, 2023 - 10:52:33 AM | $200.00 | ikarqin13 |
| Sep 29, 2023 - 10:52:34 AM | $200.00 | irawfltrevor |
| Sep 29, 2023 - 10:52:25 AM | $160.00 | ikarqin13 |
| Sep 29, 2023 - 10:52:25 AM | $150.00 | irawfltrevor |
| Sep 29, 2023 - 10:52:14 AM | $105.00 | ikarqin13 |
| Sep 29, 2023 - 10:52:14 AM | $100.00 | irawfltrevor |
| Sep 29, 2023 - 10:49:14 AM | $5.00 | ikarqin13 |