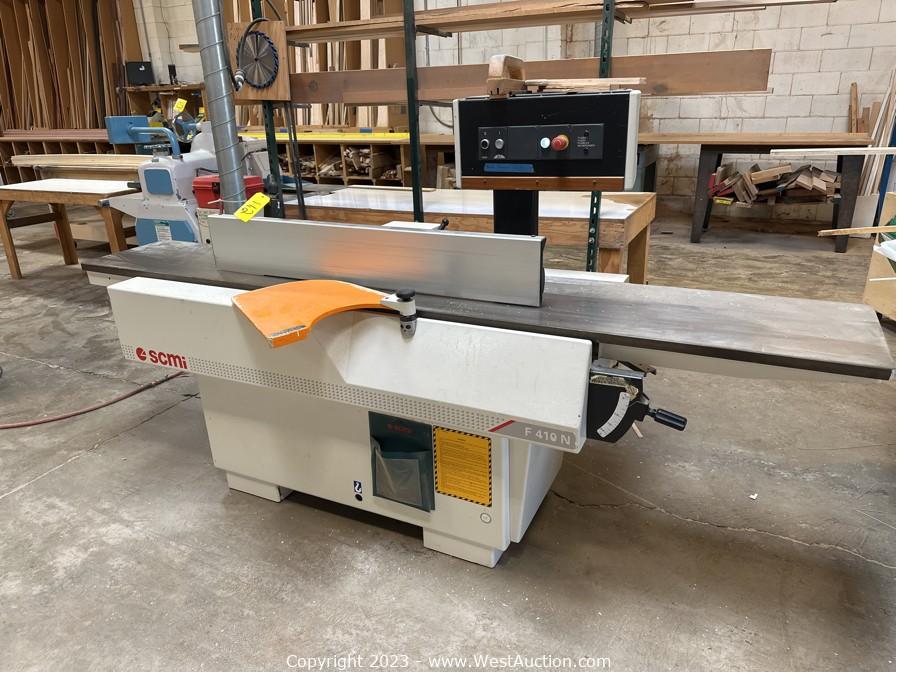 Lot #0112:
SCMI F410N Surface Planer
Bidding is

closed

.
High Bid:
$3,800.00
NA
Bidding Ended:
Thu, Oct 5 10:20:13 am PT
High Bidder:
Olive0601
Bid Increment:
$50.00
Starting Bid:
$5.00
Item Location:

Oakland

,

CA

94603

Item has been viewed 1,131 times.

SCMI F-410-N Surface Planer
Year: 2005
Manufacturer: SCMi
Model Number: F 410 N
AC Power: 3 Phase
Voltage: 230V
Approximate Weight: 1,851lbs
Width: 103"
Length: 45"
Height: 55"
Removal Note: Seller will perform all necessary electrical disconnection prior to the removal of this item. Any disassembly, aside from electrical disconnection, is the sole responsibility of the buyer. 
| | | |
| --- | --- | --- |
| Bid Date | Bid Amount | Bidder |
| Oct 5, 2023 - 10:18:13 AM | $3,800.00 | iOlive0601 |
| Oct 5, 2023 - 10:18:13 AM | $3,750.00 | iphilmb |
| Oct 5, 2023 - 10:17:35 AM | $3,700.00 | iOlive0601 |
| Oct 5, 2023 - 10:17:35 AM | $3,650.00 | iphilmb |
| Oct 5, 2023 - 10:16:09 AM | $3,550.00 | iOlive0601 |
| Oct 5, 2023 - 10:15:37 AM | $3,500.00 | iphilmb |
| Oct 5, 2023 - 10:15:38 AM | $3,500.00 | iOlive0601 |
| Oct 5, 2023 - 10:14:59 AM | $3,050.00 | iphilmb |
| Oct 5, 2023 - 10:13:23 AM | $3,000.00 | iOlive0601 |
| Oct 5, 2023 - 10:13:23 AM | $2,950.00 | iJcmedina |
| Oct 5, 2023 - 10:06:07 AM | $2,900.00 | iOlive0601 |
| Oct 5, 2023 - 10:06:07 AM | $2,850.00 | iMkbarrett |
| Oct 5, 2023 - 9:51:13 AM | $2,752.00 | iOlive0601 |
| Oct 5, 2023 - 9:51:13 AM | $2,702.00 | iJcmedina |
| Oct 5, 2023 - 9:46:36 AM | $2,652.00 | iOlive0601 |
| Oct 5, 2023 - 9:28:13 AM | $2,602.00 | iallstar1 |
| Oct 5, 2023 - 8:41:00 AM | $2,552.00 | iJcmedina |
| Oct 5, 2023 - 7:59:06 AM | $2,502.00 | iallstar1 |
| Oct 5, 2023 - 7:59:06 AM | $2,500.00 | iWsbreslau |
| Oct 5, 2023 - 7:58:59 AM | $2,452.00 | iWsbreslau |
| Oct 5, 2023 - 7:58:59 AM | $2,402.00 | iallstar1 |
| Oct 5, 2023 - 7:58:54 AM | $2,352.00 | iWsbreslau |
| Oct 5, 2023 - 7:58:54 AM | $2,302.00 | iallstar1 |
| Oct 5, 2023 - 7:58:46 AM | $2,252.00 | iWsbreslau |
| Oct 5, 2023 - 7:58:46 AM | $2,202.00 | iallstar1 |
| Oct 5, 2023 - 7:58:41 AM | $2,152.00 | iWsbreslau |
| Oct 5, 2023 - 7:58:41 AM | $2,102.00 | iallstar1 |
| Oct 5, 2023 - 7:58:35 AM | $2,052.00 | iWsbreslau |
| Oct 5, 2023 - 7:58:35 AM | $2,002.00 | iallstar1 |
| Oct 5, 2023 - 7:58:29 AM | $1,952.00 | iWsbreslau |
| Oct 5, 2023 - 7:58:29 AM | $1,902.00 | iallstar1 |
| Oct 5, 2023 - 6:57:25 AM | $1,852.00 | iWsbreslau |
| Oct 5, 2023 - 6:57:25 AM | $1,802.00 | iMkbarrett |
| Oct 4, 2023 - 5:44:35 PM | $1,752.00 | iWsbreslau |
| Oct 4, 2023 - 5:44:35 PM | $1,702.00 | ipikawood |
| Oct 4, 2023 - 5:18:08 PM | $1,646.25 | iWsbreslau |
| Oct 4, 2023 - 5:18:08 PM | $1,596.25 | ipikawood |
| Oct 4, 2023 - 5:17:58 PM | $1,448.25 | iWsbreslau |
| Oct 4, 2023 - 5:17:58 PM | $1,398.25 | ipikawood |
| Oct 4, 2023 - 3:17:35 PM | $1,051.34 | iWsbreslau |
| Oct 4, 2023 - 3:17:35 PM | $1,001.34 | ipikawood |
| Oct 4, 2023 - 11:04:16 AM | $910.00 | ipikawood |
| Oct 4, 2023 - 11:04:16 AM | $900.00 | ibobbyb |
| Oct 4, 2023 - 10:28:53 AM | $737.00 | ibobbyb |
| Oct 4, 2023 - 10:28:53 AM | $727.00 | iwooodguy |
| Oct 3, 2023 - 10:40:09 PM | $717.00 | ibobbyb |
| Oct 3, 2023 - 9:39:53 PM | $707.00 | iwooodguy |
| Oct 3, 2023 - 9:39:53 PM | $700.00 | iJcmedina |
| Oct 3, 2023 - 8:44:37 PM | $697.00 | iJcmedina |
| Oct 3, 2023 - 8:44:37 PM | $687.00 | ipikawood |
| Oct 3, 2023 - 8:44:07 PM | $660.00 | ipikawood |
| Oct 3, 2023 - 8:44:07 PM | $650.00 | iJcmedina |
| Oct 3, 2023 - 8:13:52 PM | $610.00 | ipikawood |
| Oct 3, 2023 - 8:13:52 PM | $600.00 | iJcmedina |
| Oct 3, 2023 - 8:00:09 PM | $510.00 | ipikawood |
| Oct 3, 2023 - 8:00:09 PM | $500.00 | iblackm1 |
| Oct 3, 2023 - 7:59:48 PM | $447.32 | iblackm1 |
| Oct 3, 2023 - 7:59:48 PM | $437.32 | ipikawood |
| Sep 30, 2023 - 5:20:12 PM | $250.00 | iblackm1 |
| Sep 30, 2023 - 5:20:12 PM | $240.00 | iYortiz66 |
| Sep 30, 2023 - 5:20:04 PM | $230.00 | iblackm1 |
| Sep 30, 2023 - 5:20:04 PM | $220.00 | iYortiz66 |
| Sep 29, 2023 - 9:51:50 PM | $210.00 | iblackm1 |
| Sep 29, 2023 - 9:51:50 PM | $200.00 | ikarqin13 |
| Sep 29, 2023 - 9:51:42 PM | $125.00 | iblackm1 |
| Sep 29, 2023 - 9:51:42 PM | $115.00 | ikarqin13 |
| Sep 29, 2023 - 12:07:12 PM | $105.00 | iblackm1 |
| Sep 29, 2023 - 12:07:12 PM | $100.00 | ikarqin13 |
| Sep 29, 2023 - 10:49:32 AM | $5.00 | ikarqin13 |